Disclosure: This blog is reader-supported. As an Amazon Associate, I earn from qualifying purchases. When you buy through links on our site, we may earn an affiliate commission at no cost to you. I only recommend products I would use myself and all opinions expressed here are my own.
In this guide, we will discuss the safest dishes to use when it comes to mealtime.
Something you may not be aware of is that many plates and dishes can be toxic.
How?
Most plates and dishes are made from melamine (plastic), ceramic, glass, porcelain (porcelain or china), or bone china.
Many times lead, and other toxins like cadmium are present in the glaze or colorful designs on decorated, brightly colored dinnerware.
These kinds of dishes are fine for decoration, but not for eating.
Touching lead isn't the issue so much as swallowing or inhaling it, so as long as you wash your hands after setting up decorative dishes, you're in good shape.
Eating off these dishes, however, is dangerous.
If you have kids running around the house or you're pregnant/ planning on it, doing a safety and risk assessment of your current dinnerware is a good idea.
Safer alternatives like lead and cadmium free dinnerware sets would be a much safer option for you.
Dinnerware isn't the only thing at risk as the cookware you use can also be leaching lead or toxic metals into your food, but we touched on that in our other post here.
For this post, we're focusing mainly on your dinnerware.
Before we discuss the safest dishes to use, let's look more into how toxic materials end up on your dinner plates, how to tell, and the dangers of toxic dinnerware.
Why and how toxic dinnerware exists…
Lead is used in the glazes or decorations on the surface of dishes to make them more durable and make colored glazes bright and shiny.
Cadmium is used in colorful dishes to give bright colors such as yellow or orange to glazes.
Examples of this include traditional Mexican Terra Cotta, vintage China, and many other painted or hand-crafted dishes.
Leaded crystal is another one to look out for, too, as it contains lead.
Even plain white dishware can contain lead or cadmium in the plate's glaze itself to increase durability.
That's why it's so important to know which brands are safe. We'll get to that later.
If knowing these are toxic wasn't bad enough, eating off dinnerware like this can lead to ingesting these chemicals! Yuck!
"Lead is a toxic substance that can affect people of any age. It is especially harmful to children, pregnant women, and unborn babies.
Lead accumulates in your body, so even small amounts can pose a health hazard over time."
The toxins can leach into your food in several ways…
One of which can be as simple as serving hot food on the plate. The heat can cause chemicals to impart into your food.
Microwaving has the same effect, and also serving acidic foods on plates like these can accelerate the leaching of toxins.
Things like soy sauce, citrus fruits, tomatoes, pasta sauce, and salad dressing are acidic, to name a few.
Unfortunately, it can be hard to tell exactly which dinnerware contains lead just by looking at it.
Some types of dishes that are more likely to have lead than others are:
Traditional glazed Terra Cotta (clay) dishware that's made in some Latin American countries, such as Mexican bean pots.
Highly decorated traditional dishes used in some Asian communities.
Homemade and hand-crafted tableware, unless you are sure that the maker has used a lead-free glaze.
Decorations on top of the glaze instead of beneath it. So if the decorations are rough or raised and you can feel the decoration when you rub your finger over the dish. Or if you see brushstrokes above the glazed surface, the decoration is probably on top of the glaze. If the decoration has begun to wear away, there may be a more significant lead hazard.
Antique tableware that's handed down in families or

found in antique stores, markets, and garage sales

.
There is corroded glaze or a dusty, chalky grey residue on the glaze after you wash a piece. Tableware in this condition may represent a severe lead hazard – stop using it at once.
Bright orange, red, or yellow:

Lead is used to maximize these colors' intensity when applied to pottery.
Plastic dinnerware sets are also something to be wary of due to the hormone-disrupting chemicals that can be in plastic.
This statement is especially true if you have small children.
Chemicals and materials in plastic dishes can include Phthalates and BPA, which mimic estrogen in the human body.
These are called "EA chemicals" and have been to all kinds of health issues like adverse effects on the heart, brain, and child developmental problems.
You might have heard about melamine dinnerware, and how it's a popular material. But is melamine safe?
Melamine makes for strong, hard plastic dinnerware, but there are some issues. Melamine dishes are made using formaldehyde, and the safety of this material is controversial.
Heat can cause these chemicals and resins to migrate into your food.
So, it's wise to stay away from plastic and melamine tableware options, as they aren't exactly the safest dishes to use for health.
Now let's tackle a couple of common questions out there regarding your dinnerware's toxicity…
First up:
Are dishes made in China safe to use?
It's no surprise there is a lot of skepticism over the quality of products made in China. Through the years, China-made products have received a bad reputation for being low-quality or unsafe. One reason can be that in China, manufacturing practices are not as carefully regulated. That begs the question: Are dishes made in China safe to use?
Sometimes no, sometimes yes. Many high-quality products come from China as well as low-quality products.
You want to be vigilant and choose the lead-free dinnerware brands.
The key is to trust the company you are buying from to be truthful regarding the use of lead or cadmium in their dinnerware.
How? Always check that the manufacturer has done the available testing on their products to ensure safety.
Check for the proper testing documentation (usually present on the product's web page) and use your discretion based on the information above when ordering China-made.
Or, let me do the heavy lifting by checking out my researched recommendations in this post!
Is there lead in vintage dishes?
Another common question out there: Is there lead in vintage dishes?
Many of us have old ceramic dishes and vintage dinnerware from our grandparents or antique stores, garage sales, etc., lying around.
While beautiful, an essential thing to remember is that the FDA began testing dinnerware for safety starting in 1970.
So, China and other colorful dishware made before 1970 are likely to contain high lead levels, so avoid using antique China in general.
How about Corelle dishes. Is there lead in vintage Corelle dishes?
Corelle is a very popular brand of dinnerware due to its unique glass lamination process.
Corelle uses Vitrelle, a tempered glass product consisting of two types of glass laminated into three layers.
Vitrelle makes the product highly durable, but is Corelle non-toxic?
Corelle makes its products and glazes from clay-based materials and glazes used throughout the industry.
Decorations, if present, are made from low-lead enamels and fired at temperatures exceeding 1000°F. This binds any heavy metals both physically and chemically, minimizing their release.
The current limit for the presence of leachable lead to satisfy specific requirements is no more than 0.100 ppm (1 tenth of one part per million) when obtained under test conditions.
Corelle claims never to have exceeded this amount, so while not necessarily lead-free, these are considered lead-safe.
Once again, the common theme here is to avoid highly decorated dinnerware.
In the next section of this article, I will present some of the safest dishes to use by showing you the highest quality lead and cadmium free dinnerware sets online.
Top six safest dinnerware brands to use at home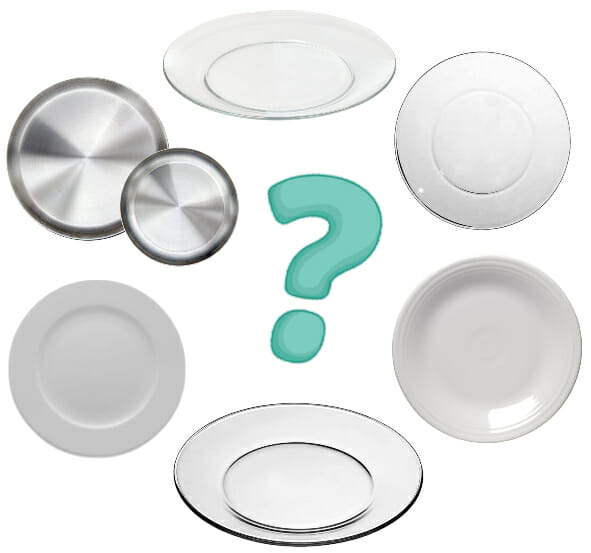 Now that you know how and why toxic ingredients end up in dinnerware, it's time to get to the article's meat.
Below I'll be showing you six prime examples of the safest dinnerware to use at home!
With more and more knowledge coming to light about unhealthy hazards in your kitchen, it makes sense to want some durable, non-toxic dinnerware to keep your family safe.
When choosing the safest plates to use, you'll want non-toxic dinnerware that's simple in terms.
We know from earlier that highly decorated plates contain lead and cadmium, so the following dishware is somewhat bare.
But plain doesn't mean dull or unattractive.
Plain means sleek, modern, and SAFE!
The non-toxic dinnerware you see below is free of lead, cadmium, BPA, Melamine, and any other toxins!
In fact, after countless hours of research, I discovered these are some of the safest dishes to use PERIOD!
The first featured set of non-toxic dishes is this beautiful set of glass dinner plates from Anchor Hocking.
Anchor crafts their plates from tempered soda-lime glass, made from sand, soda ash, and limestone.
This heat strengthened glass is several times stronger than ordinary glass. It has excellent shock resistance, making them very durable in case of drops or temperature changes.
These plates are some of the safest dishes to use because they are not made using any toxic metals or chemicals and are safe regardless of heat or scratching.
No metals or chemicals will end up in your food.
This set is a great value, containing 12 high-quality dinner plates measuring 10 inches in diameter.
This Anchor Hocking dinnerware made in the USA gives you the satisfaction of buying domestic!
It's of superior quality and is microwave, freezer, and dishwasher safe!
Get this 12-piece set of non-toxic plates from Anchor Hocking today by clicking here!
The second non-toxic dinnerware set to show you are these excellent Fiestaware ceramic plates from the Homer Laughlin China Company.
Fiesta crafts their white dinnerware set from high-quality, industrial-strength vitrified ceramic.
This is a 60% silica and 40% clay blend ceramic that has gone through a heat fusion process to create a glass-like, shiny, and non-porous surface.
That makes this dinnerware resistant to stains and odors.
Fiesta dinnerware does not use lead or any other toxic metals in their plates and hasn't since 1986.
Because of this creation process, vitrified ceramic plates are impervious to water absorption in hot dishwashers.
The leading cause of ceramic dinnerware breaking down in a commercial setting is from dishwasher use, so by purchasing vitrified ceramics, you're increasing your investment's longevity.
Chip-resistant Fiestaware plates are microwave and dishwasher safe. They have excellent temperature resistance, able to go right from freezer to oven without breaking or chipping.
These Fiesta dinner plate sets include four pieces and come with a five-year chip replacement warranty, and are crafted by local potters right here in the USA!
Grab your 4-piece set of Fiesta dinner plates by clicking here!
Next up are these super high-quality Libbey Crisa Moderno dinner plates, also crafted from soda-lime glass.
The nearly 200-year old company invented a state-of-the-art process from the furnace to forming to finishing. This process enables some of the most robust and most brilliant soda lime glassware produced in the U.S.
This value-filled 12-pack of non-toxic dinner plates is dishwasher, microwave, and freezer-safe.
No toxic metals are used to create these. The superior craftsmanship results in a more durable glass dinner plate that will last for many years.
Libbey glassware proudly makes their dinnerware in the USA and Mexico!
Ready for some of the safest dishes to use? Click here to get this 12-pack of Libbey dinner plates now!
The next featured product here is this gorgeous non-toxic dinnerware set from Sur La Table!
This 16-piece deluxe set contains dinner plates and salad plates, bowls, and mugs.
Everything you need to wow your guests at dinner parties!
Sur La Table makes their dinnerware from high-quality, 100% lead and cadmium free white porcelain.
This porcelain is created by heating clay materials to higher temperatures than typical ceramics, resulting in superior strength and chip and stain resistance.
Each heat-resistant piece is oven safe up to 392°F, dishwasher, freezer safe, and microwave safe!
Sur La Table dishware is crafted with care in Turkey and will surely bring a clean and elegant look to your home!
Get your 16-piece chemical-free dinnerware set from Sur La Table today by clicking here!
The fifth non-toxic dinnerware option to show you is from another highly trusted brand – Duralex!
Like the Libbey and Anchor Hocking plates, Duralex makes their dinner plates from very high-quality soda-lime glass dinnerware.
Duralex dinner plates are free of toxins and 100% recyclable while being 2.5 times stronger than standard glass.
Able to withstand sudden temperature extremes, these non-toxic plates can handle -4°F to 266°F, providing excellent shock resistance.
Quality soda-lime glass dinner plates are certainly some of the safest dishes to use out there.
This non-toxic dinnerware set is microwave, dishwasher, and freezer safe.
Duralex carefully crafts its products in France!
Check out this 4-piece set of Duralex dinner plates and get some today by clicking here!
The sixth and final featured non-toxic dinnerware set from HaWare has a very different look than the previous five examples.
Immokaz crafts their unique dinner plates from 304-grade stainless steel.
Non-breakable dishes offer a massive advantage over the previously discussed dinnerware in this article.
This advantage is durability! Stainless steel plates are by far the most durable dinnerware that you can possess and will never shatter if dropped.
Durability is ideal if you have small kids at home and want to avoid broken glass or ceramic shards in case of accidents.
Not just that, but steel plates are great for traveling and the outdoors/ camping as they are rugged enough to withstand abuse!
These non-toxic dinner plates are some of the safest dishes to use because of their material.
The high-quality food-grade 304 stainless steel is the best for dinnerware due to its superior corrosion resistance.
Being corrosion resistant means that it won't rust or break down, leaching metals into your food.
The primary metals used in producing stainless are iron, nickel, and chromium, which are non-toxic in small amounts anyway.
So even if you had minor amounts of metal leaching into food after the plates got scratched, for example, it's nothing to be concerned about unless you're allergic to one of those metals.
The only downfall with these plates is that you cannot microwave any steel dinnerware, so you'll have to heat the food separately and then plate it on these.
Stainless steel plates are dishwasher and freezer safe. (Also oven-safe, but the plate will be hot so keep that in mind.)

HaWare proudly crafts its quality stainless steel dinnerware in South Korea!
Get your own 4-piece set of safe stainless steel plates today by clicking here!
So there we have it! We've discussed how and why toxic chemicals/ metals end up in dinnerware. We addressed some common concerns and provided you with six outstanding examples of the safest dishes to use at home!
To wrap it all up, here are some quick guidelines to help you stay safe:
Do not heat food or drink in crockery that may contain lead. Cooking or microwaving speeds up the lead-leaching process.

Do not store food or drink in dishes that may contain lead. The longer the food/drink stays in contact with a surface that leaches lead, the more lead gets drawn into the food/drink.

Do not put highly acidic foods in crockery that may contain lead. Acidic foods and liquids leach lead out of dishes much faster than non-acid foods. Common acidic foods include citrus fruits, apples, tomatoes, soy sauce, and salad dressing. Many drinks are also acidic, such as fruit juices, soft drinks (especially cola drinks), alcohol, coffee, and tea.

If a dish contains lead, using the dishwasher can damage the glazed surface. If the glaze is damaged, it's more likely for lead to leach into food the next time you use that dish. In some cases, lead may also contaminate other plates in the dishwasher.

Avoid toxic metals and chemicals in your dinnerware altogether by getting some of the non-toxic options featured above!
After you grab your non-toxic dinner plates, pair them with 
plastic-free utensils!
Also below you'll find some related posts where we cover storage containers, cookware, and more!
Enjoyed this post? Share it with your friends!
Non-Toxic Kitchenware Checklist
Get a step-by-step product guide with insider tips & tricks for the safest kitchen possible!