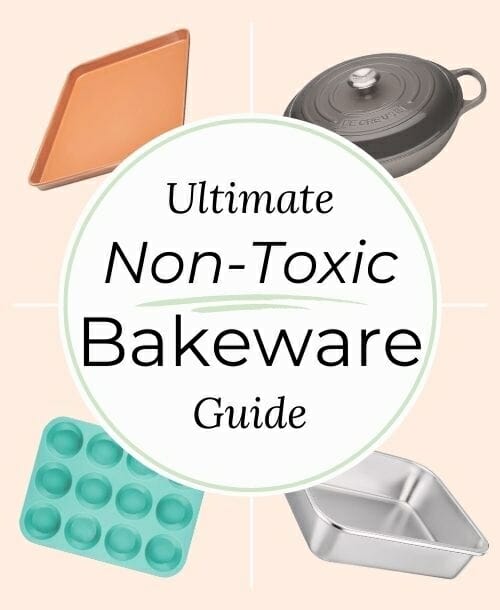 Disclosure: Our reviews stay ad-free as they're entirely reader-supported. As an Amazon Associate, I earn from qualifying purchases. When you buy through links on our site, we may earn an affiliate commission at no cost to you. This revenue helps us test products and develop quality content.
So, you've stumbled upon this non-toxic bakeware guide to clean up your kitchen. Here's why you made a smart move:
Elusive toxins hide in plain sight, with a large number lurking right in your bakeware. Even worse, many of the so-called best non-toxic baking sheets aren't as safe as you think.
But in this post, we cut through the noise and uncover the truth. First, you'll discover the harmful materials you should avoid. This includes tricky colors and that misleading "safe" non-stick stuff.
Then, the six best and safest bakeware materials with our top brand picks for each (#7 is a bonus accessory).
This way, you keep your family safe while crafting the best-tasting treats possible.
Let's dive in!
Pitfalls of Traditional Bakeware – What to Avoid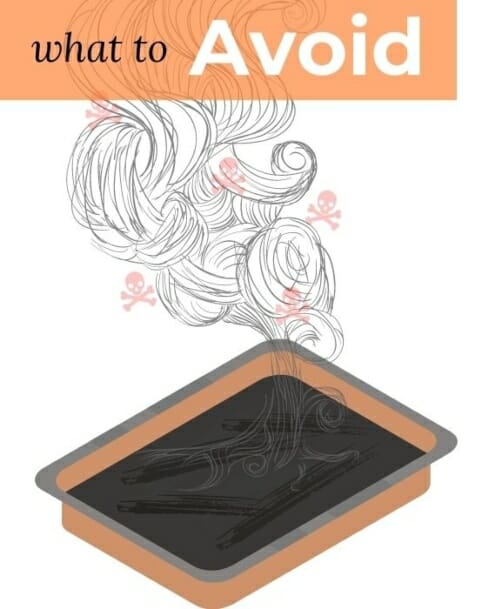 Apples…check.
Flour…check.
Sugar…check.
Hormone-terrorizing chemicals… check?
Sounds ridiculous, but that's what happens every time you cook in old non-stick bakeware.
And that's not the only thing to watch out for—
Let's address the top three baking bullies:
Are Non-Stick Baking Sheets Safe?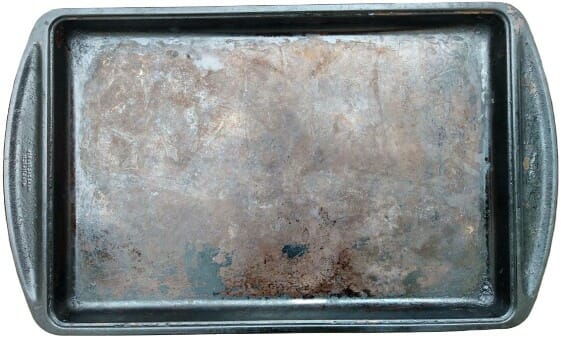 Many of us have old Teflon non-stick baking sheets lying around. But their safety is controversial, all thanks to this four-letter problem—
PFAS, which includes PFOA and GenX. They're the slippery chemicals used to make Teflon baking sheets non-stick.
Now, researchers claim ingesting old, chipped-off Teflon is harmless.
Instead, it's the fumes to worry about.
When a baking sheet reaches 464°F (240°C), the PFOA starts breaking down. Then, the coating off-gasses toxic fumes into the air.
And tests show you can reach this temperature in 60-90 seconds.
The EPA's limited findings shows inhaled Teflon fumes link to:
Flu-like symptoms (

Teflon Flu

).

Immune system damage

Thyroid disruption

Certain cancers

Thousands of pet bird deaths

& effects on the liver & blood, to name a few.
Even worse, Teflon's so-called safer replacements. That leads us to—
After the risks of Teflon came to light, manufacturers replaced PFOA with GenX. That's why today, you'll read "PFOA-free" in the description of most non-stick cooking products.
But, "PFOA-free" does not mean Teflon-free.
It means the Teflon contains GenX instead of PFOA.
And EPA studies on GenX show adverse effects on the liver, blood, reproductive organs, kidneys, and more.
So, avoid all traditional non-stick cookie sheets. They're not the safest bakeware to use, especially with high heat, as they can emit toxic fumes.
Instead, pick from the PTFE-free, non-stick bakeware below.
Are Aluminum Baking Sheets Safe?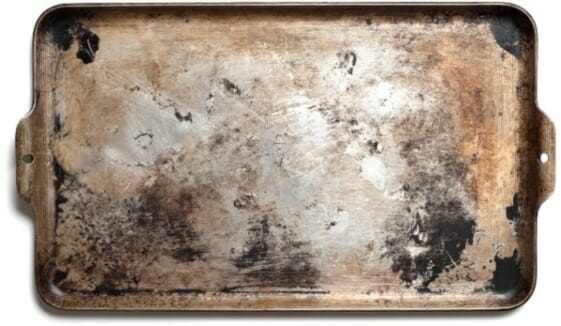 Unlike Teflon, natural aluminum baking sheets won't off-gas toxic fumes. So, they're safer to use with high heat.
But, uncoated aluminum does leach metal into your meal. More so when scratched or baking acidic foods.
Now, it's true dementia and Alzheimer's share links to excess aluminum. But, this is rare from routine dietary intake – your kidneys filter out 95%.
Yet, if you have impaired kidney function, baking on aluminum can cause toxicity.
Regardless of kidneys, uncoated aluminum is not good for cooking acidic foods… It can leave a foul metallic taste.
So, to get the best flavor out of your food & avoid excess aluminum—
Avoid scratching aluminum baking pans with metal utensils or abrasive scrubbers. Doing so increases leaching.
Instead, use silicone or wood utensils.
Also, line the baking sheet with parchment paper or a silicone mat.
Not sure if your pan is aluminum or steel?
Stick a magnet to it.
If the magnet sticks to the pan, it's stainless. If it doesn't, it's likely aluminum bakeware. But, this method isn't always spot on, so use it as guidance, not gospel.
Lead & Cadmium-Containing Colors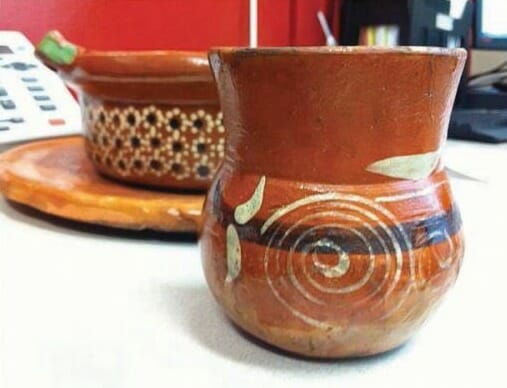 Like dinnerware, sometimes bakeware contains leachable lead & cadmium in the glaze. This is most common with vibrant red and orange-colored ceramics.
According to the WHO, exposure can cause kidney and brain damage, among other effects.
That's why, due to proposition 65, any bakeware produced and sold in the US today must obey strict standards. Lead and cadmium levels must be within safe levels.
But, poorly-made items from foreign, unregulated factories still land on our shelves.
So choose only from well-known brands with strict quality control—
Check the brand website's FAQ page to see if they address safety.

Make sure there is clear labeling (in-store)… Generic, unmarked, China-made brands raise too many red flags.

Or, just pick from our 

vetted selections below.
Un-safe Bakeware: The Bottom Line
Look, the stuff above won't make or break your health. Saying it will is fear-mongering. But, prolonged exposure can chip away at your overall well-being.
Why risk it?
Especially today, when it's easier than ever to score the safest bakeware. And to do so without losing convenience.
So, below you'll discover not only the best bakeware materials, but the safest picks of each.
There was no stone unturned when evaluating these bakeware brands. Everything from material and cooking performance to brand reputation… We even studied at the safest bakeware colors!
The Six Safest Bakeware Materials (& Our Top Brand Picks for Each)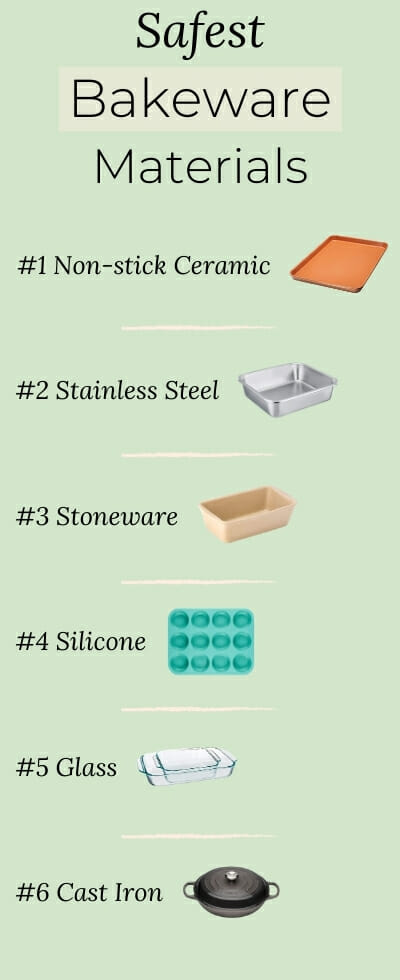 This section reviews our top bakeware picks for the six safest bakeware materials:
You can click the above-highlighted text to jump ahead.
For each of the six bakeware materials, you'll first see its pros and cons, then our top brand picks in that category, and finally, tips on prolonging your bakeware to stretch your dollar further.
1. Non-Stick/ Non-Toxic Baking Sheets (PFAS-Free)
Pros of Ceramic-Coated Bakeware:
Versatile, non-toxic, non-stick bakeware. Bake everything from delicate eggs to your grandma's cookie recipe – without grease 

or

 toxic fumes.

Safest material for baking sheets (non-stick): 

Free of lead, cadmium, & all PFAS chemicals (PTFE/ 

Teflon

, PFOA's, GenX, etc.): Safe for you, your kids, & your pets.

 No grease means fewer calories

& an improved physique.

Wipes clean in seconds, so you spend less time scrubbing & more time with family.
Safer than Teflon under high temperatures (800℉ compared to 464℉), so it's more forgiving if you overheat.
Even-heating, efficient surface, so you can cook faster with lower heat.
Stain & odor resistance to stay looking new.
Ceramic baking sheets don't react with acidic ingredients 

(no metallic taste)

 & won't rust.
Cons of Ceramic-Coated Bakeware:
Non-stick ceramic bakeware loses its non-stick over time.
Not dishwasher or metal utensil-safe… Even though many brands claim it is (both decrease the coating's lifespan).
Not microwave-safe
Gotham Steel Ceramic-Coated Bakeware Set (5-Piece)
Most non-stick baking sheets use PFAS coatings. While convenient, PFAS's risks outweigh its benefits (see above). But Gotham Steel addressed these concerns by creating its innovative titanium-ceramic bakeware!
As a true healthy alternative to non-stick baking trays, this set provides Teflon's same benefits: Effortless cooking and cleaning. Yet, unlike Teflon, there are no toxic fumes if you accidentally bake too hot.
I regularly use the loaf pan for pumpkin bread; once finished, I can simply turn the pan over, and the loaf slips right out. I love it!
Better yet, the titanium reinforcement improves this set's usable lifespan, as it strengthens the coating to prevent wear. And wear is the #1 non-stick killer.
Economical: The unique titanium-ceramic coating resists scratching better than standard ceramic… It lasts longer & saves you cash on replacements.

Fast, even heating & warp-resistant: 0.8mm hard-anodized aluminum maintains its structure for years. It also conducts heat beautifully, cooking evenly.

Bake almost anything with one set, so you'll save time on buying pieces separately.

Included: A 9.5" non-toxic round cake pan, 9.5" x 5.5" loaf pan, 9.5" square pan, 12ct muffin tin, & a 12" x 17" non-toxic baking sheet. Oven-safe to 500℉.

Total weight of set: 7.6 lbs
Drawbacks: The baking pan may temporarily warp, which is expected with any pure aluminum sheet pan. Mine does this every time but always straightens out shortly after.
Overall, buyers love this set's sturdiness compared to other non-Teflon baking trays. And for the low price, you can't beat it!
CasaWare Ceramic/ Carbon Baking Sheet Set (3-Piece)
CasaWare's non-Teflon cookie sheets are one-of-a-kind. I was immediately impressed by their hefty, durable feel. And that's because CasaWare, unlike most companies, produces their bakeware with carbon steel instead of aluminum!
This set isn't just aluminum-free, either. It's Teflon-free, of course, as granite-reinforced ceramic covers each carbon steel sheet.
The result? Rugged yet healthy non-toxic baking sheets that don't stick, bend, leach toxins, or release allergens. Plus, carbon steel retains heat better than aluminum, which browns food evenly as there are no cold spots.
Because of carbon steel's greater thermal mass, I've found CasaWare to give food more of that roasted texture.
No aluminum or nickel: The safest cookie sheets for allergies or kidney disorders.

Unmatched even-heating & heat-retention: Hefty, 0.8mm carbon steel achieves expert-level flavor & browning. Excellent for roasting veggies.

No warped pans: More warp-resistant than stainless steel & aluminum.

Effortless & stylish: This buyer speaks for most: "Baked on cheese, melted chocolate, all wipes right off!" Plus, not only one of the healthiest cookie sheets – but the coolest-looking, too!

Includes: One 15.5" x 10.5" pan & one 13.5" x 9.5" pan – both 0.75″ deep & oven-safe to 450℉.

Total weight of set: 5 lbs
Drawbacks: Be careful not to scratch or ding the pan's edges. If enough ceramic coating scrapes off, the carbon steel underneath can rust. Also, carbon steel heats slower than aluminum, so you may want to preheat the pan before use.
USA Pan Baking Sheet with Rack
Imagine mixing aluminum's heating properties with steel's strength and non-stick ceramic's safety. You'd get USA Pan's non-toxic cookie sheets!
USA Pan's unique aluminized steel bases have evolved from standard baking sheets. By fusing aluminum with stainless steel, this material offers several improvements over standard baking pans—
Aluminized steel is far more warp-resistant and long-lasting than aluminum itself… Yet, it heats more evenly than stainless steel alone.
USA Pan's patented Americoat coating is also one-of-a-kind: A PTFE-free, silicone-based surface.
It easily repels food and practically rinses clean without soap, plus it lasts longer than non-stick ceramic. I've used this pan for almost two years now without the slightest dip in performance.
Includes a cooling rack with six raised feet for stability. 360-degree air circulation produces crispy, evenly-baked tenderloins, bacon, veggies, & more. Or, quickly cool fresh-baked cookies so they never overcook!

Unique corrugated surface: Aids airflow to further ensure evenly baked food. This also helps release food for easier cleaning.

Patented design heats/ browns evenly & doesn't warp. Thick, aluminized steel and wire-reinforced rims almost guarantee no warping. Mine has yet to bend, even past 400℉+.

Pan size: 17.25″ x 12.25″ x 1″ deep. Rack: 16.75″ x 11.5″ x 0.5″ deep. Total weight: 3.5 lbs. Oven-safe to 450℉.

Lifetime warranty.
Drawbacks: Some users experience warping, often from placing cold food in a hot oven. This is simply thermodynamics. Let your food sit outside the fridge first and warm up. Also, this pan is big, so washing in a small kitchen sink may be cumbersome.
Overall, this is one of the best toxic-free baking sheets I've ever used.
Caring for Non-Stick Ceramic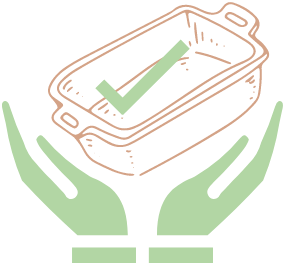 Avoid abrasive cleaners like steel wool. Use only warm, soapy water & a sponge or cloth to clean bakeware.
Don't use non-stick cooking spray… It'll build up a hard-to-remove film that damages non-stick performance. Instead, use standard vegetable oils.
Do not plunge hot ceramic non-stick bakeware into cold water. The rapid temperature change will damage the coating.
2. Stainless Steel Bakeware (No Coatings)
Pros of Stainless Steel Bakeware:
Non-porous, non-toxic, & hygienic for food prep:

 Won't absorb bacteria or stain.

Coating-free & unbreakable: 

More forgiving if you overheat – no damage or toxic fumes. Plus, metal utensil-safe for more freedom, unlike ceramic cookware & bakeware.

Low maintenance & rust-proof: 

No special care required & dishwasher-safe (more on cleaning tips later).

Refrigerator, freezer, stovetop (including induction), oven, & broiler-safe.
Steel heats faster & weighs less than cast iron.

Affordable, yet lasts forever

 without losing performance (a good return on investment).

Slight sticking adds flavor to food.
Cons of Stainless Steel Bakeware:
Not non-stick (requires grease – which increases calorie intake).
Not microwave-safe.
Poor heat conductor if there's no aluminum core.
Nickel can leach from stainless steel. Avoid it if you're allergic. If not allergic, stainless steel bakeware is safe. (Just in case, we added a nickel-free option below.
It can stain or darken if you overheat.
TeamFar Stainless Steel Brownie & Casserole Pan Set (2-Piece)
When I bought this set for my mom, its commercial-grade quality struck me first. Not just in its thick, heavy-duty feel but also its slick finish. It's crazy how easily these baking pans clean, considering there is no non-stick coating.
Yet, despite being 100% stainless steel, these pans wipe clean like Teflon!
We can thank this set's matte finish, which limits the food's ability to stick to the pan. Non-matte steel often collects food in tiny grooves, increasing sticking. Whereas here, those "micro-grooves" are polished smooth.
With such versatile sizes, high durability, and ease of cleaning, this set has quickly become a family workhorse.
Versatile, do-anything-well set: Bake anything from brownies & cornbread to casseroles & lasagna. You can even reheat things like gravy right on the stovetop!

Extra-deep 3" depth: Churn out extra-thick brownies, casseroles, or baked mac n cheese without spills. Also great for storage – the non-sharp, rounded edges hold foil without tearing.

Matte finish repels sticking effectively without coatings.

Includes: Large rectangular baking pan (13" x 10" X 3") & small stainless steel cake pan (10.5" x 8" X 3"). Oven-safe to 450℉.

Total weight of set: 3.4 lbs
Drawbacks: Some users dislike the depth of these pans. I see what they mean, as I anticipated something a bit more shallow. Suppose you want to roast some bacon in the oven, for example. In that case, you'll need something more shallow to allow better air circulation.
Stainless Steel All-Clad Lasagna Pan with Lid
All-Clad is a pioneer in the cooking industry, producing some of the highest-quality materials today. All-Clad's workhorse stainless steel baking pan is no exception, made from heavy-gauge 18/10 steel.
With such thick, high-quality steel, this pan offers maximum durability and heat retention… Meaning, once hot, this pan stays hot. By limiting temperature fluctuations, this pan always bakes evenly.
The high, straight sides and large surface area further help spread heat evenly between food layers. This is perfect for thick meals like lasagna. Tall sides also prevent messy overflows during baking, serving, or transport.
Plus, the tight snap-on lid guarantee's you won't arrive at your parent's holiday dinner covered in pasta!
Afterward, pop leftovers right into your fridge. Then, reheat those seconds in the oven or directly on the stovetop, all in the same pan.
Thick, high-quality steel

prevents warping & offers excellent heat retention abilities.

Non-reactive 18/10 stainless is unaffected by acidic ingredients, never alters flavor, & easy to maintain.

Raised lid won't press against the top of your food during transport.

Mirror-polished for extra easy cleaning despite the absence of non-stick coatings.

Dishwasher-safe

Measures 12" x 15" x 2¾" deep; holds 5 quarts. Oven-safe to 600℉. Total weight: 6.2 lbs (5.5 lbs without lid).

Lifetime warranty.
Drawbacks: The lid is plastic and can only withstand 212°F, so you're limited with reheating while the cover is applied. Some customers were disappointed by this fact. Also, All-Clad produces this pan in China. Yet, they use the same materials, processes, and standards, making no difference.
Also available: For smaller portions, yet the same design, check out All-Clad's square baker with lid. It measures 8″ x 8″ x 2″ (20.3 x 20.3 x 5cm).
Looking to buy elsewhere? Grab All-Clad's lasagna pan from Sur La Table here. You can pay in four interest-free installments using afterpay.
TeamFar Nickel-Free Cookie Sheet Set
TeamFar's stainless steel baking sheets have CasaWare (above) beaten regarding safety and longevity. Like Casaware, this set is entirely aluminum and nickel-free, so there is no concern over leaching. It's also Teflon-free, eliminating toxic fumes.
Instead, TeamFar produces pure 18/0 stainless steel cookie sheets. (18% chromium/ 0% nickel.)
And unlike Casaware, there's no non-stick coating that can get damaged—
This customer sums them up perfectly:
"I don't like cookware with nonstick coatings that have to be treated with kid gloves so you don't damage them. That's why I love stainless steel sheets, they take a beating and still work great."
So when you want a clean, no-nonsense baking sheet, look no further than here.
Safest baking sheet available: TeamFar's non-toxic baking sheets are perfect for those with raised health concerns or allergies. No nickel, aluminum, or coatings, unlike most baking sheets today.

Mirror-polishing: Beautiful-looking & naturally resists sticking.

Versatile 1″ depth: Prevents spillovers, yet not too deep to allow proper airflow. So, no mess & excellent browning! Plus, they perfectly hold silicone baking mats!

Includes two pans, each measuring 16" x 12" x 1" deep. Oven-safe to 450℉.

Total weight of set: 3.4 lbs.
Drawbacks: Being pure stainless, you may need to use parchment paper or foil if baking something sticky. Do not use cooking spray on these; I've done this before, and the spray bakes onto the stainless steel. It's a mess!
Caring for Stainless Steel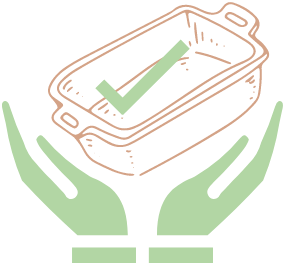 Although steel bakeware is resilient, you should avoid using steel wool when cleaning. It can score & pit the surface. Instead, use a Scotch-Brite pad.
Clean thoroughly after each use. Leftover food films will cause discoloration when you reheat the pan. Speaking of that—
Notice dark spots or white calcium build-up on stainless steel baking sheets? Use vinegar, baking soda, or Bar Keepers Friend to remove the blemish.
3. Pure Ceramic Bakeware (& Unglazed Stoneware)
Pros of Ceramic Bakeware:
Non-reactive, non-toxic, & non-porous. Made from impervious heat-strengthened clay.
Doesn't hold odors or flavors, so each meal remains untainted from the last.
Use stoneware on the stovetop, grill, oven, broiler, & even the microwave. Get more use from one piece & save kitchen space.
Refrigerator, freezer, & *dishwasher-safe (*glazed ceramic only). 
Resilient, metal utensil-safe surface, so nobody yells at you for using a steel spoon.

Excellent heat retention and distribution: 

Cooks your entire meal evenly without cold spots. Also,

 

serve seconds without having to reheat, helping to conserve energy.

Smooth, less-stick surface. Unglazed stoneware develops a non-stick seasoning (like cast iron), except it can't rust.
No leaching of metallic flavors with acidic foods.
Does not lose performance over time.
Cons of Ceramic Bakeware:
Heavy & heats up slowly.
Breakable.
Requires a little cooking oil to prevent sticking entirely.
Sometimes pricey.
Le Creuset Stoneware Casserole Dish with Lid 2.5 Qt
Stoneware is one of the best baking materials due to its excellent moisture and heat retention. However, finding quality stoneware is tough. And ceramics from no-name brands are risky (threat of lead and cadmium).
But not Le Creuset. They form this casserole from hardened, lead-free French clay and fire it at a whopping 2156℉, sealing the ceramic. The result is a high-quality, rugged, inert dish that won't leach metals or toxins into food.
Like my Xtrema Versa skillet, I love how predictable this casserole is:
With such excellent heating performance, I know my food will slide out of the oven juicy and evenly-baked. I also notice more texture in my dishes, giving each bite more complex flavors. And food stays hot in this casserole for seconds.
Between that and the lovely French design, it's perfect for one-dish baking and serving.
A nearly non-stick interior, thanks to the slick, non-porous glaze. One reviewer stated,

"So far, I haven't had anything stick in my Le Creuset bakeware."

Tight-fitting stoneware lid. Traps in heat & moisture for mouthwatering tender stews, moist cakes, & fluffy bread.

Measures 9" x 9" x 3" deep. Safe from -65 to 500℉. Weight: 3.4 lbs.

Lifetime warranty.
Drawbacks: The walls of this casserole are thick, giving you less interior space than I thought. Also, this dish will likely break if dropped.
Emile Henry HR Modern Classics Rectangular Baker
Emile Henry shapes this baker from lead-free, "High Resistance" Burgundy clay using state-of-the-art manufacturing processes. Burgundy's mineral-rich limestone soil is also noted for producing the world's most famous wines!
When used to make bakeware, this clay exhibits remarkable thermal shock properties—
Burgundy clay slowly heats, but it does so evenly throughout the entire dish. As a result, this baker pulls out all those hidden, complex flavors and aromas. Its superior heat retention keeps food hot and flavor-packed when serving directly from the pan.
This baker is also deeper than competitors' – great for thick casseroles, heavily-layered lasagna, and huge roasts. Compared to my other 9×13 pans, I can bake loaded mac and cheese without spilling!
High-Resistance, mineral-rich clay from Burgundy, France: One of the best non-toxic roasting pan materials. It has the durability to last & the glaze won't crackle in the center.

One dish baking, serving, & storing: Keeps food hot, superb for oven-to-table serving. The generous depth helps prevent spills during car rides too.

Ultra-smooth, virtually non-stick surface for less scrubbing & more Netflix. One customer says, "Cheese, sauce, chicken, fruit, after a soak, everything wipes right off!"

Sturdy handles for easier lifting & serving.

Measures 13" x 9" x 2.95" deep. Holds 4.8 quarts. Microwave, oven, & broiler-safe up to 515℉. Weight: 5.5 lbs.

10-year warranty.
Drawbacks: The handles can make the pan more challenging to seal with aluminum foil. But I've found heavy-duty foil works better in this case. Also, remember this pan has some heft and can break if dropped. So use caution when handling.
Pampered Chef Stoneware Loaf Pan
Pampered Chef forms this non-toxic loaf pan from all-natural, lead-free clay. But unlike most competitors, this brand leaves their stoneware unglazed… This offers several unique benefits—
The semi-porous nature of unglazed ceramic promotes better air and moisture circulation. So, bread bakes evenly and takes on a crispy, fluffy exterior. Yet, the inside remains perfectly moist.
Even better, the pan develops a patina – a naturally non-stick seasoning layer. Like seasoned cast iron, bread slips right out from this pan, despite zero non-stick chemicals!
If you hate babying non-stick coatings but want an easy-cleaning, even-heating pan – this is it.
Chemical-free non-stick layer that gets better over time. I've recently purchased this pan for my stepmom; she reported they nearly clean themselves! Score!

Even-heating & excellent air circulation. Crispy crusts, moist interiors, & no burnt bottoms.

Excellent heat retention & regulation: Maintains consistent temperatures during stove cycling, ensuring food bakes evenly.

Measures 9" x 5" x 2 ¾" deep. 6-cup capacity. Oven-safe to 550℉. Weight: 2.5 lbs.

3-year warranty.
Drawbacks: You can't use dish soap or the dishwasher with unglazed clay. Doing so can ruin the patina, so hand-wash only. You may find it bothersome if you're not used to this treatment.
Sold out? This stoneware loaf pan is also available on Etsy, among others from the brand.
UPDATE: During ongoing research, I discovered this epic non-toxic stoneware baking sheet.
With thick, unglazed stone, and its unique "Heat Spiral," anyone can churn out brick oven-style pizza and bread – right at home!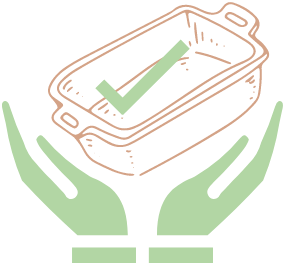 Thoroughly clean after use – Don't let food bits sit on the ceramic for long periods.
Let cool before submerging in water to prevent breakage & prolong the ceramic.
Use baking soda or vinegar to remove any stains.
Do not place frozen leftovers in a preheated oven to reheat. Instead, place the stoneware pan in a cold oven & set the temperature. Allow both to heat together.
Pros of Silicone Bakeware:
Versatile, non-toxic material: Silicone bakeware is inert under extreme temperatures & safe for human health.
Microwave, oven, dishwasher, fridge, & freezer-safe.
Stain, odor, & corrosion-resistant: Silicone stays looking new for years.
Durable & inexpensive: Pays for itself several times over.
Naturally non-stick without cooking oils, meaning fewer calories & a flatter tummy.
Soft, flexible, & child-friendly: Won't damage your countertops or floor if dropped.
Easy to fold up & store in tight places due to its flexibility.
Cools down within seconds, which helps avoid accidental burns… Helpful if you have small children running around.
Bakes evenly & prevents burning food (low thermal resistance).
Cons of Silicone Bakeware:
It needs a firm surface underneath (like a baking pan) to avoid flipping food on the floor.
Can't use silicone over an open flame.
Sometimes contains plastic fillers in low-quality silicone.
Sharp instruments will slice silicone.
Can underbake goods, so you might need to increase baking times by a minute or two.
Silicone Muffin Pan Set (2-Piece)
Customers are raving over how convenient these pans are:
Despite using zero oil or cupcake liners – muffins, egg pucks, and whatever else you make, slip right out!
Yet, these pans don't just make the easiest cupcakes. They make the safest, too.
Unlike most competitors, CakeTime uses only pure, LFGB-certified food-grade silicone. It passes more stringent safety criteria than FDA-certified silicone, making it the safest available.
Effortless cleaning: Dishwasher-safe, yet residue rinses off without scrubbing. "Egg muffins slide out of the pan like a dream," one customer explains.

No need for baking cup liners: I hate when you want to bake cupcakes & realize you're out of cups. With these, you don't need any.

Included: One 12-cup silicone non-toxic muffin pan (13" x 9.6" x 1.2″). And one 24-cup mini-cupcake mold (13.4" x 9.5" x 0.7″). Freezer & oven-safe from -104℉ up to 446℉.

Includes 12 bonus silicone baking cups. Use them on your existing metal pans & ditch the paper cups.

Total weight of set: 1 lb
Drawbacks: I've found silicone muffin pans are too flexible to use alone. So I always place them onto a rigid baking sheet to prevent spills when removing them from the oven.
Overall, this muffin pan set is a must-have. Its versatility makes experimenting with both frozen and baked treats so much fun!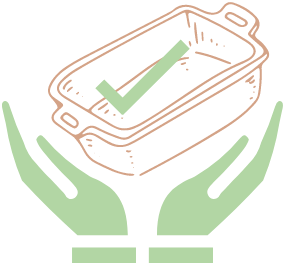 If there's an oily residue after cleaning, make sure to scrub with hot water & a degreasing soap (like Palmolive or Dawn).
For the occasional stubborn baked-on bits, more heat can help. Put the silicone pan back in the oven at 350℉ for 10 minutes. Take it out, then soak it in hot water. The food bits should loosen.
Non-toxic glass bakeware doesn't absorb or release odors, flavors, or stains. It's perfect for acidic pasta dishes.

Sanitary surface that never wears out (unlike coatings): 

As a result, you get max value from your dollar.

See-through, so you can easily track cooking progress. You'll know when your pie is ready, avoiding over/ undercooking.
Great for food storage & serving: Use fewer containers & save cleanup time while limiting plastic exposure.
Heats evenly, which means no trash bin-worthy half-baked meals.
Easy to clean & dishwasher-safe.
Freezer, refrigerator, oven, & microwave-safe. A few types are stovetop-safe.
Breakable & heats up slowly.
Weak glass bakeware can shatter from sudden temperature changes.
Not broiler-safe (unless it's the third option).
Some glass contains lead (tinted/ decorated glass & leaded crystal). So, avoid both with food use.
Pyrex Glass Baking Pan Set (2-Piece)
In 1915, Pyrex solved the issue of cheap, easily-breakable glass bakeware. Just by holding these non-toxic baking pans, you know this to be true.
I love the thick, sturdy feel that sets Pyrex apart. Despite them ditching borosilicate glass in the 90s, Pyrex's extra-thick, tempered soda-lime glass is surprisingly rugged.
This 2-piece combo is simple yet powerfully versatile: One 3-quart baking dish (13" x 9" x 2") and one 2-quart (8" x 8" x 2").
Since my earliest childhood memories, my mom has always used this same Pyrex lineup. We cooked everything, as these sizes can handle most tasks— casseroles, pasta, stuffing, broccoli salad, desserts, etc. You can do it all with this set.
Versatile duo reduces the need for extra bakeware purchases & limits reliance on food storage containers.

Easy-to-carry handles.

Safety features: Tempered soda-lime glass often lacks sharp edges if it breaks… Good news if you have children or pets.

Even heat distribution: Thanks to the extra-thick design, food bakes & browns more evenly than thinner glass pans.

Transparency offers more control: I always loved watching food bubble & bake through the glass. It's fun but also practical, as you can easily monitor cooking progress.

Oven-safe to 450℉. Total weight of set: 5.8 lbs
Drawbacks: While more rugged than other brands, Pyrex's tempered soda-lime glass is still less resilient than the original borosilicate. But you may find some vintage borosilicate Pyrex on Etsy!
Other options: Looking for a single 3 Qt Pyrex baking dish? Get it here!
Or, how about the same 2-piece set, but including lids for transport? You can get that set here.
OXO Good Grips 9" Glass Pie Plate with Lid (Borosilicate)
As mentioned, borosilicate glass is far superior to soda-lime due to its shock resistance. It's less likely to shatter. However, most companies today have switched to soda-lime, including Pyrex.
But OXO still crafts their pie dishes from thick, lead-free borosilicate glass! This offers more peace of mind, as you can bake pies, quiches, crumbles, and more (up to 475℉) – without concerns of exploding glass.
Hate when your pie gets crushed in the fridge? I do; that's why the included snap-on lid is so handy.
Stackable and splash-proof, the BPA/ PVC-free lid is excellent for storage or travel without crushing your desert. Or "pie-ing" yourself on bumpy roads, of course.
Shock-resistant borosilicate glass: Go from the freezer, straight to the oven or microwave, without exploding like a hand grenade!

Preserves crispy crust: Lid vents prevent moisture build-up & soggy pies. Maintains an oven-fresh texture days later for maximum pie-joyment!

Deep-dish design with protective domed lid. This is my favorite feature, as my cramped fridge often demands stacking. With this pie dish/ lid combo, I can whip up extra-thick pies & stack anything on top without destruction!

Reduces reliance on plastic wrap & aluminum foil, cutting waste.

Good for the planet: OXO donates 1% of proceeds to environmental charity programs & non-profit initiatives.

Measures 9" wide x 2.1" deep. Total weight with lid: 2.5 lbs.
Drawbacks: While the lid's vent holes are great at preventing soggy pies, they do let air inside. For airtight storage, you'll need to tape over the vent holes. Some customers were displeased by this.
Corningware Pyroceram Stove & Oven-safe Casserole Dish Set (2-Piece)
If you've ever had glass explode in the oven, it tends to make you wary. Glass and ceramic bakeware is always a gamble.
But, I'd put most of my trust in Corningware to stand the test of time—
They craft this set from lead and toxin-free pyroceram, a unique glass-ceramic blend. This time-tested material remains unmatched in the glass category, surpassing soda-lime and borosilicate glass in shock resistance.
As a result, Corningware withstands stovetop and broiler use at temperatures past 500℉ without cracking. And the 10-year warranty proves it!
Ultimate do-everything dish set to save clutter: With a single dish, you can bake in the oven, then serve straight on the table. After, slide that dish and leftovers into the fridge or freezer. You can then reheat directly from the fridge to the oven, microwave, or stovetop – without catastrophe!

High durability: This piece makes a great family heirloom. Many customers bought this set to replace a dish they've owned for decades.

Beautiful & nostalgic: These remind me of my mom's old Corningware pieces, which my grandmother handed down! A truly timeless classic.

Included: One 2L dish (holds roughly 1.5 Qt of food) & a larger 3L (fits 2.5 Qt).

Total weight of set: 9.9 lbs

10-year warranty.
Drawbacks: Although highly durable for glass and ceramic, these dishes can still break if dropped from the countertop.
Looking for more pyroceram options from Corningware? Head to their storefront here to browse.
Side note: Original Corningware is scarce nowadays – there's no guarantee it will be in stock on Amazon. If it's unavailable there, check here on Etsy.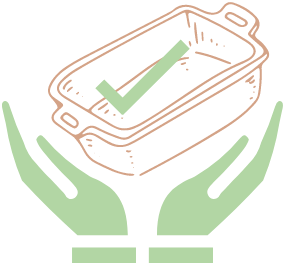 Do not add liquid to bare hot glassware.

Do not place hot glass on cold or wet surfaces. Instead, put the dish on a dry towel, cutting board, or cooling rack.
Allow pans to cool before immersing in water.
6. Cast Iron Bakeware (Porcelain Enamel)
Pros of Enameled Cast Iron Bakeware:
Non-toxic cast iron with a baked-on glass coating – resists sticking & locks out moisture & rust.
Lower maintenance than raw cast iron – no need for seasoning.
The inert surface won't leach iron or react with acidic foods (no metallic taste).
Durability to last for decades, paying for itself over & over again.
Do more with less: Broil, roast, braise, fry, bake, saute, or simmer on any stovetop (including induction) & in the oven – all with one piece.
Safely bakes at high temperatures without fumes or damage.

Retains heat better than most materials:

  Food temperature remains steady in the oven when heat fluctuates. So, food bakes more evenly. Plus, it keeps food hot when serving straight from the stove.

Dishwasher-safe & able to use soap.
Safe to use with metal utensils – *

carefully

 (*more on that 

below.)
Cons of Enameled Cast Iron Bakeware:
Heavy & heats slowly.
Not fully non-stick (needs a little oil).
Enamel can crack or chip from drops or rapid temperature changes.
Higher-priced than raw cast iron.
Not microwave-safe.
Lodge 6 Quart Enameled Cast Iron Dutch Oven
Want the benefits of cast iron without the maintenance? Get it with Lodge's lead-free enameled cast iron!
A non-toxic glass enamel coating seals the raw iron, making this Dutch oven rust-proof and low-maintenance. No seasoning upkeep nor any special wash instructions! Dish soap? Use it.
But even better than ease is the price. Typically, high-quality enameled Dutch ovens will cost you. It's not uncommon to see them for $200-$300 – each.
But Lodge opens the door to high-quality enameled iron at a very fair price. One customer sums it up:
"When I saw the Lodge at such a reasonable price, I thought, there must be something wrong with it. Wrong. Take it from a lifelong pro chef, you can't do any better than this one for function, cleaning, and great tasting food."
As a long-time Lodge user myself, I agree.
US-made strength & performance at a low price, unlike impure/ poor-heating iron from generic brands. Yet, much more affordable than Le Creuset.

Hefty mass = even heating & zero cold spots. Churn out evenly-baked artisan bread, stews & soups, moist cakes, etc. – all with unmatched texture & flavor. I recently braised a chuck roast in this Dutch oven with phenomenal results. The meat fell right apart!

Durable stainless steel knob that won't melt or rip off.

Built-in side handles to easily maneuver the pot when serving, cooking, or cleaning.

Measures 13.5" x 11" x 4.7" deep. Weight: 13.8 lbs. Oven-safe to 500℉.

Lifetime warranty.
Drawbacks: Lodge manufactures its enamel pieces in China, not the USA, like its raw cast iron. However, production processes, materials, and quality standards are identical. There is no drop in performance. Also, cast iron is heavy, so use caution.
Le Creuset Enameled Cast Iron Braiser (2.25 Qt)
Le Creuset's non-toxic/ lead-free enameled braiser pairs beautifully with compact kitchens.
It's lighter than similar dutch ovens, so it's easier to manage… Perfect for 2-3 people. Yet, without sacrificing cooking results or versatility—
You still enjoy top-notch heat distribution and retention, so food bakes evenly.
Plus, with the safe, non-reactive enamel, there's nothing you can't cook. And cleanup is straightforward; use dish soap or the dishwasher to save time.
Versatile & easy to clean: One thing I notice right away with Le Creuset is how nicely it heats & how easily it cleans by hand. Compared to my cast iron skillet, this is a breeze (just don't overheat it! See below).

Durable stainless steel knob that will not rip off and send your lid to the floor.

Dome-shaped lid promotes heat & moisture circulation for tender entrees.

Great for entertaining. It keeps food hot for serving, while its captivating French design stands out.

Measures 10" wide x 2 ⅛" deep. Weight: 10.4 lbs. Oven & broiler-safe to 500℉.

Lifetime warranty.
Drawbacks: Le Creuset is very expensive, although you get your money's worth. Also, delicate foods may scorch and stick to the enamel easily when using too much heat on the stovetop. I made this mistake before. To prevent scorching and sticking, always preheat and oil properly.
Caring for Enameled Cast Iron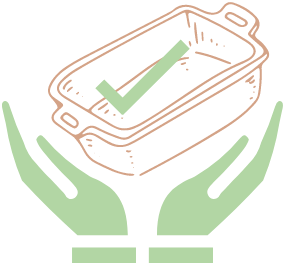 Do not "bang" on the enamel with metal utensils – it can chip.
Always heat up slowly on the stovetop.
Don't expose to dramatic temperature changes… Especially near moisture.
Do not heat an empty pot.
Let cool before soaking in water.
For stuck-on food: Boil water for a few minutes. Then, scrape off the bits with a wooden spatula or Scotch-Brite pad.
Safest Baking Sheet Liners (Bonus)
…& why you should use them:
Perhaps you're using parchment paper as a safe baking pan liner? Or maybe aluminum foil?
Here's something to consider:
While aluminum foil isn't necessarily harmful to health (not unless your kidneys are impaired), it can alter your food's flavor.
Not to mention it's wasting resources.
On the flipside, parchment paper is safer than aluminum foil for those with kidney issues. And it protects flavor, making it a better choice.
…But, parchment paper is still wasteful. That begs the question—
What can I use instead of aluminum foil & parchment paper?
Hands down, the best aluminum foil alternatives to use are silicone baking sheets—
With these safe, healthy cookie sheet liners, you'll cut waste, save money on disposables, and avoid excess aluminum intake.
Best Non-Toxic Baking Sheet Mats (Silicone, 2-Pack)
Silicone Kitchen crafts its mats from 100% pure, food-grade silicone— Unlike other brands that use fiberglass blends.
So, they're entirely non-toxic, non-stick, and, best of all – reusable! No more messing with aluminum foil, parchment paper, or even grease.
Each mat measures 16" x 11.75." And the cool thing is, you can cut them to any size to fit your baking pans!
Safe from -40 to 446℉.
Save moola: Quit throwing money in the trash with disposable parchment paper & foil.
Non-stick & fewer calories: There is no need for cooking oil; food slides right off your baking sheet without it.
Prevents charring, so kiss burnt cookie bottoms goodbye.
Smooth, multi-purpose surface: Not just for baking! Use them as countertop protectors for decorating cookies & non-slip dining mats for kids… Or, use them underneath your cutting board for grip, even to rest hot baking pans on!
Easy to clean: Silicone baking sheets are dishwasher-safe & wipe clean easily.
Includes a FREE reusable cotton mesh bag… Use it for anything & reduce plastic pollution!
Drawbacks: There are some complaints about lint sticking to the mats.
Unfortunately, there's not much you can do about it. But, it's not a real "problem" – more a visual annoyance than anything. Simply rinse before use.
Buying Tips to Choose the Right Non-Toxic Bakeware for Y

our

Demands
Overwhelmed with choices? Here are two quick questions to help you think through your decision:
Think hard about the types of meals you bake most often. 

For example – if you're doing lots of high-heat roasting, stay away from non-stick ceramic. Instead, grab something more resilient like enameled cast iron or pure stainless steel.

How much time do you have available to cook and clean?

 Non-stick ceramic bakeware wipes clean fast, but it's not dishwasher-safe. Yet, stainless and enameled iron don't always clean easily, but they 

are

 dishwasher-safe. Unglazed stoneware and raw cast iron demand the most care.
Once you have a better idea of your material, here's what I suggest—
Don't think you must grab a complete bakeware set upfront.
Instead, consider grabbing one or two items in one or two materials that suit your habits. Use the earlier Pros and Cons to judge.
Use them, test them, see which material you like best. Then, build out the rest of your collection with your favorite!
Well, as they say, all good things must come to an end… This concludes our non-toxic bakeware guide!
You saw what to avoid, including those misleading PFOA-free non-toxic cookie sheets.
Then, we explored the safest bakeware materials.
And finally, you found the "true" best non-toxic baking sheets and other bakeware picks.
Now it's your turn. What will you pick first?!
P.S. Bakeware, check. Next up, explore our post on the nine best non-toxic cookware options to finish detoxifying your kitchen!
Enjoyed this post? Share it with your friends!
Non-Toxic Kitchenware Checklist
Get a step-by-step product guide with insider tips & tricks for the safest kitchen possible!