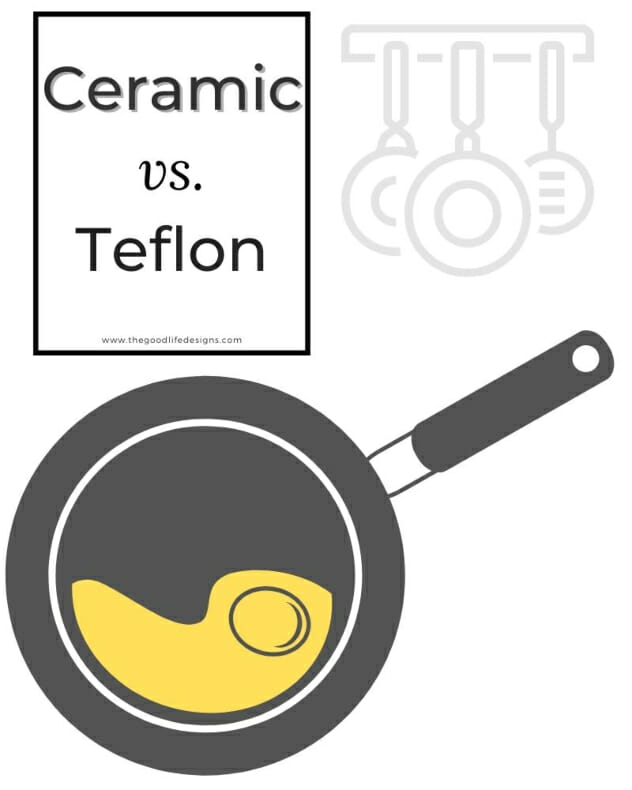 Disclosure: Our reviews stay ad-free as they're entirely reader-supported. As an Amazon Associate, I earn from qualifying purchases. When you buy through links on our site, we may earn an affiliate commission at no cost to you. This revenue helps us test products and develop quality content.
The debate of ceramic vs. Teflon cookware continues to rage on in kitchens around the world. And for a good reason.
PTFE (Teflon) is deep-rooted in the cookware industry, however safety findings threaten to pry those roots from the ground.
Non-stick ceramic is striving to take Teflon's place, but many question its safety and performance. So, what to do?
Rather than spending countless hours researching (and dollars) on the wrong cookware, let us do the heavy lifting. We've compared ceramic vs. non-stick Teflon in several areas of safety and performance.
We get into the good, the bad, (and the ugly), so you can make the right selection, first time around!
In a hurry? Click any section on the list below to jump straight there.
The Non-Stick Pan Dilemma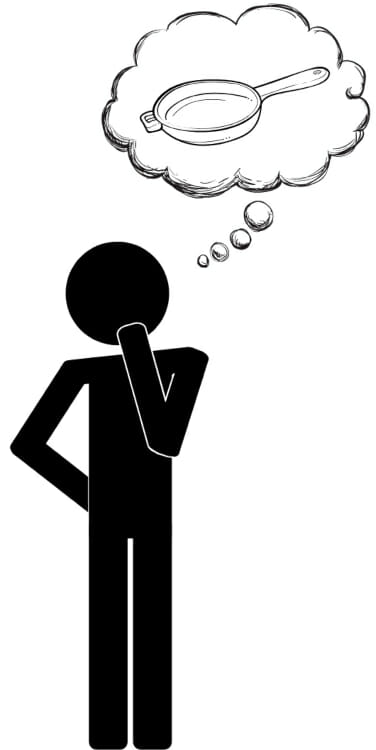 Non-stick pans allow us cook like Gordon Ramsay without spending a day in culinary school.
Besides easy cooking and cleaning, you can maintain a healthier figure using much less fatty cooking oils.
Also, delicate foods like eggs, fish, or crepes are no challenge with non-stick cookware due to its slick surface.
On the other hand, stainless steel and cast iron skillets are complicated to use (although they have their place – more on this later).
So, Teflon pans seem perfect, but there are still concerns.
Concerns surrounding the health and safety of such coatings.
Because of that, ceramic cookware gained your attention, but…
There's a lack of understanding around its safety and performance.
Luckily, you're in the right place! We're going to address these matters here.
But first.
Is Ceramic Cookware Non-Stick? (Compared to Teflon)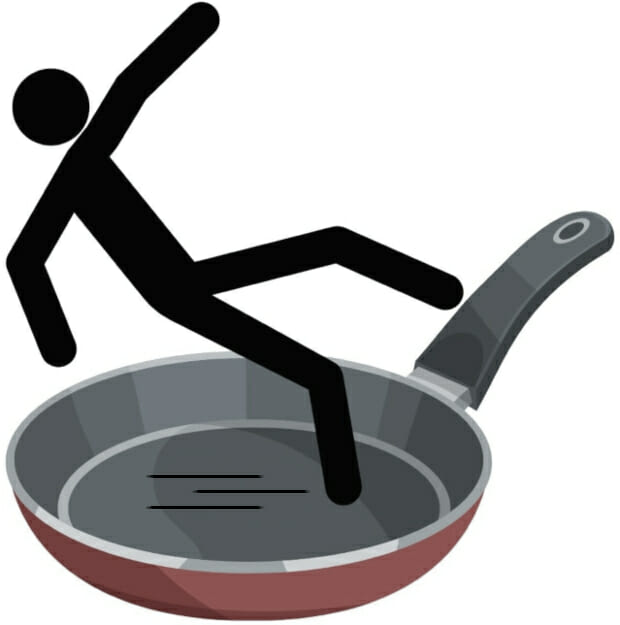 Yes, it is. Ceramic's non-porous surface prevents sticking and does a great job with delicate foods. Quality non-stick ceramic pans are very comparable to Teflon, providing easy food release and a useful lifespan.
That's a quick answer, but it's only one piece of the pie.
There's more you need to know.
You must consider other factors when determining the best and healthiest cookware materials.
Factors like safety, durability, lifespan, and even limitations you might not be thinking about.
All of this ties into making the right decision.
So, let's uncover some surprising information comparing ceramic pans vs. Teflon.
Ceramic Vs. Non-stick Cookware: Analysis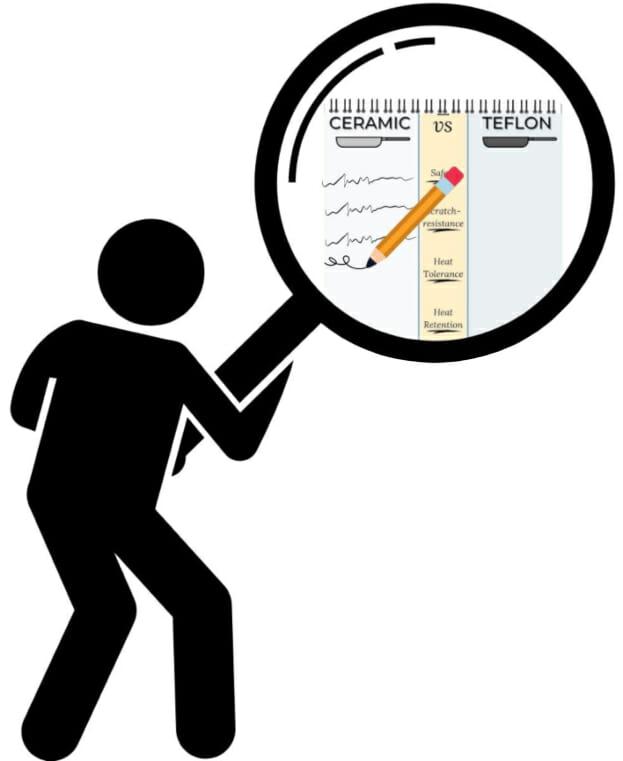 In the next two sections, we'll take a look at ceramic versus Teflon coatings separately before coming full swing with the winner.
First, you'll uncover the process behind creating each type of non-stick cookware.
Then, discover a few variations within each type (different base materials).
After that, we'll compare ceramic and traditional non-stick pans by:
The safety of each non-stick coating
Scratch-resistance
Heat-tolerance
Heat-retention
Oven-safety
Care
Lifespan
Price Points
& Cooking limitations
Finally, we'll tally up the score and give the winner!
First up, Teflon cookware.
Ceramic Non-Stick Vs. Teflon: Final Comparison & Winner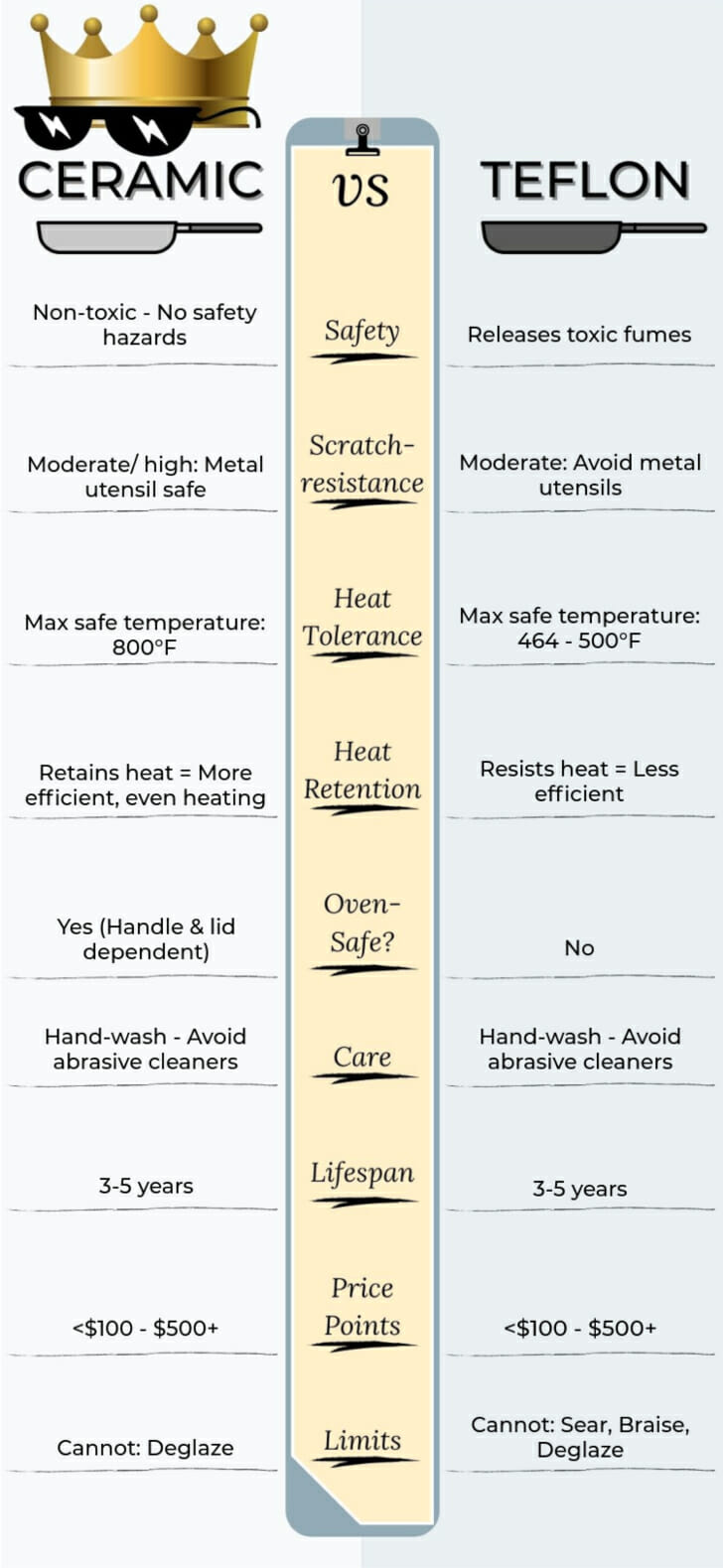 So, ceramic or non-stick, which is better?
Above, you can see that ceramic is rocking the crown (and some sweet shades).
Let's quickly recap and give the reasons why!
You observed the difference between ceramic and Teflon coatings in nine different instances.
Safety:

Ceramic wins due to safer materials and higher heat-resistance, eliminating the anxiety of toxic vapors in your kitchen.

Scratch-resistance:

Reinforced ceramic coatings have a slight edge over Teflon. This edge gives you more freedom with cooking utensils.

Heat-tolerance:

Ceramic is the clear winner here, handling much higher temperatures than Teflon, providing more versatility.

Heat-retention:

Ceramic retains heat better than Teflon, providing more efficient cooking and energy savings.

Oven-safety:

Because of ceramic's higher heat-resistance, ceramic wins here (handle and lid must be oven-safe).

Care:

This is a tie between the two. Both clean easily by hand and shouldn't be used in the dishwasher.

Lifespan:

Comparing the average leading Teflon pans to infused ceramic pans, this is a close tie.

Price Points:

This is also a tie. Both are in the same price ranges for quality sets.

Cooking Limitations:

Both have the deglazing limitation. But, ceramic gains a slight edge with the ability to safely sear.
It's clear when comparing ceramic pans vs. Teflon that ceramic conquers in six out of nine categories.
Whichever you choose, your own specific cooking needs and preferences come first.
It's important to consider both Teflon and ceramic pans' pros and cons before pulling the trigger.
Overall, ceramic makes the best non-toxic, non-stick pans (mostly because of safety and versatility), but…
This doesn't mean it's the best cookware for every need.
Non-stick cookware has its place in any kitchen.
Still, for specific cooking techniques (like we mentioned earlier), quality cast iron and stainless steel pans are irreplaceable.
Not just that, but they can last for a lifetime.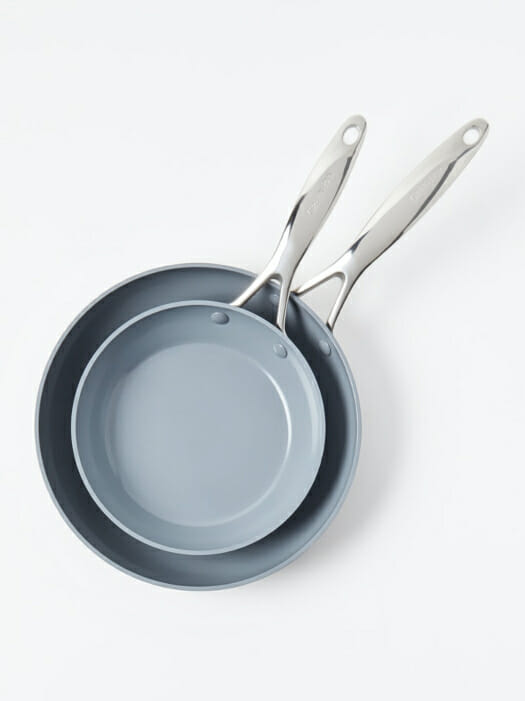 If you're ready to switch to non-stick ceramic, GreenPan makes some of the most versatile options out there.
With their high-performance Thermolon coatings, you can do anything from fixing omelets to searing steaks to braising in the oven.
Check out the GreenPan Valencia line or their Lima line (budget-friendly).
There you have it! You uncovered everything you need to know about ceramic vs. Teflon.
With all things considered, it's clear that ceramic is the best non-stick cookware without Teflon.
This information will help you make the right decision (the first time) when choosing non-stick cookware.
If you have any questions about ceramic non-stick vs. Teflon, please leave a comment below or send us an email!
P.S. For more information on safe cookware options, check out our post on the nine best non-toxic cookware options.
Enjoyed this post? Share it with your friends!
Non-Toxic Kitchenware Checklist
Get a step-by-step product guide with insider tips & tricks for the safest kitchen possible!