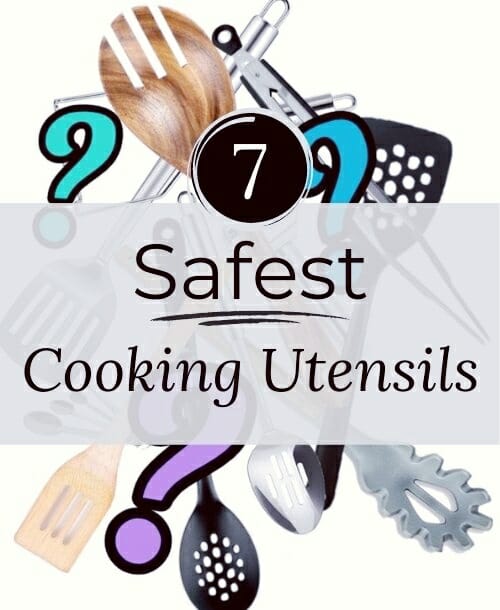 Disclosure: Our reviews stay ad-free as they're entirely reader-supported. As an Amazon Associate, I earn from qualifying purchases. When you buy through links on our site, we may earn an affiliate commission at no cost to you. This revenue helps us test products and develop quality content.
Sneaky toxins hide everywhere in your kitchen. So, choosing the safest cooking utensils is more vital than you can imagine.
Ever leave a nylon spoon resting in a hot skillet while you sprint to the bathroom?
If you aren't using the safest non-toxic cooking utensils, you gain extra "seasoning" every time you do that.
If you're trying to eat healthily and keep your family safe, avoiding Teflon-coated utensils is necessary.
Toxic tools are sneaky, hiding under name brands and "BPA-free plastic" labels. The truth is…
Bpa-free is a scam.
The bottom line, only certain materials are safe.
But where to even start? Are my current utensils dirtying my food with bizarre chemicals?
You're in the right place.
First, you'll discover the cooking utensils to avoid at all costs (and why).
Second, the best materials for cooking utensils.
And third, a roundup of the seven most healthy kitchen utensils (and all their juicy details.
By the end of this article, you'll gain the knowledge you need to make the right purchase.
In a hurry? Click any section on the list below to jump straight there.
| Image | Product | Details | Star Rating | Check Price |
| --- | --- | --- | --- | --- |
| | FineDine Stainless Steel Utensils Set | 10-Pack | 304-grade Stainless | Stay-cool Handles | Includes Utensil Holder | Dishwasher-safe | 4.6 / 5 | Check Price |
| | Home Hero Stainless Steel Utensils Set | 29-Pack | 304-grade Stainless | Stay-cool Handles | Dishwasher-safe | 2-year Warranty | 4.5 / 5 | Check Price |
| | Home Hero Silicone Utensils Set | 8-Pack | Acacia Wood Handles & Silicone Heads | Stays Cool | Non-scratch | Hand-wash | 4.7 / 5 | Check Price |
| | Oxo Good Grips Tongs | 1-Pack | Stainless Steel & Silicone | Stays Cool | Non-scratch | Grips Tight | Dishwasher-safe | 4.5 / 5 | Check Price |
| | Riveira Bamboo Utensils Set | 6-Pack | Solid Organic Bamboo | Stays Cool | Non-scratch | Hand-wash | Lifetime Warranty | 4.7 / 5 | Check Price |
| | Oxo Beech Wood Spoons Set | 3-Pack | Solid Beech Wood | Stays Cool | Non-scratch | Hand-wash | 4.5 / 5 | Check Price |
| | Mondayou Teak Wood Utensils Set | 5-Pack | Solid Teak Wood | Stays Cool | Non-scratch | Hand-wash | 4.6 / 5 | Check Price |
Toxic Cooking Utensils to Avoid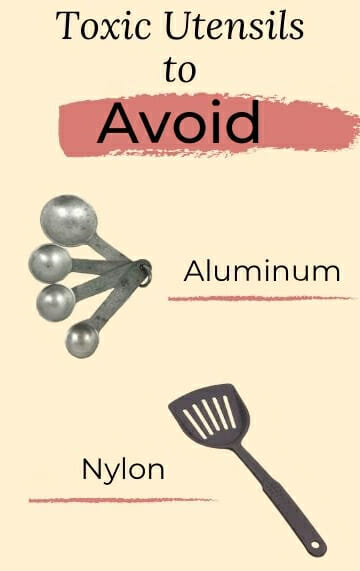 Before we arrive at the safest cooking utensils, here are the toxic tools to steer clear of…
Aluminum Cooking Utensils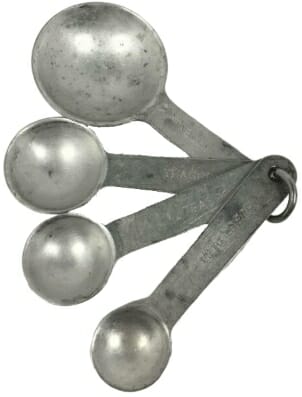 Avoid uncoated aluminum utensils and cookware for the following reasons…
First – food made with aluminum cookware or utensils will absorb bits of the material. More so with acidic foods like tomato sauce.
Second – worn-out, non-stick coated aluminum pans can leach metal into your food.
Then, you eat the absorbed aluminum. From there, it invades your bloodstream and accumulates in different organs.
Now, while aluminum does enter your body, it's usually a harmless amount. Your kidneys filter most of it.
The exception is if you're ingesting massive amounts of aluminum. For example, a welder with poor ventilation.
Or you have a kidney disorder and can't filter aluminum properly. In that case, you can experience toxicity, including anemia, bowel disease, dementia, and low sperm count, to name a few.
But, uncoated aluminum can impact your food's flavor and appearance (ever eat metallic-tasting tomato sauce?). Also, acidic ingredients can ruin the utensil.
So, ditch uncoated aluminum cookware and cooking utensils to protect your food's flavor.
Nylon/ Non-stick/ Teflon Cooking Utensils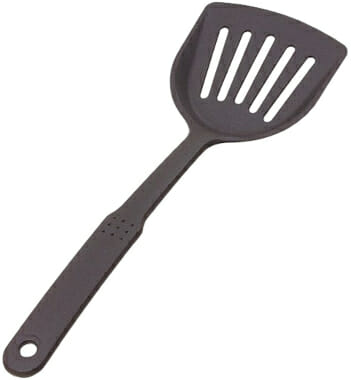 Nylon cooking utensils are everywhere. In fact, chances are good they're sitting in your kitchen right now.
But is nylon a healthy kitchenware material?
The first big issue with nylon cooking utensils – their heat resistance (or lack thereof).
Unlike stainless steel or silicone cooking utensils, nylon's melting point is much lower. It can range depending on the epoxy hardeners used.
Generally, nylon will start to melt around 400℉. Although food doesn't get this hot often, your cookware does.
You can start to imagine the issue here. Petroleum-based particles melting off into your meal. Mmm.
Second – nylon cracks and splinters under stress into your food. From there, you eat those splinters.
Plus, food gets stuck in the cracks and rots (hello bacteria).
Third – plastic utensils come from petroleum – a non-renewable resource. And plastic sits around for thousands of years in landfills… The environment says thank you (cue sarcasm).
Long story short – nylon cooking utensils provide some convenience, sure. But are they the wisest choice? Definitely not.
Instead, choose one of the following (smarter and safer) materials!
What is the Safest Material for Cooking Utensils?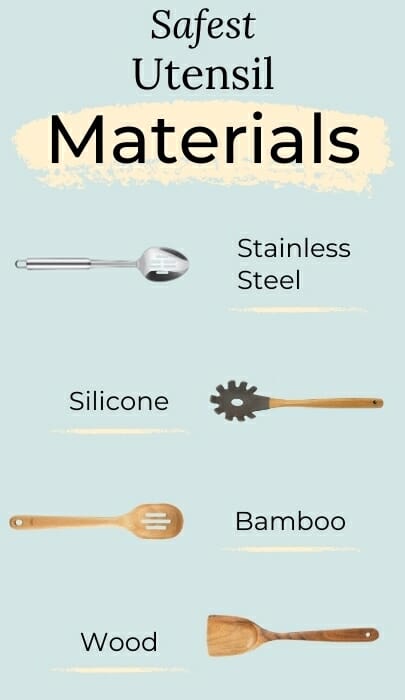 The safest materials for cooking utensils are:
Stainless steel

Silicone

Bamboo

Wood
1) Stainless Steel Utensils

Stainless steel is a favorite for three reasons; safety, sustainability, and durability.
First, stainless steel is hygienic and non-porous.
As a result, steel doesn't collect bacteria on its surface or absorb odors/ flavors.
Compared to other forms of steel, stainless won't rust thanks to nickel and chromium. The chromium oxide layer protects the steel and prevents corrosion.
Next, stainless steel is sustainable.
Unlike plastic, you can recycle stainless without losing performance.
The environment says thank you!
Third, durability!
It's no mystery stainless steel can handle enormous abuse.
Again, sustainability. High-quality stainless steel utensils can last forever. So, you'll save money on replacements and reduce pollution.
Hygienic and non-porous surface
Non-reactive with foods (no altered flavor)
Easy cleaning/ low-maintenance
Durable enough to last forever (save money)
Recyclable
Dishwasher-safe (save time)
Can scratch non-stick pans
Gets hot to the touch
Pricey for high-quality brands

Silicone is a rubber polymer created by combining silicon, carbon, hydrogen, and oxygen.
You'll notice silicone utensils are gaining steam lately as a trendy option. And for good reasons…
First, silicone is flexible, soft, and non-stick.
Cleaning is a breeze after cooking, and the softness is child-friendly.
Plus, silicone molds the best non-scratch utensils that protect your pots and pans – thanks to the soft texture.
A notable benefit over stainless steel.
Second, unlike plastic, these BPA-free kitchen utensils are inert and stable.
Silicone endures heating up to 600℉, down to -40℉ without leaching chemicals.
Made from natural, non-toxic materials
Soft and flexible (won't scratch your cookware)
Non-stick and easy cleaning
Inert during extreme temperature exposure
Stays cool to the touch
Dishwasher-safe (save time)
Recyclable
Low-quality silicone brands use plastic fillers (not the brands on this page!)
Can stain and hold food odors if not cleaned well (can happen with acidic foods like tomato sauce).
Although recyclable, not every recycling center deals with silicone.

I can write a book on all the attractive benefits of bamboo utensils. But for now, here are the top three!
First, bamboo is biodegradable and eco-friendly.
The bamboo plant is (technically) grass and regrows at breakneck speeds when cut.
In fact, certain species grow 36″ inches in only 24 hours! Talk about sustainability!
Second, bamboo utensils are sanitary.
Bamboo is naturally antimicrobial and doesn't absorb as much water as wooden utensils.
As a result, bamboo warps and cracks less than wooden utensils. Plus, it's more stain and odor-resistant.
For those reasons, bamboo is popular for many items, not just utensils… Bamboo cutting boards are one popular use, since they don't absorb as much food juice and bacteria as wood.
But, bamboo still absorbs small amounts of moisture. So, you should hand-wash to protect your investment.
Third, bamboo performs!
It's surprisingly sturdy compared to its wood counterpart, although lighter in weight. Bamboo is even used for making durable and safe cutting boards.
Not as durable as stainless steel, of course, but lighter and easier to maneuver.
Plus, bamboo won't scratch your non-stick cookware or get hot to the touch!
Sustainable and renewable
All-natural
Biodegradable (the landfills will thank you)
Very affordable
Hygienic and antimicrobial properties
Lightweight yet very durable
Stays cool to the touch
Won't scratch pans (cookware is expensive, don't scratch it!)
Resists moisture (less cracking)
Although durable, bamboo is not as strong as stainless steel and can still break.
Not dishwasher-safe (dishwasher decreases lifespan).

Wooden cooking utensils are durable yet soft enough to protect your cookware's non-stick surface.
Wood is inert (does not leach), stays cool, and is antimicrobial.
But, comparing bamboo spoons vs. wooden spoons, you'll notice bamboo utensils crush wood in sustainability.
Trees grow back way slower.
Bamboo also resists moisture better than wood, helping the tool last longer.
So why include wooden utensils on our list?
Wooden cooking utensils are a proven, time-tested option used for thousands of years. This list is incomplete without wood.
As a kid, I remember my grandmother wielding a wooden spoon to stir her homemade gravy as I awaited dinner (anxiously).
Another point, certain types of wood make better cooking utensils than others.
Teak wood, for example, has better resistance to moisture than most wood.
So, is teak wood good for cooking utensils?
You bet! Teak is one of the best wooden cooking utensils out there (#7 is a teak wood set)!
Plus, teak has a unique, classic look to it.
Biodegradable
All-natural
Renewable (although slower than bamboo)
Hygienic and antimicrobial properties
Very durable
Stays cool to the touch
Won't scratch pans
Porous surface (absorbs water)
Not dishwasher-safe

Can stain (mostly with tomato sauce)
You can see how stainless steel, silicone, bamboo, and wooden cooking utensils are the healthiest options for safer food.
All have benefits and limitations, so having a mix of all four is ideal!
Next, let's glance at the seven safest cooking utensils!
7 Best Non-toxic Cooking Utensils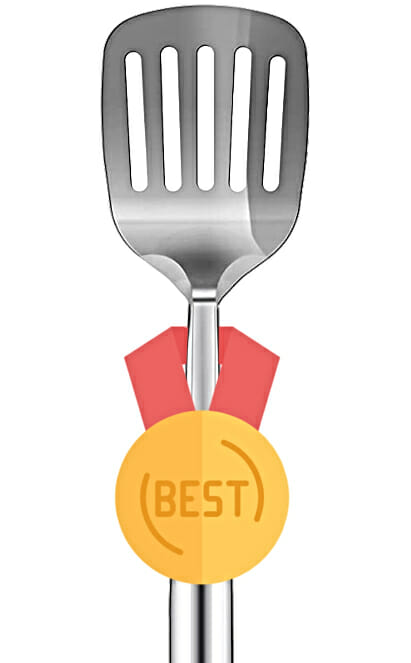 Here are seven of the best and safest non-toxic cooking utensils!
Our research team vetted these options by material, thousands of reviews, and brand research. So you don't have to. They are some of the safest cooking utensils out there!
The first non-plastic cooking utensil, stainless steel!
Best Stainless Steel Cooking Utensils
FineDine Stainless Steel Kitchen Utensil Set (10-pack, 9.5″ – 13″)
FineDine provides everything you need with this one compact (and affordable) stainless steel cooking utensils set.
The ten most vital tools to prep, cook, grill, and serve, all for a low price.
Here's what you get:
A basting spoon
Slotted spoon
Square slotted turner
Ladle
Skimmer spoon
Potato masher
Whisk
Spaghetti spoon
Tongs
And a sleek utensil holder (7″ x 4.5″) for storage
Want to hang your tools and save counter space?
Thanks to the built-in loopholes, you can hang them anywhere you want.
These sturdy kitchen utensils are precision crafted from a solid piece of stainless steel. Plus, the comfortable heat-proof grip keeps your hand cool.
And cleaning is a breeze – just toss them in the dishwasher! They come out gleaming like new every time.
Drawbacks: You can't use these utensils on non-stick pans. Steel can scratch the pan's coating.
Check out this 10-piece set for yourself and see what thousands of customers have said on Amazon!
Home Hero Stainless Steel Kitchen Utensil Set (29 Cooking Utensils, 14.7″ or less)
Looking for a complete cooking utensil overhaul where everything matches?
Maybe grab a housewarming or wedding gift for a loved one?
With Home Hero's deluxe stainless steel kitchen utensil set, you'll have everything you need… and then some.
You gain everything from sturdy stainless cooking spoons and spatulas – to can openers, tongs, measuring spoons, and tea strainers.
Like the previous set, each piece comes from a solid chunk of high-quality stainless steel.
Plus, the handles are heat-proof, comfortable to hold and have a well-weighted feel for sturdy egg flipping.
Of course, a loophole is present to hang your cooking utensils and avoid clutter.
The tongs and spatula have flexible BPA-free silicone heads. This prevents scratching and adds grip.
Here's what you get:
A skimmer
Egg whisk
Slotted turner, non-slotted turner, & extra-wide Asian turner

Garlic press

Tea strainer
Cheese knife
Pizza cutter
Bottle opener & can opener
Potato peeler & potato masher
BBQ/ kitchen tongs
Scraper
Soup ladle
Grater & strainer
Four measuring spoons & four measuring cups

Slotted draining spoon

Serving spoon
And a pasta server
All pieces are dishwasher-safe for easy cleanup. And Home Hero offers a full 2-year warranty just in case.
Drawbacks: Like the previous set, these are great utensils for stainless steel and cast iron cookware, but not non-stick. It'll scratch the coating.
Go ahead and release your inner chef without spending an arm and a leg with this 29-piece set!
Safest Silicone Cooking Utensils
Home Hero Silicone Cooking Utensils Set (8-pack, 12-13″)
I have this same non-toxic silicone cooking utensil set at home. Let me tell you; these things are great (and affordable)!
Each food-grade silicone utensil sports a thick acacia handle – a scratch-resistant and naturally antibacterial hardwood that's tougher than maple.
It's comfortable to hold and has just enough texture to provide a good grip.
Plus, the wood and silicone stay cool to the touch.
And with silicone's higher melting point than plastic utensils, they won't melt if you leave a spoon in the pan… Silicone stays looking new for years!
Now, at first glance, I thought the silicone would be too floppy to flip pancakes, but that's not the case.
They're rigid enough for any task, plus the beveled spatula glides underneath thin items.
Even further, you'll preserve your non-stick cookware's surface with the soft, non-scratch silicone heads – and the silicone doesn't smell, either!
Here's what you get:
A solid spoon
Slotted spoon
Soup ladle
Pasta server
Solid turner
Slotted turner
Rounded spatula
And a scraper
For storage, you can hang your cooking utensils with the convenient loopholes.
Drawbacks: You shouldn't use the dishwasher due to the wood. Instead, hand-wash to extend its lifespan. But don't worry – both the wood, and especially silicone, wipe clean in seconds.
Home Hero's silicone utensils with wooden handles earn thousands of positive reviews on Amazon – check them out!
 Oxo Good Grips Tongs (14″)
Oxo crafts their 14″ x 2″ Good Grips tongs from food-grade silicone with high-grade stainless steel handles.
The firm yet flexible, non-toxic silicone heads provide grip to maneuver delicate foods – without being too floppy. Turn fish, scallops, and asparagus with precision.
Its perforated head helps with straining juices and oils from food.
Plus, the rounded design enables you to scoop, and the straight front edge allows deglazing and pan scraping.
Speaking of scooping, the flat head with thin and flexible edges will glide under your food with ease!
And, the silicone will never scratch your non-stick pans – or melt, thanks to its 600°F heat resistance…
Versatile enough to deep fry chicken. Flip hot dogs on the grill. Or, simply serve spaghetti.
With thumb rests molded into the soft and non-slip handles, you can maneuver food without the tongs slipping from your hand.
For cleaning, hand-wash or toss in the dishwasher to save time!
Drawbacks: The silicone can sometimes get slippery and be challenging to turn round items like sausages. But, flat items like burgers, chicken, bacon, etc., aren't an issue.
Altogether, Oxo is a highly-rated brand with 30 years of experience.
If you have any issues, they'll repair or replace your silicone tongs without hesitation.
Best Bamboo Cooking Utensils
The majority of bamboo utensils online are very similar.
So, we found the highest-rated, best bamboo cooking utensils based on consumer feedback.
This 6-piece set fits the bill with a solid 4.7 star-rating among thousands of customers.
Riveira 6-piece Bamboo Cooking Utensil Set (12.4″)
This reliable 6-piece set of bamboo cooking utensils is one of the most budget-friendly options you'll find anywhere.
But does that mean it's low-quality? Absolutely not!
Riveira uses only the purest organic bamboo, grown without chemical fertilizers, pesticides, or other unnatural agents.
Plus, it's a rapidly renewable resource and biodegradable!
Here's what you get:
A slotted turner
Solid turner
Scraper
Slotted and solid bamboo cooking spoons
And a cooking spork for multipurpose use
All the basics for the majority of your cooking at a ridiculously affordable price.
Each utensil is lightweight and easy to hold.
Also stain, odor, and moisture-resistant – in other words, goodbye, nasty mold!
Like silicone, the bamboo will not scratch your cookware. And the non-stick surface repels stuck-on foods for easier cleanup.
Of course, if you leave a spoon sitting on your hot skillet by accident, no melting (or worries).
Drawbacks: Not dishwasher-safe – hand-wash only. Although bamboo's tighter grains are less absorbent than wood, they can still swell from prolonged heat and moisture. Beware of dishwasher-safe bamboo. It contains melamine (formaldehyde) additives.
Lastly, Riveira covers you with a limited lifetime warranty!
Want to buy elsewhere? Here's an almost identical set sold on Etsy by BlauKeUS out of Greenfield, IN. But, this set also includes a unique pair of bamboo tongs.
Safest Wood Cooking Utensils
Oxo Wooden Spoons (3-pack, 15″)
Oxo's tried and true craftsmanship shines here again with this 3-pack of wooden spoons.
Another affordable, classic, and non-toxic alternative to plastic utensils.
This set includes three large cooking spoons: one slotted, one solid, and one wooden turner – all produced from a single solid piece of all-natural beechwood.
Beechwood is a high-density hardwood used to produce flooring, furniture, and even drums, due to its uniform texture and ruggedness.
Translation… Oxo wooden spoons will smile at all your cooking needs. Plus, they're well-balanced and comfortable to hold.
Although rock-solid, they're gentle enough to protect your cookware's non-stick surface. And of course, no worries of melting!
For storage, a loophole sits in each handle, allowing you to hang your spoons for easy access.
Drawbacks: As usual, you don't want to use the dishwasher. Hand-wash your wooden kitchen spoons instead. They wipe clean easy anyway, thanks to beechwood's smooth grain.
Want to buy elsewhere? Grab this comparable set of organic bamboo utensils from Bambu on Earthhero. They ship carbon-neutral with eco-friendly packaging.
 Mondayou Teak Wood Cooking Utensils Set (5-pack, 10″ – 13″)
This set of non-toxic cooking utensils gives you five high-quality cooking spoons and spatulas… All crafted from a single piece of organic tropical teak wood.
Teak wood cooking utensils even the scoreboard with bamboo.
Because of their high oil content and tight grain, teak wood utensils resist water, warping, and cracking.
Thus, improving safety (no splinters) and longevity (lasts longer).
And, teak's oil content provides a unique, high-gloss look, not found in many other wooden utensils.
Use them for high heat sauteing or flip eggs on your non-stick skillet without damaging the coating.
And they make attractive serving utensils too.
Here's what you get:
A teak wood spatula
Wok spatula
Wooden spork
Strainer spoon
And soup ladle.
For storage, Mondayou drills loopholes in the handles for convenient hanging.
Drawbacks: Not dishwasher-safe. For cleaning, you should hand-wash your teak kitchen utensils to maximize longevity.
Frequently Asked Questions
Are aluminum utensils harmful?
Aluminum cookware and utensils are highly reactive with acidic foods such as tomatoes, vinegar, and citrus. While there are conflicting reports on aluminum's safety, we know that too much of it can cause unpleasant side effects. Therefore, it's best to avoid aluminum utensils if possible.
Are silicone utensils toxic?
Silicone utensils are a durable and non-toxic alternative to plastic. This material has a higher melting point than plastic, is chemically stable under extreme temperatures (won't leach materials into your food), and does not release any odors or toxic fumes during cooking. It's also very soft and child-safe!
What is better nylon or silicone utensils?
While both are non-scratch and great for protecting your non-stick cookware, silicone utensils are more desirable for three main reasons:
Silicone is a non-toxic, inert material that will not leach out chemicals under extreme heat like nylon.

Speaking of heat, silicone can w

ithstand up to 600℉

, while nylon will melt around 400℉.

Silicone is non-stick and easier to clean.
Which stainless steel is best for cooking?
Stainless steel with good corrosion resistance will not rust or pit when exposed to moisture and foods. The most common type used for cookware and cooking utensils is 304-grade. This steel contains high levels of nickel and chromium to help prevent oxidation, especially with salty foods.
Are bamboo cooking utensils dishwasher-safe?
Bamboo utensils, although more water-resistant than wood, can still absorb moisture and crack in the dishwasher. Because of this, it's advised you hand-wash your bamboo products after use, rather than tossing them in the dishwasher.
What kind of utensils to use with non-stick cookware?
Always avoid using hard, abrasive cooking utensils like stainless steel or cast iron and instead choose bamboo, wood, silicone, or nylon. All four of these are soft enough to protect your cookware's surface from scratching. However, nylon can melt at lower temperatures and leach chemicals into your food, so it's best to stick with wood, bamboo, and silicone utensils.
What is the best type of wood for cooking utensils?
The best type of wood for cooking utensils are durable types that are dense, fine-grained, and have closed pores. Fine-grained wood helps to reduce moisture absorption and cracking/ splitting. There are many kinds of woods to choose from, including walnut, cherry, maple, alder, beech, olive, rosewood, sycamore, teak, and many more.
Enjoyed this post? Share it with your friends!
Non-Toxic Kitchenware Checklist
Get a step-by-step product guide with insider tips & tricks for the safest kitchen possible!