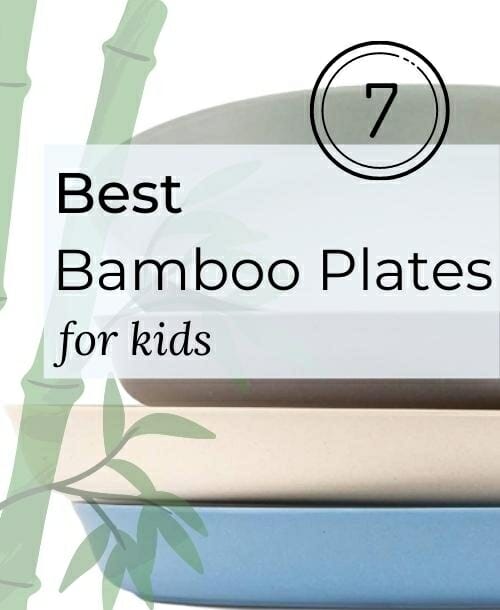 Disclosure: Our reviews stay ad-free as they're entirely reader-supported. As an Amazon Associate, I earn from qualifying purchases. When you buy through links on our site, we may earn an affiliate commission at no cost to you. This revenue helps us test products and develop quality content.
Over many conversations about dinnerware, bamboo plates for kids keep popping up. Makes sense—
Kids' bamboo plates are the perfect tool to ditch plastic for safer alternatives. And it's never been more vital to do so…
Have you seen the risks of plastic chemicals in dinnerware for kids yet? Hormone disruption, decreased attention span, and hyperactivity is only the tip of the iceberg.
But, bamboo toddler plates and bowls are a safe and sustainable alternative. You can boost health and cut pollution.
Yet, before pulling the trigger, questions on bamboo plates for kids keep popping up.
So on this page, you'll unlock the answers to those common questions.
Plus, you'll discover the seven safest bamboo kids' plates available for 2022.
By the end, you'll gain the information needed to choose the best bamboo dinnerware set possible.
In a hurry? Click any section on the list below to jump straight there.
Let's dive in!
Is bamboo safer than plastic?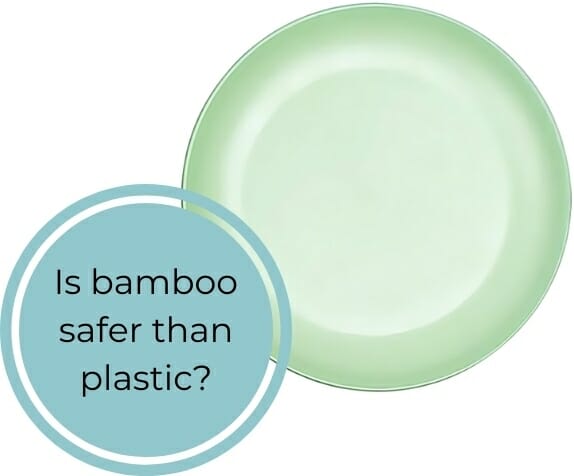 The most common question we get: Is bamboo safer than plastic?
Rest assured, bamboo kids' plates are certainly a safer dish for toddlers – compared to plastic.
They do not require the same chemicals used in plastic production.
Instead, companies use plant-based materials—not petroleum—to shape bamboo dinnerware.
The problem with kids plastic plates
– including
BPA-free
plastic:
Plastic plates contain various troubling chemicals—
The most known include BPA, BPS (found in BPA-free plastic), and phthalates.
PFAS (found in Teflon non-stick cookware) is in some disposable dinnerware, as well.
Let's look at the health risks of each…
BPA (Bisphenol A) is a known hormone-disrupting chemical used to harden plastics. You'll find it in baby bottles, containers, dinnerware, and other items.
Studies prove BPA leaches into the food it touches. Plus, outside stressors (like heat from the microwave) speed up the process.
And here's the thing… BPA presents the greatest risk to young children.
BPA's potential health risks to kids include:
Growth & development disruption

Effects on the immune system

Thyroid hormone disruption

Reproductive disorders

Altered brain development

Early puberty

Obesity
BPA-free plastics (containing BPS) aren't much better, either. Some reports show nearly identical health risks to BPA.
On the other hand, phthalates help soften hard plastic items to add flexibility. Its impacts on human health aren't clear, but reports suggest it causes developmental problems in animals.
To sum up plastic dinnerware, I believe we should avoid playing with fire. Choosing non-plastic plates for toddlers is an easy way to prevent unnecessary risk.
Now let's take a deeper look at bamboo dinnerware's safety for children—
Are bamboo plates safe for kids?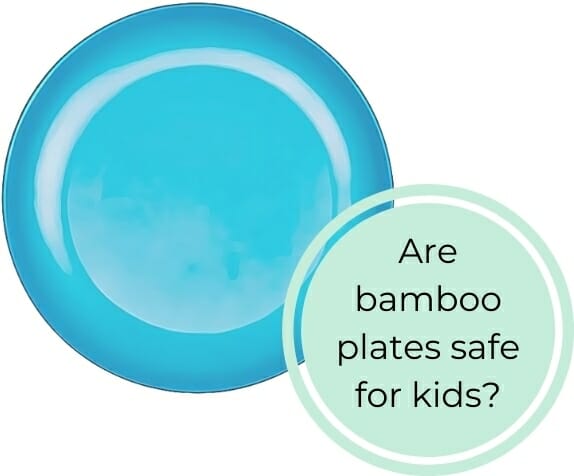 We know plastic dinnerware can have adverse health effects on children. So, plastic-free bamboo kids' dishes are already a safer choice. There are no hormone-disrupting "BP" chemicals in sight.
But, here's something to keep in mind about most bamboo:
Most colored bamboo plates contain melamine-formaldehyde resin. It holds the powdered bamboo fiber together, forming rigid dinnerware.
But, some studies show high melamine intake leads to kidney stones and kidney disease.
Yet, on the flip side, the FDA says melamine is safe to use… With a caveat.
That leads to the next point—
Are bamboo plates microwave-safe?
Here's that caveat: The FDA states that acidic foods and high heat can leach melamine into food. For example, when heating leftovers in the microwave.
So, they recommend we avoid microwaving melamine bamboo toddler plates.
Instead, reheat food in a separate container before serving. If you do that, bamboo resin plates are 100% safe (and remember, plastic-free).
Still, six out of seven sets below are melamine-free to keep selections as safe as possible.
Melamine… check. But is any bamboo microwave safe?
Although melamine-free bamboo dishes exist (everything but #2 below), you should still avoid the microwave. Why?
The intense heat can over-dry the natural fibers and crack the plate— This goes for bamboo and wood dinnerware.
For this reason, I heat food in a separate glass container at home. Once hot, I toss the food onto my bamboo dinnerware to chow down.
Overall, this is a small sacrifice. The pros of bamboo outweigh the cons, by far.
Speaking of that, here are a few more reasons why to use bamboo plates for babies, kids, and even adults—
More Benefits of Bamboo Dishes
It's no mystery that plastic dinnerware is convenient. It's lightweight and shatterproof, a must for kids.
But are bamboo toddler plates durable? Or, at least, as durable as plastic?
Consider this:
Bamboo is lighter weight yet

3x stronger than timber. And, it has a higher tensile strength than steel! So next time you're wondering if

bamboo plates for kids

can handle rough play, remember this.

Bamboo dishes,

unlike

steel

,

are softer and lighter weight. If you drop a bamboo plate, your floor (or foot) will barely notice.

Speaking of dropping bamboo plates, they're shatterproof! The worst that can happen is the plate develops a hairline crack.

Safer for your child's mouth if they happen to bite the dish.

Bamboo plates degrade in typical landfills. Rest easy knowing you won't further contribute to plastic pollution!
So, bamboo dinnerware offers more durability than plastic with the safety you desire. Plus, with gentle weight, kids can maneuver it easily.
Quickly, let's tackle two more frequently asked questions I get. Then, we'll explore our top picks.
Are bamboo plates dishwasher-safe?
So, are bamboo plates dishwasher-safe? Yes, bamboo plates for kids are dishwasher safe… BUT. The intense heat and moisture can reduce your dinnerware's lifespan.
Sure, dishwashers are super convenient, but they're not the best for every item. For example, we'd never stick cast iron cookware in the dishwasher.
But if you must use the dishwasher, place your bamboo plates on the top rack. Yet, if you want to increase the lifespan of your bamboo dishes, hand-wash them. That leads us to—
How long do bamboo plates last?
Bamboo dishes will last about 1.5 to 2 years before moisture weakens the bamboo. But, you can extend the lifespan by hand-washing and avoiding the microwave and dishwasher.
7 Best Bamboo Kids Plate Sets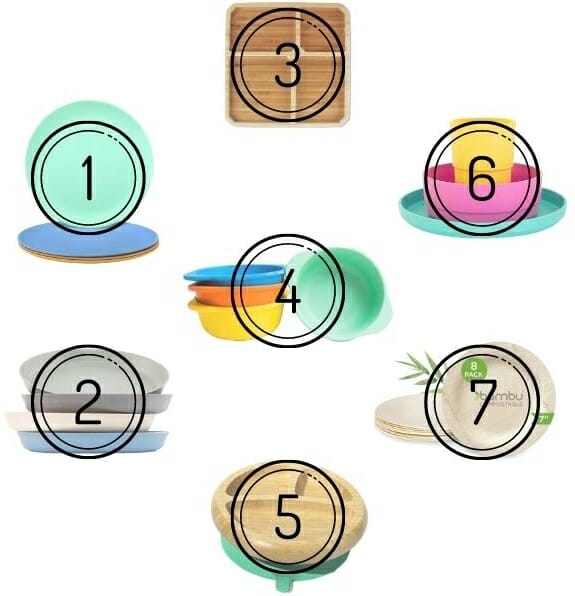 Now that we answered your most-asked questions – let's dive into the seven best bamboo kids' plates!
According to our readers, the following sets are the most popular, highest-rated, and most often purchased. 
Plus, each dish is free from plastic, BPA, BPS, PVC, phthalates, lead, cadmium, and mercury. Also, every pick below (besides #2) is melamine-free! 
This way, you can have total peace of mind with hot food.
So, here are the seven best bamboo kid's plate sets:
We know most bamboo kid's plates contain melamine binders. Especially the colorful kinds.
Yet, EcoMatters is among the few brands crafting their eco-friendly kids' plates without melamine.
Instead, they use cornstarch-based bioplastic, called CPLA, as a binder. It's important to note that bioplastic and plastic are not the same—
Bioplastic is biodegradable and free from the same troubling chemicals.
So, you'll enjoy the safety, durability, and style of bamboo kid's plates – without the limitations.
Plastic-free, melamine-free, & biodegradable.

Unlike other bamboo dishes, these are dishwasher & microwave-safe…

Without worrying about hot foods leaching formaldehyde!

100% natural, food-safe pigments please the eye without being too obnoxious.

EcoMatters donates 1% of proceeds to environmental non-profits.

Exceptional customer service will replace a dish if you have an issue.
Several users had dishes crack after 3-6 months. Mostly, this is from the microwave & dishwasher. Hence why earlier, I said to limit both, regardless of melamine.
What sets WeeSpout's bamboo toddler plates apart is their inch-deep lips.
This generous edge helps to carry more food while containing spills and mess. Also, it makes scooping easier for the little ones, perfect for a smoother meal time.
Speaking of smooth, customers love the glossy and slick yet matte finish. I'd relate it to almost a pottery look and appreciate the high-quality feel.
The easy cleaning is a plus, too!
Plastic-free.

Extra-deep 1" plate edge to prevent spills & help your toddler scoop.

The slick finish makes cleanup a breeze.

The plates nest & stack easily, saving space in cabinets.

Available in three stylish yet

low-volume

color combinations that kids and

parents love. They'll blend into your other dishware without looking like "kids" plates.

WeeSprout stands behind its bamboo fiber plates with a

lifetime warranty.
Contains a melamine binder (the only dish on this page), so you cannot microwave them. Some buyers did not realize this & expressed disappointment.
Safest Non-Toxic Kid's Tableware Checklist
Discover how to IMMEDIATELY detect subpar kids dinnerware products when browsing online.