Disclosure: This blog is reader-supported. As an Amazon Associate, I earn from qualifying purchases. When you buy through links on our site, we may earn an affiliate commission at no cost to you. I only recommend products I would use myself and all opinions expressed here are my own.
Bamboo plates for kids are the perfect excuse to ditch plastic and choose safer eco-friendly alternatives.
Lately, we're talking to many parents about dinnerware. And there's a surge of interest in bamboo plates for kids. Makes sense…
Have you read the effects of toxic plastic chemicals in dinnerware for kids lately?
Hormone disruption, decreased attention span, and hyperactivity is only the tip of the iceberg…
But, bamboo toddler plates are a safer and sustainable alternative. You can boost health AND reduce pollution.
Yet, before pulling the trigger, questions on bamboo plates for kids keep popping up…
So on this page, you'll unlock the answers to all those common questions.
Plus, you'll discover the safest, most popular bamboo kids plates parents are using to overcome plastic.
By the end of this post, you'll gain the information needed to choose the best bamboo dinnerware.
In a hurry? Click any section on the list below to jump straight there.
Let's dive into our first question!
| Image | Product | Details | Star Rating | Check Price |
| --- | --- | --- | --- | --- |
| | Bobo&Boo Bamboo Kids Plates | 4-Pack | Natural Bamboo | Food-safe Mineral Pigments | Dishwasher-safe | 12-month Warranty | 4.6 / 5 | Check Price |
| | WeeSprout Bamboo Toddler Plates | 4-Pack | Natural Bamboo | Food-safe Mineral Pigments | Dishwasher-safe | Deep Edges | LIFETIME Warranty | 4.7 / 5 | Check Price |
| | Bobo&Boo Big-Kid-Sized Bamboo Plates | 4-Pack | Natural Bamboo | Food-safe Mineral Pigments | Extra-Wide | Dishwasher-safe | 4.7 / 5 | Check Price |
| | Bobo&Boo Bamboo Kids Divided Plate | 1-Pack | Natural Bamboo | Food-safe Mineral Pigments | Five Sections | Dishwasher-safe | 30-day Warranty | 4.4 / 5 | Check Price |
| | Bobo&Boo Bamboo Kids Snack Bowls | 4-Pack | Natural Bamboo | Food-safe Mineral Pigments | Dishwasher-safe | 12-month Warranty | 4.6 / 5 | Check Price |
| | Avanchy Bamboo Suction Plate | 1-Pack | Natural Bamboo | Unpainted | Silicone Suction Bottom | Three Sections | Includes Bonus Spoon | 4.6 / 5 | Check Price |
| | BAMBU Disposable Bamboo Plates | 25-Pack | Organic Bamboo | Unpainted | Biodegradable & Backyard Compostable | 4.6 / 5 | Check Price |
Is bamboo safer than plastic?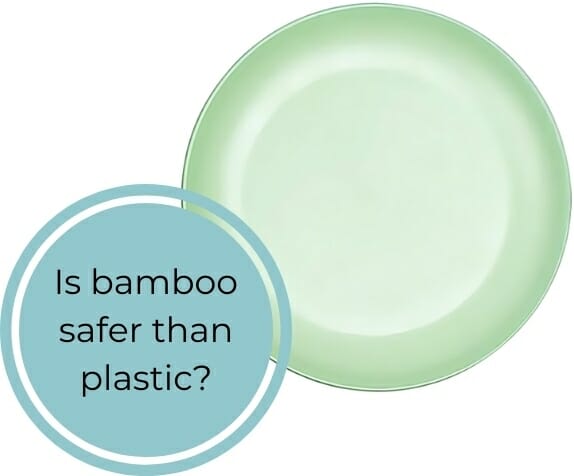 The most common question we get: Is bamboo safer than plastic?
Rest assured, bamboo kids' plates are certainly a safer dish for toddlers – compared to plastic.
They do not require the same chemicals used in plastic production.
Instead, companies use plant-based materials (rather than petroleum) to shape bamboo dinnerware.
Plastic plates can include various chemicals… BPA (Bisphenol A), BPS (Bisphenol S), Phthalates, and even PFAS (Per-and Polyfluoroalkyl Substances).
BPA is a known hormone-disrupting chemical used to harden plastics and create polycarbonates. It's found in beverage containers, food packaging, and even some children's toys.
Phthalates soften hard plastics like PVC to add "give" and flexibility. They're commonly found in cosmetics and personal care products.
And PFAS (known as Teflon) prevents sticking on some disposable plates and non-stick cookware.
These chemicals are proven to leach into the food they touch.
Plus, outside stressors (like heat and sunlight) speed up the process.
Possible health risks from BPA include:
Low infant birth weights
Effects on the immune system
Thyroid hormone disruption
Reproductive disorders
Fetal brain development
and Asthma
Health impacts from phthalate-family chemicals aren't clear at this point. But, some animal studies show effects on the reproductive system.
Of course, these chemicals don't just hop into your body; rather, they leach.
Microwaving food in or on plastic is the most common way these chemicals leach.
Another is hot food sitting on a plastic plate, especially a plate with a worn-out surface.
While manufacturers state the small amount of these ingested chemicals is not dangerous… You should avoid playing with fire.
Choosing non-plastic plates for toddlers is a simple and easy way to avoid burns (so to speak)!
Are bamboo plates safe for kids?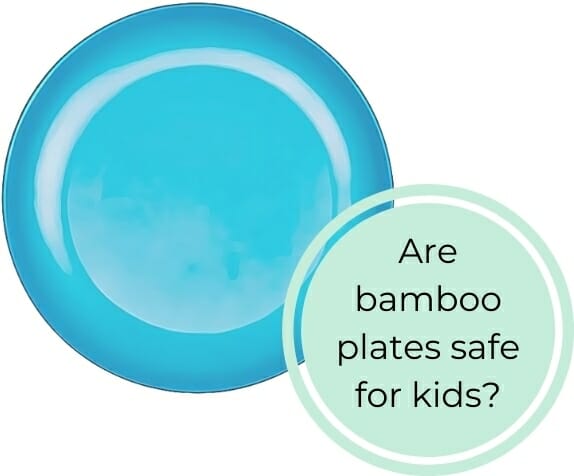 So, are bamboo plates safe for kids? You bet! Here's why…
Since plastic shows studied health impacts, bamboo kids' dishes are already a safer choice.
But are bamboo toddler plates durable? Or, at least, as durable as plastic? The last thing you want is broken shards from a dropped dish.
Well, we know plastic plates are durable (most of the time) and for a low cost. They won't shatter like glass.
But did you know bamboo is three times stronger than timber and has a higher tensile strength than steel?
So next time you're wondering if bamboo plates for kids can hold up to rough play, remember this fact!
Of course, not as tough as stainless steel, but plenty of resilience for peace of mind.
Benefits of bamboo dishes
Bamboo dishes, unlike stainless steel, are softer and lighter weight. If you drop a bamboo plate, your floor won't notice.
Glass plates are another sanitary choice. But, glass dinnerware is heavy, fragile, and hazardous when broken.
Bamboo dinnerware provides you the durability you need, safety, and the ease of being lightweight and portable.
In fact, the durability of bamboo toddler plates alone makes them a smarter investment than plastic.
Bamboo plates for kids are not only healthy but last longer and save you hard-earned cash.
Plus, whenever bamboo plates are at the end of their lifespan, they biodegrade into the ground!
You can take joy in knowing they won't contribute to the growing pile of plastic pollution.
How long do bamboo plates last?
Bamboo dishes will last about 1.5 to 2 years before moisture starts to weaken the bamboo. But, you can extend the lifespan by hand-washing and drying.
Are bamboo plates microwave and dishwasher-safe?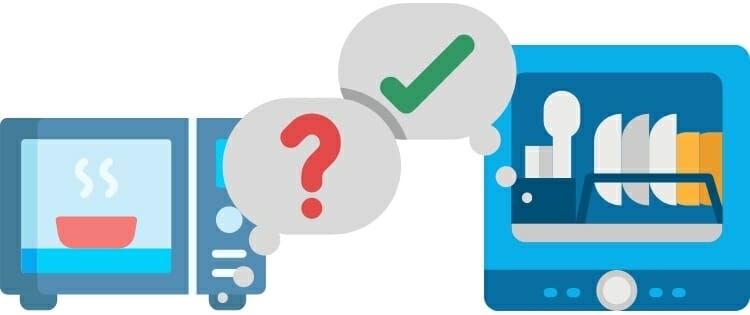 Now that you know how bamboo is a safer option for kids – let's tackle these common usage questions… Are bamboo plates microwave safe/ dishwasher safe?
Is bamboo microwave-safe?
You should not microwave bamboo kids' plates. To understand why – you need to know how manufacturers produce bamboo dinnerware…
Since bamboo doesn't grow into plate shapes, unfortunately, manufacturers must grind it into small bamboo fibers.
Then, mold the plate together with a food-safe binding resin.
So, the resin holds the bamboo plate together.
But microwaving bamboo dishes weakens this binding and reduces your dinnerware's lifespan.
And the intense heat from the microwave frequency can over-dry the natural fibers and crack the plate.
This goes for bamboo and also natural wood dinnerware.
So, heat your food on a separate dish or container, then serve on your bamboo toddler plate.
I heat food in a separate glass container at home, then toss my portion onto bamboo dinnerware.
All in all, this is a small sacrifice, and the pros of bamboo outweigh the cons, by far.
Are bamboo plates dishwasher-safe?
Finally, are bamboo plates dishwasher-safe? Yes, bamboo plates for kids are dishwasher safe… BUT. The intense heat and moisture can reduce your dinnerware's lifespan.
Sounds a lot like the microwave, huh?
Now, dishwashers are super convenient appliances, often taken for granted. But are machines best for every dinnerware piece? Sometimes not.
If you want to increase the lifespan of your bamboo plates, you should hand-wash them! The heat and long periods of absorbing moisture will cause the dinnerware to swell. Then, possibly warp and crack.
So, wipe your bamboo clean after use, and your plate will last longer.
If you think about it, we already do this with other kitchen items – like cast iron cookware.
But, if you're busy and prefer the dishwasher, place your bamboo plates on the top rack.
7 Best Bamboo Kids Plate Options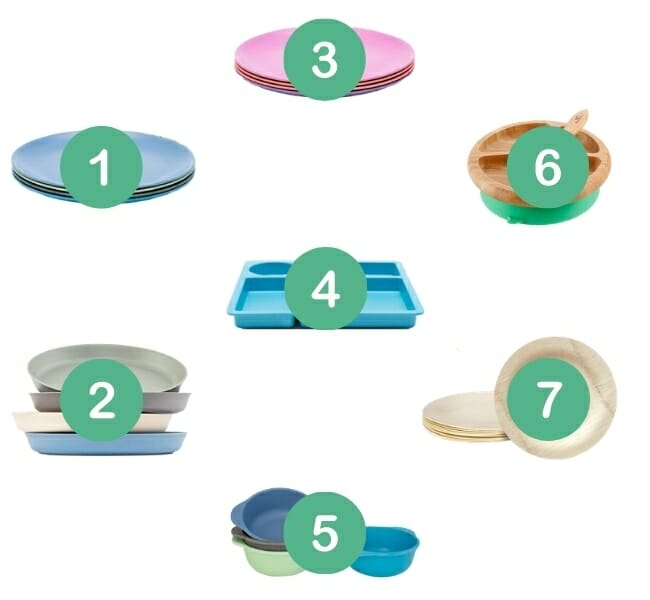 Now that we answered your most-asked questions – let's dive into the seven best bamboo kids' plates!
According to our readers, the following sets are the most popular, highest-rated, and most often purchased.
And all are from notable companies with thorough ratings and reviews.
Plus, each option is clear of plastic, BPA, PVC, Phthalates, Lead, Cadmium, or Mercury. So you can feel 100% confident moving forward with any of the following sets!
You'll notice #1-4 are classic plate designs, #and 5 is a trendy bamboo kids snack bowl to keep your plates company!
Then, #6 is a bamboo stay-put suction plate. And finally, #7 is a disposable choice for parties!
So, here are the seven best bamboo kid's plate options!
Bobo&Boo Bamboo Kids Plates, Set of 4 (7.8" Inch)
This first set is from Bobo&Boo. Each set includes four 7.8" diameter, beautifully colored bamboo kids plates!
Bobo&Boo crafts their eco-friendly kids' plates from all-natural bamboo. So, they're toxin-free and safe for children.
And since bamboo is sustainable and biodegradable, you'll feel great to support a healthier family AND a greener planet!
For coloring, Bobo&Boo uses only food-safe mineral pigments. The result?
Stylish, attractive colors that children love and parents are proud to show off!
Not only safe and stylish but shatter-proof when dropped (on accident, of course). Plus, convenient for busy parents as the plate wipes clean in seconds.
And if you want, you can toss your dish on the top rack of your dishwasher (but remember what I said earlier).
Available in two color options: Coastal (pictured above) or Sunset! And covered by a risk-free 12-month warranty.
Click here to score Bobo&Boo's bamboo kids' plates and get 15% off in the process!… Just use the coupon code: GOODDESIGN15 at checkout.
Prefer buying on Amazon? Grab your set here. (But sorry, no discount there.)
Weesprout Bamboo Toddler Plates, Set of 4 (8" Inch)
Check out this beautiful four-piece set of bamboo toddler plates from Weesprout!
This set is similar to the previous option from Bobo&Boo. Chemical-free finish and all. But with deeper plate edges!
The deep edges allow the plate to carry more food and contain messes, perfect for a smoother mealtime!
The lips also improve stackability when storing and make scooping food easier.
Along with less mess, you'll enjoy the non-toxic, chemical-free benefits of bamboo and the durability you desire.
In fact, Weesprout stands behind their bamboo fibre plates with a LIFETIME warranty.
Available in two combos: Green, Gray, Beige, and either Blue or Pink!
Click here to pick up a set of bamboo plates for kids from Weesprout today on Amazon!
Bobo&Boo Bamboo Kids Divided Plate, 1-Pack (8.6″ x 8.2″)
Here's another great style from Bobo&Boo, this time in a divided design!
Sectioned plates, especially this bamboo divided plate, are perfect for any child experiencing a "my food can't touch" phase.
The five perfectly-portioned sections on the plate make full meals easy (and neat).
You get a large spot for the main course and smaller compartments for various sides, dips, etc.!
This bamboo divided plate is the ultimate solution for picky eaters while keeping meals free of toxins!
Plus, the surface wipes clean without scrubbing and is dishwasher-safe, AKA busy-night approved.
Bobo&Boo gives you 30 days to try these out – don't like them, take your money back!
Available in: Dolphin Blue (not currently available) or Flamingo Pink!
Score your very own divided bamboo plate from Bobo&Boo and get 15% off – click here! Just use the coupon code: GOODDESIGN15 at checkout.
Prefer buying on Amazon? Grab your set here. (But sorry, no discount there.)
Not available? 🙁 Check out this great wheat straw alternative!
Bobo&Boo Bamboo Kids Snack Bowls, Set of 4
Although this post is about bamboo plates for kids, why not include a bamboo kids bowl set for snack time?
Bamboo plates and bowls go hand in hand. If you invest in children's bamboo tableware, why not consider bowls as well!
This option, also from Bobo&Boo, comes in the same colors as their plates…"Coastal" (pictured above) and "sunset."
So you'll have no problem matching for a safe and stylish dinner table!
Each bamboo snack bowl measures 4.5" wide and 1.9" deep, ideal for purees and ice cream. Plus, great for adults to serve dips and portion-controlled snacks!
And the handles on the sides make carrying much easier, reducing the chance of accidents.
Along with all the healthy and sustainable benefits of bamboo, this brand thought of everything!
Plus, you secure a full 1-year warranty on your snack bowls.
Click here to grab a set of plastic-free bamboo kids bowls today with a 15% discount!… Just use the coupon code: GOODDESIGN15 at checkout.
Prefer buying on Amazon? Grab your set here. (But sorry, no discount there.)
Avanchy Bamboo Suction Plate, 1-Pack (7" x 2")
Is your kid testing the boundaries of your sheetrock and flooring with their dish?
With a bamboo kids plate and food-grade silicone suction bottom, the plate (and food) stays put!
Just add some food to the plate, and press it down onto the table or high chair. The powerful suction bottom holds the dish in place.
When your baby finishes eating, lift the small tab on the back to release the suction.
Use this bamboo dish for infant feeding, baby-led weaning, or mischievous toddler self-feeding. You can even bring this plate to restaurants to prevent embarrassing mishaps!
And when your child outgrows the suction, you can remove the bottom, and voila! Now you have an ordinary toddler dish.
Each unpainted plate is melamine-free and has smooth, rounded edges for safety.
The three divided sections are all different sizes – one for veggies, one for proteins, and one for carbs.
So not only will you prevent messes, but you're supporting healthier eating habits and portions.
You also get a free soft-edged bamboo/ silicone feeding spoon!
Click here to grab your bamboo and silicone suction plate from Avanchy on Amazon!
And while you're at it, check out these bamboo suction bowls from Me Mother Earth… They're perfect for loose finger snacks, soup, cereal, and more.
Best of all, Me Mother Earth donates 10% of your purchase to support Ocean Conservation!
Best Bamboo Disposable Plates
So that's a wrap on discussing the topic of bamboo plates for kids!
Hopefully, after reading this post, you better understand bamboo kids' dishes. And why choosing non-toxic plates for toddlers is a worthwhile decision.
Little changes like reusable bamboo plates are a small step towards a healthier and more sustainable world… A vital step for the future.
And by browsing this bamboo plates review, you're on the right track!
Thanks for stopping by!
P.S. Still using plastic food storage containers? They are even worse than plastic plates.
Check out this post on the best stainless steel food containers for kids, free of plastic and other harmful substances.
Enjoyed this post? Share it with your friends!
Safest Non-Toxic Kid's Tableware Checklist
Discover how to IMMEDIATELY detect subpar kids dinnerware products when browsing online.