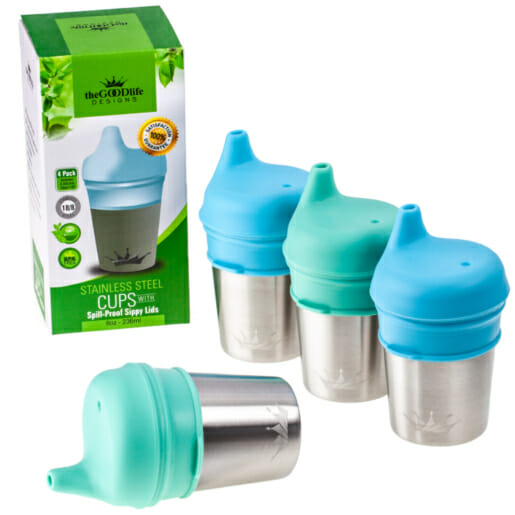 Disclosure: This blog is reader-supported. As an Amazon Associate, I earn from qualifying purchases. When you buy through links on our site, we may earn an affiliate commission at no cost to you. I only recommend products I would use myself and all opinions expressed here are my own.
There comes a time for every baby or toddler to switch from bottle or breast to regular drinking cups. The perfect transition cup lays somewhere in between the former and the latter. Presenting the stainless steel sippy cup!
Many are designed to withstand being dropped, tossed, or turned upside down – but is that the main benefit of steel sippies? Nope!
First – a bit of background. Most sippy cups on the market are plastic; they're easy to clean and somewhat durable.
But, parents today are trying to ditch plastic and look for sustainable alternatives…
Thanks to new light shed on its chemicals and plastic's associated risks.
These chemicals (such as BPA) can leach into your kid's drinks and cause health implications down the road.
Studies find most leaching occurs under stress. Stressed means heated, scratched, or exposed to sunlight.
Side note: This doesn't just go for drink-ware. Plastic plates can also leach chemicals into your food under stress. In this other post, we deep-dive the safest kid's plates.
Back to sippies. Plastic aside, the most common plastic-free options include glass, silicone, and steel sippy cups.
These are all reusable and eco-friendly, but glass and silicone can't compare to stainless steel sippy cup's durability and longevity.
In this post, you'll discover how to choose the best and safest stainless sippy cup – and the knockoffs to avoid. Plus, the best options for 6 months and older!
So, let's get started with some more perks of stainless steel, and its benefits for toddler sippy cups!
Benefits of Stainless Steel Sippy Cups for Toddlers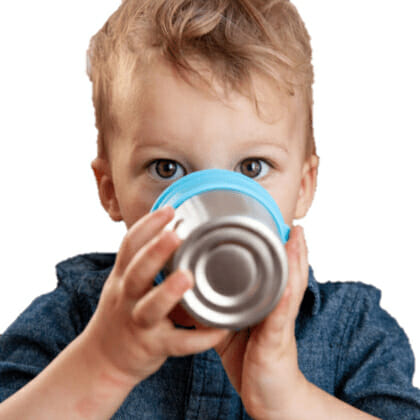 Stainless steel has become one of the most commonly used materials in kitchens and for a good reason. We make our stainless steel sippy cups for toddlers from 304-grade stainless.
Why?
Because it is a non-toxic, high corrosion-resistant type of steel.
It can withstand use with lots of different beverages and all the frequent washing that comes along with it, while remaining "brand new like" for years.
This is why the majority of cooking utensils, pots/ pans, and metal containers are made from this material!
Stainless steel is highly desired for making toddler sippy cups because it's a super eco-friendly and durable material.
It contains no plastic or any of those chemicals at all for that matter.
It can be cleaned very easily by hand or placed right in the dishwasher.
The high-quality steel will not stain, will not rust, and best of all, WILL NOT BREAK!
This is extremely important with young children because, as we all know, things can get hectic!
We need something rugged to stand up to the inevitable abuse but also safe, making steel a great option.
Now that we understand why stainless steel is so beneficial for use in children's cups, you should also understand that not all steel is created equal…
In this next section, I will help you understand how to point out lower quality knock-offs and make the best decision for your family!
Stainless Sippy Cups | How to Identify Low-Quality Knock-offs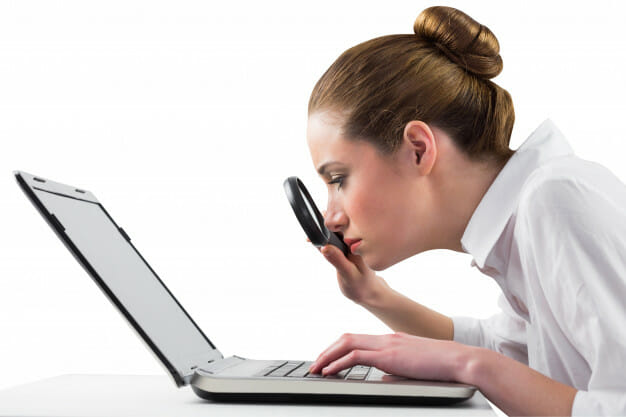 Check What Type of Stainless Steel Used
Frequently, cup manufacturers will produce their own metal sippy cup's from steel like 201-grade, for example.
201-grade stainless steel resembles 304 but costs less due to its lower nickel content.
It's slightly harder than 304, making it useful for applications like furniture while keeping costs lower.
But these are toddler sippy cups, not furniture we're talking about here.
Where 304-grade shines is in corrosion resistance.
It has a higher chrome content than 201-grade, resulting in better resistance to corrosion, pitting, and rusting (photo comparison below).
This is especially important when we're putting liquids in our cups.
Cups made from 201-grade steel are likely to rust and can become hazardous to kids, while 304-grade is perfect for drinkware.
So, why would a company produce lower-quality stainless steel cups?
To save money upfront and reap larger profits – since 304-grade costs more than 201-grade stainless sippy cups.
It isn't because companies don't care about you though.
That's not the case.
This is because not enough people are aware of the properties of various grades of steel and don't put in enough consideration.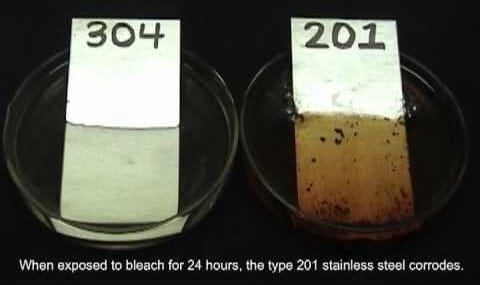 Companies may produce their cups from lesser quality steel to save money upfront.
This is why you need to make sure to see "304-grade (or 18/8 grade)" when choosing stainless steel cups for your toddler.
Check If It's Electro-polished
Electro-polishing is an important process done to the insides of stainless steel cups and bottles.
This further improves corrosion resistance and removes contaminants, micro-cracks, pits, or any other surface imperfections of the steel.
Plus, it makes cleaning easier and prevents metallic tastes from entering your child's beverage… Which can happen without this polishing.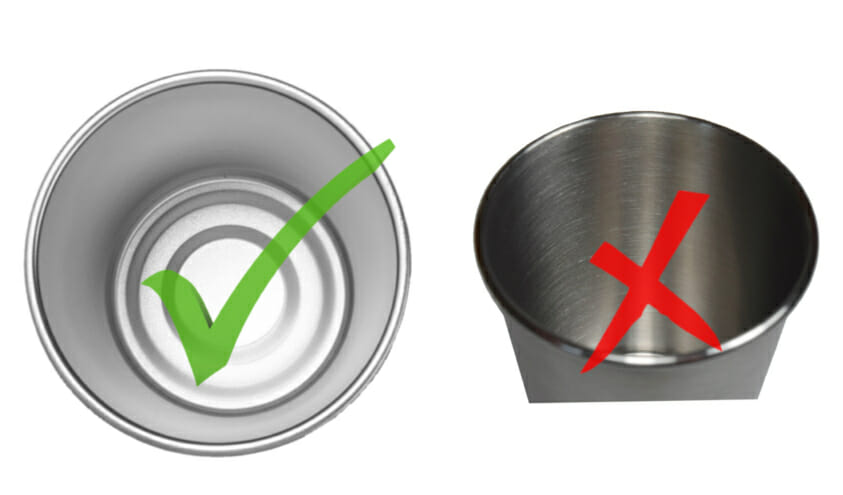 Most of the time, inexpensive stainless steel cups won't have an electro-polished interior.
You'll find that, over time, those cups will rust and pit on the insides.
The process costs extra and lengthens production time, so some sellers neglect this part of the process.
Again this goes back to my previous point, where the seller might simply be uneducated on the topic.
But I believe any company, especially one producing products for kids, should and MUST research to take every step possible for the safest product.
Wouldn't you agree?
So, do this!
ACTION PLAN: When browsing stainless steel cups or any other stainless cup/ bottle online or in-store, refer to the above image to make sure they're electro-polished.
You can see how our cup, on the left, has a smooth – even texture.
This is from the polishing which smooths out ridges and removed any impurities on the surface.
On the right side, is another steel cup without electro-polishing.
With these, you'll notice the ripples and uneven texture along the inside of the cup.
This is the remnants of the machining processes from producing these cups in the factory.
It'll leave uneven ridges and cuts into the steel, which can result in pitting, rust, and degradation over time.
Your cup must be polished smooth like the first image – this will seal and prolong your cups for a lifetime of healthy use!
Now that we know the benefits of steel sippy cups and how to identify sub-par products, let's review the best stainless steel sippy cup options for several different scenarios.
Stainless Steel Sippy Cup Reviews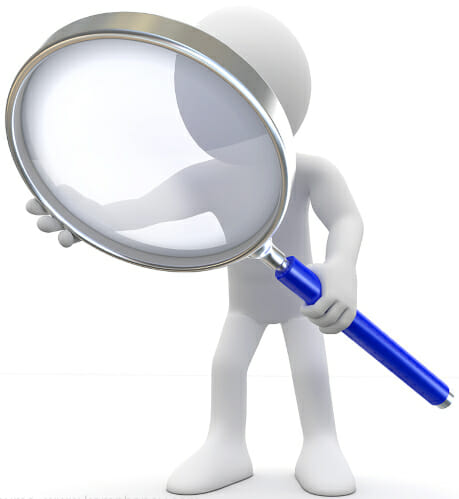 The following stainless steel sippy cup reviews are based on our research team's findings, as well as thousands of other consumer ratings and reviews.
Below you'll find various styles of sippy cups for different age ranges and features, so regardless of what you need, there's an option for you!
Along with reviewing these products, we've gone even further by researching some of the most common questions associated with stainless steel sippy cups for babies and toddlers.
As we go through these following cups, we'll answer these questions so there is no mystery surrounding your next move!
First, let's answer some of the most basic questions…
What Is The Purpose of a Sippy Cup?
A sippy cup, coming in many different styles, is generally a training cup that is meant to do just that, train your baby to wean off nursing or bottle-feeding while improving their coordination.
Consider a sippy to be a stepping stone from nursing, to drinking from regular everyday cups.
Are Stainless Steel Sippy Cups Safe?
Steel sippy cups are a safer and more eco-friendly alternative to traditional plastic sippies. They are free of the hormone-disrupting chemicals present in plastic while being lightweight and extremely durable.
They provide the safety and longevity that all parents love!
What Age is Appropriate for Sippy Cups?
The AAP suggests offering your baby a sippy cup at about 6-9 months old. This varies however as some parents never start using them while others go beyond age three. Regardless, it is recommended to start at 6 months old to get your child accustomed to open cups quicker.
What is the Best Sippy Cup to Transition From the Bottle?
The best transition cups are going to be ones that allow your child to develop the needed coordination to sip from regular drinking cups. Usually, they'll be easy to hold, spill-proof, and most importantly – made from safe materials!
Best Sippy Cup to Transition From Bottle Feeding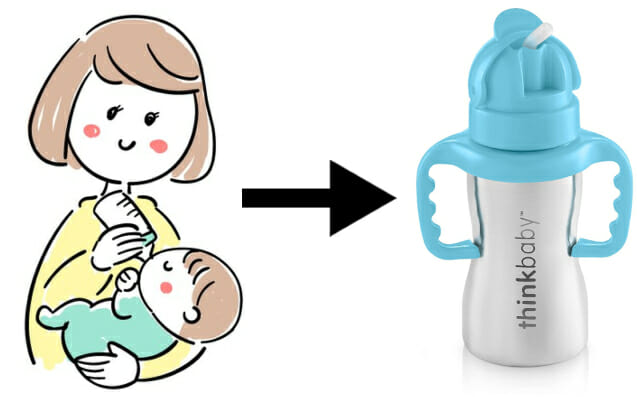 All of the sippy cups in this post are great options, but what is the best sippy cup to transition from bottle feeding?
Sippy cups with handles are sometimes preferred due to the extra support that handles provide!

As your child gets older and more experienced, their coordination improves.
The opposite is true for younger children who haven't had as much time and need some support.
If this is the case, the following are some of the best sippies to transition from bottles!
Stainless Steel Sippy Cup with Handles
A stainless steel sippy cup with handles can help prevent messy mishaps due to the convenient handles on each side.
The handles are thin enough to easily hold and are ergonomically designed to prevent being dropped, thus helping to reduce spills!
No-spill sippy cups with handles are a great start for transitioning off the bottle.
Let's look at a couple of these below!
Thinkbaby Steel Sippy Cup (9 oz)
The Thinkbaby steel sippy cup is designed for ultimate safety and convenience for your little one.
It is crafted with ultra-polished 304-grade stainless steel, so the liquids will not touch any harmful materials!
The included straw is made from extra-soft, BPA-free medical-grade silicone, so your baby will not hurt their mouth.
Yes, the handles and lid pieces are plastic, however, Thinkbaby has taken the care to ensure this is free of BPA, phthalates, nitrosamines, lead, PVC, PET, and biologically harmful chemicals.
On top of this, no plastic comes in contact with the liquids while using the Thinkbaby stainless steel Thinkster bottle!
Liquids only touch the electro-polished steel interior, and the silicone straw, so you can be sure there's no harm!
For in-between use, the Thinkbaby straw cup features an easy to close swivel top to protect your silicone straw from coming into contact with foreign substances.
If you want to use this sippy cup like a bottle, the handles are removable!
Dishwasher-safe and comes in several color options!
Overall, the Thinkbaby stainless steel straw cup is an amazing transition cup to easily move from sippy to the next stage of drinkware!
The Thinkbaby straw bottle is meant for babies aged 16 to 48 months!
Insulated No-Spill Sippy Cup with Handles from Grosmimi (6-10 oz)
This insulated no-spill sippy cup with handles from Grosmimi is very similar to the previous Thinbaby sippy cup, with the addition of vacuum insulation!
This is where there are two layers of steel (double-walled) and then the air is sucked out from in-between.
This creates great temperature retention, which allows your child's beverage to stay warm or cold for hours making this the best sippy cup for milk, hot or cold!
Like the previous stainless sippy, this is made from high-quality 304-grade stainless steel and features a silicone straw, preventing any plastic from coming into contact.
Grosmimi offers a larger 10 oz size, as well as stage 2 straws for when your baby gets a little older, these are purchased separately.
The electro-polished interior also features volume indicators that can be used to accurately portion your baby's milk or formula.
Grosmimi also offers a full line of bottles, ranging from 0 to 18+ months and finished in 6 different colors!
TIP: A best practice for any stainless steel cup or bottle is to thoroughly wash it before your first use.
Sippy cups generally are safe for your child when used in moderation, but over-reliance can lead to dental health issues later on if used too long. So what is the best sippy cup for teeth?
Before that, let's look at a common question…
Are Sippy Cups Bad for Teeth?
The sucking action when drinking from sippy cups can affect the way teeth and jaws develop if this persists for too long without switching to normal drinking means.
Many times this is due to the sucking action of the straw or sippy, as well as the increased volume of sugary beverages like milk or juice which are usually drunk from sippy cups.
Some simple practices can help prevent sippy cup damage, including:
Not letting your child suck on a sippy cup for prolonged periods.

Only put water in the cups and minimally use them for sugary beverages.

Avoid using sippies with sugary drinks at night as the sugars will sit on your child's teeth, causing decay.
As we can see, sippy cups usually are not problematic as long as they're used properly and weaned off at the right times.
What Kind of Sippy Cup is Best for Teeth?
These are going to be ones that reduce the overall amount of "sucking action" and help to simulate more frequent drinking from a regular open cup.
A way around this for any sippy (which is a preferred method overall) is to start supplementing a normal open cup into one meal per day, then gradually increasing use.
This will help prevent over-reliance while helping to train your baby to drink from open cups.
All things considered, some parents may prefer avoiding the "sucking action" altogether.
This is where the munchkin miracle cup comes in (and our own sippy cups as well, but we'll get to that later in this post!)
Munchkin 360 Cup Stainless Steel (10 oz)
The 10 oz munchkin 360 cups made from vacuum-insulated 304-grade stainless steel are speech therapist recommended and are some of the best sippy cups for 6 months old and up
A couple of common questions regarding the munchkin non-spill sippy cup come up all the time, so let's address those real quick.
How Does the Munchkin Miracle 360 Cup Work?
The munchkin miracle 360 cup uses a unique 360 degree drinking edge which allows your child to sip like a regular open rim cup, without the side effect of spills! This is done by a lip-activated edge that opens only on contact and closes as soon as your baby stops drinking.
How Do I Teach My Baby to Drink From a 360 Cup?
It can seem tricky to get your baby to use 360 cups, but it doesn't have to be. Here are some simple steps to get them acquainted:
Remove the top and fill with only an inch or two of water and give that to your child.

Let them take a sip (yes they'll spill, but only a little bit and they'll manage to get some down.)

Do this during meals for about a week and they'll start to get conditioned to the cup and the drinking motion.

Re-apply the lid, and hand it to them again with an inch or two of water.

Now that they're somewhat familiar, as they put their mouths on the rim and attempt to take a drink, their mouths will open the valve allowing liquid to flow.

Gradually fill your munchkin sippy cup more and more as they continue to get comfortable using it.
Mystery solved! As we can see, there is a little bit of adjusting, but this will be the case using any sippy.
These tips can go for any of these options to help you gradually acquaint your baby to stainless steel sippy cups.
On top of munchkin 360 cups helping your child's teeth develop, they are also vacuum-insulated which will help keep drinks cool for 15 hours and warm for 4-6!
They are crafted from corrosion-resistant 304-grade stainless steel and are free of BPA and other toxins normally found in cheap sippy cups.
For cleaning, it can't get much easier. Just take apart your stainless 360 sippy and toss it on the top rack of your dishwasher!
Check these out today by clicking below!
Best Soft Spout Sippy Cup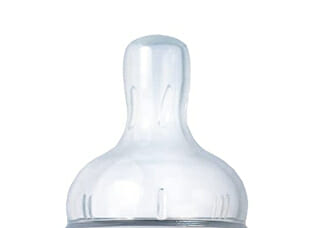 Finding the best soft spout sippy cup is super important because it directly protects your child's teeth and gums from developing poorly.
Soft nipple sippy cups also help ease the transition from nursing to a sippy cup because it feels closest to the breast and is less likely to confuse the baby.
So that brings us to the question, are hard spout sippy cups bad?
Are Hard Spout Sippy Cups Bad?
Hard spout sippy cups could potentially hurt the development of your baby's teeth and jaw. This is due to the positioning of their body, neck, and teeth when sipping from a hard spout vs a soft spout. With a hard spout, there is less flexibility than a soft one, so the body and neck need to compensate and bend much more, putting pressure on the teeth and jaw.
Now we'll look at two amazing soft-spout stainless steel sippy cup options that are some of the best for breastfed baby's!
These are not only jaw-safe but are some of the most versatile options out there!
Both the Pura Kiki bottles and our own stainless steel kids cups with silicone lids, shown below, provide you with not only sippy cups, but also open cups, straw bottles, snack cups, and anything else you desire!
All from one product (or both combined for the ultimate experience).
First, let's look at the Pura Kiki stainless steel baby bottle set!
Pura Kiki Bottles (5-11 oz)
Stainless steel Pura Kiki bottles are innovative sippers designed to transition from sippy bottle to straw bottle, sports bottle, or snack container!
These 304-grade stainless steel bottles have a patented "Any Bottle…Any Lid" design which allows all Pura Kiki sipper bottles to work with all Pura tops.
Pura insulated bottles have many different top options ranging from the included silicone spout to XL spouts, to silicone sports tops and even Pura Kiki straws!
Each slow-flow lid is crafted from medical-grade silicone, free of all toxins, and features an easy-cleaning wide neck design to support transitioning from breastfeeding!
The interchangeable medical-grade silicone sleeve helps to add a soft feel and grip to prevent drops, reduce "sweating" and provide a nice pop of color!
Pura's electro-polished interior features volume marks in ounces and milliliters for accurate dosing.
Pura Kiki bottles are dishwasher-safe and can also be sterilized in boiling water!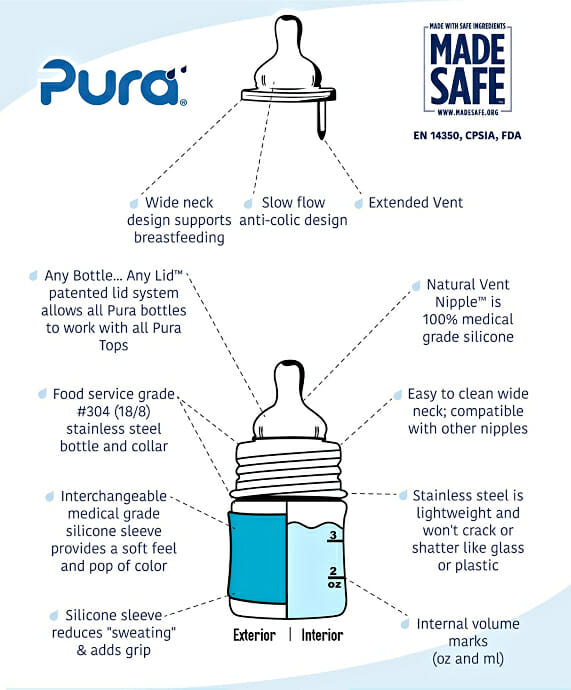 How Do You Sterilize Pura Kiki Bottles?
Pura Kiki bottles can be sterilized using boiling water. To do this, follow these simple steps:
Bring water to a boil on your stove using any standard pot.

Once water is boiling, turn off the heat.

Remove the lid and place Pura bottle parts into the water.

Let sit for about 10 minutes to effectively sterilize.

CAREFULLY remove parts from the hot water using some kind of tongs or gloves.

Let parts dry.
If you are worried about the silicone melting in boiling water, don't.
Silicone can be boiled along with the stainless steel bottles because silicone has a melting point of approximately 500 degrees Fahrenheit, twice the temperature of boiling water.
As we can see, Pura Kiki stainless steel baby bottles are a fantastic versatile option.
You can get this exact 5 oz version, or you can get the larger 11 oz bottle.
Or you can check out their full line of products and go from there!
Pura Kiki offers a limited lifetime warranty on their products.
Click the button below to visit Pura Kiki's storefront!
Stainless Steel Sippy Cup with Silicone Spout (8 oz)
Our stainless steel sippy cups with silicone spouts are another innovative solution that can provide you with endless use from under 1-year-old well into childhood!
The design is very simple with our 8 oz stainless steel cup.
We took the highest quality stainless we can, 304-grade, and electro-polished the insides.
Then we fully rolled the cup's rim to protect your baby's mouth from sharp edges.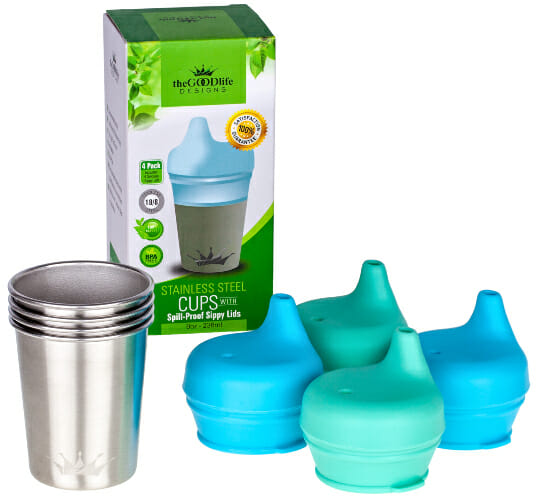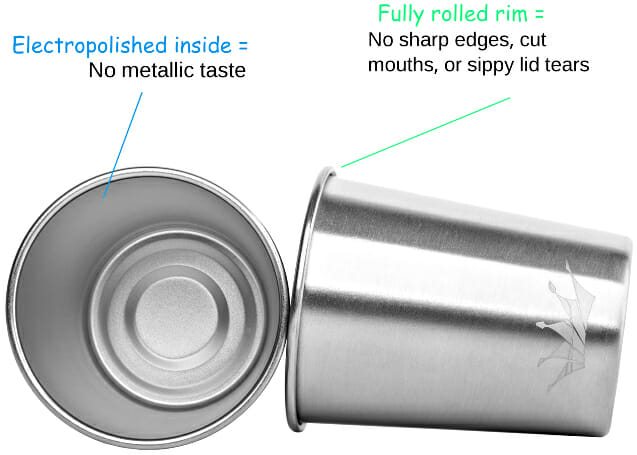 The extra-wide base helps keep the cup upright and helps to prevent spills while on the table.
Each leak-proof lid is made of 100% pure food-grade silicone that is free of all toxic chemicals found in plastic and features reinforced air-vents to prevent the common tearing found in silicone lids.
The soft silicone spout is very gentle on your child's mouth and will make for easy transitioning.
The unique thing about our non-spill sippy cup is how it grows with your child!
Starting out young, you simply fill each cup with the desired beverage (do this how we recommended above to train your baby) and then stretch the spill-proof silicone sippy lid over the rim.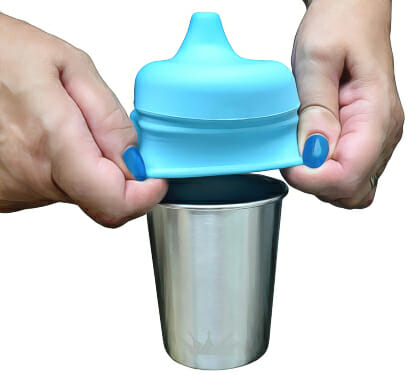 This turns your regular 8 oz metal toddler cup into a fully spill-proof sippy cup!
As your toddler gets older, you can simply stop using the sippy lids and use the stainless steel cup by itself!
The stainless steel cup by itself also doubles as a convenient 8 oz unbreakable snack cup!
You might ask, why not just get the lids separately and do this with any cup?
You could certainly do that using the silicone lid set that is later in this post, however as we stated above, our 8 oz cups by themselves are designed with optimal safety for child use.
This is hard to find in standard 8 oz stainless steel cups.
Also, we can guarantee our products with our full coverage warranty that covers your lids for a year and your cups for a lifetime.
Any issues, simply text or email us (info included with purchase) and we'll ship out replacements the same day for free.
For cleaning, it can't get much easier.
Simply either hand wash, or toss your cups and lids in the dishwasher! (lids should be kept on top rack)
Or if you'd like, you can sterilize the cups and lids in boiled water just like the Pura Kiki bottle set (using the instructions in the previous section)
Click the button below to grab your set!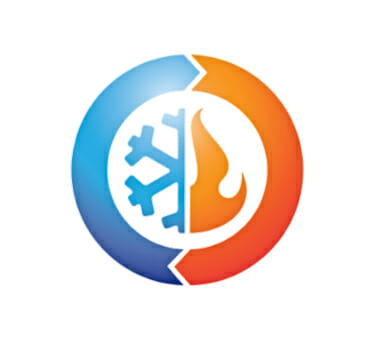 The best-insulated sippy cups are the ones that keep cold drinks cold for the longest time.
This no-leak stainless steel sippy cup option below has proven to be one of the best in this category and comes from another very notable brand, Thermos.
The Thermos Foogo straw cup features Thermos vacuum insulation technology that effectively keeps contents cold and fresh for up to 12 hours, making this the best straw sippy cup for kids!
Thermos offers three phases of cups that include one for 6+ months, a more rigid spout option built for ages 12+ months, and this silicone straw bottle for 18+ months.
They also offer a line of lunch boxes and steel food containers on their storefront!
The durable double-wall 304-grade stainless steel design has an easy-grip contoured shape and features interchangeable lids that allow you to change parts between the three phases to adapt to your child's needs!
The Thermos Foogo holds roughly 10 ounces of liquid.
Each lid is made from plastic, but will not touch your child's drink or mouth.
Also, the lid has a convenient and hygienic push-button flip-top that allows you to easily open and close during use!
For cleaning, simply disassemble all four parts (bottle, lid, straw, and straw stem) and throw in the dishwasher!
All-in-all, this 10 oz Thermos bottle is one of the best straw sippy cup options for on-the-go and keeping drinks cold!
Best Silicone Sippy Cup Lids Set
The best silicone sippy cup lids allow you to effectively turn any cup into a sippy!
They are super flexible and can stretch over almost any rim up to about 3 inches in diameter at the rim, making them a very universal sippy cup lid.
Once they are applied, you can feel comfortable handing the cup to your child knowing it's not going to spill.
Getting a set of silicone sippy lids helps you while on-the-go or at restaurants, places where you might not have your sippy with you but need a quick solution!
Healthy Sprouts Silicone Sippy Lids
Healthy Sprouts silicone sippy lids have a proven track record to be one of the best silicone spout lids available at this time.
The best part is the versatility to use on your existing drinkware at home or while you're traveling!
This is a cost-effective option when you're not looking to invest too much money on buying several different sippy bottles and cups, especially if you have several small children.
Instead, you can grab this 5-piece sippy lid multi-pack and essentially make 5 different sippy cups for under 15 bucks!
The only limit to this is, of course, the lack of safety and child-proofing that your existing drinkware might have.
If you already have good baby-safe cups at home, then try them out!
You'll enjoy how easy these are for travel because they are very small and light and can be taken along anywhere including restaurants so you can quickly "spill-proof" your child's cups.
Healthy Sprouts silicone lids are made from 100% pure food-grade silicone that's free of all toxins found in plastic!
Along with that, they provide a 12-month damage replacement warranty. If you have any issues, you can contact them for solutions!
Click the button below to grab some unique spill-proof lids today!
Enjoyed this post? Share it with your friends!
Safest Non-Toxic Kid's Tableware Checklist
Discover how to IMMEDIATELY detect subpar kids dinnerware products when browsing online.