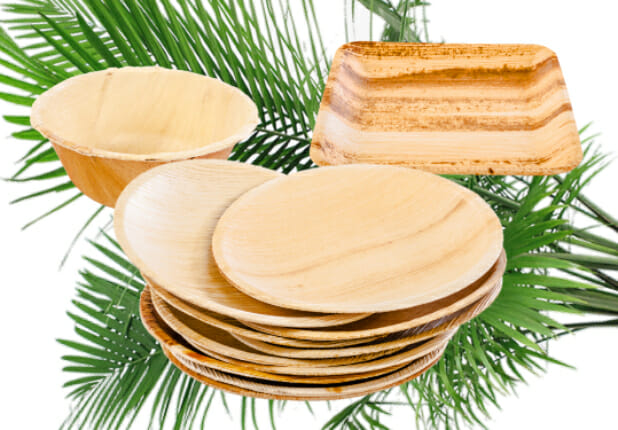 Disclosure: This blog is reader-supported. As an Amazon Associate, I earn from qualifying purchases. When you buy through links on our site, we may earn an affiliate commission at no cost to you. I only recommend products I would use myself and all opinions expressed here are my own.
Palm leaf disposable plates might be one of the most unique biodegradable tableware options out there today.
We know from previous posts, single-use plastic utensils and dinner plates are a massive issue for the environment.
Seems simple enough to grab a "biodegradable and compostable" alternative, but many times these can be just as problematic as traditional plastic.
Even some good options such as sugarcane plates can be problematic because some can only be composted in industrial facilities.
Many times these facilities are unavailable in our surrounding area.
So, what do we do when we need bulk quantities of disposable tableware for a wedding or a big birthday party?
Wouldn't it be amazing to have disposable plates that truly biodegrade in your standard landfill?
One that requires no special attention and thrown right in your trash bin without any worry whatsoever?
Well, palm leaf disposable plates seem to fit that bill perfectly.
In this post, you're going to learn where palm leaf plates come from, how they're made, all the unique benefits, they offer and where to find the best options for affordable prices.
First, let's answer how palm leaf plates are made!
How To Make Palm Leaf Plates
A key benefit of palm leaf disposable plates is the extremely sustainable way that they are produced.
Rather than cutting down countless trees or other plants to produce dinnerware, palm leaf plates are made only from the fallen leaves of areca palm trees.
Areca palm trees shed their leaves very frequently and their large size makes it simple to craft into dinnerware, without the use of chemicals or binding resins!
No tree is actually cut down to produce areca palm leaf products. This is very unique and not something we often see with compostable tableware.
Once workers collect the fallen leaves, they are pressure washed and heat-pressed into plate shapes.
After that, the rough edges of the pressed leaves are trimmed to make perfect plate shapes and then sterilized.
Pretty awesome huh?!
Now let's compare another popular biodegradable plate option with a palm leaf plate.
Bamboo Vs Palm Leaf Plates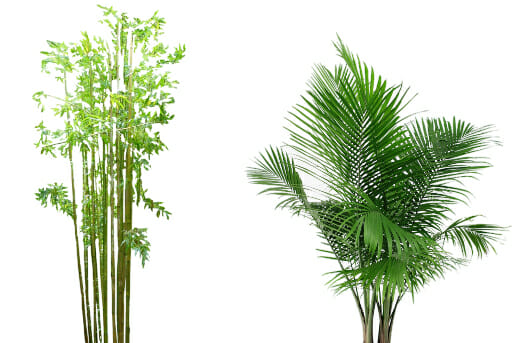 If you've browsed around online for compostable plates, you've probably run into bamboo dinnerware. So let's discuss a few differences and which is better. Bamboo or palm leaf plates?
There is no doubt compostable bamboo dinnerware is a very popular eco-friendly option.
These and palm leaf disposable plates both work very well when you need a compostable plate that also degrades in your normal trash.
But there are 2 main differences that make areca palm leaf plates our preferred option.
Number one is, disposable bamboo plates are usually made from bamboo trees specifically grown and cut down for commercial products.
In contrast, palm leaf disposable plates are made only from the naturally-shed, fallen palm leaves of areca palm trees.
This makes them even MORE sustainable than bamboo.
Number two is that disposable palm plates biodegrade much faster than bamboo plates.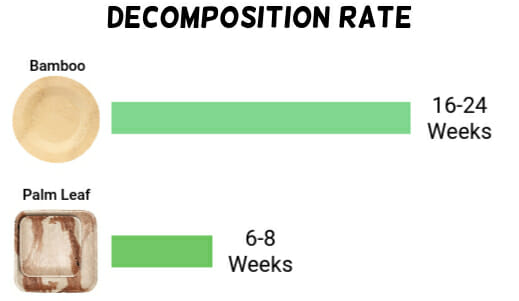 Biodegradable bamboo plates tend to take about 6-8 months to fully degrade, whereas disposable palm plates can break down in 2 months or less!
In addition to that, palm leaf plates require less time and resources to produce because they are much simpler to make.
Instead of cutting down and refining bamboo stalks, palm leaves are easily gathered off the ground after being shed naturally.
In the end, disposable bamboo plates are still very sustainable and a great option, however palm leaf plates tend to be a bit more eco-friendly!
Now, let's see an overview of palm leaf plate benefits!
Areca Leaf Plates Benefits
Aside from what we've already mentioned above, here is an overview of some areca leaf plates benefits:
Biodegradable and backyard compostable in a compost bin or heap (can be made into nutrient-rich compost for soil)
Can be thrown into the normal trash bin (will degrade in a landfill)
Bleach and chemical-free (no dyes or binding resin used)
Hygienic and odorless

Does not alter the taste of food

Eco-friendly and extremely sustainable
Each plate is unique with various leaf patterns
Resists oil and water making them leak-proof and ideal for wet foods
Will not get soggy and weaken like paper plates
Reusable as long as you use them for dry foods and hand-wash/ air dry
Can reheat food in the microwave for up to 2 minutes on high heat and reheat foods in the oven at 350° for up to 45 minutes
Lightweight
Strong and durable yet semi-flexible (great to hold large meals)
Can use with any kind of utensil including stainless steel knives
Suitable for hot and cold foods

Plastic-free
And that's just to name a few!
Now let's take a look at 7 of the best palm leaf plate bulk sets available today.
Non-Toxic Kitchenware Checklist
Get a step-by-step product guide with insider tips & tricks for the safest kitchen possible!