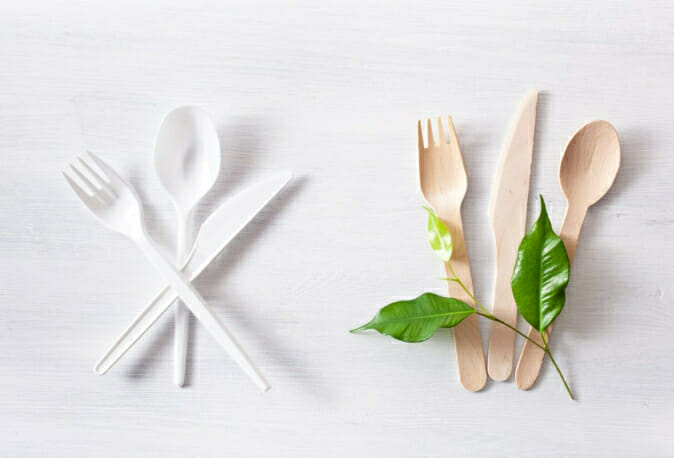 Disclosure: Our reviews stay ad-free as they're entirely reader-supported. As an Amazon Associate, I earn from qualifying purchases. When you buy through links on our site, we may earn an affiliate commission at no cost to you. This revenue helps us test products and develop quality content.
Single-use plastic cutlery terrorizes the planet for 1000 years before breaking down. How important are biodegradable utensils?
Consider this…
Plastic builds up in landfills much faster than it can degrade.
From there, microplastics dissolve into the groundwater and air, ultimately ending up in your body.
Thankfully, compostable utensils can help cut down on the 40 billion plastic utensils discarded each year in the US.
Sounds fabulous, but…
What are

biodegradable utensils

made from?

What's the difference between biodegradable and compostable cutlery

?

Are compostable utensils really compostable?
And last, what are the best biodegradable cutlery options out there? Considering many are no better than plastic.
You'll find those answers and more below, so let's jump in!
| Image | Name | Details | Star Rating | Check Price |
| --- | --- | --- | --- | --- |
| | GreenWorks CPLA Set | Made from cornstarch | 150-Pack (50 forks, 50 knives, 50 spoons) | Compost at Industrial Facility | 4.7 / 5 | Check Price |
| | GreenWorks CPLA Pre-Wrapped Sets | Made from cornstarch | 200-Pack (Each travel set includes a fork, knife, spoon, and napkin) | Cutlery comes in a compostable wrapper | Compost at Industrial Facility | 4.7 / 5 | Check Price |
| | IBamboo Natural Bamboo Set | Made from bamboo | 100-Pack (50 forks, 25 spoons, 25 knives) | Degrades in your trash | 4.6 / 5 | Check Price |
| | Biofase Avocado Seed Set | Made from avocado seed | 24-Pack of forks | Degrades in your trash | 4.7 / 5 | Check Price |
| | incrEDIBLE Edible Spoons | Edible and all-natural | 20-Pack of spoons | Degrades in your trash if you don't eat | 3.7 / 5 | Check Price |
| | Ecostraws Pasta Straws | Made from pasta | 24-Pack of straws | Degrades in your trash if you don't eat | 4.2 / 5 | Check Price |
| | Fuyit Bagasse Dinnerware Set | Made from sugarcane fiber | 250-Pack (50 dinner plates, 50 dessert plates, 50 forks, 50 knives, 50 spoons) | Degrades in your trash | 4.7 / 5 | Check Price |
Health & Environmental Risks of Disposable Plastic Cutlery

Think about those 40 billion plastic utensils thrown away in the US.
You use cutlery for what? Ten minutes?
And then boom!
You toss your fork into the trash, and it sits in a landfill (best case scenario) for 1000 years.
During that time, plastic chemicals leach into the air, water, even the foods you eat.
In fact, the average American consumes more than 74,000 microplastic pieces every year. Even more shocking – a credit card-sized amount of plastic (5 grams) per week.
Furthermore, over 1,000,000 marine animals die each year at the hand of plastic debris.
Plastic wastes a ton of money too.
In 2010 alone, manufacturers used 191 million petroleum barrels to make plastic goods.
This is a non-renewable resource.
We're running out of oil, burying ourselves alive in plastic, and wreaking havoc on wildlife…
All for a little convenience.
So, is bio-based cutlery our saving grace?
It depends on how and where you dispose of your utensil. More on that soon.
What are Biodegradable Utensils Made Of?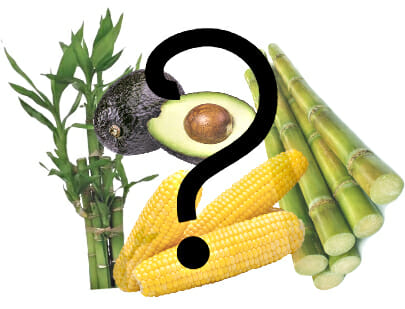 Bio-based cutlery stems from corn or sugarcane, plant oils, animal fats, straw, woodchips, orange peels, or even sawdust.
From there, producers turn these natural materials into PLA (Polylactide Acid), a bioplastic.
PLA resembles traditional plastic, but it's renewable and vegetable (bio)-based.
But keep an eye out for…
"Shady" Bio-plastics
Other forms of biodegradable plastic exist besides PLA, called "oxo-degradable."
Like regular plastic, these come from petrochemicals.
But, chemical additives help speed up the breakdown process.
Here's the problem…
As they degrade, petro-plastics leave behind toxic residue and small shards of material.
Wildlife confuses those shards for food.
See the problem?
So, choose bio-based plastics when hunting for healthier options (like every option on this page).
What is the Difference Between

Biodegradable

Silverware and

Compostable

Cutlery?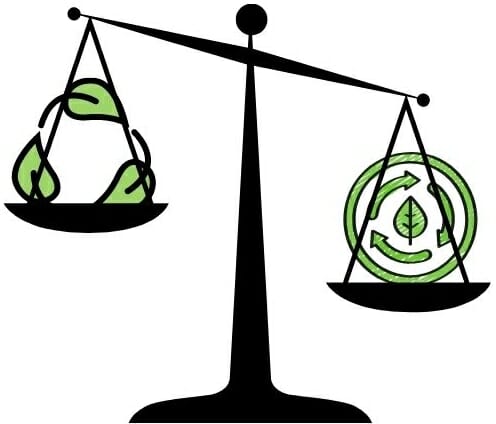 There is a lot of confusion around this topic.
Perhaps you imagine biodegradable and compostable plastic as a black and white difference.
But it's more of a gray area.
Let's define each…
Biodegradable Cutlery – Defined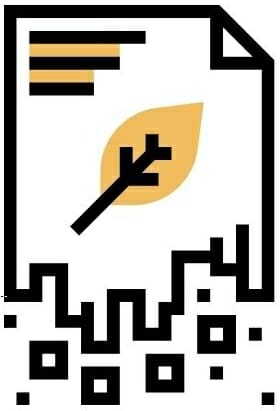 "Biodegradable polymers (BDPs) or biodegradable plastics refer to polymeric materials that are capable of decomposing into carbon dioxide, methane, water, inorganic compounds, or biomass in which the primary mechanism is the enzymatic action of microorganisms."
Did that hurt your brain too?
Here's the English translation…
The biodegradable forks, knives, and spoons break down regardless of conditions. The ground's organisms eat the plastic.
There's no need for extra resources (like industrial facilities).
But, this type has tradeoffs.
Compostable Utensils – Defined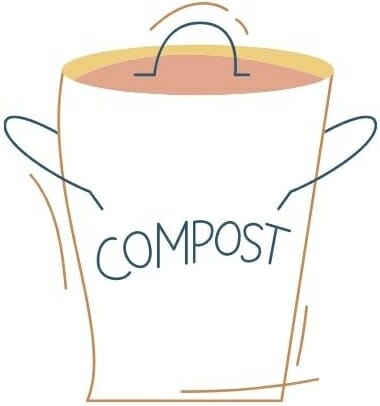 "A subset of BDPs may also be compostable (compostable cutlery) referencing their bio-degradation in an industrial compost facility."
Huh?
What does compostable in industrial facilities mean?
This means the bio-plastic breaks down under high heat and controlled moisture. This happens at a special facility.
After the breakdown, the plastic shouldn't be visible. Instead, only carbon dioxide, water, inorganic compounds, and biomass will remain. (ASTM standard D6400)."
Again, in English, the same result as above. But, the process uses a controlled setting to degrade the plastic instead.
So these utensils really are compostable, but only under specific conditions.
That leads to the next point. Here's what I meant earlier about "tradeoffs."
Are biodegradable plastics better for the environment?
It depends. If you don't dispose of biodegradable utensils properly, the plastic won't fully degrade in the environment.  Also, the bioplastic produces methane gas as the material degrades.
Methane is a greenhouse gas with 25 times the effect of C02.
While "landfill gas" can become a power source, The Landfill Directive seeks to reduce biodegradable public waste.
But here's why bioplastics are the best disposable utensils…
They do not produce a net increase in carbon dioxide when broken down.
The plants used to make the utensil absorb the same amount of carbon dioxide, to begin with.
So, the material is already part of the biological carbon cycle.
The best option
Remember, calling a product biodegradable has no value if the trash does not end up in the proper system.
So, use compostable plastics that can break down in industrial facilities.
They will help generate carbon and nutrient-rich compost for the environment!
Quite the opposite from plastic disposables!
Where are these industrial facilities?
Use this directory of US composting facilities to find a site near you.
If you're unable to send utensils to a facility, consider bamboo, bagasse, or avocado utensils.
They will break down naturally in the trash (a few options below).
Benefits of Biodegradable Flatware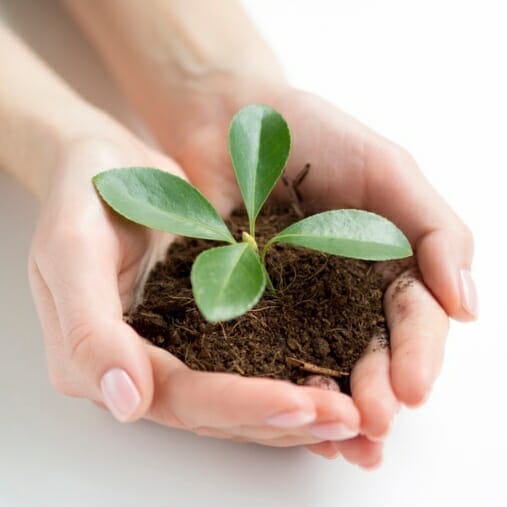 Now that you know the ins and outs of bio-plastics, here are a few benefits of biodegradable utensils.
You will:
Save countless plastic utensils from cluttering the ecosystem, without sacrificing convenience.

Help increase air quality without effort.

Reduce your exposure to toxic chemicals and live healthier.

Prevent unnecessary wildlife deaths (thanks human).

Conserve non-renewable resources, which can help lower oil costs.

Produce nutrient-rich soil to benefit agriculture for better food.
Also, producing biodegradable cutlery requires less energy to produce compared to petro-plastics.
This is because starch production is less resource-heavy than petroleum refinement.
Bioplastic manufacturers use less water, too.
So, compostable cutlery (with proper disposal) benefits your health and the environment!
Now, the last question to answer is, what are the best biodegradable utensils to use?
Below, you'll discover the six most eco-friendly disposable utensils (100% plastic-free).
Even if there are no industrial facilities in your area, there's an option suitable for you.
Everything from compostable plasticware to biodegradable avocado cutlery and more. It's all below.
Enjoyed this post? Share it with your friends!
Non-Toxic Kitchenware Checklist
Get a step-by-step product guide with insider tips & tricks for the safest kitchen possible!