Disclosure: This blog is reader-supported. As an Amazon Associate, I earn from qualifying purchases. When you buy through links on our site, we may earn an affiliate commission at no cost to you. I only recommend products I would use myself and all opinions expressed here are my own.
1000 years. That is how long it can take single-use plastic utensils to break down. Biodegradable utensils solve this problem.
Not only are we literally burying ourselves alive – landfills filling up faster than plastic can degrade, but our oceans are overflowing with plastic and killing countless numbers of sea-life daily.
We're not unaffected. This plastic, and the microplastics from it, are entering our food and the air we breathe.
Over 90% of people actually test positive for traces of microplastics in our bodies, and plastic chemicals can take a drastic toll on our health.
A simple way to cut down on the 40 billion plastic utensils thrown away each year in the US alone is to use biodegradable cutlery alternatives.
But you might have some questions like:
What actually are biodegradable utensils and what are they made from?
Or what the difference between biodegradable and compostable cutlery is?
And lastly, what are the best biodegradable utensil options out there?
All of that and more will be answered below!
So, let's get into it by answering our first question.
What are Biodegradable Utensils Made Of?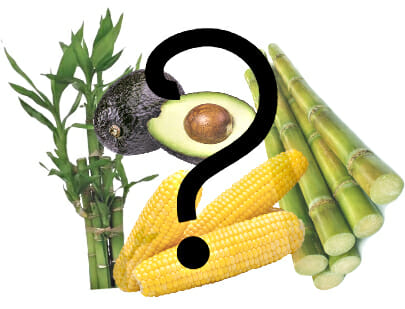 Often, bio-based biodegradable utensils are made of something called bioplastics.
These plastics are typically biodegradable by nature and produced from natural origins.
Origins like fermented plant starch from corn or sugarcane, proteins, and lipids (i.e plant oils and animal fats).
Other natural materials like orange peels, woodchips, straw, and even sawdust are sometimes used.
These materials are made into something called PLA (Polylactide Acid).
This material looks and behaves like traditional polypropylene and polyethylene plastics.
Other forms of biodegradable plastic exist besides PLA and these are sometimes made with petrochemicals, just like regular plastic, with chemical additives that speed up the breakdown process.
These biodegradable plastics are often known as oxo-degradable and are not favorable because they can sometimes leave behind a toxic residue or even small shards of material.
The classification of these two biodegradable plastics differentiates between renewable (bio-based) and non-renewable (petrochemical-based).
PLA and these other biodegradable options below differ from petro-based because they are not made with those same petroleum resources and do not release harmful chemicals upon decay.
What is the Difference Between Biodegradable and Compostable?
There is a lot of confusion around this topic and many think of it as a black and white difference between biodegradable and compostable.
The difference is actually more in a "gray area," due to the different types of biodegradable plastics.
Let's start with some definitions:
"Biodegradable polymers (BDPs) or biodegradable plastics refer to polymeric materials that are capable of decomposing into carbon dioxide, methane, water, inorganic compounds, or biomass in which the primary mechanism is the enzymatic action of microorganisms."
In simpler terms, this means that the specific biodegradable utensil or other plastic item is able to degrade down to a microscopic level and then be consumed by microorganisms until nothing is left, regardless of conditions.
Remember though, there are biodegradable petroleum-based plastics AND bioplastics made from organic material, the latter being our focus for this article.
"A subset of BDPs may also be compostable (compostable utensils) referencing their bio-degradation in a compost system. These utensils must demonstrate that they are capable of undergoing biological decomposition in a compost site as part of an available program –
The plastic should not be visually distinguishable and should break down to carbon dioxide, water, inorganic compounds, and biomass, at a rate consistent with known compostable materials (e.g. cellulose)' (ASTM standard D6400)."
Again in simpler terms, this means the same end result as biodegradable, but the process uses accelerated degradation in a warm, moist, aerobic environment under controlled conditions.
This takes more work than a simple "biodegradable" silverware option, but the end result tends to be more desirable.
Although natural, traditional biodegradable utensils for example, if thrown into a standard landfill without any separation or treatment, tend to produce methane gases when the biomass breaks down.
This is a greenhouse gas with 25 times the effect of C02.
While this "landfill gas" can and is captured to be used as an energy source, The Landfill Directive seeks to reduce this total biodegradable municipal waste.
Remember, calling a product biodegradable has no inherent value if the product, after use by the customer, does not end up in a waste management system that uses proper biodegradability features.
The better option is to use biodegradable bioplastics that can be safely composted and used to generate carbon and nutrient-rich compost for adding to soil.
This is usually done via aerobic waste management systems that support the needed conditions to properly degrade and produce compost.
You might ask, where are all these facilities?
They are becoming more and more prevalent as time goes by.
In the U.K. alone, more than 300 composting sites that collectively compost about 2 million tonnes of waste annually have sprung up.
A simple online search can show you your nearest facility!
Benefits of Biodegradable Utensils
Now that we know the ins and outs of bio-plastics, what are the benefits of biodegradable utensils?
It's obvious by now the problems associated with traditional plastic cutlery.
In the US alone, roughly 40 billion plastic utensils are thrown away each year, usually after just one quick use, and end up in our landfills and waterways.
Once here, they can take up to 1000 years to degrade.
In that amount of time, they leach tons of harmful chemicals into the air we breathe, the water we drink and, even the foods we eat.
In 2010 alone, about 191 million barrels of liquid petroleum and natural gas were used to make plastic products. This number is only increasing.
We are running out of oil while burying ourselves alive in plastic that doesn't degrade and wreaks havoc from a health and wildlife standpoint.
It's obvious then, that biodegradable eating utensils are a very smart choice when used and disposed of properly.
In the previous section, I already mentioned how bioplastics, when properly composted, can be used to make valuable soil, in turn helping the planet instead of hurting it!
Not only is this already a huge benefit but if we can degrade and compost our cutlery, we won't be adding to this never-ending pile of plastic.
This will prevent countless deaths of our aquatic animals, help keep oil use lower which will reduce costs, and will keep our air cleaner just to name a few.
Yes, it's true that CO2 is still produced when bio-degradation occurs, but this is not worrisome.
Unlike other plastics, bioplastics generally do not produce a net increase in carbon dioxide gas when they break down (because the plants that were used to make them absorbed the same amount of carbon dioxide, to begin with).
The material is already part of the biological carbon cycle.
PLA, for example, produces almost 70 percent fewer greenhouse gases when it degrades in landfills.
Producing biodegradable cutlery also requires less energy in the first place compared to petro-plastics because starch production is way less resource-heavy than petroleum refinement.
Not only is less energy used during manufacturing, but less water is used and of course less pollution is produced.
Using the right biodegradable and compostable cutlery along with proper disposal practices is extremely beneficial from a health and environmental standpoint.
Here is a quick summary of some benefits:
Saves countless plastic utensils from cluttering our ecosystem

Increases air quality

Less exposure to toxic chemicals

Prevents unnecessary wildlife deaths

Conserves non-renewable resources used in production, which can help lower oil costs

Produces nutrient-rich soil to benefit agriculture
All that and so much more!
So at this point, you know how biodegradable utensils are made, the meaning of compostable, and the benefits of choosing such options.
That's great, but now you might be wondering – what are the best biodegradable utensils I should use?
In the rest of this post, we are going to discuss and show you some of your best options out there which include quality bioplastic cutlery, edible utensils, and also why reusables could be right for you!
Let's get into it!
Non-Toxic Kitchenware Checklist
Get a step-by-step product guide with insider tips & tricks for the safest kitchen possible!