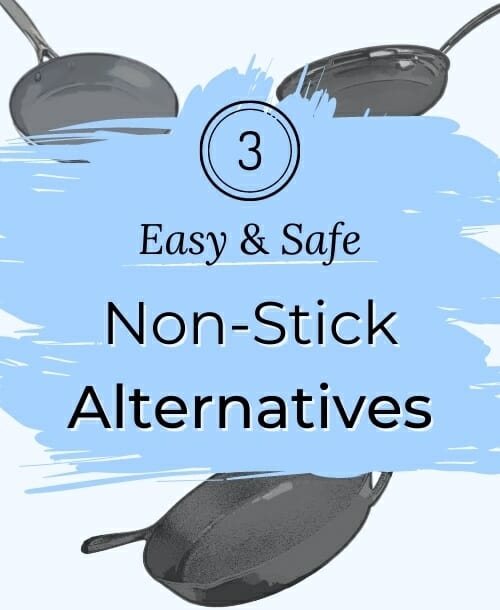 Disclosure: Our reviews stay ad-free as they're entirely reader-supported. As an Amazon Associate, I earn from qualifying purchases. When you buy through links on our site, we may earn an affiliate commission at no cost to you. This revenue helps us test products and develop quality content.
Why consider alternatives to non-stick pans?
For starters, Teflon coatings present a slew of bizarre health risks. Even the newer "PFOA-free" non-stick pans aren't much better (which we'll cover).
Luckily, you're in the right place.
I set out to find the best alternatives to Teflon pans and came back with three to share.
But I didn't stop there. It's one thing to explain each Teflon alternative… It's another to show it.
So, to best serve you, I got my hands on all three non-stick alternatives for a test.
Below, you'll discover a few simple tips to prevent sticking with each. Plus, watch me cook an egg by following these instructions.
Also, you'll see what to do if the pan still sticks, the need-to-know drawbacks and buying considerations before choosing, best practices for care, and our top brand picks for each.
Let's get started!
Enjoyed this post? Share it with your friends!
Non-Toxic Kitchenware Checklist
Get a step-by-step product guide with insider tips & tricks for the safest kitchen possible!