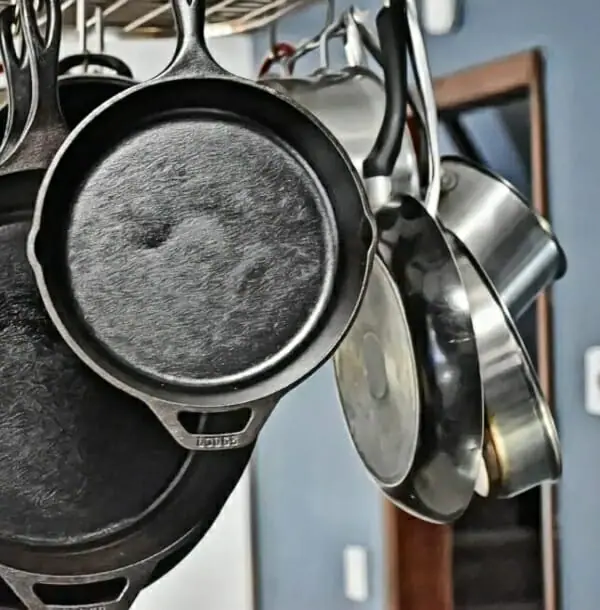 Disclosure: This blog is reader-supported. As an Amazon Associate, I earn from qualifying purchases. When you buy through links on our site, we may earn an affiliate commission at no cost to you. I only recommend products I would use myself and all opinions expressed here are my own.
Using healthy, non-toxic cookware is more critical now than ever before. Why?
Damaging toxins hide everywhere in your kitchen.
Even worse, manufacturers selling the "safest" cookware lie to your face…
The good news?
It's easy to solve that problem! This in-depth guide shows you:
The

 five chemicals to avoid when shopping for cookware.

The damage each material can do to your health.

The eight safest cooking pan materials (and why).
And finally, the nine healthiest pots and pans in 2021 based on reviews (and all their juicy details).
After the Healthiest Cookware Materials section, you'll have a better idea of which type suits you.
This way, you don't waste cash on the wrong cookware. Instead, you keep your family safe and keep living your best lives.
In a hurry? Use the list below to jump around. Or use the Quick-View Table for a product overview.
Let's dive in!
Why Read a Safest Non-Toxic Cookware Guide?
This guide exists to help ease your frustrations with buying new cookware.
You know the feeling.
Spending your precious time hunting the web for answers on the safest pots and pans…
Only to end up scratching your head with a billion choices.
Now, you're probably aware that Teflon doesn't create the healthiest pots and pans.
Plus, many of the quote "safe" cookware options are truly bogus.
So, you're wondering:
Where do I start?

Which brands do I trust?

What materials do I avoid, and why? (This includes those misleading "safe" materials)

What is the

least

toxic

cookware material?

What are some affordable non-toxic cookware options?
So, we researched all those areas – and more.
This non-toxic cookware guide exists to answer your questions and save you time/ headache.
My team and I spent hours scouring articles.
Crawling the EPA's (Environmental Protection Agency), the EWG's (Environmental Working Group), and the American Cancer Society's depths.
Then, we researched healthy non-toxic cookware brands with proven high standards.
The result?
You'll discover what you need (quickly) and head back to what's essential…
Binge-watching Netflix with your family 🙂
Now, here's what to avoid when choosing the safest cookware material.
What to Avoid When Hunting for New Cookware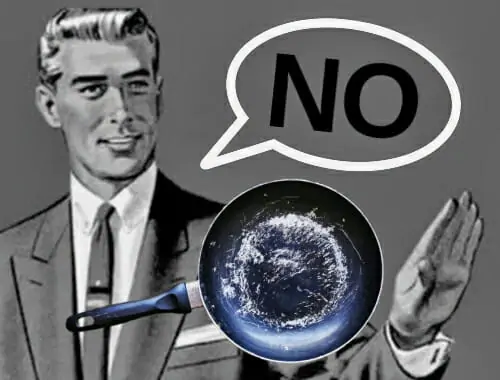 PTFE, PFOA, PFOS, Teflon, and GenX, although non-stick, aren't the best choice.
Also, watch out for uncoated aluminum – you'll see why below.
Disclosure: It's easy to instill fear with bizarre claims. That's not what this page is.
This information simply arms you with the knowledge to protect your family.
So, let's dive into the facts.
Dupont developed PTFE, or Polytetrafluoroethylene (I know, a mouthful), in 1938. You know it as Teflon.
Manufacturers use Teflon as a non-stick surface for pans and other cookware.
Of course, this stuff creates effortless cleanup.
But here's the issue:
Then, "at 680℉, at least six toxic gases release, – this includes two carcinogens, two pollutants, and MFA."
…And that can happen (
accidentally
) within minutes of preheating a pan.
No wonder you hear about "Teflon Flu," a pet bird-killing condition caused by inhaling Teflon's fumes
.
PFAS – a group of strange human-made chemicals – includes PFOA, PFOS, GenX (more on this next), and other substances.
These are the "non-stick pan" chemicals on cookware that resist heat, oil, stains, grease, and water.
PFOA, or C8, is another human-made chemical used in Teflon-style coatings.
Organizations study these chemicals and discover troubling results…
Studies in lab animals found exposure to PFOA increases liver, breast, testicle, and pancreas cancer risk.
Yikes.
The EPA also reports limited findings related to:
Low infant birth weights

Effects on the immune system

Cancer (for PFOA)

Thyroid hormone disruption (for PFOS)
Yeah, this stuff is not cool.
That leads us to GenX, the replacement for Teflon's PFOA coatings.
GenX (Non-stick cookware's dirty secret)
There's a good chance you have sneaky GenX sitting in your kitchen right now…
Aka, the bogus "new best healthy non-stick pan" material. But, it's far from healthy.
GenX came alive after the EPA's Stewardship Program forced companies to ditch PFAS chemicals by 2010.
Companies call GenX a "sustainable replacement" for PFOA, and you'll find it in newer non-stick cookware.
But here's the issue – laboratory studies on exposed animals show the following:
Adverse effects on the liver and blood and cancer of the liver, pancreas, and testicles.
Facepalm. GenX feels like Teflon deja vu.
Uncoated Aluminum (A misunderstood metal)
Aluminum cookware has popularity.
It's lightweight, inexpensive, and heats fast, but…
The bare aluminum surface reacts with acidic foods (like tomatoes, vinegar, and citrus).
Then, aluminum seeps into your food.
Now, while aluminum does leach, the meager amount poses no actual health threat – even though sources claim a link to Alzheimer's.
Still, cooking acidic foods on bare aluminum ruins both your food and cookware and leaves an unpleasant taste.
So, avoid uncoated aluminum pans altogether.
But, manufacturers use aluminum for conductivity inside of stainless steel and ceramic-coated pans. Food does not touch the hidden aluminum.
So, the only safe aluminum cookware is those clad in stainless steel.
In the end, stay away from shady human-made coatings on non-stick pots and pans.
And luckily, it's easier now than ever with so many affordable, non-toxic cookware options out there.
Before you see the nine safest pots and pans to use – let's break down eight of the safest cookware materials.
You need context.
What is the safest cookware material? Why is it safe? What features can I expect for each type? Limitations?
So, in the next section, you'll discover the pros and cons of each type…
Then, the following excerpt shows our top brand pick for each.
What is the Healthiest Cookware Material?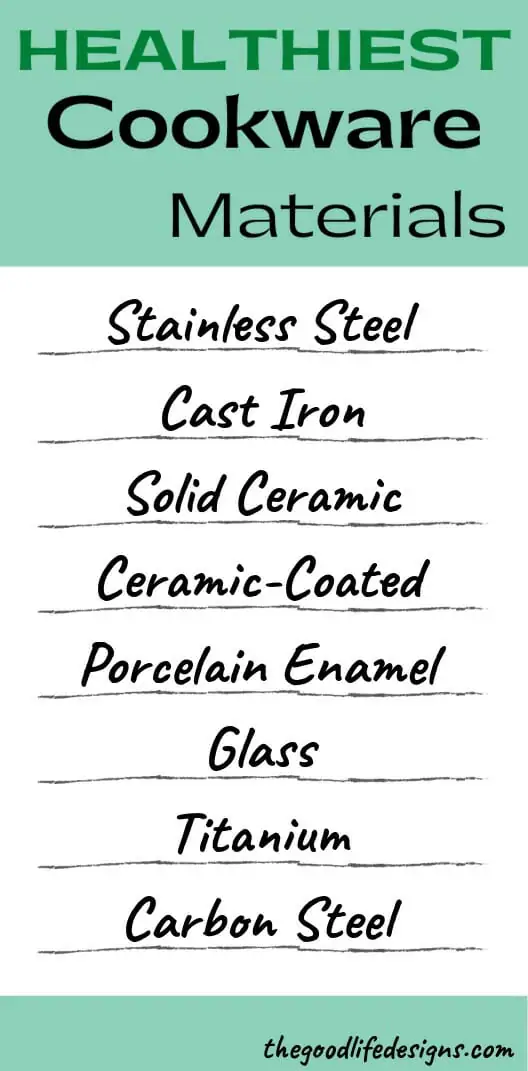 Now, let's lay out the healthiest cookware materials.
You'll discover each material's safety, durability, performance, and price points…
And their limitations.
This information will help you choose the right healthy, non-toxic cookware below that's best suited for your family.
So, start from the top, or skim through.

Stainless steel – an iron alloy – contains nickel and chromium.
Those two elements resist corrosion, stop rust, and prevent food reactions (no strange tastes).
Now, by itself, steel isn't a great heat conductor.
But, most stainless steel cookware sets have aluminum or copper cores for even heat distribution.
In the end, a quality steel non-toxic cookware set defends your health and always performs…
All without spending your life savings.
Pros:
Safe on all stovetops & designed for a lifetime of daily use.
A smooth, non-porous surface – free of chemical coatings.
Untainted by acidic foods & much more sanitary than non-stick.
Dishwasher-safe (Save time on busy nights).
Needs little or no maintenance.
Relatively affordable for a good set, although higher-end sets will cost you.
Cons:
Not microwave-safe.
Not non-stick

(Although there's a pro tip for you later to make steel "act" non-stick).

*Nickel can leach if you scratch your pan with utensils. If you're allergic to this metal, take caution.
(*For this reason, later, you'll find both a standard stainless steel cookware set AND a nickel-free option! #'s 1 and 2)

Cooks value cast iron cookware for several reasons:
First, iron makes the best non-toxic pans for high-temperature searing, heat retention, and durability. Second, cast iron doesn't stick when seasoned.
Seasoning (a baked-on coating of oils and fats) acts as a glass-like, non-stick film.
Usually, cast iron pans come pre-seasoned with vegetable oil.
But, if yours doesn't, here's how to make your cast iron pan non-stick:
First – Clean the surface of the pan with warm, soapy water and a brush.
Second – Rub a thin, even layer of cooking oil onto the cookware's surface with a cloth.
And third – Bake. Here's how:
Place the cookware in the oven upside down on the top rack.

Put aluminum foil on the bottom shelf to catch any excess oil dripping off the pan.

Bake the pan at 400-450℉ for one hour.
The best part? Every time you cook, you build the seasoning from the fats in your food!
And with a well-seasoned pan, you gain a lifelong alternative to non-stick cookware.
Pros:
Practically bulletproof (You can hand this pan down to your grandkids).
Non-stick (without chemicals) due to the seasoning layer.
Versatile cooking; can sear, saute, bake, broil, braise, fry, use on the grill, even a campfire!
Accommodates very high heat (Up to

1500℉!

).
Holds heat like a sponge (aids in crispy, even browning on meats, and great for serving without reheating).
Affordable.
Cons:
Heavy, but hey, it always doubles as workout equipment!
Not dishwasher-safe. (Cast iron can rust. Always towel-dry or bake to evaporate moisture).
Not-microwave-safe.
Slow to heat.
Can react & leach iron into foods (Avoid if you have hemochromatosis). But if you're anemic, this helps you!
Overall, mastering cast iron takes a little time.
But, it's a unique, versatile, and affordable piece of cookware once you do.

What do pure ceramic cookware (that's safe) and the tooth fairy have in common? They're both equally elusive.
But, considering ceramic is one of the safest pans to cook with, we dug for it!
Ceramic cookware often contains lead and cadmium, which we covered in our blog post on safe dinnerware.
However, Xtrema (#4 in the next section) leads the way in pure ceramic cookware. They're free of toxic metals!
Ceramic is an inorganic, non-metallic material made from mixtures of clay, earthen elements, powders, and water.
Manufacturers shape the clay into the desired form before baking it in a kiln.
Pros:
A smooth glass-like surface – free of non-stick chemicals.
Non-reactive (Won't leach chemicals).
Very versatile; safe for stovetops, oven, grill, and broiler.
Microwave-safe.
Refrigerator & freezer-safe (But don't go right from oven to fridge. Let cool first).
Non-scratch surface (Go crazy, work those metal utensils).
Dishwasher-safe.
Safest cookware to use for high heat (Handles up to 2500℉).
Holds heat well, allowing you to cook at lower settings & conserve energy.
Cons:
Easily breaks when dropped.
Slow to heat.
Although less-stick, ceramic needs some oil to release food (Tips on this later).
Pricey, but worth the investment.

When comparing ceramic vs. stainless steel, both share many of the same benefits. But ceramic-coated doesn't stick!
Companies forge this healthy, non-toxic cookware from an anodized aluminum base layer. Remember, anodized won't react with foods.
Then, a ceramic-based non-stick coating sits on top (PFOA and PTFE-free pan).
So your food only touches ceramic, yet the aluminum core heats up in half the time of pure ceramic.
And more evenly.
As a result, you get the non-stick you love from Teflon cookware – without toxic chemicals. And it wipes clean without breaking a sweat!
And don't forget about bakeware!
Ceramic-coated baking pans provide the same ease as Teflon, without the nasty coatings.
Check out bellacupcakecouture.com for some great baking utensil ideas and recipes.
Pros:
Teflon-free non-stick pan without any unhealthy chemical coatings (Easy clean up).
Versatile; high-heat safe on all stovetops, ovens, & broilers up to 600℉.
Dishwasher-safe for quick & easy care.
Non-reactive (Won't leach chemicals).
Quick & efficient, even heating.
Resilient cooking surface.
Relatively affordable for such a high level of performance.
Cons:
Not microwave-safe.
Although resilient, the ceramic surface wears down over time (Avoid metal utensils to delay wear).
Again, although dishwasher-safe, you should hand-wash to preserve the ceramic coating.
The non-stick surface can wear out.
Porcelain Enamel Cookware

Cast iron cookware, enhanced!
What's porcelain enamel cookware? It's simply cast iron coated in enameled ceramic (powdered glass).
This glass-like surface protects the iron from rust.
So you enjoy cast iron's durability and heat retention, mixed with an all-natural, non-stick coating. A true hybrid!
Pros:
Takes a serious beating – durable enough to serve your grandkids.
Accommodates very high heat with excellent heat retention. Cook with less power & save energy.
Inert & untainted by acidic foods & moisture (

Won't rust or leach iron, beneficial for sensitivities

).
Naturally non-stick without seasoning (Slick surface with less care than pure cast iron).
Easy to clean & dishwasher-safe.
Safe on all stovetops; can sear, saute, bake, broil, braise, fry, & roast on the grill.
Cons:
Cannot use metal utensils or abrasive scrubbers (to preserve non-stick surface).
Not microwave-safe.
Slow to heat.
Pricey – but worth the investment.

Glass makes for one of the healthiest cooking pot materials. Plus, serving food in glass cookware saves cleanup time, too.
It's free of toxic chemicals, inert to acidic foods, safely stores food, and super hygienic!
I love how you can watch your food through the glass at any angle. Thus, you can track your cooking progress and prevent burning.
And glass bakeware is especially helpful…
You can track how brown your pie gets to avoid over (or underbaking), for example.
Pros:
Non-reactive & more sanitary than non-stick.
Stain-resistant, resilient cooking surface that doesn't wear out.
See-through (track your food's progress).
Safe on gas and electric stovetops, in the microwave, & under a broiler in the oven.
Dishwasher-safe for piece-of-cake care.
Great for serving (Go right from the stove to the table).
Great for storing (Toss in the fridge without needing storage containers).
Refrigerator & freezer-safe.
Cons:
Breaks if dropped or exposed to extreme temperature changes.
Doesn't always heat evenly (depending on thickness).
Expensive for high-quality sets.

Titanium creates some of the best non-toxic cookware – and the safest. Here's why…
It's inert and bio-compatible, meaning titanium won't harm the human body if consumed. In fact, surgeons often use titanium because of its safety.
Plus, it'll never alter your food's taste!
Titanium weighs much less than steel, yet it's just as durable. Also scratch-proof, rust-proof, and affordable.
Companies often sell this revolutionary non-toxic, non-stick cookware as "titanium-infused ceramic."
Titanium-infusions have 3x the durability of ceramic-coated – and prevent sticking just as good. (Option below).
Pros:
Durable yet lightweight (Easier to maneuver).
Very safe material (No reactions with the human body).
Resistant to rust & scratching (

Use any utensil

).
Very affordable with immense value.
Works on gas, electric, ceramic, glass, in the oven, & halogen stovetops.
Dishwasher-safe for smooth-sailing care.
Non-stick & non-reactive (Won't alter the taste of foods).
Quick & even-heating when paired with an aluminum base.
Accommodates high-heat cooking.
Cons:

Healthy, non-toxic cookware made from carbon steel almost mirrors cast iron.
Carbon steel consists of 99% iron, with 1% carbon.
It'll laugh at everything from delicate eggs and crepes to hearty steaks. So, carbon provides the same unique benefits as cast iron…
High heat cooking and searing, natural non-stick seasoning (reduces calorie intake), etc.
The difference?
A carbon steel non-toxic frying pan weighs much less than cast iron. So, it's easier to handle and store yet heats faster than iron. Also, it has a smoother surface than cast iron and makes better contact with food, resulting in a better char.
But, keep in mind, carbon steel also shares the same limitations. It can rust and react with certain foods, leaching iron.
So, take care of carbon.
Pros:
Naturally non-stick due to the seasoning layer, like cast iron (No cooking oils = lower calorie intake).
Thinner & lighter weight than cast iron – more comfortable to maneuver.
Versatile cooking; can sear, saute, bake, broil, braise, fry, use on the grill, even a campfire!
Safely accommodates high heat without damaging the pan.
Heats quicker than cast iron.
Tough as nails.
Very affordable.
Cons:
Not dishwasher-safe (Can rust. So, towel-dry or bake the carbon to evaporate moisture).
Not-microwave-safe.
Like cast iron, carbon steel can leach iron into foods.

But, if you're anemic, this helps you out.

Doesn't hold heat as well as cast iron.
Safest Cookware Picks (Quick-View Table)
If you're getting antsy, browse through some top picks right away below.
Viewing this on mobile or tablet? Click the "+" icon next to each image to show brand, star rating, and more details.
Or, keep scrolling so you don't miss each product's in-depth review.
| Pick | Type | Brand | Star Rating | Price | Details |
| --- | --- | --- | --- | --- | --- |
| | Best Stainless Steel (Most Versatile Set) | Cuisinart | 4.6 / 5 | $$ | See Details |
| | Best Nickel-free Stainless Steel (Allergy-Friendly) | Homi Chef | 4.4 / 5 | $ | See Details |
| | Best Cast Iron (Longest-Lasting) | Lodge | 4.8 / 5 | $ | See Details |
| | Best Nonstick Ceramic (Easiest to Use) | GreenPan | 4.6 / 5 | $$$ | See Details |
| Top | Best Enameled Cast Iron (One Pan Wonder) | Le Creuset | 4.7 / 5 | $$ | See Details |
| | Best Glass (Great for Serving and Storing) | Visions | 4.8 / 5 | $$$ | See Details |
| | Best Nonstick Titanium (Most Durable Non-Stick) | Saflon | 4.5 / 5 | $ | See Details |
| | Best Carbon Steel (Ultimate Stir-Fry Pan) | Lodge | 4.4 / 5 | $ | See Details |
Tips to navigate the next section:
So, now you understand what to avoid and the healthiest cookware materials.
Next up, let's dive into nine of the best non-toxic pots and pans of 2021 and beyond!
Time-Saving Tip: Underneath the next image, you'll see a numbered list (#1 – #9) of the products. You can click the highlighted text to jump straight to each.
Enjoyed this post? Share it with your friends!
Non-Toxic Kitchenware Checklist
Get a step-by-step product guide with insider tips & tricks for the safest kitchen possible!