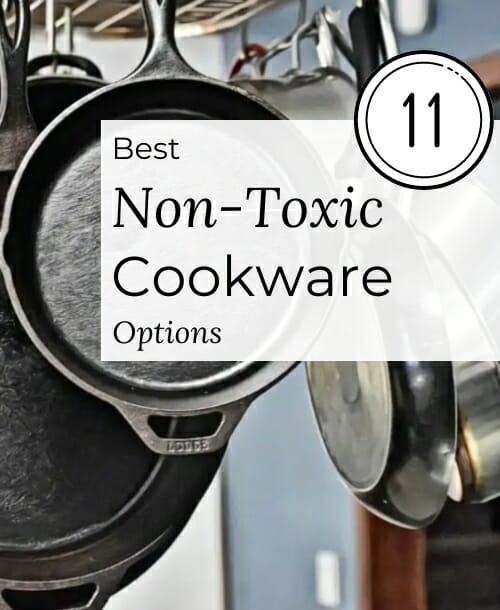 Disclosure: This blog is reader-supported. As an Amazon Associate, I earn from qualifying purchases. When you buy through links on our site, we may earn an affiliate commission at no cost to you. I only recommend products I would use myself and all opinions expressed here are my own.
Healthy, non-toxic cookware is more critical than one might think.
Sure, eating healthy food is important. But cooking in the wrong pan threatens to unravel your efforts.
Worse yet, many brands selling the "safest cookware" deceive you with clever marketing. And most of the "so-called" safest cooking pan materials (including PFOA-free cookware) are misleading.
The good news?
We found the 11 healthiest pots and pans to cook with in 2023 – based on research, customer experiences, and tests.
Yet, you'll discover more than the healthiest cookware materials, brands, and sets in this guide—
Best & Safest Cookware Brands to Shop Now | Quick Links
Use these quick-links to skip ahead to our top cookware picks… You'll find each non-toxic pot and pans set reviewed in detail:
—Along with product reviews, we're also going to cover:
Takeaway & tips to navigate the following section:
So, now you understand what to avoid and the healthiest cookware materials. Now let's dive into the nine best non-toxic pots and pans of 2023 and beyond!
Time-Saving Tip: You'll see a numbered list (#1 – #11) of the products underneath the following image. You can click the highlighted text to jump straight to each.
Enjoyed this post? Share it with your friends!
Non-Toxic Kitchenware Checklist
Get a step-by-step product guide with insider tips & tricks for the safest kitchen possible!