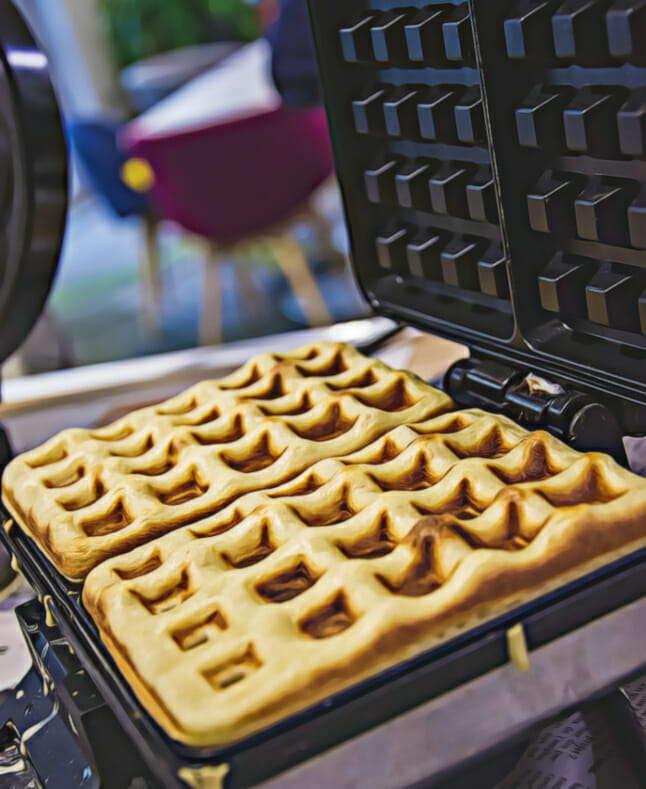 Disclosure: Our reviews stay ad-free as they're entirely reader-supported. As an Amazon Associate, I earn from qualifying purchases. When you buy through links on our site, we may earn an affiliate commission at no cost to you. This revenue helps us test products and develop quality content.
Don't you love when the fresh scent of homemade waffles fills the crisp Sunday morning air? I do, but I don't like the toxic fumes that come with it. Here's why grabbing the best non-toxic waffle maker is so vital—
At high temperatures, standard Teflon-coated waffle irons emit fumes containing at least 15 toxic particles…
And this toxic "cocktail" creates a slew of health concerns.
The good news? True non-Teflon waffle makers exist, although far and few.
Below, you'll find the 7 best ceramic waffle makers without Teflon for perfectly-cooked, safe waffles every time!
Plus, you're also going to discover:
We've ranked our waffle iron picks by three groups—
Best Overall, best Mid-range, and best Budget, so there's something for everyone.
You can use the quick links below to jump ahead to any section.
Let's dive in!
Are Teflon Waffle Makers Safe?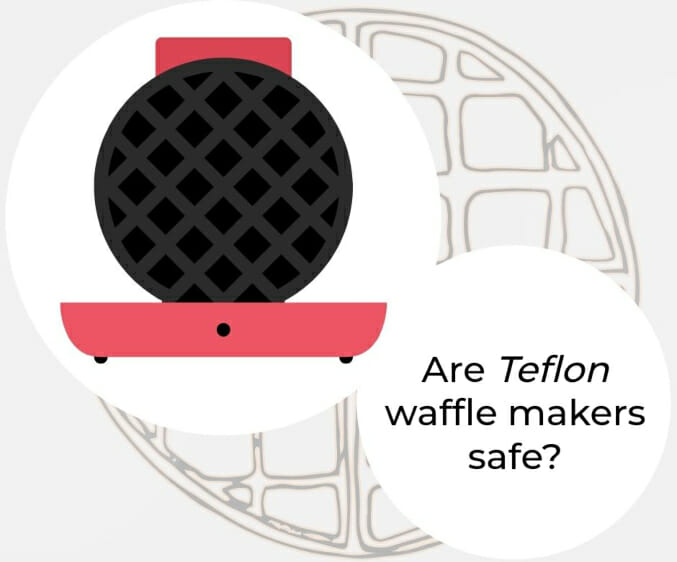 Not exactly, here's why:
About 350-375°F is required to cook waffles. Yet, once you exceed that temperature and reach 464°F (240℃), PFAS chemicals—aka Teflon—start breaking down. Then, off-gassing toxic fumes…
And you can exceed 464°F (240℃) within minutes. Not good, considering—
Teflon's fumes relate to hundreds of pet bird deaths, if not thousands. Also, human inhalation can cause flu-like symptoms, known as Teflon Flu.
Plus, an "unknown number of human illnesses each year," EWG tests show. 
What type of illnesses? Low infant birth weights, immune system damage, cancer, and thyroid disruption, to name a few. And that's not the only concern…
According to the EPA, PFAS builds up in your body and stays there for ten years or more.
In fact, 97% of the human species have PFAS in their blood!
Non-stick waffle irons and cookware today still use PTFE (Teflon) to prevent sticking.
PTFE is made from a group of chemicals called PFAS, which create oil and water-resistant surfaces… An unprecedented achievement in the cookware industry—
PFAS coatings meant you could skip the non-stick oil, lowering calorie intake. Plus, it makes cleanup easier.
But, researchers found these coatings to leach and off-gas chemicals under high heat. That's why cookware without Teflon is a safer choice.
And, of course, we need high heat to achieve that perfect waffle texture.
Which PFAS chemical is responsible for most of the above health concerns? PFOA – which leads to the next point:
Yes, but it's made differently—
In 2010, the EPA's stewardship program demanded companies phase out PFOA-containing Teflon.
So what did these companies do? They replaced PFOA (the primary Teflon ingredient) with another type of PFAS…
But, these new so-called healthy waffle makers aren't much safer. That leads us to—
A little marketing secret…
Often, you'll notice the phrase "PFOA-free waffle maker" when browsing for healthy waffle irons.
This wording leads you to believe the waffle makers are Teflon-free… But this isn't true.
While PFOA-free, these non-stick waffle makers are not PTFE (Teflon)-free…
Instead, the Teflon contains any of over 4200 PFOA alternatives—
The two most common alternatives? GenX and PFBS – which are still PFAS chemicals.
In lab tests, GenX and PFBS show harmful effects on the kidneys, blood, and liver, to name a few.
The bottom line: Every single non-stick waffle maker carries risk. "PFOA-free" makes little, if any, difference. We need a waffle maker that's PFOA and PTFE-free…
And good news, there IS one type of waffle maker without Teflon… Let's look at it now—
Are Ceramic Waffle Makers Safe?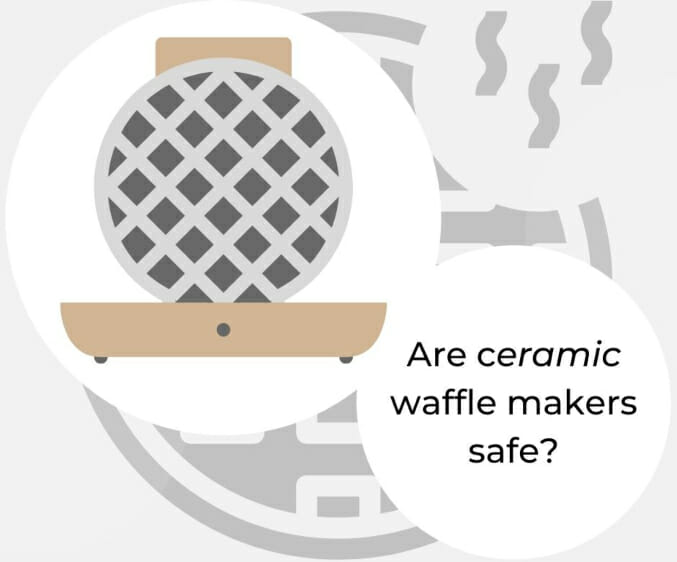 Yes. Ceramic waffle makers are a far healthier alternative to traditional non-stick.
They're absent from all PFAS chemicals – not just PFOA. So, zero Teflon and zero toxic fumes.
Yet, ceramic coatings are equally non-stick and easy-cleaning.
Plus, infused ceramic (often containing titanium or diamond) can surpass Teflon's durability. Several waffle makers below have these infused coatings.
Key Takeaway – Ceramic vs. Teflon
The only real non-toxic waffle makers are those with ceramic coatings.
They're both non-stick and non-toxic, even if overheated.
Ceramic isn't only a safe waffle maker coating but performs much better than Teflon.
It's more durable, will not scratch and peel like Teflon, and heats much more efficiently and evenly. This saves you time cooking and conserves electricity.
Before we explore the best ceramic waffle makers, consider the following features—
Removable plates, adjustable browning controls, and rotating flip plates, to name a few. These functions help you save time and produce the best-tasting waffles possible.
So, let's explore (briefly) the various ceramic coatings and features available…
This will help you choose the best non-toxic waffle maker for your needs.
What makes a Non-Teflon Waffle Maker able to produce Restaurant-Quality Waffles?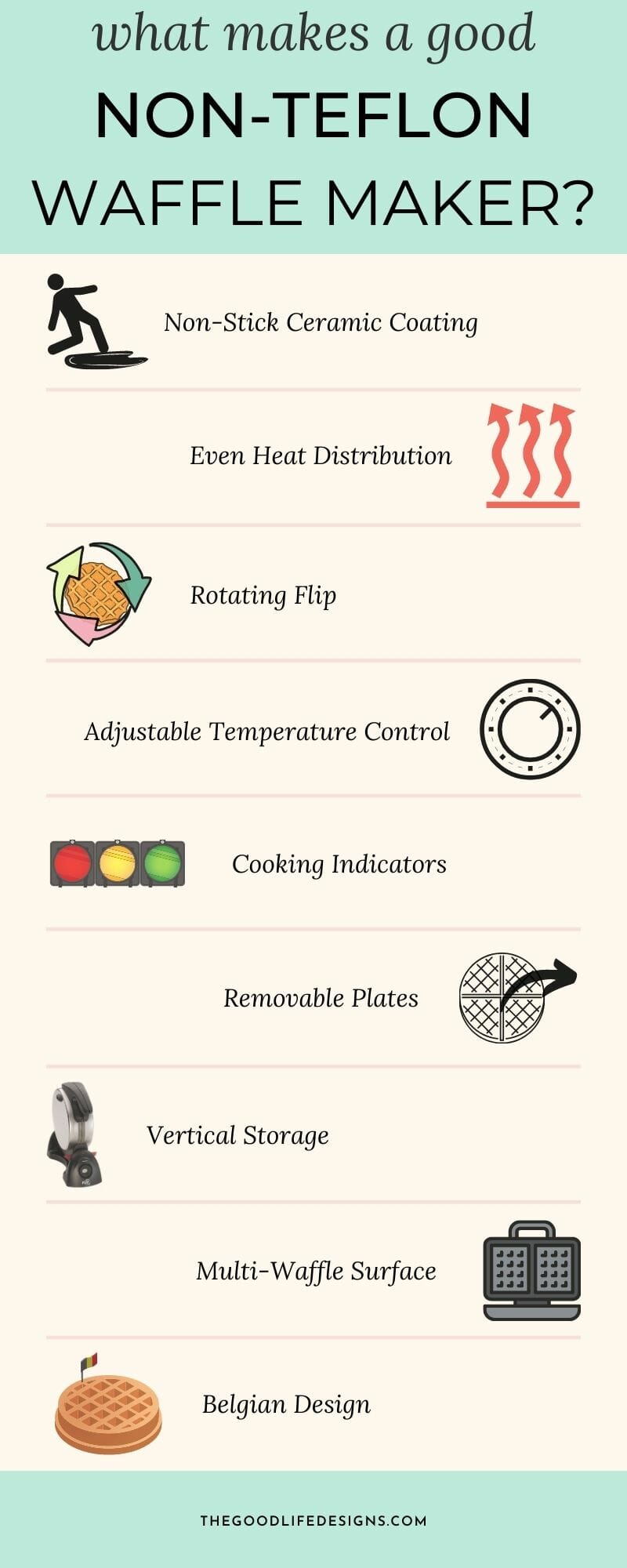 Choosing a healthy non-Teflon waffle maker comes down to material first. Then, we look at secondary features that guarantee a perfect waffle every time.
As mentioned, your non-toxic waffle maker needs to have a ceramic-based coating…
Yet, the best Teflon-free waffle makers do not sacrifice function for safety. Instead, they expand on it.
Each waffle iron in the next section has some combination of the following:
Non-Stick Ceramic-Coating (All)
Even-Heat Distribution
Rotating Flip
Adjustable Temperature Control
Cooking Indicators
Removable Plates
Vertical Storage
Multi-Waffle Surface
Belgian Design
Let's explain each feature, so you know what you need—
Non-Stick Ceramic-Coatings | What actually are they?
Like cookware, ceramic waffle makers start as a base metal, usually aluminum. Then, a ceramic-based coating sits on top.
How do manufacturers make the coating?
They combine silicon or titanium nanoparticles with ceramic dust in a gel-like substance. This "gel" is then sprayed onto the base metal.
As a result, you get a glass-like, non-stick, PTFE-free waffle iron without Teflon!
The best part of ceramic waffle makers is knowing they won't become toxic if overheated.
Not all ceramic coatings come equally…
Some non-toxic waffle makers have features to enhance both durability and heat distribution.
Numbers two and seven below are examples of innovative PTFE-free waffle makers. The unique copper-infused ceramic allows much quicker and more even heating.
As a result, they can actually cook 30% faster than traditional waffle irons!
But that's not all—
Even heat distribution is vital to cook waffles without cold spots or sogginess. Everything below is well-rated in this category.
Rotating flip features help prevent soggy, uncooked waffles as well.
You're able to flip mid-bake, evenly distributing batter as the waffle cooks.
But that's not the only advantage… It makes your waffles crispier on the outside and fluffier on the inside!
Number two below is a prime non-toxic waffle maker sporting this feature. So is number four.
Adjustable Temperature Control
If you're like me, you prefer your waffle on the darker side… You know, that lovely golden brown color with crispy texture?
Or maybe you prefer a softer, more doughy waffle?
Adjustable temperature controls allow you to set your crisp level with the turn of a dial.
Let's face it; waffle-making is an intricate act.
More times than I'd like to admit, I've tossed burnt waffles away, wearing a look of defeat on my face.
But it doesn't need to be that way…
Indicator lights and audible beeps alert you when your waffle finishes cooking. So, you can always be that Saturday morning hero.
Waffle batter is, well, batter-y.
So, if you've over-poured batter onto your waffle iron, you know the deal…
All those nooks and crannies can be a nightmare to clean!
Non-toxic waffle makers with removable plates make cleanup effortless.
Simply unclip and toss right in the dishwasher— Ideal for mornings when you don't have time to perform surgery in the kitchen sink.
This feature helps preserve well-needed counter space—
With a vertical storage feature, you can lock your waffle maker in an upright position. Then, slide your non-toxic waffle maker into a tall cabinet.
When it's time for your next waffle party, pull it out and get baking!
As an example, the Presto Flipside below has this feature.
Models with dual cooking surfaces are the best waffle makers for large families. You're able to cook two waffles at a time!
Calphalon's non-Teflon waffle maker is an excellent example of this… It'll bang out two square waffles simultaneously.
Who doesn't love Belgian waffles? With their deep indentations, they nestle all the delicious syrups and toppings your heart desires.
Non-toxic Belgian waffle makers sport extra-deep grid patterns… We've got several below.
Each provides you with the thick, fluffy waffles you love without the toxins!
Now you know all the different features to look for in your non-toxic waffle maker.
Keep the above features in mind as we continue into the reviews below…
Short on time? Here's a Quick-View chart with our seven top picks—
As you go down the list, so does the price.
If you're viewing this on mobile, click the "plus" icon next to each image. It'll open up each product's key features, including material, type of waffle, and other settings.
Teflon-Free Waffle Maker Quick-View Chart
| Image | Product | Key Features | Star Rating | Check Price |
| --- | --- | --- | --- | --- |
| | Calphalon Intellicrisp | Ceramic, Traditional Waffles, Browning Controls, Cooking Indicator (audible), Digital Display, Dual-Surface, Stores Vertically | 4.6 / 5 | Check Price |
| | Oster DuraCeramic Flip | Titanium-infused Ceramic, Belgian Waffles, Browning Controls, Rotating Flip, Cooking Indicator (visual), Stores Vertically | 4.5 / 5 | Check Price |
| Top | Hamilton Beach Flip | Copper-Ceramic, Belgian Waffles, Browning Controls, Rotating Flip, Cooking Indicator (visual), Removable Plates | 4.5 / 5 | Check Price |
| | Presto FlipSide | Ceramic, Belgian Waffles, Vertical Flip, Digital Timer, Store Vertically | 4.7 / 5 | Check Price |
| | Rome Cast Iron | Cast Iron, Traditional Waffles, Manual Rotation, Lots of Fun to Use | 4.0 / 5 | Check Price |
| | Euro Cuisine Heart-Shaped | Ceramic, Browning Controls, Traditional Heart-Shaped Waffles | 4.5 / 5 | Check Price |
| | Oster DuraCeramic | Titanium-Infused Ceramic, Belgian Waffles, Browning Controls | 4.5 / 5 | Check Price |
Now we've seen a quick overview of each waffle maker with its features and ratings.
Next, let's take a deeper look at each.
Again, they're categorized by price points – most expensive to least.
We'll cover every feature and detail you need to know—
7 Best Non-Toxic Waffle Makers (that are actually Teflon-Free)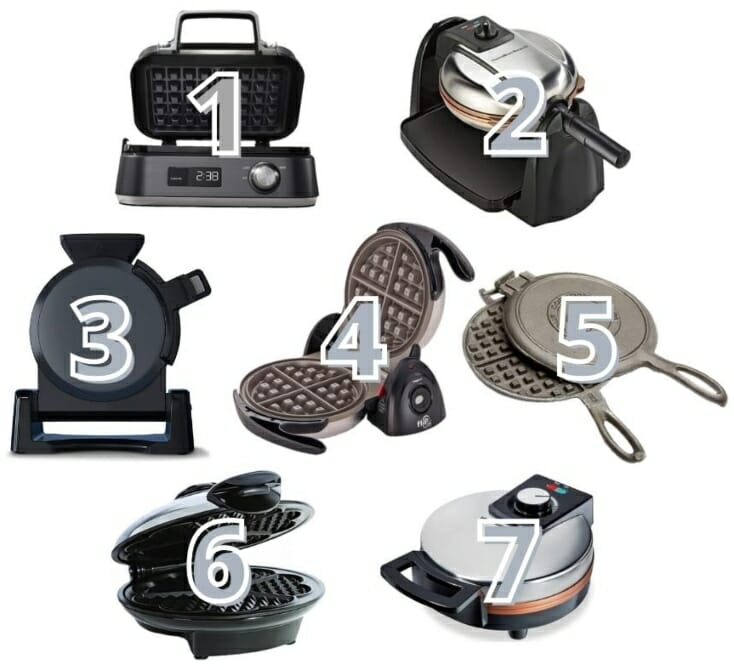 Below you'll find the seven best non-toxic waffle makers, grouped by three categories.
Here's how they're broken down:
First, you'll see the two overall best healthy waffle irons—
These are the Cadillac's of electric non-Teflon waffle makers, sporting the best features and priced accordingly ($60+).
Second, you'll find the three best value, mid-range PTFE-free waffle makers—
These offer a great balance of high-end features at affordable price points ($35-$59).
And third, you discover the two most budget-friendly healthy waffle makers—
They provide ultimate safety and versatility at surprisingly low prices (<$35).
These options were thoroughly researched and vetted to be 100% free of unhealthy coatings.
Best Overall, High-Performing PTFE-Free Waffle Makers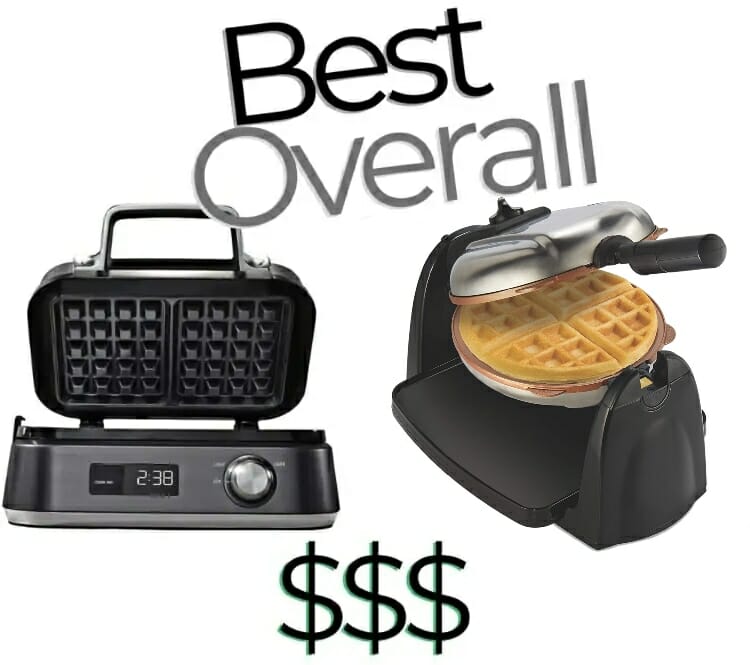 Calphalon Intellicrisp Ceramic Waffle Maker
Calphalon left nothing on the table with this ceramic-coated waffle maker… Even if you've never cooked a waffle, this model automates perfect results—
With the turn of a knob, choose between five texture settings… Soft and fluffy to dark and crispy, and anywhere between.
Its handy countdown timer and LCD let you track cooking progress easily. And the audible beep alerts you when your waffle finishes – something not found in most lower-end units.
Also, its twin waffle surface enables you to make two at a time, great for large families.
And with a rugged stainless steel build, it'll chuckle at the most demanding waffle needs.
Overall, this waffle iron is high-tech and super easy to use. You'll never overcook again and be the breakfast hero you always knew you were 😉
Calphalon guarantees your satisfaction with a 3-year warranty over defective items.
This safe waffle maker measures 9.7" x 11.3" x 5.8" (25 x 29 x 15cm) and weighs 9 lbs (4 kgs). It produces two American-style 4" × 5" (10 x 13cm) waffles every 4-5 minutes.
Efficient, Teflon-free ceramic surface – heats 20% more evenly for consistent waffles every time. It's also 11x tougher than Teflon.
Surface wipes clean in seconds so you can get on with your day.
Beeps when cooking is complete, so you'll never burn a waffle again… Even if you're not paying attention.
LCD shows a digital countdown clock to track cooking progress with ease.
Adjustable temperature control with five modes to choose your preferred browning & texture.
Locks closed for vertical storage in cabinets, saving you precious counter space.
Cooks two waffles at a time, meeting the demands of larger families.
3-year warranty.
Drawbacks: A bit expensive. Also, the plates aren't removable, which is a turn-off for some. Yet, they're easy to wipe clean, so it's not a huge deal. Some users mention the unit takes a bit to warm up, too.
Hamilton Beach Flip Ceramic Waffle Maker with Removable Plates
In my opinion, this non-toxic waffle maker is your best bang for the buck. It's priced around $60, putting it on the fence between high-end and mid-range.
What separates this waffle iron from the rest are its removable plates—
Hectic morning? Toss the cooking plates right in the dishwasher!
Along with that, it has a unique copper-ceramic coating with excellent non-stick abilities. The copper helps it heat faster and more evenly, too.
With its rotating flip feature, kiss soggy, half-cooked waffles goodbye… Instead, you'll enjoy fluffy, evenly-cooked Belgians with ease.
And the indicator light makes sure you NEVER turn your waffle into charcoal.
As for texture, a quick twist of the dial allows you to choose your desired crisp level.
This ceramic waffle iron with removable plates measures 14.8" x 9.9" x 9" (37 x 25 x 23cm) and weighs 6.4 lbs (2.9 kgs). It creates a 6.5" round, 1" deep (16.5 x 2.5cm) Belgian waffle in 5-6 minutes.
Teflon-free copper-ceramic with extra-thick grids – makes deep waffles that hold plenty of toppings.
Removable plates for easy cleaning, saving you frustration & precious coffee-time.
Rotating flip feature to ensure restaurant-quality Belgian waffles at home.
Cool-touch handle for burn-free use.
Indicator lights protect you from overcooking.

(You can just tell people it's your waffle skills!)

Adjustable browning control to customize your waffle's texture.
Includes removable drip tray to catch excessive waffle batter, meaning less cleanup time.
Low-priced for such a feature-rich model.
Drawbacks: It doesn't have an audible beep to alert you when the waffles finish—only a light. So, you'll need to keep your eyes on this waffle iron rather than simply listen.
Best Value, Mid-Range Waffle Irons Without Teflon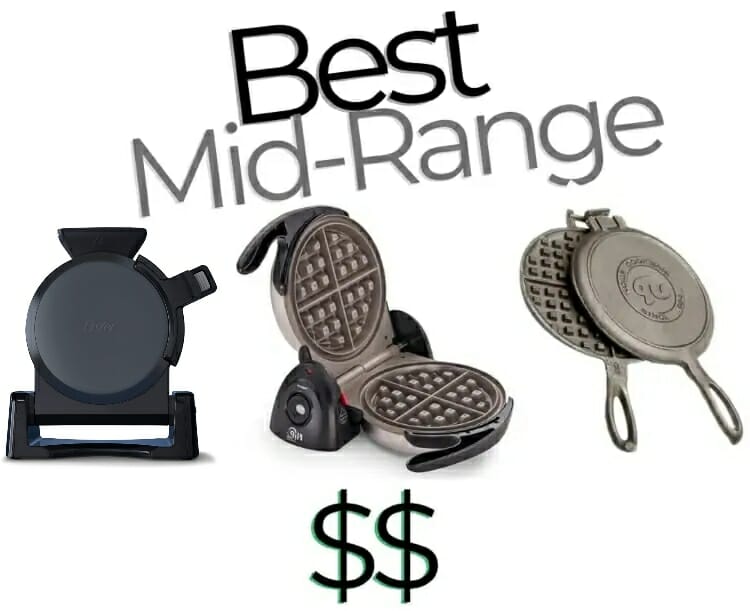 Now let's dive into the three best mid-range non-toxic waffle makers.
First, we have the innovative vertical-pour waffle maker from Oster.
Then, Presto's Flipside waffle iron with a unique vertical flip feature, hence the name.
And last, a rustic, old-fashioned cast iron waffle maker.
Oster Vertical Titanium-Infused Dura-Ceramic Waffle Iron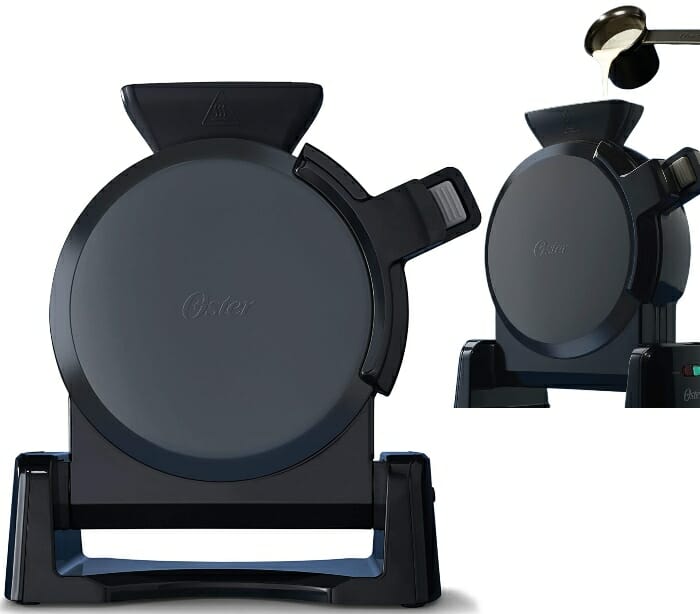 Looking to add waffles to your breakfast but hesitate due to the time and mess involved? Oster's Vertical non-toxic waffle maker is your savior—
There isn't a single model here that's easier to use or less messy… It's all thanks to the vertical-bake design, funnel, and pre-measured batter cup.
Here's how it works:
Plug the unit in, and wait for the indicator light to turn green, signaling it's preheated. Then, fill the pre-measured batter cup to the top.
Pour your batter through the funnel, and you'll see the light flip back to red.
Wait for it to turn green again, and your waffle is done! Press the side button to open the unit and grab your waffle.
Thanks to the vertical design, you'll eliminate messy overflows altogether. Plus, the pre-measured cup always pours the right amount, taking out any guesswork.
The result? Consistently perfect, crisp yet fluffy waffles with zero mess!
Oster's ceramic waffle maker measures 12.5″ x 5.8″ x 13.5″ and weighs 4.8 lbs. It produces a 7″ round x 1″ deep waffle in 3-6 minutes (depending on your desired texture).
A rugged titanium-infused ceramic coating – lasts 8x longer than Teflon.

Wipes clean in one or two quick motions.

100% vertical operation – batter cannot overflow out of the sides; it's

completely

locked in… Minimal cleanup involved.

A convenient top funnel catches the batter, so you never miss a drop… Wide enough for blueberries & chocolate chips.
Drip-proof, pre-measured batter cup… Simply scoop, pour, bake, & enjoy.
Indicator lights notify you when the unit is fully preheated & also when the waffle finishes baking… Zero guesswork.
Space-saving storage – the unit stays upright, so its footprint on your countertop is tiny.
1-year warranty.
Drawbacks: The pouring funnel's opening is a bit small. Extra-thick batter and large fruit chunks may not go down easily.
Also, there's no audible beep – only indicator lights. And no adjustable temperature (let the waffle cook longer for extra browning).
Presto FlipSide Belgian Ceramic-Coated Waffle Maker
Presto Flipside features a unique 180-degree vertical flip design instead of horizontal, making it easier to use and reducing spills.
The efficient non-stick ceramic coating is free of PFOA and PTFE. It heats evenly for perfectly fluffy, crisp, and extra-deep Belgian waffles.
Haven't quite mastered waffle timing yet?
You don't need to… This waffle iron's digital countdown timer signals when to flip and when baking completes!
Storage is a breeze, too.
The unit locks in the vertical position, reducing its footprint on your countertop. Or, you can slide it into your cabinet altogether, so it's out of the way.
Users rave about its long-lasting stainless steel exterior, too. It wipes clean easily and provides enduring beauty at a low price.
Presto's ceramic waffle iron measures 12" x 12" x 3" (30 x 30 x 7.6cm) and weighs 5 lbs (2.2 kgs). Creates one 7" round x 1" deep (17.8 x 2.5cm) Belgian waffle in 4-5 minutes.
Teflon & toxin-free non-stick ceramic surface

.

Easy to use 180-degree vertical flip

to spread batter evenly. Churns out Belgian waffles with crispy exteriors & light, fluffy interiors.

Digital countdown timer

, so you can nail waffle perfection each time.

Slick surface wipes clean in seconds

so you can go about your day frustration-free.

Locks vertically

for easy, space-saving storage.

1-year warranty

.
Drawbacks: Several gaps around the waffle grid are a pain to clean if you overflow. Also, the timer takes separate batteries; not a huge deal, but a slight inconvenience.
Rome Old Fashioned Healthy Waffle Iron
This cast iron waffle maker is far different from the others here. But, we still included it for multiple (unique) reasons—
It's 100% raw cast iron, so it's naturally non-stick due to its seasoning layer…
In fact, this waffle iron gets more non-stick over time – not less! The fats in food polymerize and bond to the iron, building the slick surface with each use.
Also, since this isn't an electric waffle maker, all you need is heat… Think of it like toasting marshmallows over a fire, but instead, you're roasting waffles.
Overall, this healthy waffle iron does require some trial and error. But, it's a super fun activity to do with friends and family.
The waffle iron measures 10" x 6.8" x 1" (25 x 17 x 2.5cm) and weighs 3.5 lbs (1.6 kgs). Makes a 6.5" (16.5cm) round waffle – time varies.
All-natural, Teflon-free cast iron

with naturally non-stick seasoning layer… It gets better with each use.

Lasts virtually forever

– can become an heirloom for waffle-loving families.

A green waffle maker that does not require electricity.

Use it for power outages, camping, or simply conserving power.

Spend more quality time with your family

, bonding over old-school waffle making.

Easily flip your waffle by hand

, ensuring an evenly cooked waffle.

Affordable.
Drawbacks: Expect some sticking in the beginning… The seasoning layer needs time. And the handles get hot, so always use oven mitts.
Best Budget-Friendly Teflon-Free Waffle Makers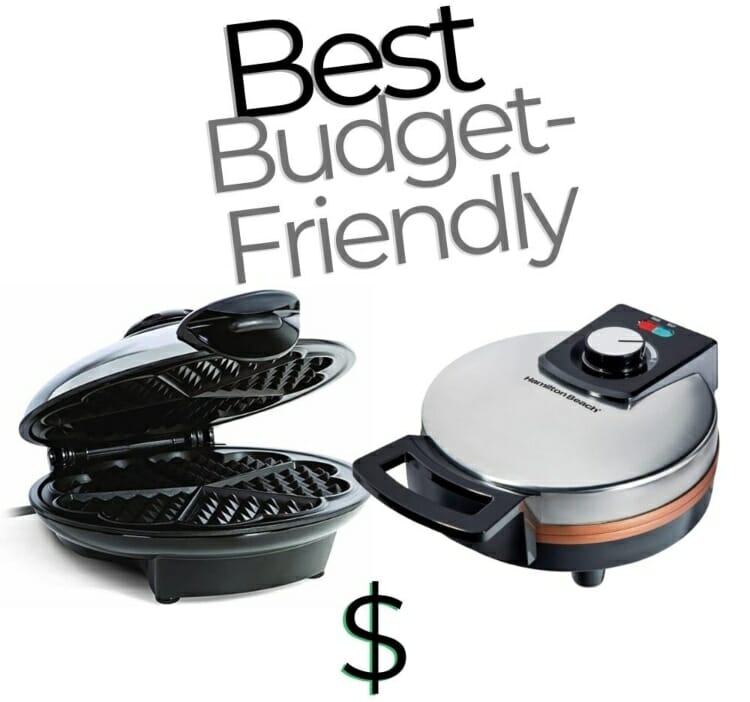 Next up, the two best budget-friendly non-toxic waffle makers…
Yet, low price does not mean low-quality—
We thoroughly evaluated these waffle irons to ensure their performance and safety.
Sure the non-Teflon waffle makers above have more bells and whistles… They make it easier to cook a good waffle.
But these can do the job nearly as well without breaking the bank. And, most importantly, they're free from Teflon.
First, a unique heart-shaped waffle iron. Then, another high-performance non-toxic waffle maker from Hamilton Beach.
Euro Cuisine Heart-Shaped PTFE and PFOA-Free Waffle Maker
Want to wow your significant other and win some brownie points?
This unique, non-toxic waffle maker does the trick… Instead of heart-shaped chocolates, give them heart-shaped waffles!
Yet, beautiful-looking waffles aren't the only benefit…
With a ceramic coating and adjustable temperature controls, you can achieve any desired texture—
Go from light and fluffy to dark and crispy with a simple twist of the nob!
An indicator light alerts you when this healthy waffle iron is ready for the batter. This way, you don't pour too early, which leads to soggy waffles.
This eco-friendly, green waffle maker measures 10" x 8" x 4.5" (25 x 20 x 11cm) and weighs 4 lbs (1.8 kgs). It makes a 7" round x ½" thick waffle (17.7 x 1.2cm) with five heart-shaped sections in 3-5 minutes.
Non-stick ceramic coating

for worry-free,

non-toxic

waffles. It wipes clean in seconds after use.

Heart-shaped waffles

that will impress your significant other.

Adjustable temperature controls

for your desired browning & texture every time.

Indicator light

shows you

when

to pour, eliminating confusion & soggy waffles.

Stores vertically

in your cabinets to save space.
Drawbacks: This unit doesn't notify you when the waffle finishes cooking. One way to combat this is to pay attention to the steam… Once it stops, the waffle is done.
Also, these waffles are relatively thin, not thick Belgian-style.
Hamilton Beach Copper-Infused Dura-Ceramic Waffle Maker
Like Hamilton Beach's Flip model above, this PTFE-free waffle maker sports the same copper-ceramic coating… All for about half the cost!
And I love how simple and easy it is to use—
Plug it in, and the indicator light turns red as the unit preheats. Once it switches to green, add your batter.
The light then turns red again, which means it's cooking. When the light flips back to green, your waffle is ready!
If your waffle isn't crispy enough, twist the adjustable browning dial towards Max. Is it too cooked? Turn the dial towards Min for a lighter, softer waffle.
Simple, effective, and inexpensive… You will not find a better non-toxic waffle maker (without Teflon) for such a low price.
This PTFE/ PFOA-free waffle maker measures 10.5″ x 8″ x 4.3″ (26.6 x 20 x 11cm) and weighs 3.4 lbs (1.5 kgs). Makes a 7″ wide x 0.9″ thick waffle (17.7 x 2.3cm) in 3-6 minutes.
Copper-infused ceramic coating

… Teflon-free with fast, even heating & effortless cleanup.

Adjustable temperature controls

let you customize waffle texture with the twist of a knob.

Compact, vertical-storing design

that's great for limited counter space… Slide it right into a narrow cabinet.

Simple indicator lights (red & green)

signal when the waffle iron is ready for use & when it finishes cooking.
Drawbacks: There's no flip feature, so don't expect the same level of fluffiness as the Flip model above. Yet, despite that, this thing churns out an impressively good waffle.
Also, there are no removable plates or audible indicator beeps.
Takeaway & Recommendation
As you went down the list, so did the price. With that, you lose some features. Here are a few of my final recommendations:
For the best yet least expensive option to get your foot in the "non-toxic waffle door," so to speak – #7 (Hamilton Beach) is your best choice.
The best bang for the buck option goes to #2 (Hamilton Beach Flip) – followed by #4 (Presto Flipside). Both churn out epic Belgian waffles without breaking the bank.
For the serious waffle enthusiast, #1 (Calphalon Intellicrisp) is the best overall. This model sports all the bells and whistles.
Regardless, any of the seven picks above are a great choice… They're high-quality, 100% free from toxic coatings, and do the job well.
From here, it's all up to your preference! Think through the features you need (and your budget) to make your choice.
Frequently Asked Questions
What is the Difference Between a Flip Waffle Maker and Regular?
A flip-style waffle maker lets you flip mid-cook, which helps evenly distribute batter, allowing thicker Belgian waffles to cook more thoroughly. This is important when you want waffles with crispy outsides and fluffy insides. Non-flip Belgian waffle makers are more likely to produce cold spots in the middle of the waffle.
What's the Difference Between a Traditional Waffle and a Belgian Waffle?
Traditional American-style waffles are often thinner and have smaller grids than Belgian waffles (usually around ¼"-½" inch thick). Belgian-style waffles have deeper pockets and larger grid patterns, allowing them to hold lots of syrup and toppings (around 1" inch thick).
Is Titanium-infused DuraCeramic Safe?
Yes. Titanium-infused DuraCeramic is an innovative coating that's both non-stick and non-reactive, free of toxic, Teflon-based PFOA and PTFE coatings and heavy metals. DuraCeramic coatings last an average of 8x longer than ordinary non-stick, cook up to 30% faster, and will not flake or peel.
To recap, we covered:
The issue with Teflon waffle makers and the health risks associated.
Then, the healthy waffle maker alternatives that are both non-toxic and higher-performance – ceramic waffle makers.
Features to check for when choosing your PFOA/ PTFE-free non-Teflon waffle maker…
And the seven best non-toxic waffle makers – ranked best overall, best mid-range, and the best Teflon-free waffle makers for tight budgets.
So, which will you choose?
Happy waffle-ing!
P.S. Ready to complete your "non-toxic" breakfast? Check out the 13 best plastic-free coffee makers!
More of a tea drinker? Check out the safest non-toxic kettles!
Enjoyed this post? Share it with your friends!
Non-Toxic Kitchenware Checklist
Get a step-by-step product guide with insider tips & tricks for the safest kitchen possible!