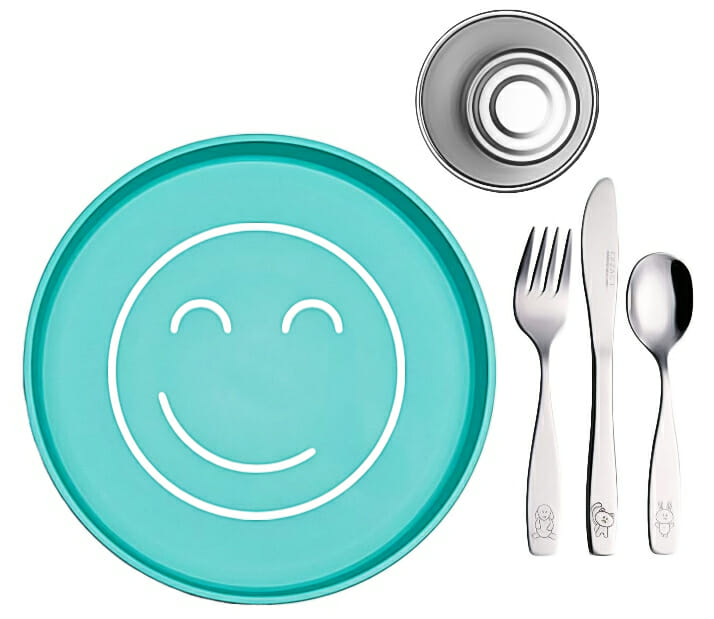 Disclosure: This blog is reader-supported. As an Amazon Associate, I earn from qualifying purchases. When you buy through links on our site, we may earn an affiliate commission at no cost to you. I only recommend products I would use myself and all opinions expressed here are my own.
Did you know that plastic dinnerware contains harmful chemicals that contribute to early puberty, low sperm count, hyperactivity, and aggressiveness, to name a few? That's why it's crucial to consider non-toxic dinnerware alternatives.
The issue is that it's hard to trust which "kid-safe dinnerware materials" are actually…safe.
Well, in this ultimate guide, we break through the confusion and tell you exactly what materials to avoid and why, their safer counterparts, and the best kid's dinnerware options on the internet.
So you can feel peace of mind that you're providing the safest dining experience possible for your little ones.
If you're short on time, use the table of contents below to jump around to different sections.
Let's get started!
Why Choose Eco-Friendly Kids Dinnerware?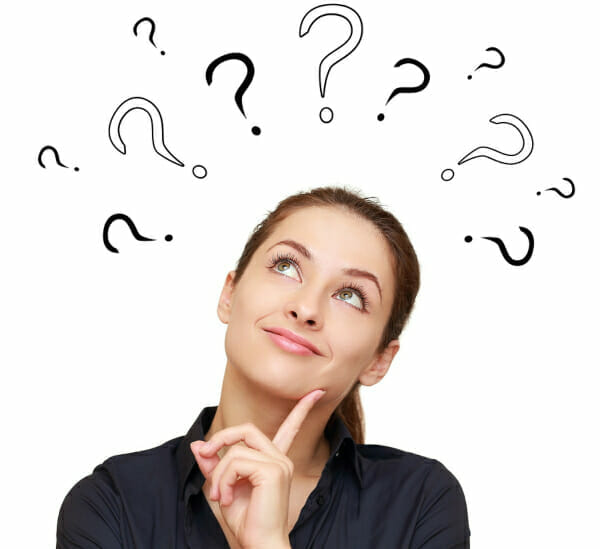 Although we adults have no issues with our steel silverware and dishware made from glass and ceramic, kids and toddlers are another story.
They like to test these items' outer boundaries, and then, we all know what happens…
Plate or glass drops….BOOM!… SHATTERS EVERYWHERE!!
Because of this, kids usually use plastic dinnerware.
The issue is that many of the plastics can be introducing toxins into your diet. These toxins are detrimental to the healthy development of your children.
So, let's first look at why plastic exists, the chemicals it contains, and other toxins you should be mindful of.
Manufacturers use plastic to make most kid's sippy cups and dinnerware because it's cheap, easy to mass-produce, easy to mold into fun designs, and relatively soft.
Issues arise when we look into the studies and the potential health effects of plastic chemicals leaching into foods and beverages.
Let's take a look at the most crucial materials to avoid.
What Materials Should I Avoid?
Materials like Teflon, BPA, lead, aluminum, phthalates, melamine, and other plastic chemicals, are often found in everyday kitchen products.
Many of these tie to problematic health issues.
Here is an imperative list of the primary materials you should avoid:
BPA & BPS
Phthalates
PVC
Lead
Cadmium
Teflon (PFAS)
Melamine Plastic
BPA and BPS harden plastics often used for beverage containers and plastic dinnerware, among other products.
Scientists have linked BPA exposure to reproductive disorders, heart disease, type 2 diabetes, fetal brain development, breast and prostate cancer, and asthma.
BPA-free plastics (BPS's) aren't much better. These "safer" alternatives can depress heart function, causing slower blood flow.
In lab tests, researchers introduced BPS to mice in amounts that mimicked typical human levels. Their heart function worsened within minutes of exposure.
Phthalates are groups of chemicals used to make plastics more flexible and harder to break.
Exposure happens by eating and drinking foods that have been in contact with containers and products containing phthalates.
The consequences on human health are not apparent at this point. However, studies on lab animals show impacts on the reproductive system.
The name for this plastic is polystyrene; you probably know it as Styrofoam.
PVC is well known to release potentially toxic breakdown products like phthalates into food and drinks.
Furthermore, the manufacturing of PVC is known to release poisonous compounds into the environment.
PVC is one of the most challenging plastics to recycle, making it very harmful to the environment.
Lead is used in the glazes or decorations on the surfaces of dishes to provide a smooth glass-like finish, allowing bright colors to show through.
Cadmium, another natural element, gives dishes bright colors such as yellow or orange to glazes.
You'll find these minerals in vintage china, Mexican terra cotta, decorated Asian plates, handcrafted or brightly colored dishware, or dinnerware with decals on the surface.
When you serve acidic food, they will leach quicker and more so.
Exposure to high levels of lead may cause anemia, weakness, kidney, and even brain damage.
Cadmium can cause lung damage, severely aggravate the stomach causing vomiting and diarrhea, and even contribute to cancer.
PFAS, commonly known as Teflon, is used to form coatings on products, like cookware, that resist heat, oil, stains, grease, and water.
Studies on lab animals show effects on growth and development, reproduction, thyroid function, the immune system, and adverse effects to the liver.
Some plastic melamine dishes made in China contain a substance called melamine-formaldehyde resin, used to mold structures into tableware.
After production, some melamine remains in the plastic, able to migrate very gradually out into your food.
So what does this mean?
Well, according to the FDA, only highly-acidic foods can cause this chemical to leach into foods, and that's under extreme conditions (160℉ for two hours).
So, it's "mostly" safe.
However, we're focusing on the safest non-toxic dinnerware possible, so let's avoid melamine plates because heating foods in this material is not ideal.
These materials can leach into food and beverages when exposed to stressors like hot food, using the microwave, UV sunlight, and scratches in the material, just to name a few.
The good news is there are many safer alternatives.
If You Have to Use Plastic, Keep This in Mind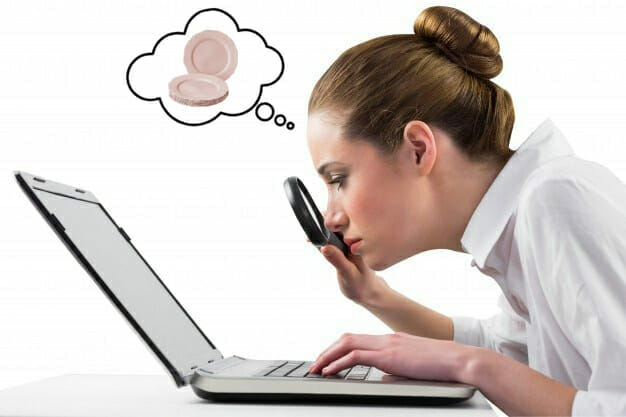 Evading plastic isn't always entirely possible. If you have to use it, here are some things to keep in mind.
Make sure your child's lunch gear is free of lead and PVC, as well as BPA's.
One way to do this is to be aware of the type of plastic used, but recognizing the type of plastic can become tricky.
So, how do you quickly identify the type of plastic? Flip the product over and look at the number inside of the triangle.
Safety TIPS:
Avoid plastic #3 (PCS), #6 (Polystyrene), and #7 (Miscellaneous).
Choose PVC-free plastics #2, #4, #5. See our post on plastic recycling numbers for more.
Do not heat in the microwave ("microwave-safe" only means that the plastic won't melt, not that it's safe).
Do not store acidic foods in plastic. This will enhance leaching.
Do not use scratched, badly worn, or cloudy plastics for your food and beverages.
Hand-wash plastics to avoid wear and tear, without coarsely textured sponges or steel wool.
Again, these are just best practices IF you need to use plastic.
All of this information might appear troubling, but the good news is there are many safer alternatives.
Not only safer, but most of these will last much longer – saving you cash!
Before we dive into some excellent non-toxic dinnerware alternatives, let's look at the safer materials.
Kid-Safe Dinnerware Materials
When it comes to non-toxic dinnerware and, in particular, kid-safe dinnerware alternatives, we need it to fit certain criteria.
These materials should be durable, plastic-free, and shouldn't leach any nasty materials.
Before you see the alternatives for each, here are three primary materials we'll discuss in this post.
Stainless Steel
Silicone
Bamboo/ Plant-Based (Corn starch, Wheat Straw, etc.)

What is it?
To produce stainless steel, raw materials like iron ore, chromium, silicon, nickel, etc., are melted together in a furnace.
The finished product is highly durable steel that is low-maintenance, resistant to corrosion, staining, odor, and is incredibly hygienic.
Why is this beneficial?
This is a great material for kid-safe dinnerware, especially if your child is still very young and especially abusive towards their tableware.
Steel will not break, even when slammed on a hard surface.
Using stainless steel non-toxic dinnerware will help your family evade exposure to plastic toxins and save money on replacing broken dinnerware.
Important
Make sure the steel is 304-grade and electro-polished! This mix will further prevent corrosion and metallic tastes from invading drinks.
How can you tell? Refer to our PDF guide to check the quality of these items. Grab that guide here!
One quick tip is to check the product reviews of the goods you're looking at. Are there any rust complaints?
If there are, you should stay away.

What is it? 
There's a common misconception that silicone is a plastic or that it can be toxic. Let's talk briefly about the difference.
Plastic is a material formed from hydrocarbons that we get from petroleum, natural gas, or coal.
On the contrary, silicone is a polymer but not made of the same plastic base ingredients, which are polymers from crude oil distillation.
Silicon, oxygen, and other natural elements are combined to form silicone.
You've likely seen silicon as silicon dioxide or silica, better known as quartz (essentially sand).
Long story short, plastic = petroleum, while silicone = sand.
Why is this beneficial?
Unlike plastic, silicone is an inert material. Meaning it does not purge off chemicals while in very hot or cold situations like ovens, freezers, and microwaves.
Not only a safer non-toxic dinnerware choice chemically, but silicone's rubber-like feel is very child-proof.
So if your toddler were to bite the silicone dinnerware or drop it, no harm would come.

What are they?
Bamboo is a grass that grows at very high-speeds and remains unharmed when cut.
It will regrow very quickly, certain species growing at insane rates of 36″ inches in only 24 hours, making it very sustainable.
Some other non-toxic dinnerware labeled "plant-based" uses corn, sugarcane, wheat straw, rice husks, and other organic material.
Why is this beneficial?
Bamboo is all-natural, non-toxic, lightweight, durable, and naturally antimicrobial. This makes it perfect for non-toxic baby feeding products.
Plant-based and bamboo alternatives are biodegradable, making them eco-friendly.
Also, as these non-plastic kid's plates become slightly worn over time, they won't lose their safety. This is because no hormone-disrupting substances are hidden away under coatings.
Here's a quick side note about painted bamboo dinnerware.
It's essential to make sure that any paint applied is lead and cadmium-free.
To check, read the description or check reviews.
Customers stress those same concerns, so you should check their reviews and any responses by the seller.
If you can't find your answer there, message the seller to confirm.
Also, some bamboo plates contain melamine bindings, so these aren't the best kids plates. Bamboo cups and flatware, however, are acceptable.
Best Plastic & BPA-free Children's Dinnerware Alternatives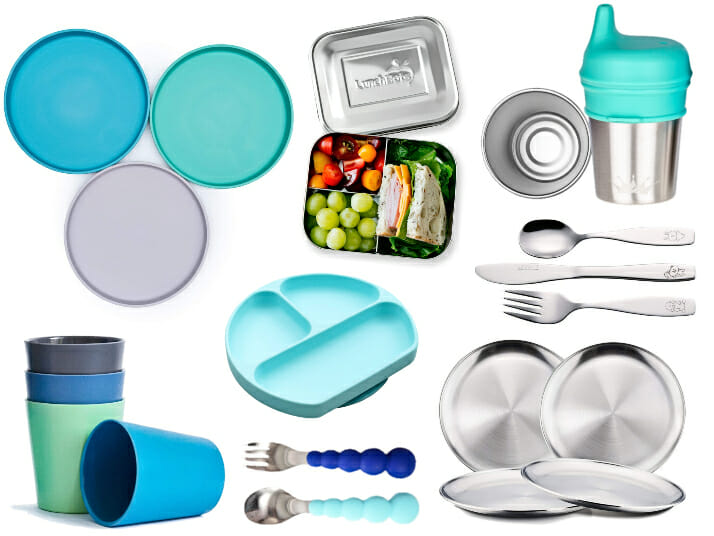 First, you'll see our top picks of non-toxic kids cups.
Second, you'll see our favorite eco-friendly kid's plates.
Third, we show you some of the safest non-toxic baby feeding utensils designed for ultimate safety and comfort.
And lastly, the safest non-toxic lunch box for toddlers!
Let's dive in!
When choosing the right non-toxic, non-plastic kids cups, bamboo and stainless steel take the cake.
Both are plastic-free and long-lasting; however, stainless steel will serve its purpose longer than bamboo.
For rougher kids, I'd choose stainless steel for its ruggedness and lifespan, as it won't break and save you money in the long run.
As your child ages and becomes more careful, bamboo and even glass can serve your family well!
Stainless steel Kids Cups
Don't want to buy new sippy cups every few months while your kid grows like a weed? With these, you won't need to!
We designed these unique non-plastic kids cups that consist of only two plastic-free parts, 304-grade steel cups and food-grade silicone lids.
You can easily transform regular toddler cups into incredibly simple spill-proof sippy cups within seconds.
So, no need to buy spill-proof sippies and separate open cups as your kid ages; these grow with your child, saving you cash!
Non-toxic kids cups crafted from stainless steel and silicone, preventing toxins.
Plastic, BPA, PVC, phthalates, lead, cadmium, melamine, and mercury-free.
Silicone sippy lids that "spill-proof" your cup. Hand your child their milk or juice without concern.
Wide-base to help limit tipping and spills.
Smooth, rolled rims to protect your child's lips.
Stylish, gender-neutral colors that are attractive to kids and parents alike.
Dishwasher-safe for easy, fast cleaning so you can get back to bingeing some Netflix.
Includes four 8 oz cups and four lids. 3.5″ tall and 2.8″ wide at the rim.
All in all, these are some of the best plastic-free sippy cups due to their versatility and safety.
Not satisfied for any reason, or experiencing issues?
We have a full-coverage warranty and, if needed, free replacements sent out the same day in case of an incident. (live text support # to make it easier)
Bobo & Boo makes some excellent bamboo toddler cups colored with all-natural, vibrant dyes.
Non-plastic kids cups made from bamboo are softer and lighter than stainless steel and can be safer from a biting perspective.
The best part? You can mix these with our non-toxic cups above and use the silicone sippy lids on either.
Take that plastic!
Completely non-toxic kids cups that are

plastic, BPA, PVC, phthalates, lead, cadmium, and mercury-free.
All-natural bamboo

colored with food-safe mineral pigments.

Pair with our silicone sippy lids to make them spill-proof.

Softer than stainless steel,

beneficial for kids who bite.

Blunt rims

to prevent sharp edges.

Top rack dishwasher-safe,

great news for busy parents.

4-piece set.

3.5" tall and 3.1" wide at the rim. 10 oz capacity.
Just keep in mind these are not as durable as stainless steel and are still breakable.
Something else to keep in mind, these contain a food-safe melamine binding just like bamboo plates, which makes them dishwasher-safe.
However, because these are mainly for cold drinks and not hot foods, they're safe to use.
To narrow down which eco-friendly kids plates are best for your family, we'll reject all plastic due to the above-stated reasons.
Because this article is on non-toxic dinnerware, we'll also exclude melamine plates. This way, you can safely heat food.
That leaves you with three safe, non-plastic toddler dishware options. You'll find stainless steel, plant-based, and silicone BPA-free children's plates below.
We did our homework, and we can confidently say these are some of the best non-toxic plates for toddlers available.
Let's start with stainless steel.
Stainless Steel Kids Plates
Kids are notorious for being harsh with their tableware. Luckily, steel plates for kids are the perfect non-toxic dinnerware remedy to keep plastic out of your cabinets.
This sturdy 4-piece set from HaWare ensures you won't be picking up broken glass or shards of cracked plastic any time soon!
I especially love how lightweight and durable these stainless steel plates are. They're the ideal size for kids and also make excellent salad plates for adults!
You can even bring these along traveling because they're so easy to transport and won't break in your bag.
Crafted from high-quality 304-grade steel

with exceptional rust resistance and no plastic coatings.

Free of melamine, plastic, BPA, PVC, phthalates, lead, cadmium, and mercury.
Virtually indestructible.

Drops on the floor are laughed at by these stainless steel children's plates.

Smooth round edges free

of rough spots so it won't hurt your children's soft skin.

Matte polished

to prevent fingerprints and spots.

8" inch diameter, the perfect size for children's small hands.

Dishwasher-safe,

perfect for those hectic evenings!
Like our stainless steel cups, this is a one-time investment that can virtually last forever, as all the best kid's plates should.
The only downfall here is that stainless steel is not microwave-safe.
Melamine-Free Plant-Based Kids Plates
Remember what we said earlier about hot food and melamine? Well, this 3-pack is your solution.
Bobo&Boo crafts their plant-based non-toxic baby dishes from corn, wheat, and sweet potatoes, without melamine.
What does that mean? These eco-friendly kids' plates are dishwasher and microwave-safe, with absolutely zero concern of toxic leaching.
Bobo&Boo uses food-safe natural pigments, and the colors are sure to make a statement on your dining table.
Clear of melamine, plastic, BPA, PVC, phthalates, lead, cadmium, and mercury.
Lifted rim to prevent spill-overs

so you can leave the mop in the closet.

Dishwasher and microwave-safe.
All-natural ocean-inspired colors

of blue, green, and gray that are pleasant to the eye.

7.5" inch diameter that is perfect for small hands.
While we don't recommend bamboo plates due to their bindings, this plate here is an exception. It's an unpainted, high-quality divided bamboo children's plate with a silicone suction bottom for baby-led weaning. Just keep in mind it's not dishwasher or microwave-safe.
Parents adore silicone children's dishes for three main reasons: they are plastic-free yet soft, kids can't break them, and they too can last forever.
Silicone is moldable into virtually any design imaginable, including this food-grade silicone suction plate.
Silikong's non-plastic children's dishes are some of the best kids' dinnerware for baby-led weaning due to their convenient suction base.
The suction means that you can stick this plate to the high chair or table, stopping your toddler from throwing their meal on the floor.
This helps build baby independence without too much collateral damage.
Plastic, melamine, BPA, PVC, phthalates, lead, cadmium, and mercury-free.
Microwave and dishwasher-safe,

a huge benefit over bamboo. You can also sanitize silicone in boiling water.

Suction base

that safely clings to almost any smooth surface, including high-chair trays.

Divided sections,

great for picky eaters.

Raised rim

to help prevent food spills.

Straight edge

that allows kids to belly up to the plate, reducing messes.

Available in six different color options. Give each kid their own color!

8.15" x 7.25", perfect size silicone children's dishes.
All in all, these are rated as one of the best suction plates for toddlers online at this moment. Check them out!
Non-toxic Baby Feeding Utensils
When choosing the right toddler cutlery, it mostly comes down to material safety and functionality.
Considering the above material information, we have two main types of flatware to choose from that are both safe and eco-friendly.
First, stainless steel toddler utensils. We've got two great options to show you, one for 12-18 months, and another for 24 months and up.
Next, bamboo cutlery for kids. Just one of them, but the best non-toxic flatware set in that specific category.
First up, stainless steel silverware.
Chewbeads' unique design is soft, easy to hold, and crafted from 304-grade steel and silicone (no nasties!)
You'll notice a slightly bent, ergonomic design. This helps make the flatware more comfortable for toddlers to hold, without food spilling off.
The spoons also have a unique edge that appears to taper on its sides, making it easier for less coordinated hands to scoop up food.
Included are two forks and two spoons.
Plastic, BPA, PVC, phthalates, lead, cadmium, melamine, and mercury-free.
Soft, silicone handles

that grip to the table and are easy to hold, preventing messy accidents and protecting your child's teeth if they bite.

Easy-scooping spoon.
Child-safe forks

that are not too sharp, yet still pick food up easily.

Forks are 5.5" long and 1" wide. Spoons are 5.5" long and 1.25" wide.

Dishwasher-safe.

Best toddler silverware for

12-18 months.
Here's the second stainless steel non-toxic cutlery set, which includes three forks, three spoons, and three child-safe knives.
What I love about this sturdy toddler cutlery is that it looks like adult silverware but is child-friendly!
The only difference is that these are smaller, fit comfortably in your toddler's hands, and have safer rounded edges to prevent painful pokes.
I particularly love the little animal etchings on the handles, and I'm sure your kid will too!
Free of lead, BPA, PVC, plastic, cadmium, melamine, nickel, and everything else yucky.
Clean, non-allergenic 18/0 stainless steel that's free of nickel

and rust-proof, perfect for allergy sufferers.

Smart-designed fork points

with just the right amount of sharpness, but not too much.

Kid-friendly knives

that cut food no problem, without slicing your toddler's hand.

Dishwasher-safe

and easy cleaning with smooth, mirror polished surface that won't hide bacteria.

Fun animal etchings.

The fork is 5.7" long, the spoon is 5.5" long, and the knife is 6.8" long. Both are roughly 1 ⅝" wide.

Perfect size for

24 months up to 12 years.
Non-toxic baby feeding products crafted from bamboo are the perfect eco-friendly alternative to plastic utensils.
Bamboo is softer than stainless steel, which is optimal if the steel option appears a bit risky.
This 6-piece set of all-natural, unpainted non-toxic bamboo cutlery is a great steel alternative and includes three spoons and three forks.
Each piece is crafted from a single solid piece of lightweight yet strong bamboo and finished with natural, food-safe oils for longevity.
Durable, unpainted bamboo that's clear of melamine, plastic, BPA, PVC, phthalates, lead, cadmium, and mercury.
Softer than steel

and plastic to help prevent poking and scraping.

Child-safe forks

with rounded points to help avoid pokes.

Dishwasher-safe.

Forks & spoons measure roughly 6" in length and 1" in width.
As a caution, you should hand-wash your bamboo utensils to maximize their lifespan. Bamboo can sometimes crack under hot, moisture-rich conditions.
Also, one of the product images shows a knife and travel case, which are not included. Only forks and spoons.
Non-Toxic Lunch Box for Toddlers
Although this article is mostly about plates, cups, and cutlery, I wanted to show you a non-toxic lunch box for toddlers.
The reason?
Think about it; food can spend several hours sealed up inside lunch boxes almost daily through different conditions and temperatures.
If there was any time where toxic chemicals can leach into foods, this is one of those moments!
This safe, non-toxic lunch box below is 100% stainless steel and can last virtually forever while keeping your kid safe!
Lunchbots' non-toxic lunch containers enable you to pack away snacks without using plastic bags.
Its durable construction prevents those snacks from getting crushed when our little barbarians are in those extra destructive moods.
I especially love the three divided sections, which allow for a half sandwich on the larger side and snacks in both smaller compartments.
Lunchbots crafts their containers from high-quality 304-grade steel, meaning no toxins and the sturdiness to last forever.
Plastic, BPA, PVC, phthalates, lead, cadmium, melamine, and mercury-free.
Full stainless steel construction

built to last forever and keep snacks safe while eliminating the need for plastic.

Three divided sections

to separate various food items (great for "my food can't touch" phase).

Dishwasher-safe.
Designed for small hands.

Measures 6" x 5" x 1.75".
Lunchbots offers several options, some with more compartments, some with none. They even have colored lids to mix and match!
Keep in mind these are NOT leak-proof. So they're not meant for wet foods.
That's a wrap! We covered a lot of material in this kid's non-toxic dinnerware for guide, so I want to recap what we learned quickly.
First, you saw which toxic dinnerware materials to avoid and the health risks associated with each.
Then, we explained each kid-safe dinnerware material and how it can benefit your family.
Finally, you saw the best non-toxic plates for toddlers, non-toxic baby feeding utensils, non-plastic kids' cups, and the safest non-toxic lunch box.
The options in this post have been researched and vetted for safety and quality, so you can confidently move forward with any.
What did you think? Are you currently using any of these options? And if not, what's going to be your first non-toxic dinnerware choice?
Let me know in the comments!
If you have any questions, don't hesitate to reach out!
Also, if you enjoyed this post, don't forget to share with your friends by using the buttons below!
Enjoyed this post? Share it with your friends!
Safest Non-Toxic Kid's Tableware Checklist
Discover how to IMMEDIATELY detect subpar kids dinnerware products when browsing online.