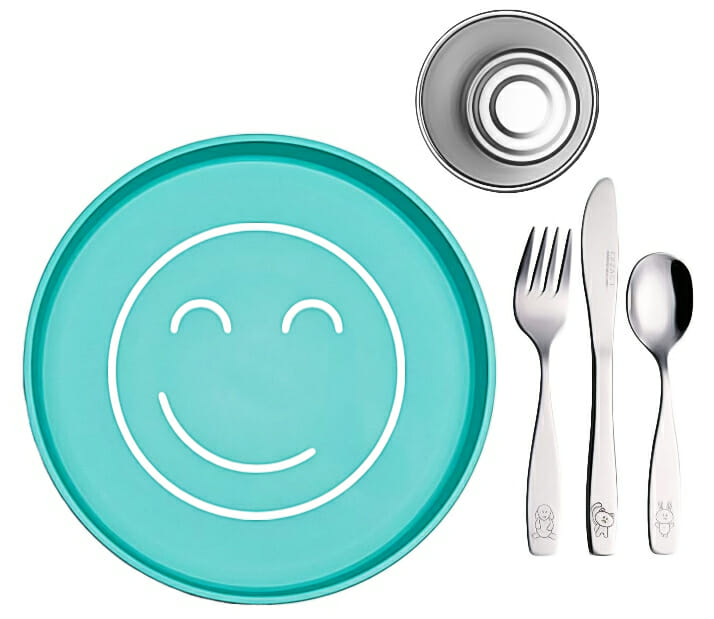 Disclosure: Our reviews stay ad-free as they're entirely reader-supported. As an Amazon Associate, I earn from qualifying purchases. When you buy through links on our site, we may earn an affiliate commission at no cost to you. This revenue helps us test products and develop quality content.
Toddler mealtime is challenging enough… But, well-designed, kids' non-toxic dinnerware can simplify it. Yet, non-toxic is key.
Typically, kids' dishes are plastic. It's lightweight and shatterproof, unlike "grown-up" ceramic. But does plastic really make the best plates for kids? Consider this:
Plastic dinnerware contains toxic chemicals which may lead to early puberty, low sperm count, hyperactivity, and aggressiveness – to name a few. Even worse – trusting which "kid-friendly dinnerware materials" are truly safe proves more difficult than believing a toxic lover's excuses.
So, what to do? What are the best kids' dinnerware sets available today – and the safest?
That's what you'll find here!
Below we review the best dinnerware for kids… All 11 picks are lightweight and more durable than plastic. Yet, 100% non-toxic like glass, without the breakage.
But that's not all we'll cover. You'll also find out which other dinneware materials to avoid – and why, pros and cons of the three best kids tableware materials – with pros and cons for each, and tips on avoiding the riskiest plastics.
As a bonus, I'll share my favorite hack to find the safest dinnerware online moving forward. (And never get misled by shoddy brands again).
11 Best & Safest Dinnerware Picks for Kids – Quick View
You can click these Quick View links to jump ahead to each product's review:
Which Kids Dishware Should I Avoid?
Children's tableware is under constant assault. Hence why—as mentioned—glass and ceramic plates aren't ideal.
Breakable, sure, but cumbersome too.
We know plastic isn't a great choice either. When taking a deeper look at the research, a grim discovery awaits.
The truth is, most plastics inject hormone-disrupting chemicals into your body… BPA is one of them.
But is BPA the only material in children's dinnerware to avoid?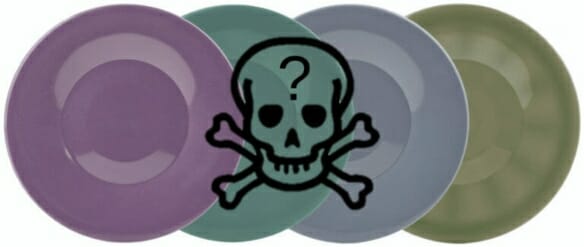 Along with BPA in plastic, here are some other troubling materials to avoid:
BPS (found in BPA-free toddler plates)
Phthalates
PVC
Lead & Cadmium
PFAS (includes Teflon)
Melamine (both melamine plastic & melamine bamboo)
Near the end, we'll dive deeper into each—covering their health and environmental impacts.
You can click here to jump down to that section.
But for now, let's dive straight into the best kid's dinnerware materials. Each is safer, lasts longer, and performs better than plastic!
Safest Materials for Kids Plates, Cups, & Cutlery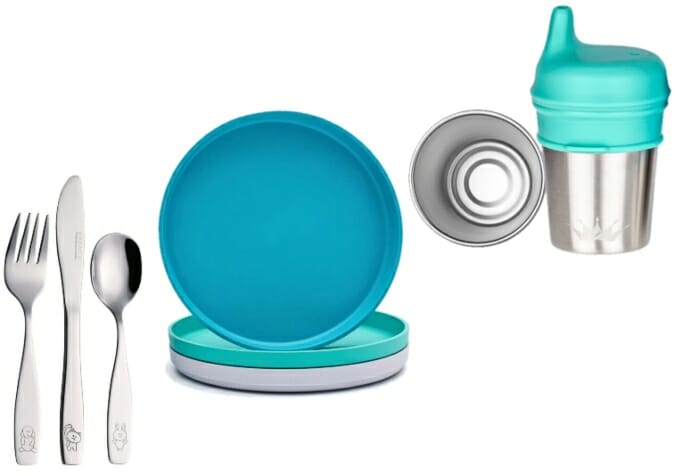 Non-toxic dinnerware, and especially kid-safe dinnerware, needs to fit certain criteria:
Durability

No plastic

& No nasty chemical leaching.
But we don't stop there.
For example, we're also considering the material's softness to prevent injury. Plus, the biodegradability and recyclability of eco-friendly kids' dinnerware.
So, here are the three best kids dinnerware materials that follow these criteria:
Let's explore the pros and cons of all three to help guide your choice. Then, browse our top picks!

Extra-rugged: Stainless steel tableware won't break, even if hurled across the room like a rag doll.

Versatile & low-maintenance: Dishwasher, oven, fridge, & freezer-safe.

Steel's hygienic surface will not corrode, rust, or stain. Plus, never absorb odors or bacteria – so it stays like-new for many years! An 

actual

 one-time dinnerware buy that saves you cash!

Eco-friendly & 100% recyclable.
Not microwave-safe

Can leach nickel and chromium. (

This is safe unless your child is allergic.)
Important: It's vital to get the correct type of stainless steel to prevent rust. Always choose corrosion-resistant 300 series stainless.
Our final section dives deeper into stainless steel types and shows you how to check. (Or just grab our#1 steel pick below!)

Many believe silicone = plastic. But this is a common misconception.
Instead, this non-toxic, chemically-stable material is more of a rubber hybrid. Silicone doesn't come from crude oil distillation. Petroplastics do.
To produce silicone, manufacturers combine oxygen and silicon (or silica, aka beach sand).
Non-toxic & non-reactive material. Silicone won't leach or off-gas chemicals when heated as plastic does.

Oven, microwave, dishwasher, & freezer-safe.

Flexible, soft texture that prevents injury or damage if bitten, dropped, or thrown. It's unbreakable, too.

Available in limitless fun designs & color options, like the suction plates below!

Recyclable (but check with your local recycling center).
Silicone bends, so take caution when handling food.

At times, silicone children's dishes may absorb the smell or flavor of dish soap. Yet, this is common. Drop the silicone dish into boiling water for 15 minutes to rid the odor.

This includes bamboo, corn starch, sugarcane, and other organic materials.
All-natural, non-toxic, & antimicrobial, making it a healthy choice for non-toxic baby feeding products.

Lighter-weight than stainless steel & silicone, yet durable & shatterproof.

Sustainable & eco-friendly. Plant-based dinnerware renews rapidly, especially bamboo… Some species grow 36″ in 24 hours! These non-plastic kid's plates are biodegradable, too.
Limit using the dishwasher. High heat & moisture can eventually swell/ crack the plate.

Excessive drops on hard floors can split the bamboo.

*Melamine-bonded bamboo dinnerware cannot go in the microwave.
*Important: Most colorful bamboo kid's plates use melamine binders, which can leach when heated. Always try to avoid these.
(More on melamine in our final section, plus how to check if a dish contains it).
Also, make sure any coloring is lead-free. The melamine-free plant-based set below used mineral-based pigments.
7 Buying Considerations for Your Family
I recommend grabbing dinnerware that fits your family's specific needs.
You don't want something that ends up collecting dust in your cabinet.
So, think through the following questions. Use them to help guide your decision in the next section:
1. Consider the material. Is your kid rough with their dishware?
Stainless steel is the most durable dinnerware, and silicone is a safe bet too.
Bamboo may crack if thrown, so it's often better for older kids. Or when you're not too worried about flying dishes. That leads us to—
2. Is your kid a thrower or pusher? Perhaps you need the best toddler plates that stick to the table?
Silicone suction dishes are the best plates for toddlers who toss their dinnerware. They'll stick to your table and prevent lifting.
Even non-suction silicone is helpful, too, as it grips the table.
3. How many pieces do you need?
Are you hunting for a complete toddler dinnerware set? Or, individual plates, bowls, and cups?
Below you'll find an excellent 3-piece set. Also, single pieces – ranging from older kid's plates to non-toxic baby dishes and spoons.
4. How important is sustainability to you?
Plant-based tableware wins the sustainability contest. Stainless steel comes in second place, as it's 100% recyclable without losing quality. You can recycle silicone, but not every town accepts it.
5. How much time do you have to clean?
Are you busy and need dishwasher-safe dinnerware? If so, choose stainless steel or silicone kid's plates. They'll never swell from moisture.
6. Do your kids have any color or design preferences?
Silicone provides the most options, followed by plant-based.
7. Do you need a divided plate or regular toddler dishes?
Divided plates are good for kids who hate when their food mixes. They'll make dinner time smoother for all while encouraging healthy habits.
Next up, let's dive into our top kid-friendly dinnerware picks!
Safest Non-Toxic Kid's Tableware Checklist
Discover how to IMMEDIATELY detect subpar kids dinnerware products when browsing online.