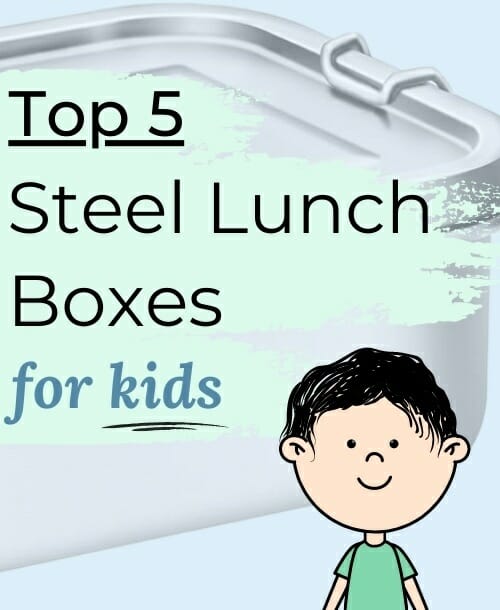 Disclosure: This blog is reader-supported. As an Amazon Associate, I earn from qualifying purchases. When you buy through links on our site, we may earn an affiliate commission at no cost to you. I only recommend products I would use myself and all opinions expressed here are my own.
Why choose a stainless steel lunch box for kids? Two words: Toxic cocoon.
Does this thought sound familiar?…
"I doubt this PB&J nestled in a flimsy Ziploc on a smoldering summer day benefits my kid's health."
Well, you're correct.
In fact, those "toxic cocoons" leach bizarre chemicals into your kid's food.
Substances that can throw a wrench in brain development.
Plus, leaching "fast-forwards" after every steamy dishwasher cycle.
But, with a kids' metal lunch box, you'll win back some sanity (and health).
So in this post, you'll discover a stainless steel lunch box for kids that's right for your child. We hunted around to bring you a "Top 5" list (#4 is my favorite).
But first, I'll take you through (vital) considerations to help you select the right option from the list.
Anddd before that, you'll see why some plastics are worse than others (and how to audit your current lunch gear).
In a hurry? Click any section on the list below to jump straight there.
Let's get started.
Best Metal Toddler Lunch Box – Quick-view Chart
Use this quick-view table to browse our top picks.
Or, keep scrolling and discover all of their juicy details 😉
If you're on mobile or tablet, click the "+" icon to expand for more info.
| Pick | Best for... | Details | Star Rating | Check Price |
| --- | --- | --- | --- | --- |
| Top | Best Leak-proof Travel Lunch Box | G.a. Homefavor 18/8 Stainless Steel Bento | Easy-open Clamps | Removable Silicone Seal | Holds 27oz | Lifetime Warranty | 4.5 / 5 | Check Price |
| | Best Leak-proof Travel Snack Containers | Bklyn Bento 18/8 Stainless Steel Containers | Leak-proof Silicone Lids | 4-Pack (Various Sizes) | Warranty | 4.7 / 5 | Check Price |
| | Best Divided Metal Bento for Small Kids | LunchBots Medium Trio II 18/8 Stainless Steel Bento | 3 Compartments (1 Large, 2 Small) | Holds 20oz | Warranty | 4.7 / 5 | Check Price |
| | Best Divided Metal Bento for Big Kids | Clean Lunch'N 18/8 Stainless Steel Bento | 2 Compartments (Adjustable Divider) | Holds 50oz | Removable Silicone Seal (Leak-resistant) | 4.6 / 5 | Check Price |
| | Best Insulated Lunch Container | LunchBots 18/8 Stainless Steel Food Container | Holds 8oz | Triple-insulated (6 Hours Hot/ 12 Hours Cold) | Stainless Steel Lid Bottom | Non-slip Silicone Sleeve | Warranty | 4.6 / 5 | Check Price |
Why You Need to Ditch the Evil Plastic Kids Lunch Box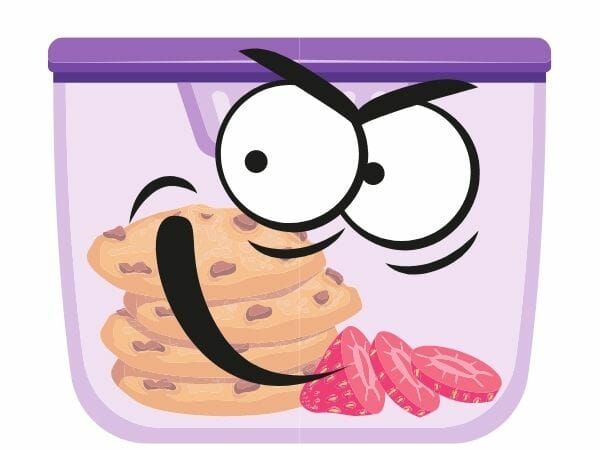 When you search for the best stainless steel lunch containers online, what happens?
You're met with a vast array of kids' lunch boxes.
A billion styles, mostly all with a few plastic parts. Here's why that's an issue…
Plastic lunch boxes leach BPA and other chemicals when "stressed."
And no, not dealing with a psychotic boss, stressed.
Stressed meaning: heat from hot food/ microwaving, scratches, and sunlight.
Even more disturbing, some plastic types expose your family to higher risk…
Here's how to tell if your plastic is a "high-level hazard"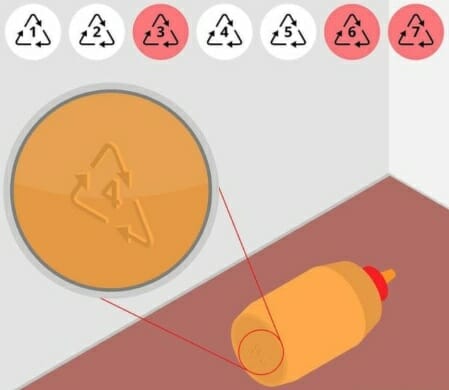 Flip the lunch box over and browse for numbers 1-7 surrounded by a triangle (made of 3 arrows). Aka, the recycling symbol.
More often than not, numbers 1, 2, 4, and 5 do not contain BPA.
But numbers 3, 6, and especially 7 often do.
Plastic labeled #7 and/or show the marking "PC," are polycarbonates. This stuff contains BPA to add "give" to the rigid structure (to make more resilient plastic).
And guess what…
BPA-free means about as much as an empty promise from a toxic lover.
Research from NCBI shows "BPA-free" plastic shares the same risk as BPA.
So, do yourself a favor and grab a stainless steel lunch container. You'll rest easier tonight.
Now let's explore several other benefits of a stainless steel lunch box for kids.
Benefits of a Stainless Steel Lunch Box for Kids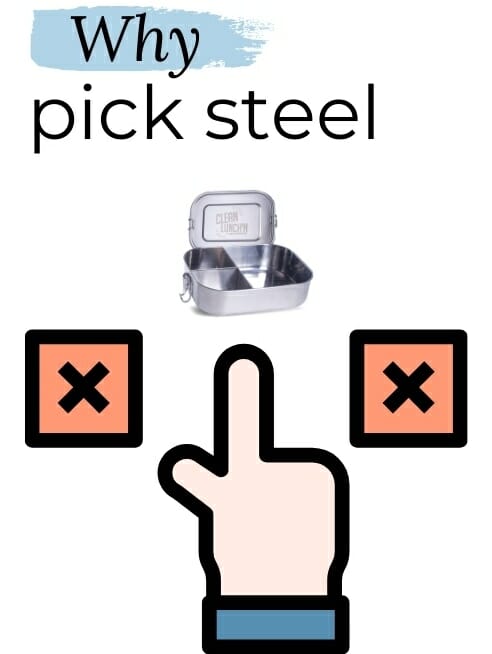 Sure, a metal bento box costs a little more than plastic.
But, I know you're the kind of parent who wants what's best for your kid.
So, make the modest investment in stainless steel; it's worth it.
Here's why:
1) Stainless steel lunch boxes will last a lifetime.
A smarter buy compared to cheaper plastic containers, which fall apart over time.
So, you stretch your dollar with steel – no more replacing a zillion cracked plastic containers.
2) Stainless steel has a non-porous surface. Bacteria don't have the chance to collect in tiny crevices.
Instead, germs get annihilated by the dishwasher or sponge. Steel stays clean as a whistle.
Hence, why surgeons use stainless steel instruments during procedures.
3) Stainless doesn't stain or absorb odors. Stainless steel laughs at the almighty tomato sauce.
So quit spending your evening scrubbing stains!
Plus, stainless steel containers don't warp with heat (like those pesky plastics do).
BUT keep in mind – stainless won't rust or corrode WHEN IT'S THE RIGHT TYPE OF STEEL. 
How do you know?
How to choose the right steel type…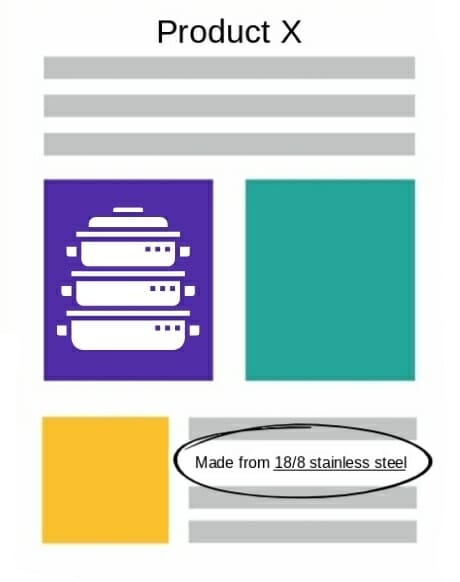 ALWAYS make sure you see "made from" one of the following: "18/0," "18/8, 18/10, or 304-grade/ 310-grade steel" written in the product description.
Cough…Or just choose one of the 18/8 steel lunch boxes on this page… cough.
Cheaper 201-grade stainless, for example, will leave rust in your kid's food. Yuck!
4) Kids' steel bento boxes prevent mess. Here me out…
Have you ever opened your kid's lunch bag to discover what looks like an active crime scene?
"Leak-proof" stainless steel lunch boxes won't ever crack and explode like plastic food containers. (We've got three leak-proof options below.)
So, less mess and reduced stress!
Now, let's move on to the factors you must consider before picking your stainless steel lunch box for kids…
How to Pick the Best Stainless Steel Lunch Containers for Kids… first time around
Don't make a hasty decision.
Before you decide on a kids' metal lunch box, consider the following…
1) What's your child's age? Or his/ her level of mischievousness?
For younger, more accident-prone children, choose a leak-proof stainless steel lunch box for kids.
Keep in mind; some kids practice more care than others. They won't demand a secure/ spill-proof stainless lunch container (as desperately).
2) Consider means of transport…
Does your child carry their lunch along to school/ daycare with a backpack?
You'll need a container that's stackable, compact, and spill-proof.
No backpack? You'll need either a metal lunch box with handles on top or a separate insulated lunch bag.
3) How about a "picky toddler" lunch box for "my food can't touch" phases?
Choose a stainless steel lunch box with compartments to separate the meal.
Now, I don't want to bore you to death, only to get your mental juices flowing.
Think through all the exact features you need.
Now, let's start by looking at the top leak-proof stainless steel lunch boxes out there…
Oh, by the way… The unisex options below are suitable metal lunch boxes for boys and girls!
Just trying to make this easy-peasy…
Stainless Steel Leakproof Bento Box for

On-the-Go Kiddos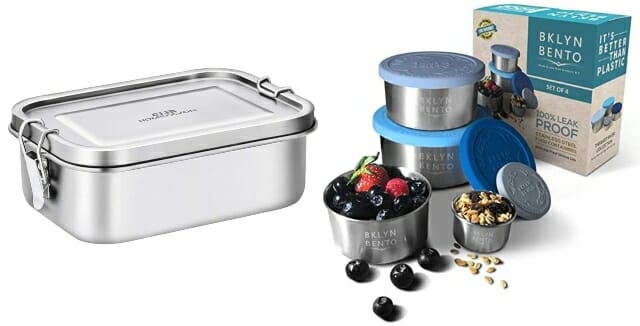 Need a leak-proof lunch box?
These are some of the best bento boxes for toddlers to shield you from messy disasters.
G.a. Homefavor Leak-proof Metal Bento Box
Don't you hate needing to keep a container at the perfect angle to prevent a mess in the bag?
Well, thanks to Homefavor's leak-proof silicone seal and tight clamps, you can relax after work rather than break a sweat scrubbing.
That's right. You can slip this container into a bag any way it fits without a food-juice saturated mess!
Plus, the seal locks in odors too. Now, nobody will ask, "what's that smell?" when your kid brings a hard-boiled egg to school.
Unlike several competitors, small hands can open the lock clips on each side without effort. 
When latched shut, your kid's lunch ends up in their belly, not painted all over their body.
Homefavor's lightweight yet rock-solid 18/8 stainless steel bento box won't break. So, no worries about wasted cash from rough play.
For cleaning, you can toss in the dishwasher to save time.
Plus, you can remove the silicone seal for a complete scrub and worry-free hygiene.
This stainless steel bento box for kids and adults measures 6.4" x 4.5" x 2.3" and holds 27oz of food. Or, about 2.2 soda cans. Enough for hungry kids and portion-controlled adults.
Use for sandwiches, salads, rice, juicy fruit, and even chicken noodle soup without concern.
And Homefavor stands behind their steel lunch boxes for kids with a LIFETIME WARRANTY! So you risk nothing but a little time.
Intrigued? Then make a resolution right now to drop plastic – check it out!
Brooklyn Bento Stainless Steel Lunch Container Set (with Silicone Lids)
Alright, we love stainless steel bento boxes and all… But have you considered the best snack containers for toddlers?
Now, I don't know about you, but I'm sick of jumbled messes of plastic Ziplocs and snack containers.
What if one set can do it all?
Well, say hello to Brooklyn Bento's stainless steel lunch containers/ snack tins!
You get four handy sizes in one set – all shaped from robust 18/8 stainless with leak-proof, food-grade silicone lids.
That's right, no nasty spillage!
And real silicone with happy colors, not cheap, plastic-containing "stuff" from other brands.
The largest container holds 21oz, great for sandwiches, salads, and a dozen other uses.
2nd largest holds 13oz, great for soup, perhaps. "You're welcome," says the leak-proof lids.
The third holds 7oz, perfect for snacks. And the smallest holds 1.5oz, great for condiments and salad dressing.
Each soft and flexible lid pops on and off easy – perfect for kids.
Plus, the lightweight containers couldn't be any easier to carry in a bag.
Have an issue? Brooklyn Bento protects you with a no BS warranty – just in case (you have to quick-register on their website).
The kind and sincere owners will help you out if, let's say, you lose a lid.
So, why wait another day? Ditch the health/ planet-destroying plastic and breakable glass today – check out Bklyn Bento.
Divided

Stainless Steel Lunch Box with Stainless Steel Lids
Let's look at two divided metal bento box options.
Anyone who has picky kids knows different foods absolutely, 100% cannot touch!
Well, thanks to the divided sections, these stainless steel lunch boxes will delight even the pickiest kiddos.
But there's a catch…
The first container won't prevent leaks. So, it's best for older kids (or less mess-prone children).
The second, though, has a tight-enough seal to stop liquids.
With these bento's, you can separate the main entree and sides in one box rather than several.
So you'll gain chill-time by using one container instead of loading/ cleaning 2-4 after work.
LunchBots Metal Bento Lunch Box (For Small Kids)
Ditch plastic snack baggies. Instead, grab this heavy-duty, solid 18/8 stainless steel lunch box with compartments (three sections)!
Yup, no nasty chemicals, stained compartments, or a busted mess of plastic (and wasted cash) from rough play. In other words, you'll rest easier at night.
In fact, one reviewer couldn't tell the difference between the brand new LunchBots she bought and her (older) first set after 1.5 years of daily (kindergarten) abuse.
Talk about getting your money's worth.
Also, talk about low-maintenance… Just hurl this thing into your dishwasher, and it comes out sparkling like new.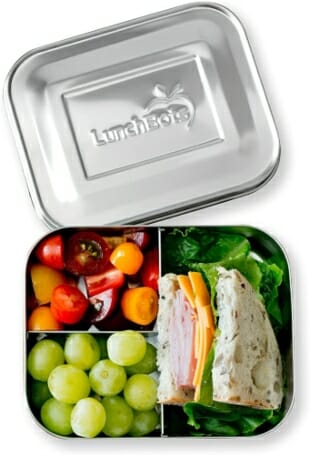 Keep in mind; this steel lunch box measures 6" x 5" x 1.75."
Small, but a great size for young toddlers and compact enough to take anywhere.
Stuff your bento in any lunch bag or small backpack compartment – anywhere it fits.
Use this as a metal sandwich container (half-sandwich)… Or store fruits, crackers, veggies, or cheese cubes while on-the-go, at school, on a hike, or during family car trips.
But, the divided sections won't prevent leaks. So pack dry foods only. Pick a spill-proof box above for wet foods.
Need something bigger? A bento with extra (or fewer) compartments?
LunchBots offers a vast selection of styles and sizes in their storefront!
Overall, LunchBots has a 10-year history of producing quality stainless steel lunch boxes. Plus, they protect your investment with a painless warranty, just in case!
But enough about LunchBots, now it's your turn. Check out this container!
Clean Lunch'n Metal Bento Lunch Box (

For Big Kids

)
The Clean Lunch'n stainless steel bento box is my favorite option on this page. Here's why…
First, this all-in-one stainless steel lunch box can pack a serious meal.
Use its double-chamber bento design with adjustable divider to hold a full sandwich, plus fixings and sides…
Without needing separate containers, clutter, and sink space.
Picky eaters? The clever divider keep food separated, plus the steel stays cooler than plastic. And you can adjust how large or small to make each compartment, depending on the meal.
Of course, shaped from tough 18/8 stainless, so you can ditch rust and rid your family of cringeworthy plastic.
The steel remains unbothered from scalding hot food (unlike plastic). Instead, you'll upgrade your family's health and quit burning cash on breakable plastic!
The trouble-free (kid-friendly) clamps on each side create a tight, leak-proof seal. So, meals stay secure, even if chucked across the room like a frisbee.
For cleaning, simply toss in your dishwasher and get back to rewatching Game of Thrones for the 4th time.
You can even store leftovers in the fridge or freezer, take them out the next day, and head out the door…
A true multipurpose container to help cut down on endless Tupperware!
This lunch box measures a whopping 8″ x 6″ x 2.25,″ and holds 50oz (about 4.2 soda cans).
Handy for school lunch, picnics, road trips, toddler playdates, healthy meal prep, hiking, camping, and more.
Too big for ya? Clean Lunch'n offers a smaller 25oz eco-friendly bento box.
Alright, here's your moment – time for action. Check out Clean Lunchn's jumbo stainless steel lunch box!
Best Insulated Lunch Box for Kids (+ Bonus)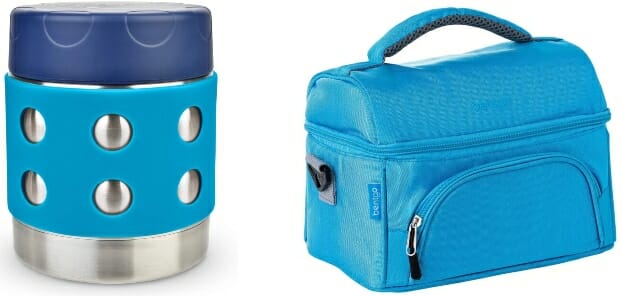 Is your kid sick and tired of cold sandwiches and Lunchables? Need both a hot and cold lunch box?
Use either lunch option below to give your little one the gift of hot meals from anywhere!
LunchBots' Insulated Kids Lunch Thermos with Silicone Sleeve
When you demand a true insulated lunch box for kids, look no further than LunchBots' leak-proof Thermos.
With this jar, your kid will enjoy hot, fresh mac 'n' cheese or soup midday at school without a microwave.
Thanks to the effective triple-insulation, food stays hot for 6+ hours and cool for 12 hours.
Maybe now they'll actually eat the lunch you pack!
And check this out… A comfortable silicone sleeve wraps the thermos and adds a non-slip grip to prevent drops!
But what's the primary benefit of this jar? The lid…
Most other kids' steel thermoses have plastic lid bottoms. Here's the problem…
Hot steam collects on the plastic, then drops back down into the soup.
Yet, Lunchbots uses a full 18/8 stainless steel design for this well-built insulated food jar!
That's right, a stainless body, inside, and lid bottom. This way, your kid's soup stays plastic-free.
Now, the easy-opening lid is plastic (on the outside) – but it doesn't touch your child's food.
This thermos measures 3" wide and 4" tall with an 8oz (1-cup) capacity – a perfect size for kids or adult portion-controlling.
Great for bringing hot soups, spaghettiO's, oatmeal, mac 'n' cheese, and cold fruits/ yogurts anywhere.
Plus, no leaks, ever! Drop the jar in your kid's backpack without worry of an epic mess.
But don't take our word for it. Tap the button below and find out for yourself!
Bonus: Best Insulated Lunch Bag for Hot Food
Here's the deal. None of the options above insulate food – except for the Lunchbots thermos.
But does that mean your kid can't enjoy still-hot soup or still-cold fruit in their stainless steel bento box?
Nope.
See, you can complement any of the stainless steel lunch containers above with this bag from Bentgo.
And is this just a bag? No. You're giving your kid a cold, refreshing drink on a white-hot summer day.
Likewise, a warm meal on a brisk afternoon that'll stop shivers dead in their tracks.
Simply toss hot or cold food in your brand new metal bento, then slide it into this bad boy.
In fact, Bentgo's thermal insulated lunch bag keeps hot foods hot and cold foods/ drinks chilly for 4+ hours!
Now for some specs…
This dual compartment lunch box features a roomy main section to nestle a lunch container and ice pack.
Then, a handy mesh pocket sits on top to keep snacks and drinks secure.
As a further convenience, the easy-access front pockets hold napkins and utensils!
Extra steamy day? Slip an ice pack into the interior mesh pocket to keep food colder even longer.
And you'll appreciate how easy-cleaning and comfortable this bag feels!
With an easy-carry handle and adjustable padded shoulder strap, your kid might forget it's there.
For fast cleaning, wipe your lunch tote clean with a damp cloth.
And for a deeper scrub, chuck this machine-washable lunch bag in the laundry to save time!
All in all, Bentgo makes one of the best insulated lunch bags for hot food (and cold).
Not happy? Take advantage of Bentgo's 2-year warranty. You never risk a cent!
Don't miss out – check it out.
Hopefully, you found this article helpful, and now you have more ideas on which stainless steel lunch box for kids you'll choose!
I urge you to take advantage of kids' metal lunch boxes. It's a wise choice, not only for your wallet but for your family's health.
Leave a comment below if you have any questions or suggestions on topics you'd like to see covered.
P.S. Not that you've got your stainless steel lunch box for kids, I should also mention something…
Plastic plates, flatware, and drinking cups aren't any safer than lunch boxes.
So, check out our non-toxic kid's dinnerware guide and detoxify your kid's entire feeding process!
Enjoyed this post? Share it with your friends!
Safest Non-Toxic Kid's Tableware Checklist
Discover how to IMMEDIATELY detect subpar kids dinnerware products when browsing online.