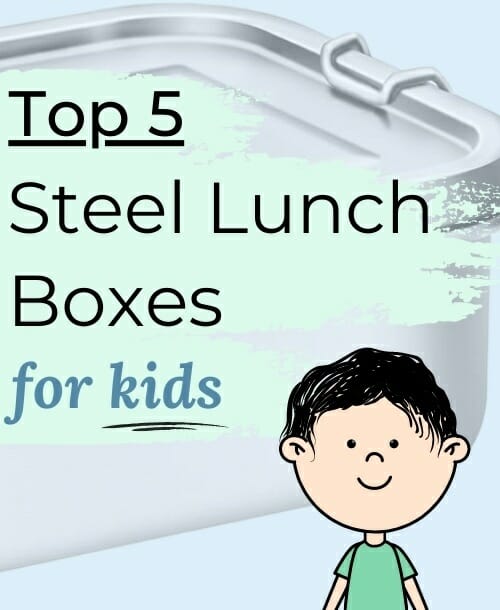 Disclosure: Our reviews stay ad-free as they're entirely reader-supported. As an Amazon Associate, I earn from qualifying purchases. When you buy through links on our site, we may earn an affiliate commission at no cost to you. This revenue helps us test products and develop quality content.
Why pick a stainless steel lunch box for kids? Two words: Toxic cocoon.
Have you ever wondered, "Is this PB&J nestled in a Ziploc bag on a hot day safe?"
The answer? Not entirely.
In fact, that "toxic cocoon" scenario can leach hormone-disrupting chemicals into food. More on that later…
Yet, a kids' metal lunch box doesn't. They're safer, can last a lifetime, and preserve food flavor better.
That's why we researched and tested some of the best steel lunch boxes out there. Below, you'll find the top 5 stainless steel lunch boxes for kids – reviewed.
But that's not all.
We'll first cover why plastic shouldn't even be an option for kids' lunch boxes (health risks).
Then, walk through a few vital buying considerations to help you make the right choice. Near the end, we'll cover a few important notes on choosing the best types of stainless steel for storing food.
Let's get started!
Our Top Picks | Quick Links
Click the highlighted links below to jump straight to the product review.
Or, keep scrolling, so you don't miss any important detail!
Why Stainless Steel Lunch Boxes Should be the

Only

Option for Kids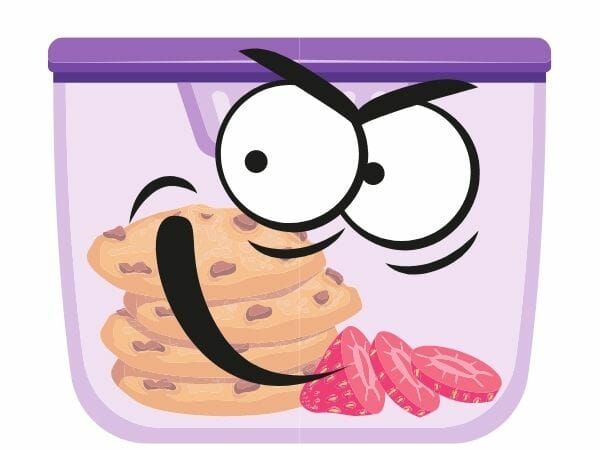 What happens when you search for the best stainless steel lunch containers online?
You're met with a barrage of kids' lunch boxes, mostly all with plastic parts… Here's why that's troubling—
Plastic lunch boxes leach several troubling chemicals when "stressed." (And no, not "sitting in traffic" stressed.)
Stressed means exposure to heat from hot food or microwaving. Sunlight is another culprit.
Which chemicals leach?
The most notorious include BPA (Bisphenol A) and phthalates. They're especially troubling for kids, considering bisphenols are hormone disruptors.
Hazards of BPA consumption include:
Reproductive disorders such as early puberty.

Heart disease & hypertension.

Diabetes & insulin resistance.

Obesity

Effects on fetal brain development.

More specifically, estrogen regulation, which may impact social behavior & cause anxiety.
BPS and BPF are two others to watch out for; you'll find both in BPA-free plastic.
And, as you've probably noticed, most plastic lunch boxes and Tupperware today are BPA-free.
Yet, research from NCBI shows BPS shares many of the same health risks as BPA!
But, there is hope for BPA-free plastic.
Research also shows that "BPS and BPF may have a less harmful impact on health than BPA."
Here's the key takeaway: There really are no "safe" plastic containers, but some types are worse than others.
At the end, we'll cover some tips on identifying any plastic container's risk level in the future.
But for now, just know it's essential to swap for stainless steel alternatives – when health is your focus.
So let's continue with a few buying considerations. Use them to help you choose the best stainless steel containers for your family.
How to Choose | Buying Considerations
Before you decide on your kid's metal lunch box, consider the following—
Kids are rough on their lunch gear; you need something to handle it.
The container should withstand squeezing into tight compartments and drops on floors. Yet, without flimsy clips or hinges breaking off… And do so for at least one full year.
So, a fully stainless steel lunch box is best. But, it needs to be the correct type of steel (i.e., 300-series – like each container below).
If you want to keep shopping around, read the final section. We'll cover tips on checking for steel grades.
If you plan to pack nothing but dry snacks, a leak-proof stainless steel lunch box isn't necessary. But, for anything else, it is.
The container's design should keep wet foods entirely contained – even when upside down in a backpack.
Everything below except LunchBots (#3) is leak-proof.
#3 Easy to Use & Transport
Lunch boxes for kids should be easy for them to carry, open, and close.
Keep size and shape in mind, too, as it may need to fit inside a backpack, among other school supplies.
Take #1 below (G.a Homefavor) for example—
What separates this container from competitors is its smooth, child-friendly locking clips. The others were too hard to open. And since it's leak-proof, you can squeeze it into any compartment without worry.
Does your kid carry their lunch by hand?
A metal lunch box with handles on top or a separate insulated lunch bag will suit you well. Shoulder straps are helpful too.
You don't want to end up packing multiple lunch containers because the one you bought is too small.
Nor do you want a container so immense that food bounces around, mangling itself… Or where you end up wasting food because you overpacked.
Get the proper size for your child's appetite. And make sure the lunch box can fit into your kid's bag.
Bento boxes riddled with small parts and crevices are more challenging to clean.
Also, those with plastic pieces are often not dishwasher-safe. Or only partially dishwasher-safe.
Yet, simple, 100% stainless steel lunch boxes with open sections are a breeze to clean. Just chuck the entire thing in the dishwasher.
But regardless of design, all 300-series stainless cleans easier than plastic. Its non-porous surface repels all stains and bacteria.
#6 Divided Compartments – Yes or No?
Consider the types of food you're going to pack—
Is your kid in a "my food can't touch" phase?
A stainless steel lunch box with compartments is your best bet.
Yet, meals like salad are best in a large, open container without divided sections.
I recommended #4 below (Clean Lunch'n) to get the best of both worlds. It has an adjustable divider that you can set depending on the meal.
Now, I don't want to bore you to death, only to get your mental juices flowing.
Think through the features you need for your kid's steel lunch box as we move forward.
Next, let's start by looking at the top leak-proof stainless steel lunch boxes—
Each unisex option below is a suitable metal lunch box for boys and girls… Just to keep it simple.
Enjoyed this post? Share it with your friends!
Safest Non-Toxic Kid's Tableware Checklist
Discover how to IMMEDIATELY detect subpar kids dinnerware products when browsing online.