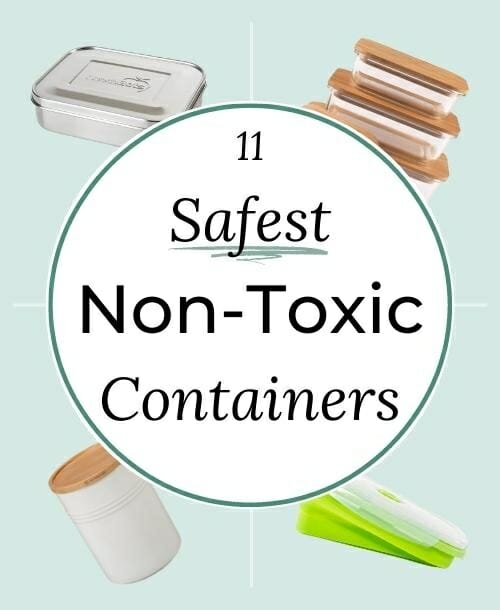 Disclosure: Our reviews stay ad-free as they're entirely reader-supported. As an Amazon Associate, I earn from qualifying purchases. When you buy through links on our site, we may earn an affiliate commission at no cost to you. This revenue helps us test products and develop quality content.
Can non-toxic food storage containers boost your food's health? Consider this:
Whenever you toss food in plastic food storage containers, you get more out than you put in…
Your food sucks in bits of microplastics and chemicals, which, of course, end up in you.
So, non-plastic Tupperware makes sense.
It'd be a shame to serve healthy food on safe dinner plates only to taint your leftovers with plastic. So, it seems non-toxic food storage containers have their place in any healthy lifestyle.
That's why we reviewed dozens of picks, then trimmed down to the top 11 safest food containers.
But, before that, there's something you need to know about the so-called safe plastic containers… (i.e., BPA-free food storage containers)
*Hint* —  they're not as safe as you think.
So, you'll discover how to audit your current plastic Tupperware's risk, among other topics. This way, you score the best non-plastic food storage containers today…
And, moving forward, you'll know exactly what to avoid.
Let's get started!
What Are the Dangers of Plastic Containers for Food?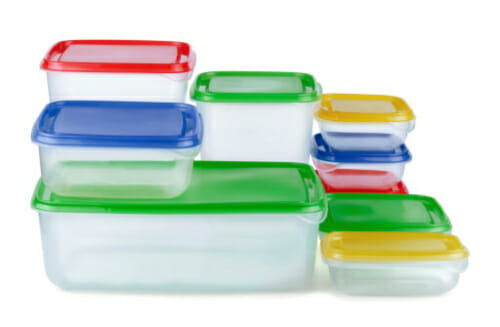 Chances are you (and everybody else) own tons of plastic food storage containers. They're inexpensive, convenient, and often, we get them for free with takeout.
But here's the problem. When these containers become stressed, they can leach harmful materials into your meal.
What stress?
The heat from hot food/ microwaving your leftovers. Scratches and sunlight are two others.
And stressed plastic containers don't unwind by the pool to relax…
Instead, they leach EA (Estrogenic Activity) chemicals like Bisphenol A (BPA) and phthalates. These chemicals help enhance plastic's usability in containers, water bottles, and more.
Health risks of BPA & phthalates in plastic food storage containers:
Studies show these chemicals link to obesity and adverse effects on the heart and brain, to name a few.
And for children, BPA is especially troubling. Early childhood exposure links to ADHD behaviors – including inattention, hyperactivity, and depression.
Yikes.
Phthalates present their fair share of concerns too. The CDC found them to impact the reproductive system in animals poorly.
So, I recommend ditching all plastic containers to keep any potential hazard out of your food.
Instead, grab one of the 11 best non-toxic food containers below.
But hang on. Ditching plastic isn't always easy or possible… Especially if you're on a tight budget.
So perhaps you're thinking, "C'mon! Are there any safe plastic food containers at all?! I can't replace all my plastic yet!"
Let's take a look.
Are Any Plastic Food Containers Safe?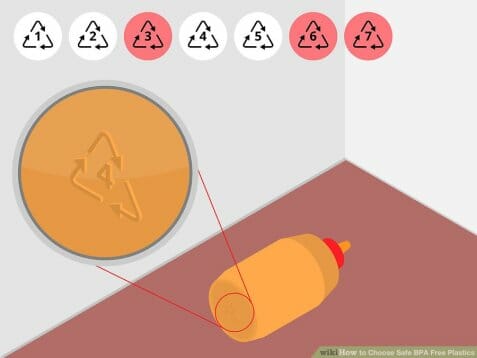 To answer the question, "are plastic food containers safe?" you need to know which kind of plastic you're looking at.
While I hesitate to say that healthy plastic containers exist, some are worse than others.
So, follow the steps below to audit your plastic—
How to check for the best food-grade plastic containers (Avoiding BPA)
The easiest way to audit your plastic container's risk is to flip it over and glance at the recycling number.
(I.e., numbers 1-7 surrounded by a triangle made of 3 arrows – see above image.)
The

safest plastic containers for food

are

numbers 1, 2, 4, & 5. These are generally BPA-free

storage containers & are safer for food.

Products with numbers

3, 6, & especially 7 most often contain BPA.

Plastic labeled

#7 and/ or bearing the mark "PC" are polycarbonates. They contain BPA

to add "give" to the rigid plastic, reducing cracks and breaking.

If plastic is rigid & transparent, odds are, it's polycarbonate & contains BPA.

For example, a hard, clear, reusable food storage container.

Soft

,

flexible

, &

cloudy plastic

containers are less likely to contain BPA.
The point is to always check the labeling.
But here's something to keep in mind: 
All plastic—even BPA-free Tupperware—carries risk. The title of "BPA-free" is misleading altogether, as this plastic contains BPS instead.
And studies show BPS almost mirrors BPA's risks, according to Scientific American.
The Bottom Line:

IF

you're going to use (any) plastic container, follow these guidelines to reduce risk—
Do not

microwave or otherwise heat food in any plastic container.

Do not

save or reuse commercial plastic food packaging… Single-use takeout containers, for example. These aren't meant to reuse and will pollute your food with plastic.

Do not

serve hot meals in plastic food containers. Heat in a separate dish.

Do not

wash plastic food containers in the dishwasher. The heat degrades the plastic.

If you have Tupperware that's several years old; I'd chuck it right away. Old, worn-out plastic deteriorates into food much more easily.

TIP: When buying sauces or other groceries that come in glass mason jars, save the jar!  These make perfectly safe Tupperware alternatives.
Next, let's explore the safest non-toxic food storage container materials.
What Are the Safest Food Storage Containers Made From?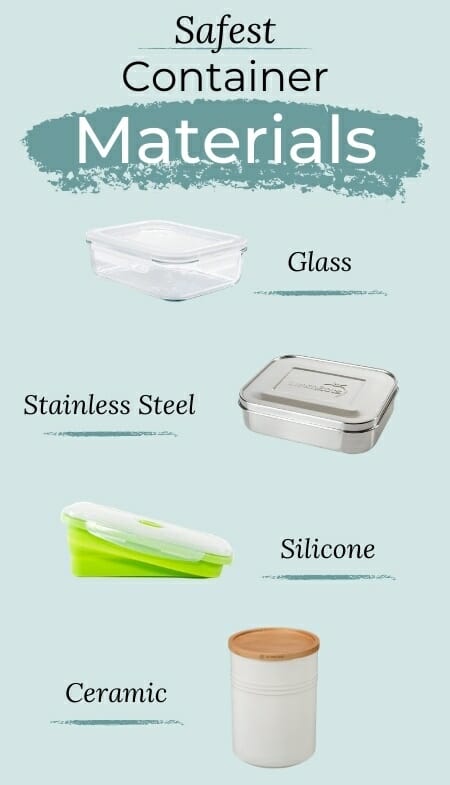 With plastic out of the way, now we can discuss the safest food storage container materials…
Usually, the best non-plastic food containers come in glass, stainless steel, silicone, and ceramic. All four are safe and non-toxic.
Now, these containers cost more than plastic. But, their safety and durability make for a wiser investment.
So, let's tackle the pros and cons of each.
This way, you better understand all four and gain a better idea of what to pick:

Glass food storage containers are an all-time favorite in the kitchen. We can thank their clean, non-toxic, and non-porous surface for that.
You'll have a tough time finding a material that protects food flavor better than glass.
Plastic-free.
Toxin-free – made almost entirely from sand.
Microwave-safe.
Refrigerator & freezer-safe.
Dishwasher-safe.
Oven-safe (although lids made from different materials might not be).
Non-porous surface – easy to clean & doesn't absorb or hide bacteria.
Eco-friendly & recyclable.
Does not absorb food tastes, smells, or stains – great for storing pasta sauce.
Non-reactive with acidic foods (no metallic flavors).
Heavier than plastic.
Fragile – requires safe handling, especially when traveling.

Stainless steel food storage containers are rising in popularity by the minute.
Between steel's corrosion resistance and non-porous surface, it's perfect for food… Stains and bacteria have little chance to gather.
And, of course, it's virtually unbreakable!
Plastic-free.
Unbreakable, yet lightweight – great for kids & travel
Toxin-free – made from iron, carbon, nickel, & chromium.
Refrigerator & freezer-safe.
Dishwasher-safe.
Oven-safe.
Non-porous surface – easy to clean & doesn't hide bacteria
Eco-friendly & recyclable.
Does not rust, stain, or absorb food flavors, smells, & odors. Stays like-new for years.
Not microwave-safe.
Can leach nickel or chromium into your food. (Harmless for most people, unless you're allergic.)
If the steel isn't polished, it may give acidic foods a metallic taste.

Silicone food storage containers are another fantastic non-toxic option.
This rubber hybrid is soft, unbreakable, and moldable into fun designs. (Like plastic) Yet, it's free of the negatives like BPA, phthalates, and other chemicals!
Plastic-free.
Toxin-free- made from silicon (sand), oxygen, carbon, & hydrogen.
Microwave & oven-safe. Silicone will not melt, leach, or off-gas chemicals when heating food.
Refrigerator & freezer-safe.
Dishwasher-safe.
Unbreakable, soft, & flexible – great for children.
Lightweight & easy to travel with.
Recyclable.
Non-reactive with acidic foods.
Low-quality silicone can contain fillers.
Although recyclable, it's hard to locate a recycling center able to process silicone.
Can sometimes absorb smells & tastes of food or soap. If that happens, boil the silicone in water for 15 minutes.

People have used ceramic for thousands of years to prepare and store food. And for a good reason…
It's an all-natural, non-toxic material made from baked clay. Ceramic storage containers also withstand scorching heat and never react with acidic foods.
Plastic-free.
Toxin-free.
Microwave & oven-safe.
Refrigerator & freezer-safe.
Dishwasher-safe.
Does not absorb food tastes or smells.
Non-reactive with acidic foods.
A little heavy like glass.
Fragile  – requires safe handling, especially when traveling.
We're just about there!
Next, let's run through a few quick buying considerations. (Stuff to think about before choosing.)
Then, you'll find the best non-toxic food storage containers in each material… An option for every purpose!
How to Choose the Best Food Storage Container for Your Needs
When choosing new containers for your family, it's vital to consider your specific needs:
—Do you need a lightweight, unbreakable, and leak-proof food storage container you can travel with?
Pick a stainless steel container with a leak-proof seal (like this one). It won't break or spill on bumpy rides.
—Need the best plastic-free food storage containers able to go from fridge to oven without exploding?
Pick silicone containers (like these here). Stainless steel works too, but be careful when removing it from the oven.
For glass, you'll need borosilicate (like this container) to withstand rapid temperature changes.
—Do you want soft and flexible containers for kid's snacks? Or to squeeze into cramped cabinets?
—How about a non-plastic, microwavable food container for taking leftovers to work?
Do you need round containers? Or square/ rectangular containers?
Round containers are great for easy stacking and nesting. In contrast, rectangular containers are easier to wedge into open spaces or corners.
If you're cramped on space, consider these collapsible containers.
—Consider easy portioning:
Non-Toxic Kitchenware Checklist
Get a step-by-step product guide with insider tips & tricks for the safest kitchen possible!