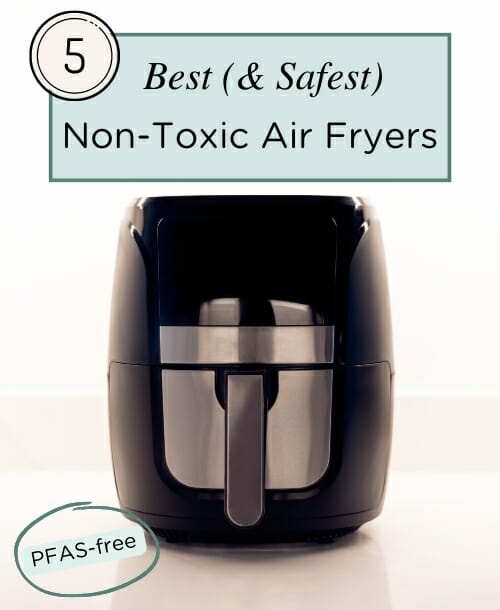 Disclosure: This blog is reader-supported. As an Amazon Associate, I earn from qualifying purchases. When you buy through links on our site, we may earn an affiliate commission at no cost to you. I only recommend products I would use myself and all opinions expressed here are my own.
It's no wonder that air fryers have become so popular so quickly – they make delicious food quickly and are so easy to clean!
But maybe you've also received some warnings about the health risks of air fryers. Now you're left wondering, "Are air fryers toxic?"
Unfortunately, many of the best-selling air fryers today have non-stick coatings that may contain per- and polyfluoroalkyl substances. This class of chemicals, known as PFAS, can cause severe health problems.
And with so much misleading marketing out there, it can be tricky to find true non-toxic air fryers… Those that are actually PFAS-free and safe for your health.
Luckily, there are safer options out there! Through careful research, we've compiled a list of the 5 safest air fryers on the market today.
In this article, we'll review why PFAS is dangerous and how to spot misleading marketing. Then, we'll dive into our top picks for the safest Teflon-free air fryers. Or, you can jump straight to our number one pick.
5 Safest Air Fryers | Quick Links
Why Are So Many Air Fryers Toxic? The Perils of PFAS
Most non-stick coatings contain PFAS (Per- and polyfluoroalkyl substances), a class of chemicals often used to create low-friction surfaces. As a result, non-stick coatings are super easy to clean, making them a popular choice in kitchen tools.
You'll find PFAS coatings on pots and pans, bakeware, and kitchen appliances like pressure cookers and (you guessed it) air fryers.
But, many PFAS-based non-stick coatings have been linked to health problems (more on that below.)
Teflon, the most famous non-stick coating, is the brand name for polytetrafluoroethylene, commonly known as PTFE – a type of PFAS chemical. Historically, companies produced PTFE coatings like Teflon using a binding agent called PFOA (perfluorooctanoic acid). However, PFOA directly links to various health conditions.
Sometimes non-stick pans are also made with PFOS (perfluorooctanesulfonic acid), another type of toxic PFAS chemical.
Environmental and Health Effects of PFAS
While researchers are still studying the effects of PFAS, these chemicals have show links to several human health problems, including:
PFAS impacts the ecosystem too—
These substances earned the nickname "forever chemicals" due to their extreme resistance to breakdown in the environment. In fact, because of their widespread use, researchers have found PFAS in drinking water and natural ecosystems, where it can be toxic to animals.
And new research from Stockholm University found PFAS levels in rainwater now exceed levels deemed safe – worldwide.
While PFAS is generally known to be toxic at very high exposure levels, PFAS may also accumulate in the body over time… For example, in your air-fried food.
Now, it's unknown exactly how much PFAS is too much (i.e., at what level you're exposed to health risks). So it's probably best to avoid it if you can.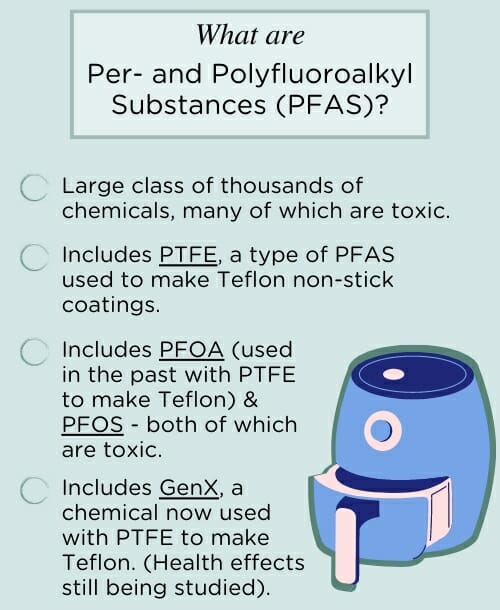 How to Avoid Toxic Chemicals in Your Air Fryer: Spotting Misleading Marketing
I know, we just threw a lot of letters at you! Simply put, there are thousands of types of PFAS; it's essential to avoid all types, not just PTFE, PFOA, and PFOS.
Today, companies rarely use PFOS due to environmental and health concerns. And due to health risks, PFOA was phased out of Teflon production in the early 2000s and officially banned by 2014.
However, many manufacturers simply turned to other chemicals they claim are safer—
For example, today, companies produce Teflon using the chemical "GenX" as a replacement for PFOA. While its safety is still hotly debated, the EPA has shown PFOA links to cancer in animal studies. Also, the organization is considering regulations to avoid the contamination of drinking water with GenX.
Now, more research is needed to understand the total effects of GenX on humans. To be on the safe side, it's probably best to avoid GenX until we know more.
Given the environmental and health problems of PFAS, it's no surprise manufacturers choose not to disclose PFAS's usage in their non-stick coatings.
Scarily enough, many manufacturers use the PFOA-replacement GenX to make safety claims about their products. For example, some Teflon product manufacturers may advertise their offer as a "PFOS-free" or "PFOA-free air fryer." Yet, they ignore any other PFAS chemicals the company may have used, including GenX.
Other companies are unwilling to disclose any information about the contents of their coatings. Instead, they argue their coatings are "proprietary information," while others use vague terms like "safe" or "FDA-approved."
Luckily, there are a few ways you can avoid these sneaky marketing tactics to find truly non-toxic air fryers:
1. Perform a "Control-F" search (or "Command+F" on Mac) for related "non-stick buzzwords" on a product page. You're looking for the exact words "PFAS-free."
Terms that

don't

mean PFAS-free include:

"PFOS-free"

"PFOA-free"

"FDA-approved"

"Very safe"
2. It's important to note that not all PFAS-free air fryers say PFAS-free on their website. If you want to do your own research, you can look for air fryers without non-stick coatings or email the manufacturer for more information.
Make sure to ask if any "food contact surfaces" use PFAS. But don't stop there; ask if there's any PFAS used in the air fryer. Some companies may use PFAS only on the inside walls. If the company refuses to disclose more information, skip it.
You can also use Amazon's "question and answers" feature to ask if the air fryer is PFAS-free. Often the manufacturer will respond directly on Amazon!
Or, let us do the research for you! Next up: our list of the five best and safest air fryers. 
The 5 Best Non-Toxic Air Fryers Without Teflon
At this point, you're probably wondering, is there an air fryer without Teflon and PFAS? How do I know which air fryer is safest?
If you're searching for an air fryer that doesn't cause cancer, check out our recommendations below for the best non-toxic air fryers available today.
First, what makes an air fryer non-toxic? A non-toxic air fryer must be 100% PFAS-free. 
We also avoided air fryers with ceramic non-stick coatings while their safety continues to be studied. Though the coating itself is safe, there is some concern it exposes you to titanium dioxide nanoparticles when the ceramic breaks down. We just don't know much about these dioxides yet.
After we ensured all our safe air fryer picks were PFAS-free, we reviewed which air fryers had the best features, prices, and customer ratings. This way, we can be sure to recommend the very best and safest air fryers.
Due to the limited number of truly PFAS-free air fryer offerings, one of these choices is a toaster oven with air frying capabilities. A few picks are also halogen-convection air fryers, which use a halogen lamp to heat food in addition to air circulation.
You can still use these as an air fryer, and most importantly, they're PFAS-free!
Described as "extra large and powerful," the Big Boss Oil-Less Air Fryer is made almost entirely of glass and metal, making it a very safe and versatile choice.
At 16 quarts, this is a good choice for people cooking for an entire family.
Current price: $67.24
Food capacity: 16 quarts
Dimensions: 12.5 x 16 x 13.5 inches, 14.74 lbs
Versatile: The fryer's wide temperature range (180 to 400℉) allows for air frying, baking, grilling, roasting, and toasting.

Multiple color options

Comes with a glass bowl, metal low and high cooking racks, a mesh basket for air frying, and tongs

Transparent bowl allows you to see your food's cooking

progress

Includes an "extender ring" to increase the fryer's capacity and cook larger meals

A safety handle automatically turns the air fryer off when raised

Energy efficient

The only plastic present is outside the cooking area, so no unsafe chemical leaching
Takes up counter space

Must be gentle with the cooking lid that holds the halogen light

The glass bowl may be too large for some dishwashers
Like the Big Boss, Nutrichef's air fryer convection oven uses a glass bowl rather than nonstick coatings. Simply set the timer, pop your food in, and let the hot air circulation do its job to cook your food quickly.
This unit is a bit smaller than the Big Boss, making it a better choice for smaller families or kitchens!
Current price: $69.99
Food capacity: 13 quarts
Dimensions:

7 x 13 x 15 inches, 14.7 lbs
Wide variety of features: Can be used to defrost, broil, roast, bake, steam, grill, and

barbecue

Transparent bowl allows you to see your food's cooking progress

Timer has an automatic power-off feature for safety

Bowl is made of stainless steel and glass, making it stain-resistant and easy to clean

Comes with uncoated stainless steel wire food racks, cooking tray, and tongs.

The glass bowl is large enough for an entire chicken!
Does not come with a recipe book or cookbook for beginners.

Glass bowl isn't as large as some other models – fitting an entire turkey may be difficult.
Despite "XL" in its name, this non-Teflon air fryer has a slightly smaller food capacity than the glass bowl models above. Yet, it can still hold 6lb of chicken wings or a 14lb turkey, making it larger than many conventional air fryers!
But what this model lacks in capacity, it makes up for in special features – from a touchscreen to a rotisserie spit.
Current price: $89.99
Food capacity: 10 quarts
Dimensions: 16

 x 16 x 16 inches, 14 lbs
Comes with a large number of accessories, making it very versatile. Accessories include: rotating fry basket, rotisserie spit and holder, 3-tier stainless steel rack set

Digital LED touchscreen with six cooking pre-sets

Auto shut-off for safety

Comes with a well-reviewed recipe book

Dishwasher-safe parts
Some features, like the rotisserie spit, require AAA batteries

Smaller food capacity than some air fryers (although it's not little by any means).

Large dimensions

The top can be heavy to lift (although you can see the food through the side while cooking without lifting the lid).

Some reviews report a strong plastic smell, likely from the exterior (smell should dissipate after first few uses)
This air fryer is notable both for its large touch screen and rotating fry basket with full rotisserie chicken options.
With an 11.6 quart capacity, this air fryer can rotate up to 4lbs of chicken inside. Oil-less hot air circulation and a 1700W heating element ensure predictable, even roasting every time.
The air fryer also has a dehydrator setting.
Current price: $119.97
Food capacity: 11.6 quarts
Dimensions:

15.4″ x 12.6″ x 14.2 inches, 17.61 lbs
Comes with six accessories: 3 dehydrating racks, a rotating basket, a skewer rack, a rotisserie shaft, a drip tray, and a "fetch" tool to grab hot trays.

8 different cooking settings: fry, roast, fish, shrimp, chicken, rotisserie, bake, and dehydrate.

Has an oven light so you can check food without opening the door

Has a thermal protective door and an auto shut-off for safety

Dishwasher-safe accessories
Heaviest on our list

The rotating basket is not automatic; you must press a button for it to rotate.

Some reviews report that the trays are difficult to remove halfway through to flip food.

Alarm beeper on the timer is very loud
This air fryer oven is a four-in-one: an air fryer, a convection oven, a toaster, and a broiler.
Made of stainless steel, there's zero PFAS to be found in this air fryer! This option is a bit smaller than the others, making it a good choice if you have limited counter space or cook for fewer people.
Current price: $79.99
Food capacity: 3.9 quarts
Dimensions:

9.8 x 16.65 x 9.8 inches, 12 lbs
5

versatile

settings: air fry, bake, adjustable broil, toast, and warm

Compact

3 different rack positions
May be too small to cook for multiple people

Some reviews state it's more of a toaster oven than an air fryer

No oven light to check the food
It's clear by now that we should avoid PFAS whenever possible, especially in our cookware and food!
Unfortunately, despite the importance of protecting your health, the options for 100% PFAS-free air fryers are somewhat limited. While our picks don't include every single non-toxic air fryer out there, they represent the best choices based on safety, versatility, and positive reviews.
And if we had to pick just one? The hOmelabs 8-in-1 Air Fryer Oven is our top choice for its great reviews, wide variety of cooking options, and medium size.
For a slightly lower-priced option, our second pick is the Nutrichef Air Fryer. We love its easy-to-clean glass bowl design and size… Spacious enough for a whole chicken, but not so huge that it takes up your entire counter!
No matter which you end up with, you'll enjoy knowing your delicious crispy food is 100% safe!
P.S. Are you a kitchen-gadget geek like us? Check out our guide to non-toxic slow cookers for more information on picking safe kitchen appliances.
Enjoyed this post? Share it with your friends!