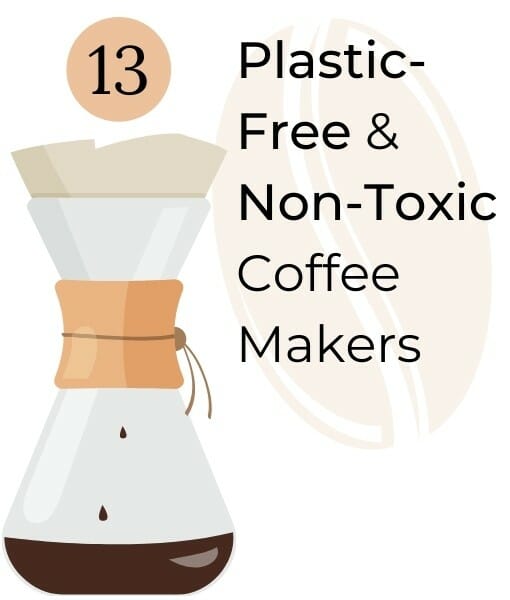 Disclosure: This blog is reader-supported. As an Amazon Associate, I earn from qualifying purchases. When you buy through links on our site, we may earn an affiliate commission at no cost to you. I only recommend products I would use myself and all opinions expressed here are my own.
Plastic chemicals like BPA leach into hot coffee at least 55x faster than cool water. That's why plastic-free coffee makers are so vital.
BPA-free coffee makers seem like an easy fix, but "BPA-free" plastic is misleading. (More on that later).
Yet, truly non-plastic coffee makers seem far and few between—
That's why in this ultimate non-toxic coffee maker guide, you'll discover:
Why traditional coffee makers are problematic,

how

toxins leach, & health risks of plastic-tainted coffee.

Why

BPA-free

coffee makers are misleading.

Auto vs. manual coffee makers –

Pros

&

Cons

for each.

The 13 best coffee makers without plastic – tested & reviewed.

(Auto & Manual available.)

6 buying considerations to help you choose the right brewer.

Lastly, 3 actionable tips for identifying & avoiding BPA in coffee makers moving forward.
| Brewer | Name | Key Features | Star Rating | Check Price |
| --- | --- | --- | --- | --- |
| | Technivorm Moccamaster Auto | Made mostly from stainless steel & glass | Efficiency settings | Adjustable strength | Gourmet brew | Multiple color options | 5-year warranty | 4.6 / 5 | Check Price |
| | Bunn VP17-1SS Auto | Built like a tank (100% stainless steel) | Brews 12 cups in 2-3 minutes | Restaurant-quality coffee | Simple controls | Made in the USA | 4.8 / 5 | Check Price |
| | Chemex Pour-Over | 100% Borosilicate glass | Clean, smooth taste | Total brew control | Beautiful design | Made in the USA | 4.8 / 5 | Check Price |
| | Bean Envy Pour-Over | Borosilicate glass | Built-in handle | Stainless steel filter | Non-slip silicone base | Lifetime warranty | 4.7 / 5 | Check Price |
| | Hario Ceramic Pour-Over | 100% ceramic (retains heat for full-flavor coffee extraction) | Great K-Cup alternative | Multiple color options | Very affordable | 4.8 / 5 | Check Price |
| | Cafellissimo Steel Pour-Over | 100% stainless steel | Lasts forever | Great K-Cup alternative | Doesn't use paper filters (Produces bolder flavor) | 4.4 / 5 | Check Price |
| Top | Presto Electric Percolator | Reliable stainless steel design | Automatic brew cycle | Brews 1 cup per minute (12 cups) | Hot, rich coffee | 1-year warranty | 4.6 / 5 | Check Price |
| | Farberware Stovetop Percolator | 100% stainless steel | Lasts forever | Doesn't require electricity | Works on all stovetops | Great for camping | Lifetime warranty | 4.6 / 5 | Check Price |
| | Cafe Du Chateau French Press | Stainless steel & borosilicate glass | 4-layer steel filter | Durable steel handle | Powerful flavor | Lifetime warranty | 4.5 / 5 | Check Price |
| | Mueller French Press | 100% double-walled stainless steel | Lasts forever | Keeps coffee hot | 4-layer steel filter | Durable steel handle | 2-year warranty | 4.8 / 5 | Check Price |
| | Grosche Stovetop Moka Pot | 100% stainless steel body with silicone gasket | Lasts forever | Doesn't require electricity | Works on all stovetops | Quality Italian-made safety valve | 4.6 / 5 | Check Price |
| | Yama Glass Vacuum Brewer | Solid borosilicate glass | Includes reusable filter | Doesn't require electricity | Works on gas & electric stoves | Pure flavor | 4.5 / 5 | Check Price |
| | Cafe Du Chateau Cold Brewer | Stainless steel & borosilicate glass | Superfine steel filter | Airtight silicone seal | Durable steel handle | Doesn't require electricity or heat | Lifetime warranty | 4.7 / 5 | Check Price |
Why Plastic-Free Coffee Makers are More Important Than You Think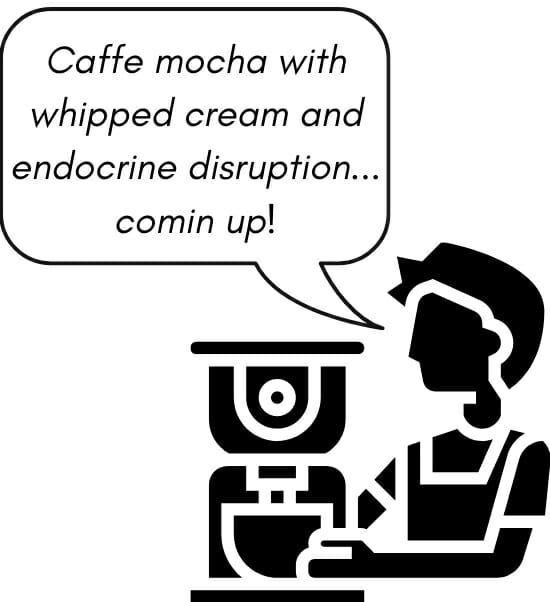 Look, plastic chemicals don't just jump out and attack you. There's no "BPA bandit" on the evening news.
Instead, they're an invisible hazard, slowly leaching into drinks when stressed—
The most common stressor? Heat.
The second most common? Acidic drinks.
And what is coffee? Hot and acidic!
As I mentioned, BPA leaches 55x faster in hot liquids than in normal conditions. And black coffee is 14x more acidic than spring water.
So, coffee is a prime target for BPA soup.
But what exactly is BPA? And, is BPA-free plastic safe?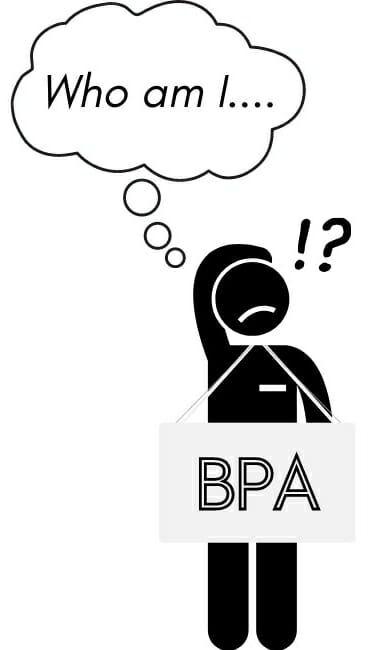 Reproductive disorders.

Heart disease & hypertension.

Insulin resistance

Diabetes

Asthma

Obesity

Certain Cancers

Effects on fetal brain development, impacting estrogen regulation & causing anxiety. (Applicable to pregnant women.
Not cool.
Yet, keep in mind, occasional BPA exposure isn't a big deal… For example, brewing a full pot in a plastic drip machine for guests.
However, continued exposure (like your daily cup of joe) can impact your health. So, it's best to use a plastic-free coffee maker.
But here's an important point:
The coffee maker doesn't need to be 100% plastic-free—
For example, plastic handles, control buttons, and outer shells are fine… Hot coffee doesn't touch those areas.
But the internal parts that touch hot coffee (filter baskets, interior plumbing, etc.) should be plastic-free.
This makes automatic plastic drip coffee makers the biggest culprit. They're loaded with plastic components.
If there is plastic, try to avoid BPA.
But then again, does BPA-free plastic make a difference? Let's see…
Are BPA-Free Coffee Makers Safe?
Common replacements for BPA include BPS and BPF – BPA's close cousins.
You'll find them in most BPA-free coffee makers.
Originally they were thought to be safe, but research thinks otherwise…
Here's what the NCBI says about BPS/ F:
"These BPA substitute-based products are consumed under the label of "BPA-free—
Because of structural similarities with BPA, these alternatives also show endocrine disruption effects like BPA. And many studies on adverse health effects of these alternatives are being reported."
Yet, later in the study, NCBI explains:
"Research also shows that BPS and BPF may have a less harmful impact on health than BPA."
So, the bottom line is, all plastic carries risk, although BPA-free is marginally safer.
But when you demand the safest coffee makers, plastic doesn't fit the bill… Yet, it's not always possible to avoid—
That's why later, you'll see how to identify and avoid BPA-containing plastic. The tips will help you lower your risk.
Next, let's compare auto vs. manual brewers. Then, dive into our best and safest picks for each!
The Safest Non-Toxic Coffee Maker Types

| Auto vs. Manual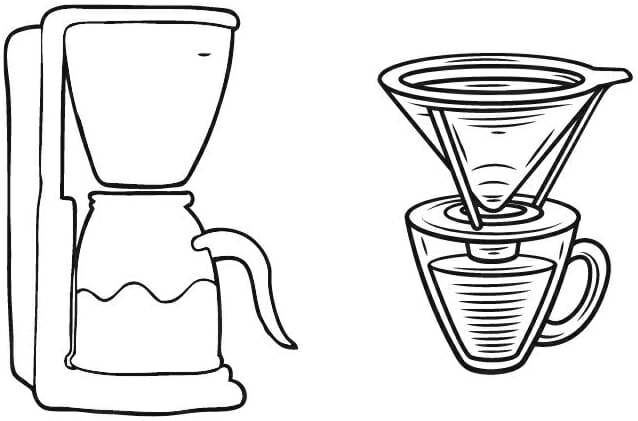 There are two types of healthy non-toxic coffee makers: Automatic and manual, like a car.
This group includes automated drip coffee makers—the most common on countertops—and espresso machines.
Easy to use – just press a button.

No learning curve.

Fast & convenient; they save you time.
Big & bulky

Expensive

Include a TON of plastic parts, except for a select few units.
The biggest problem with automatic drip brewers and Keurigs are the plastic components.
It's nearly impossible to find a 100% non-plastic automatic coffee maker. (Although we found a few.)
Next up—
Manual includes pour-overs, French presses, stovetop Moka pots, cold brewers, and vacuum coffee makers.
Percolators are sort of a hybrid, so we'll include them here also.
Inexpensive – simple parts with little (if any) machinery.

More control & creativity – you control each variable (grind size, speed of pour, etc.).

Portable – small, simple, & lightweight; easy to take anywhere without breaking.

Most are plastic-free!

Better flavor because there's no plastic to taint your coffee.
Takes some trial & error in the beginning – more effort.

More time-consuming than automatic brewers.
Takeaway on Auto vs. Manual
Overall, manual non-plastic coffee makers provide a better experience.
You save money, avoid plastic, and get a rich, cleaner taste than coffee from auto brewers…
And, you have more control—
By adjusting the coffee grind size and water temperature, you can customize your brew's taste and strength:
For more potent brews:

Use a finer coffee grind (table salt-sized). You can also slow your pour (pour-overs) or steep longer (French press).

For a lighter brew:

Use a coarser grind (raw sugar-sized) or fewer grounds altogether. Also, pour faster or give a shorter steep.
Now let's move on to the list!
6 Buying Considerations to Choose Your Best No-Plastic Coffee Maker
Now that you've explored the 13 best plastic-free coffee makers, your head might be spinning. There are many options, but not every brewer perfectly matches the user.
The following considerations can help you think through your decision.
This way, you get the best option for your family – not somebody else's.
How much time do you have in the morning?
If you need fast, convenient brewing, then Presto's electric percolator or an auto-drip is good—
For auto's, pick either Technivorm or Bunn.
Also, consider cleaning and care. Do you have time to strip apart French presses, Moka pots, or vacuum brewers?
If not, a pour-over or auto-drip will be the lower-maintenance option. Presto is fairly simple and easy to care for too.
Everything on this list is a safe, non-toxic coffee make.
But of course, glass and ceramic can break. There's no way around it.
If you don't trust yourself with either, choose a full stainless steel coffee maker instead.
Are you the only coffee drinker?
The Hario or Cafellissimo drippers are great single-serve alternatives and very affordable. Don't spend more than you have to.
Or, do you have an entire houseful of java-heads to supply? 
Presto's percolator and the Technivorm churn out full pots in minutes. Or, you can always brew a half pot.
But nothing beats the Bunn VP-17… It'll hold 192oz of water and spit out full 12-cup pots every 3 minutes!
Are you limited on countertop or cabinet space?
Large auto-drip machines like Bunn and Technivorm might be too bulky for you.
A simple pour-over dripper can fit anywhere.
Presto's percolator doesn't take up much space, either. It's relatively narrow.
Are you looking for the least bitter brew? Nothing beats the smoothness of a cold brewer.
How about the richest flavor? A pour-over, French press, or siphon is your best bet. (Although everything above makes terrific coffee!)
For the best-tasting, yet quickest brew, go with Presto.
Want a brew that will jolt you alive like a shot of adrenaline after a sleepless night?
Grab a Moka pot, cold brewer, or French press coffee maker. Or, all three, considering they produce different brew styles.
With the considerations above, Presto's electric percolator is the overall winner.
It has the perfect balance of flavor, safety, size (easy storage), brew capacity, and speed. Plus, it's affordable!
How to Identify BPA-Free Coffee Makers ("Safer" Plastic)
Maybe you can't get a shiny new plastic-free coffee maker yet… Or perhaps you want to keep looking.
Whatever the case, keep the following in mind as you shop around.
You can use these three tips for anything, not just for browsing the safest coffee makers.
So, here's how to check for BPA—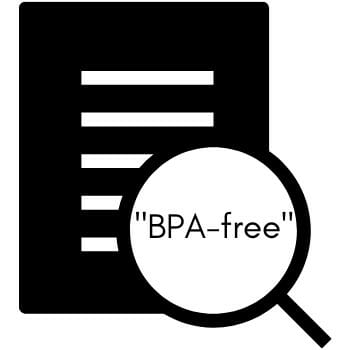 When you're looking at a new plastic-containing brewer, read the label.
Examine the fine print and look for the words "BPA-free."
But don't stop there.
After confirming BPA-free, you'll want to make sure the plastic is also BPS and BPF-free.
How do you know? It's simple.
Companies love to brag about how their appliances are free of all the "BP's." It's a unique selling point.
So if you don't see those words, it's best to stay away.
Or, if you only see "BPA-free," message the seller or call the company. Ask if the product is free of BPS and BPF.
2) Check the recycling number: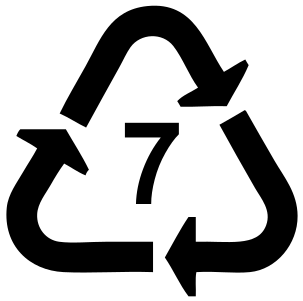 This plastic number guide can help you determine if your current coffee maker is BPA-free.
(This is tough to do when shopping online. But for in-person shopping, it's helpful.)
Scan for the following:
Flip the product over & look around for numbers 1-7 surrounded by a triangle made of three arrows… Aka, the Recycling Symbol.
Numbers 1, 2, 4, & 5 are not likely to contain BPA.

Numbers

3, 6, & especially 7 are more likely to contain BPA

.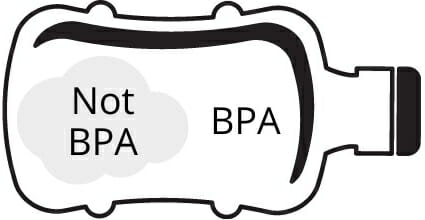 Rigid and transparent plastics are often polycarbonates, and these typically contain BPA. (Polycarbonates often have the label "PC" on the bottom.)
Reusable water bottles are one example of polycarbonates. Rigid, clear plastic food containers are another.
On the other hand, soft, flexible, and cloudy plastics usually do not contain BPA. You've likely seen food containers like this as well.
Of course, those are just best practices… The best bet is to get a 100% plastic-free coffee maker as soon as you can.
Or at least a brewer with minimal BPF, BPS, and BPA-free plastic, like the Technivorm.
Now you have everything needed to choose the best non-toxic coffee makers—
We covered the problems with traditional brewers, including BPA-free coffee makers.
You found the two types of coffee makers without plastic – auto and manual, with pros and cons for each.
Then,  we explored the 13 best plastic-free coffee makers for every brewing method.
After that, six buying considerations to help you choose. And finally, three tips to avoid BPA in plastic moving forward.
Now it's your turn; which brewer will you pick?
Happy Caffeinating!
P.S. Now that you've got your coffee maker, complete your (non-toxic) breakfast with the safest non-toxic waffle maker guide!
Enjoyed this post? Share it with your friends!
Non-Toxic Kitchenware Checklist
Get a step-by-step product guide with insider tips & tricks for the safest kitchen possible!