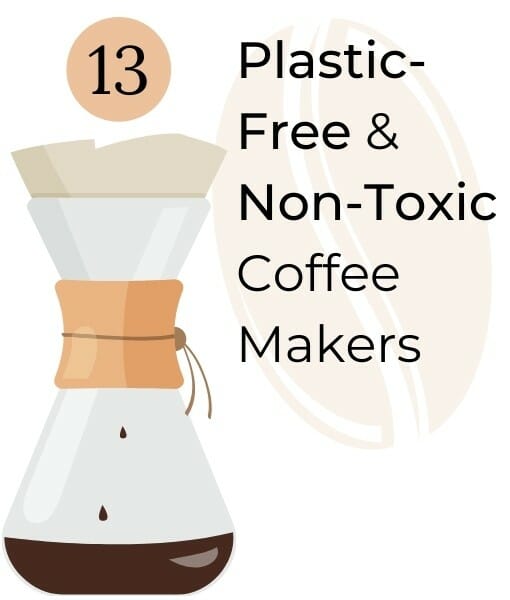 Disclosure: Our reviews stay ad-free as they're entirely reader-supported. As an Amazon Associate, I earn from qualifying purchases. When you buy through links on our site, we may earn an affiliate commission at no cost to you. This revenue helps us test products and develop quality content.
Plastic chemicals like BPA leach into hot coffee at least 55x faster than cool water. That's why plastic-free coffee makers are so vital.
BPA-free coffee makers seem like an easy fix, but "BPA-free" plastic is misleading. (More on that later).
Yet, truly non-plastic coffee makers seem far and few between—
That's why in this ultimate non-toxic coffee maker guide, you'll discover:
Why traditional coffee makers are problematic,

how

toxins leach, & health risks of plastic-tainted coffee.

Why

BPA-free

coffee makers are misleading.

Auto vs. manual coffee makers –

Pros

&

Cons

for each.

The 13 best coffee makers without plastic – tested & reviewed.

(Auto & Manual available.)

6 buying considerations to help you choose the right brewer.

Lastly, 3 actionable tips for identifying & avoiding BPA in coffee makers moving forward.
| Brewer | Name | Key Features | Star Rating | Check Price |
| --- | --- | --- | --- | --- |
| | Technivorm Moccamaster Auto | Made mostly from stainless steel & glass | Efficiency settings | Adjustable strength | Gourmet brew | Multiple color options | 5-year warranty | 4.6 / 5 | Check Price |
| | Bunn VP17-1SS Auto | Built like a tank (100% stainless steel) | Brews 12 cups in 2-3 minutes | Restaurant-quality coffee | Simple controls | Made in the USA | 4.8 / 5 | Check Price |
| | Chemex Pour-Over | 100% Borosilicate glass | Clean, smooth taste | Total brew control | Beautiful design | Made in the USA | 4.8 / 5 | Check Price |
| | Bean Envy Pour-Over | Borosilicate glass | Built-in handle | Stainless steel filter | Non-slip silicone base | Lifetime warranty | 4.7 / 5 | Check Price |
| | Hario Ceramic Pour-Over | 100% ceramic (retains heat for full-flavor coffee extraction) | Great K-Cup alternative | Multiple color options | Very affordable | 4.8 / 5 | Check Price |
| | Cafellissimo Steel Pour-Over | 100% stainless steel | Lasts forever | Great K-Cup alternative | Doesn't use paper filters (Produces bolder flavor) | 4.4 / 5 | Check Price |
| Top | Presto Electric Percolator | Reliable stainless steel design | Automatic brew cycle | Brews 1 cup per minute (12 cups) | Hot, rich coffee | 1-year warranty | 4.6 / 5 | Check Price |
| | Farberware Stovetop Percolator | 100% stainless steel | Lasts forever | Doesn't require electricity | Works on all stovetops | Great for camping | Lifetime warranty | 4.6 / 5 | Check Price |
| | Cafe Du Chateau French Press | Stainless steel & borosilicate glass | 4-layer steel filter | Durable steel handle | Powerful flavor | Lifetime warranty | 4.5 / 5 | Check Price |
| | Mueller French Press | 100% double-walled stainless steel | Lasts forever | Keeps coffee hot | 4-layer steel filter | Durable steel handle | 2-year warranty | 4.8 / 5 | Check Price |
| | Grosche Stovetop Moka Pot | 100% stainless steel body with silicone gasket | Lasts forever | Doesn't require electricity | Works on all stovetops | Quality Italian-made safety valve | 4.6 / 5 | Check Price |
| | Yama Glass Vacuum Brewer | Solid borosilicate glass | Includes reusable filter | Doesn't require electricity | Works on gas & electric stoves | Pure flavor | 4.5 / 5 | Check Price |
| | Cafe Du Chateau Cold Brewer | Stainless steel & borosilicate glass | Superfine steel filter | Airtight silicone seal | Durable steel handle | Doesn't require electricity or heat | Lifetime warranty | 4.7 / 5 | Check Price |
Why Plastic-Free Coffee Makers are More Important Than You Think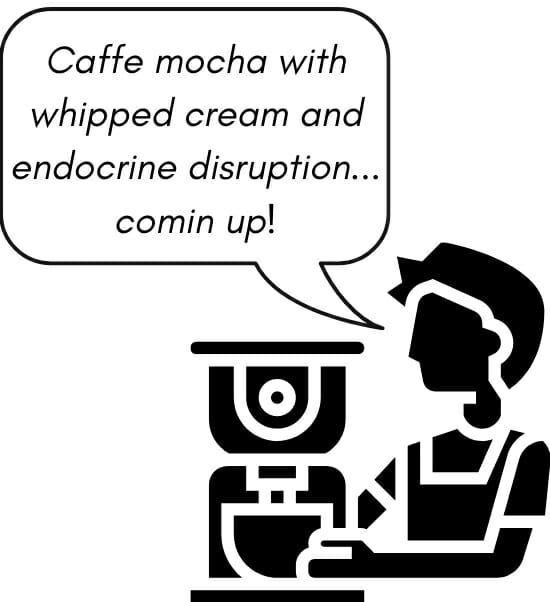 Look, plastic chemicals don't just jump out and attack you. There's no "BPA bandit" on the evening news.
Instead, they're an invisible hazard, slowly leaching into drinks when stressed—
The most common stressor? Heat.
The second most common? Acidic drinks.
And what is coffee? Hot and acidic!
As I mentioned, BPA leaches 55x faster in hot liquids than in normal conditions. And black coffee is 14x more acidic than spring water.
So, coffee is a prime target for BPA soup.
But what exactly is BPA? And, is BPA-free plastic safe?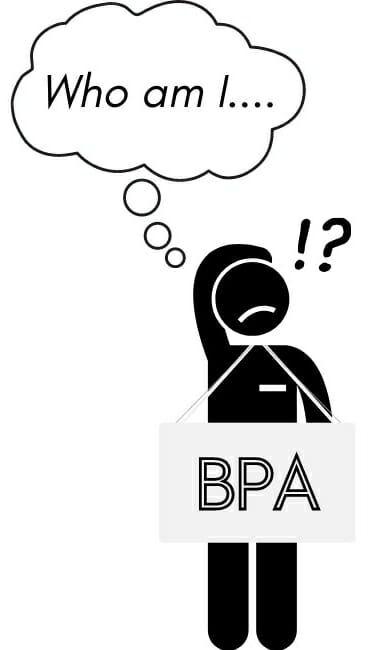 Reproductive disorders.

Heart disease & hypertension.

Insulin resistance

Diabetes

Asthma

Obesity

Certain Cancers

Effects on fetal brain development, impacting estrogen regulation & causing anxiety. (Applicable to pregnant women.
Not cool.
Yet, keep in mind, occasional BPA exposure isn't a big deal… For example, brewing a full pot in a plastic drip machine for guests.
However, continued exposure (like your daily cup of joe) can impact your health. So, it's best to use a plastic-free coffee maker.
But here's an important point:
The coffee maker doesn't need to be 100% plastic-free—
For example, plastic handles, control buttons, and outer shells are fine… Hot coffee doesn't touch those areas.
But the internal parts that touch hot coffee (filter baskets, interior plumbing, etc.) should be plastic-free.
This makes automatic plastic drip coffee makers the biggest culprit. They're loaded with plastic components.
If there is plastic, try to avoid BPA.
But then again, does BPA-free plastic make a difference? Let's see…
Are BPA-Free Coffee Makers Safe?
Common replacements for BPA include BPS and BPF – BPA's close cousins.
You'll find them in most BPA-free coffee makers.
Originally they were thought to be safe, but research thinks otherwise…
Here's what the NCBI says about BPS/ F:
"These BPA substitute-based products are consumed under the label of "BPA-free—
Because of structural similarities with BPA, these alternatives also show endocrine disruption effects like BPA. And many studies on adverse health effects of these alternatives are being reported."
Yet, later in the study, NCBI explains:
"Research also shows that BPS and BPF may have a less harmful impact on health than BPA."
So, the bottom line is, all plastic carries risk, although BPA-free is marginally safer.
But when you demand the safest coffee makers, plastic doesn't fit the bill… Yet, it's not always possible to avoid—
That's why later, you'll see how to identify and avoid BPA-containing plastic. The tips will help you lower your risk.
Next, let's compare auto vs. manual brewers. Then, dive into our best and safest picks for each!
The Safest Non-Toxic Coffee Maker Types

| Auto vs. Manual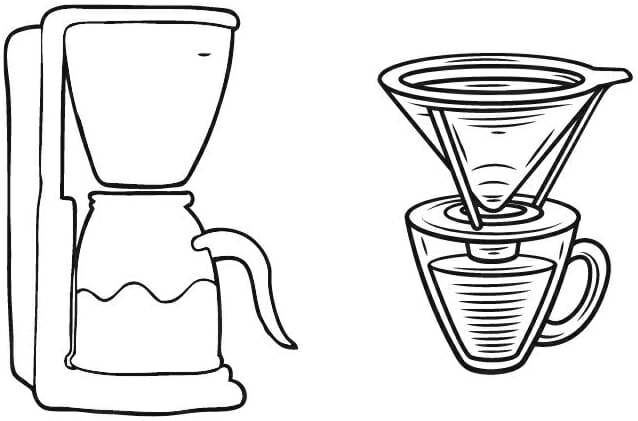 There are two types of healthy non-toxic coffee makers: Automatic and manual, like a car.
This group includes automated drip coffee makers—the most common on countertops—and espresso machines.
Easy to use – just press a button.

No learning curve.

Fast & convenient; they save you time.
Big & bulky

Expensive

Include a TON of plastic parts, except for a select few units.
The biggest problem with automatic drip brewers and Keurigs are the plastic components.
It's nearly impossible to find a 100% non-plastic automatic coffee maker. (Although we found a few.)
Next up—
Manual includes pour-overs, French presses, stovetop Moka pots, cold brewers, and vacuum coffee makers.
Percolators are sort of a hybrid, so we'll include them here also.
Inexpensive – simple parts with little (if any) machinery.

More control & creativity – you control each variable (grind size, speed of pour, etc.).

Portable – small, simple, & lightweight; easy to take anywhere without breaking.

Most are plastic-free!

Better flavor because there's no plastic to taint your coffee.
Takes some trial & error in the beginning – more effort.

More time-consuming than automatic brewers.
Takeaway on Auto vs. Manual
Overall, manual non-plastic coffee makers provide a better experience.
You save money, avoid plastic, and get a rich, cleaner taste than coffee from auto brewers…
And, you have more control—
By adjusting the coffee grind size and water temperature, you can customize your brew's taste and strength:
For more potent brews:

Use a finer coffee grind (table salt-sized). You can also slow your pour (pour-overs) or steep longer (French press).

For a lighter brew:

Use a coarser grind (raw sugar-sized) or fewer grounds altogether. Also, pour faster or give a shorter steep.
Now let's move on to the list!
13 Best Non-Plastic Coffee Makers for Every Brewing Method
Below, you'll see the 13 healthiest coffee makers, grouped into seven brewer types.
For each plastic-free coffee maker, *no plastic touches hot coffee at any point.
(*Except for #1, which has a plastic basket. But, water only touches it for a few seconds. The other 12 picks have 100% plastic-free brew processes).
Let's get started!
Best Automatic Drip Non-Plastic Coffee Makers
Drip-style non-plastic coffee makers are your best bet for the easiest, quickest brews.
The following two options are the safest plastic-free drip coffee makers available today.
Technivorm Moccamaster BPS/BPF/BPA-free Coffee Maker

| 10-Cup
Technivorm handcrafts this model in the Netherlands primarily from stainless steel and glass.
Its water reservoir and filter assembly are the only plastic parts, yet they're BPA, BPS, and BPF-free. And only cold water sits in the reservoir until the brew cycle begins.
Here's how it works—
Water rushes from the reservoir down into the copper and steel heating element. There, it reaches an optimal 196-205℉ in seconds.
Once hot, water shoots up the inner glass tube (no plastic contact) and across the steel arm on top. Then, water drips down over the grounds, brewing the coffee.
The result? A steamy, near-perfect cup, like Juan Valdez himself delivered it straight to your door! And with such fast heating speed, you'll have a full pot in minutes, perfect for busy mornings.
Although some plastic parts (the only one on this page), we featured the Technivorm due to its clever engineering. Aside from Bunn's brewer (next), I've yet to find an automatic drip machine with less plastic contact.
This unit measures 6.5″ deep, 12.75″ wide, & 14″ tall. Weighs 6.3 lbs.
Minimal plastic exposure: Coffee has virtually no contact with plastic throughout the brew.

Brews 40oz (10 cups) in a speedy 4-6 minutes, great for people in a rush.

Confusion-free on/off switches for the brewer & adjustable hot plate.

Heater switches off when the water tank empties. The hot plate shuts off after 100 minutes, saving electricity.

Adjustable brew basket to slow water flow, producing more robust coffee.

Includes a glass carafe. A thermal carafe model is

available here

; great for slower coffee drinkers or working from home as it keeps coffee hot longer.

Pairs with disposable

chemical-free coffee filters

& reusable mesh.

Nine color options

to choose from.

5-year warranty.
High price tag.

Some users complain that the carafe should hold more coffee (10-cup max, not 12).

The inside of the brew basket is plastic (see above description).
Bunn All-Stainless Steel Coffee Maker with No Plastic | 12-Cup
Bunn's VP17-1SS isn't the prettiest plastic-free coffee maker, but it is one of the safest…
It's the only 100% plastic-free, non-toxic drip coffee maker! But, with one condition—
The included filter assembly is plastic, so you must grab Bunn's stainless steel filter basket separately. Not a big deal, but a small price to pay for ultimate performance and safety.
And speaking of performance, my favorite part about Bunn is its speed.
It drips out 12 cups of steaming hot coffee within 2-3 minutes. Now that's perfect for anyone who needs their coffee – stat!
This brewer measures 17.7″ deep x 8″ wide x 17.8″ tall. Weighs 24 lbs. Also, Bunn sells its glass carafes separately – grab one here.
5-star rated

100% stainless steel coffee maker with no plastic parts, unlike ANY other auto dripper!

Turbo-charged brewing; 12 cups in 2-3 minutes.

Built like a tank: This is the last coffee maker you'll ever need, saving you hundreds of dollars later.

No confusing controls or steep learning curve: Simply pour water in the top & out comes your coffee.

This plastic-free coffee maker is made in the USA!
Big & heavy (make sure you have the counter space).

Not very attractive; commercial-looking.

Pricey.

Steel filter basket & glass carafe not included (sold separately).
Best Pour-Over No Plastic Coffee Makers
You can't get much more straightforward than pour-over coffee drippers. The name says it all.
Toss a filter in the top, add fresh-ground beans, and pour hot water over the grounds!
Tip: Make sure you pair your pour-over with a safe tea kettle.
Chemex Pour-Over No Plastic Coffee Maker

| 40 oz
The Chemex is one of the healthiest coffee makers you can get (and the coolest-looking).
It's all-glass, beautifully crafted from shock-resistant borosilicate. This glass type resists thermal shock, preventing cracks and exploding glass.
And the brew quality is epic—
Its unique shape traps the individual flavor notes lost in other designs. With hot water, a thick filter, and fresh grounds, you'll beat Starbucks' flavor without leaving your home.
And for an even more eco-friendly brew, pair your Chemex with this reusable organic cotton filter!
This unit measures 9 1/8″ tall & 5″ wide. Weighs 1.3 lbs. Holds 40 oz of coffee.
Made in the USA.

5-star rated; recognized & awarded by the scientific, art, & design communities.

Borosilicate glass: Highly stain & shock-resistant; doesn't crack from sudden temperature changes.

Brews five 8 oz servings (40 oz) in 10-20 minutes.

Also great for iced tea & iced coffee.

Wipes clean in seconds: Remove the wooden handle & hand wash, or slip your Chemex into the dishwasher.

30-day money-back guarantee.
Can shatter if dropped.

Loses heat through the top. But

this glass top

accessory helps slow cooling between cups.

More time-consuming than automatic brewers – not ideal for quick cups on busy mornings. But if coffee flavor is your #1 focus, you can't beat it.
Want to buy elsewhere? Grab the Chemex on Etsy!
Bean Envy Pour-Over Non-Toxic Coffee Maker

| 20 oz
Like Chemex, Bean Envy crafts its no-plastic coffee maker from thick borosilicate glass. But three differences set it apart—
First, unlike most pour-overs, this model sports a built-in handle for easier pouring.
Second, you get a reusable stainless steel filter. It'll help reduce waste and protect your brew's flavor. (Disposable paper filters absorb some flavor oils, whereas a steel filter won't.)
Third, a non-slip base keeps it secure on your countertop, preventing accidents.
This unit measures 8.5″ tall x 5.25″ wide. Weighs 1.6 lbs. Note: This brewer is smaller than Chemex and better suited for a single person.
Shock-resistant, non-porous borosilicate glass: Won't explode, stain, or absorb flavors/ odors.

Built-in handle for non-awkward pouring.
Removable silicone base so your cat won't swipe this off the counter.
Includes a bonus reusable stainless steel filter.
Brews 20 oz servings in 5-10 minutes.
Easy cleaning: The base & filter are removable. Hand-wash or toss in the dishwasher.

Lifetime

warranty.
I noticed the steel filter clogs easily if not rinsed right after use. Don't let the coffee grounds dry, rinse while they're still wet.
Hario V60 Pour-Over

Ceramic

Non-Toxic Coffee Maker – Size 02

| 2-4 Cup
Hario's ceramic pour-over brewer is unique due to its heating-retaining abilities…
Being ceramic, the dripper funnel heats up while you pour and stays hot while the coffee blooms. Heat retention, plus the funnel's spiral ribs, help extract flavor from the bean perfectly.
Along with those features, the absence of plastic makes for a clean, savory brew that will knock your socks off.
It's easy too. Just sit the dripper on your coffee mug and pour— no need for a carafe. I like to think of this dripper as a plastic-free coffee pod, except with a MUCH richer, bolder flavor.
Brewing for guests? Grab Hario's glass carafe for multi-cup serving.
The entire unit measures 5.5″ tall x 4.7″ wide and weighs only 1 lb. Also available in red ceramic or clear glass.
5-star rated

Solid ceramic keeps the temperature steady for perfect coffee extraction.

Compatible with

reusable steel filters

. Or, of course, use Hario's

disposable paper filters

.

K-Cup pod alternative: Set the dripper on your mug for a quick cup.

Versatility: Brew a single serving straight into your mug, or set the dripper over a carafe for multiple people.

Holds 300 ml of coffee grounds; brews 2-4 cups in 2-5 minutes (time dependent on grind size). Consider

Hario's Size 01 dripper

for single-cup brewing (200 ml capacity).

Dishwasher-safe & wipes clean in seconds.
Breakable

Not see-through, so you'll have to pre-measure water before you pour to prevent overflowing.
Cafellissimo Stainless Steel Pour-Over Coffee Maker Without Plastic

| 2-Cup
Where Hario falls short, Cafellissimo picks up the slack—
This dripper is made from solid 18/8 stainless steel, so it's completely unbreakable.
Plus, the steel mesh design helps enhance your coffee's flavor! Delicate flavor oils can escape the bean and flow through the mesh instead of getting trapped in paper filters.
Also, since the mesh is see-through, you don't need to pre-measure water like Hario.
The cone measures 5.2″ tall x 4″ wide and weighs under an ounce!
100% stainless steel pour-over coffee maker with the durability to last.

Very inexpensive; best budget pour-over.

No need for filters: Save money on paper filters, reduce waste, & enhance your coffee's flavor.

K-Cup pod alternative: Perfect for single servings!

Effortless cleaning & dishwasher-safe.

Brews 1-2 cups in a couple of minutes.

30-day warranty.
I've noticed coffee that's ground too fine clogs the mesh rather easily. This dripper works best with medium and coarse grinds.
Best Percolator

Plastic-Free

Coffee Makers
Percolator coffee makers without plastic are my favorite overall.
They're simple, quick, and make fantastic coffee… It's all thanks to how they brew—
Rather than simply dripping through coffee grounds once, percolators recirculate until completion.
The result? A powerful cup of java.
Presto Electric Stainless Steel Coffee Percolator

| 12-Cup

(Top Pick)
Presto's electric percolator combines the safety and taste of rich pour-over coffee—
With the ease and efficiency of automatic drip brewers… Minus the plastic!
Simply fill the stainless steel pot and add coffee grounds to the top basket. Then, plug it in.
You'll get 4-12 cups of steamy, bold coffee within minutes (an average of 1 minute per cup). For fewer people, grab Presto's 6-cup model.
Measures 13.1″ tall x 6.2″ wide inches. Weighs 2.9 lbs.
Reliable stainless steel design with the durability to last for years without replacement.

Cool-touch handle for a comfortable pour.

Use paper disc filters or the steel filter basket itself for extra-rich flavor. No need to buy disposables!

Fail-proof brewing: Anyone can make an impressive brew in minutes, regardless of skill.

The indicator light notifies you when your coffee is ready.

Doubles as an insulated, plastic-free coffee pot for table serving. Or, leave it plugged in to maintain that freshly-brewed temperature.

Strips apart & wipes clean in seconds: Use a toothbrush or pipe cleaner for the perc tube & spout.

Best percolator for travel: Not bulky; easy to bring to the hotel. Just plug it in!

1-year warranty.
No auto shut-off or power switch. So, you have to remember to unplug the unit when finished.

I find it difficult

to see the volume markings inside the pot without shining a light. Pre-measuring water is an easy fix.

Not dishwasher-safe, except for the lid, basket, & stem piece.
Want to buy elsewhere? Prestos are available here on Etsy – some new, some secondhand for lower prices. You'll even find some neat vintage percolators!
Farberware Yosemite Stovetop Stainless Steel Coffee Maker

| 12-Cup
Rather than electricity, Farberware's Yosemite percolator uses heat from your stovetop.
Operation is simple.
Add your coffee and water, then turn on medium to medium-high heat—
Wait until you see coffee-colored bubbles through the glass knob on top (you'll hear them, too)—
Then, turn the heat to low and wait 4-6 minutes—
Now you've got 4-12 cups of piping hot, bold coffee! An 8-cup version is also available.
Measures 9″ tall x 7″ wide. Weighs 2 ¼ lbs.
Lifelong durability – 100% mirror-polished steel body.

Doesn't need electricity: Keep the Yosemite as a backup for power outages. Great for camping, too. I have a similar model that accompanies me on each outing.

Brews 4-12 cups in as little as four minutes.

No need for filters: Use the permanent filter basket to maximize flavor & save moola on disposables.

Works on grills & all stovetops, including electric & induction.

100% dishwasher-safe & immersible for easy cleanup.

See-through glass knob to track brew progress.

Lifetime

Warranty.
There's a lip at the top of the pot where coffee grounds can collect, though it's easy to rinse.

Plastic handle.

The glass knob can break under rough usage or drops. Be mindful of the knob during transport.
Best Plastic-Free French Press
French press is another non-toxic coffee maker that gives you more control over your brew.
You steep medium-coarse grounds in hot water, then filter by pressing down the plunger.
Hence the name French press coffee maker!
Cafe Du Chateau Plastic-Free French Press | 34 oz
This French press (with no plastic) consists of a borosilicate glass carafe and stainless steel housing.
The plunger and filter are solid stainless, too.
Speaking of the filter, its innovative 4-layer system catches every speck… So, no hearing the dreaded, "Hey, there's something in your teeth!" And because you don't need paper filters, you won't lose any of the bean's natural oils.
You can't go wrong with this press if you're a coffee lover who prefers bold brews. Hello, complex flavor profiles!
The whole unit measures 7.25″ tall x 6.5″ wide and weighs 1.75 lbs.
100% plastic-free coffee maker: Solid stainless & shock-resistant borosilicate glass: Durable & most important, CLEAN.
The steel outer shell protects the glass if you bump your press.
Brews 34 oz in 3-5 minutes.
An innovative 4-layer filter catches every grind for a smooth cup.
The steel handle stays cool & comfortable thanks to its distance from the press.
Requires no electricity— only hot water & a yearning for caffeine.
Cleanup is a breeze: Everything comes apart for cleaning, preventing nasty grime. Dishwasher-safe, too.

Lifetime

warranty.
I found the stainless steel housing and filter edges are a bit sharp. Use caution when hand washing.

Bulkier than other 34 oz units due to the steel housing.
Mueller Insulated Plastic-Free French Coffee Press | 34 oz
While Mueller's single-serve brewer drew some complaints about plastic taste, you'll enjoy their French press's pure, untainted flavor.
That's because Mueller's press is 100% stainless steel, inside and out. That means a cleaner brew and far more durability than the above glass/ steel combo.
Plus, Mueller hooked this model up with double-walled insulation. It traps heat to help maintain your brew's temperature. So, your second cup is hot like the first, great for multi-cuppers! Yet, the press's exterior stays cool to the touch.
Also, the water won't cool as much while it steeps. This means better extraction and a bolder, more flavorful brew.
Last but not least, this thing is super rugged… If dropped, the worst that happens is a small dent.
The press measures 12.3″ tall x 5.1″ wide and weighs 2.2 lbs.
5-star rated

100% stainless steel – no plastic or breaks. You'll save cash on replacements.

Brews 34 oz in 3-5 minutes.

Insulated coffee press: Maintains coffee temperature longer without having to reheat. (A more eco-friendly coffee maker.)

4-layer stainless steel filter for velvety smooth French press coffee.

Comfortable steel handle that stays cool to the touch.

Easy to clean: Take the press apart & throw its pieces in the dishwasher.

Free bonuses: Includes two stainless steel screens & a travel canister for coffee grinds.

2-year warranty.
Like the above press, I noticed these filter disks have some sharp edges. Use caution while handwashing.

The branding (Mueller Austria) appears like this press is Austrian-made. But it's made in China, yet, designed by an Austrian company. Some buyers felt duped, so now you know!
Safest Moka Pot Coffee Maker
What's Moka?
It's a rich and intense java brewed in a stovetop "Moka" pot—
A bit less potent than espresso (from high-pressure machines), yet stronger than American drip coffee… The perfect jolt before a long day or afternoon pick-me-up.
Moka pots operate like percolators, with water in the bottom and grounds on top. But steam pressure further extracts the coffee for extra flavor and caffeine.
Grosche Milano Stainless Moka Pot | 10.1 oz
Quickly (and safely) whip up Moka like a pro with Grosche Milano's most advanced Moka pot.
Unlike most aluminum/ plastic Moka pots, including this brand's older models, this new unit is entirely stainless steel… Even the lid and handle are steel, so you know this pot will last (no melted handles)!
With 100% steel construction, this model also works beautifully on induction stoves. And it's dishwasher-safe. Both features are unlike Grosche's other models.
Lastly, this pot features a high-quality safety valve crafted in Italy for top-notch performance. The safety valve is the most critical part of a Moka pot.
Measures 4.25″ tall x 6″ wide and weighs 1.8 lbs.
100% stainless steel construction: All-metal coffee maker built to last forever.

Steel filter basket to save money on paper filters & better protect flavor.

Brews 10.1 oz of Moka in 5 minutes – rated for six espresso cups. A 10-cup (16.9 oz) pot is available for larger families.

Precise, non-drip spout, so you never miss your mark.

Quality Italian-made safety valve so your pot won't explode like a hand grenade.

Works on all stovetops, including induction.

Dishwasher-safe: More time sipping & less time scrubbing over your sink.

Requires no electricity – use during power outages & take it camping!
I find the lid's hinge is a bit delicate, so be gentle when opening & closing.

The solid steel handle can get hot. If that concerns you,

here's a Moka pot

with a genuine stay-cool handle.

The steel lid gets hot, so use caution when lifting the lid to peek inside mid-brew.
Cleanest Vacuum-Style Plastic-Free Coffee Maker
Also known as a siphon or vacuum coffee pot, this is one of the cleanest non-toxic coffee makers out there… And one of the coolest!
Vacuum coffee brewers consist of multiple glass chambers connected by a center filter. Here's how they work—
Simply fill the bottom chamber with water, then place it over a burner on your stovetop.
Coffee grounds go in the top chamber.
As the water heats, vapor pressure forces it upwards into the top chamber, engulfing the coffee grounds.
Let it steep for a few minutes, then shut the heat off. The decreased pressure in the bottom then sucks the coffee back down through the filter!
Yama Glass Stovetop Vacuum Coffee Pot | 32 oz
This brewer looks more like a science project than a plastic-free coffee maker.
But rest assured, this thing produces some outstanding java— The airtight vacuum locks in the unmatched flavors and aromas lost in most other brew types.
Some say it's on par with the French press, but I feel the flavor is a bit more complex. This customer sums it up best: "The vacuum pot takes longer, but in my opinion, produces a richer coffee."
I agree. And no plastic ever contacts your brew – instead, only borosilicate glass!
Measures 10″ tall x 6″ wide and weighs 1.75 lbs.
All-glass coffee maker (shock-resistant borosilicate), so no plastic touches your brew.
Includes a reusable cloth filter so you can get brewing immediately. (Stainless steel filter also available)
Cool-touch handle for easy, burn-free maneuvering.
Requires no electricity, only heat & a desire for a robust brew.
Works on gas & electric stoves.
Brews 32 oz in 7-10 minutes (20 oz size also available).
Conversation starter: Impress your guests with your fun & sophisticated brew setup!
The coffee pot's narrow mouth is a pain to clean by hand, but a simple

bottle brush

solves the problem.

This is a "hands-on" brewer. You need to watch it, so it's not ideal for those seeking automation.
Best Cold Brew Coffee Maker Without Plastic
The final section on our list, cold brew coffee makers without plastic!
These are the easiest of all to use—
Simply add coffee grounds to the mesh filter, then fill the carafe with cool water. Close the lid and steep it (like tea) for 12-16 hours.
Let it sit longer for a more potent batch – up to 24 hours.
Cafe Du Chateau Cold Brew Coffee Maker | 34 oz
Cafe Du Chateau is back, this time with a stylish cold brewer. Like their French press, this borosilicate non-toxic coffee maker comes with a steel housing.
But this cold brewer's innovative lid and filter separate it from the rest:
Within the lid sits an airtight silicone seal, rare in most cold brewers. Like the vacuum unit above, this sealed environment helps preserve intricate flavors.
Also, a superfine steel mesh filter sits deep inside the carafe. It allows water to extract every bit of caffeinated goodness without being tainted by plastic.
The result? An untainted, rich, full-bodied cold brew, unrivaled by many coffee shops. Again, note that it takes time to steep. For a morning brew, begin steeping the night before (at least 12 hours prior).
Measures 8.5″ tall x 5″ wide and weighs 1.75 lbs.
100% stainless steel & shock-resistant borosilicate glass.

Versatile & resilient – able to store in the fridge for two weeks; won't crack from temperature changes.

Steel outer shell protects the glass, preventing cracks.

Superfine stainless steel mesh filter for perfectly extracted cold brew, free from particles & plastic taste.

Innovative two-stage airtight silicone seal to maximize freshness & enjoy epic flavor every time.

Yields about 30 oz of cold brew after a 12-hour steep.

Comfortable steel handle for easy pouring.

Requires no electricity or heat – only water & a little patience!

Dishwasher-safe. Also, the lid, filter, glass carafe, & steel housing come apart to hand wash.

Lifetime

warranty.
The stainless steel edges are rather sharp. So, use caution while handling.

The filter takes up space in the carafe. So you're not getting the full 34 oz of coffee – more like 29-30 oz.
Other options: Since the filter takes up some of that 34oz, you might consider a larger brewer—
Here's a 51oz cold brewer made from stainless steel and glass. Even with the filter, this unit still yields over 40oz of coffee.
6 Buying Considerations to Choose Your Best No-Plastic Coffee Maker
Now that you've explored the 13 best plastic-free coffee makers, your head might be spinning. There are many options, but not every brewer perfectly matches the user.
The following considerations can help you think through your decision.
This way, you get the best option for your family – not somebody else's.
How much time do you have in the morning?
If you need fast, convenient brewing, then Presto's electric percolator or an auto-drip is good—
For auto's, pick either Technivorm or Bunn.
Also, consider cleaning and care. Do you have time to strip apart French presses, Moka pots, or vacuum brewers?
If not, a pour-over or auto-drip will be the lower-maintenance option. Presto is fairly simple and easy to care for too.
Everything on this list is a safe, non-toxic coffee make.
But of course, glass and ceramic can break. There's no way around it.
If you don't trust yourself with either, choose a full stainless steel coffee maker instead.
Are you the only coffee drinker?
The Hario or Cafellissimo drippers are great single-serve alternatives and very affordable. Don't spend more than you have to.
Or, do you have an entire houseful of java-heads to supply? 
Presto's percolator and the Technivorm churn out full pots in minutes. Or, you can always brew a half pot.
But nothing beats the Bunn VP-17… It'll hold 192oz of water and spit out full 12-cup pots every 3 minutes!
Are you limited on countertop or cabinet space?
Large auto-drip machines like Bunn and Technivorm might be too bulky for you.
A simple pour-over dripper can fit anywhere.
Presto's percolator doesn't take up much space, either. It's relatively narrow.
Are you looking for the least bitter brew? Nothing beats the smoothness of a cold brewer.
How about the richest flavor? A pour-over, French press, or siphon is your best bet. (Although everything above makes terrific coffee!)
For the best-tasting, yet quickest brew, go with Presto.
Want a brew that will jolt you alive like a shot of adrenaline after a sleepless night?
Grab a Moka pot, cold brewer, or French press coffee maker. Or, all three, considering they produce different brew styles.
With the considerations above, Presto's electric percolator is the overall winner.
It has the perfect balance of flavor, safety, size (easy storage), brew capacity, and speed. Plus, it's affordable!
How to Identify BPA-Free Coffee Makers ("Safer" Plastic)
Maybe you can't get a shiny new plastic-free coffee maker yet… Or perhaps you want to keep looking.
Whatever the case, keep the following in mind as you shop around.
You can use these three tips for anything, not just for browsing the safest coffee makers.
So, here's how to check for BPA—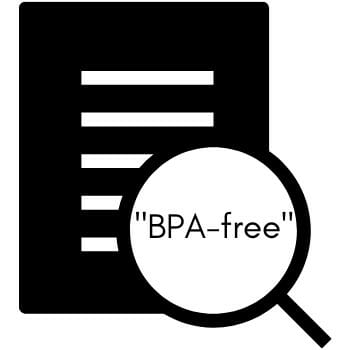 When you're looking at a new plastic-containing brewer, read the label.
Examine the fine print and look for the words "BPA-free."
But don't stop there.
After confirming BPA-free, you'll want to make sure the plastic is also BPS and BPF-free.
How do you know? It's simple.
Companies love to brag about how their appliances are free of all the "BP's." It's a unique selling point.
So if you don't see those words, it's best to stay away.
Or, if you only see "BPA-free," message the seller or call the company. Ask if the product is free of BPS and BPF.
2) Check the recycling number: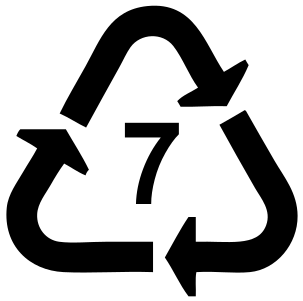 This plastic number guide can help you determine if your current coffee maker is BPA-free.
(This is tough to do when shopping online. But for in-person shopping, it's helpful.)
Scan for the following:
Flip the product over & look around for numbers 1-7 surrounded by a triangle made of three arrows… Aka, the Recycling Symbol.
Numbers 1, 2, 4, & 5 are not likely to contain BPA.

Numbers

3, 6, & especially 7 are more likely to contain BPA

.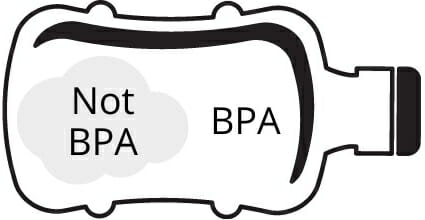 Rigid and transparent plastics are often polycarbonates, and these typically contain BPA. (Polycarbonates often have the label "PC" on the bottom.)
Reusable water bottles are one example of polycarbonates. Rigid, clear plastic food containers are another.
On the other hand, soft, flexible, and cloudy plastics usually do not contain BPA. You've likely seen food containers like this as well.
Of course, those are just best practices… The best bet is to get a 100% plastic-free coffee maker as soon as you can.
Or at least a brewer with minimal BPF, BPS, and BPA-free plastic, like the Technivorm.
Now you have everything needed to choose the best non-toxic coffee makers—
We covered the problems with traditional brewers, including BPA-free coffee makers.
You found the two types of coffee makers without plastic – auto and manual, with pros and cons for each.
Then,  we explored the 13 best plastic-free coffee makers for every brewing method.
After that, six buying considerations to help you choose. And finally, three tips to avoid BPA in plastic moving forward.
Now it's your turn; which brewer will you pick?
Happy Caffeinating!
P.S. Now that you've got your coffee maker, complete your (non-toxic) breakfast with the safest non-toxic waffle maker and healthy non-toxic cookware guides!
Enjoyed this post? Share it with your friends!
Non-Toxic Kitchenware Checklist
Get a step-by-step product guide with insider tips & tricks for the safest kitchen possible!