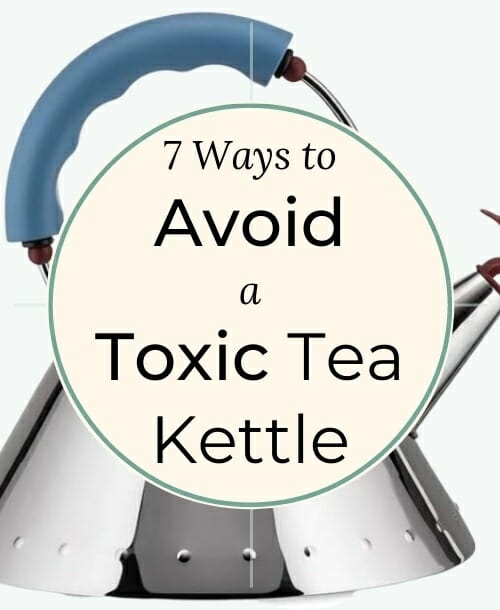 Disclosure: Our reviews stay ad-free as they're entirely reader-supported. As an Amazon Associate, I earn from qualifying purchases. When you buy through links on our site, we may earn an affiliate commission at no cost to you. This revenue helps us test products and develop quality content.
How critical are non-toxic tea kettles? Consider this. That morning cup of Earl Gray, although tasty, may affect your kidney, liver, heart, and even tooth enamel health.
How?
If you're using any of the five kettles below, there's a good chance you're polluting your tea and coffee with toxins. The good news, you'll uncover those five hazards to avoid (and why) in a second.
Then, we'll go over the three safest tea kettle materials (and what you should know about each).
And finally, we review the seven best plastic-free stovetop and plastic-free electric kettles.
This way, you can protect your family's health from hidden danger.
In a hurry? Use Jump to a Section to skip around. Let's get started!
7 Healthiest Tea Kettles: Quick Links
Want to skip ahead to our top kettle picks? Click below to jump straight to that product's review:
Enjoyed this post? Share it with your friends!
Non-Toxic Kitchenware Checklist
Get a step-by-step product guide with insider tips & tricks for the safest kitchen possible!