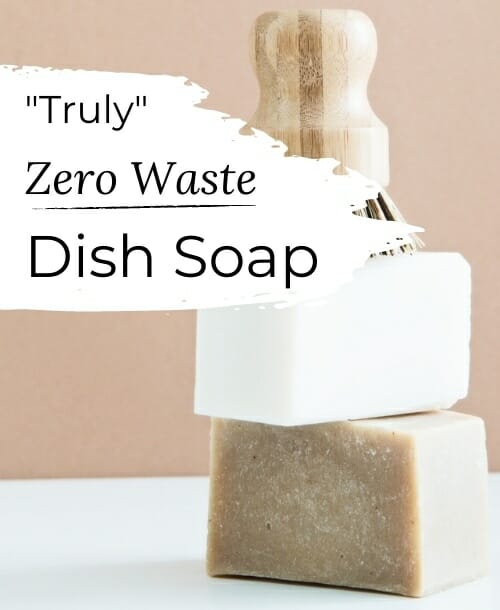 Disclosure: Our reviews stay ad-free as they're entirely reader-supported. As an Amazon Associate, I earn from qualifying purchases. When you buy through links on our site, we may earn an affiliate commission at no cost to you. This revenue helps us test products and develop quality content.
Is zero waste dish soap a trend? Nope, it's the future of cleaning.
Yet, dish soap that doesn't come in a plastic bottle is the minority. We chuck that bottle of "blue liquid" in our cart as we rush through the shopping list, thinking nothing of it.
But just how bad is this stuff? You probably have an idea, considering you're here. This stuff assaults the environment from multiple angles, not to mention the abuse to our skin… More on that later.
For now, let's focus on all-natural, sustainable dish soap: zero plastic, zero toxins, and zero guilt.
The Tgl team researched and reviewed tons of low-waste soap options, ending up with the top nine— You'll find them below. Or, jump straight to our #1 dish soap bar or #1 liquid detergent pick.
We'll cover the five essential zero waste soap accessories toward the end. And finally, the brands to avoid moving forward (and how to tell if any soap is eco-friendly).
Let's get started.
How to Make DIY Liquid Dish Soap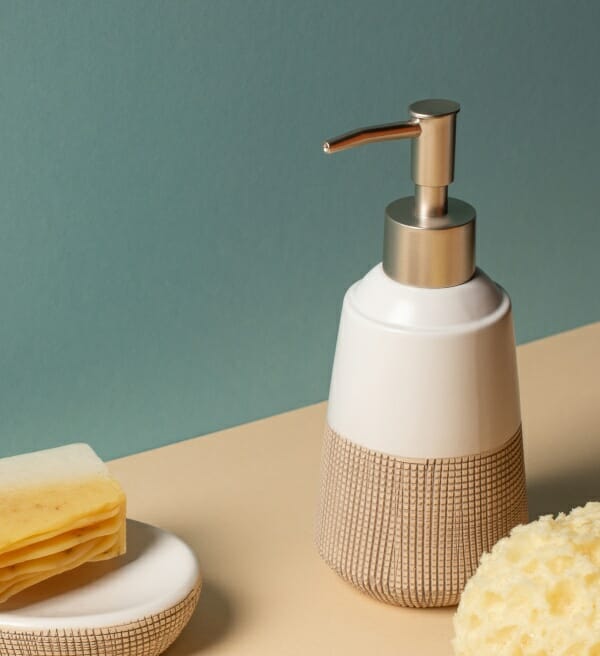 Here's an easy way to make liquid dish soap using a solid block of castile (#2 Meliora and #5 Bestowed Essentials above).
Along with a dish soap bar, you'll need washing soda (not baking soda), water, and essential oils of your choice (if you want scent).
This recipe yields about 16-18 oz of soap. A big thanks to Zero Waste Chef for the idea!
Shred your castile block with a cheese grater until you have 3 tablespoons of soap shreds.

Pour 2 cups of water into a pot, turn on the heat (medium) and add the shredded castile soap.
Once the soap fully melts, remove the pot from heat.
Stir in 1 teaspoon of washing soda until dissolved.
Cover the pot and set the mixture aside for several hours or overnight. (

If the soap becomes too solid, blend it with a beater or whisk to liquefy it before continuing to Step 6).

(Not necessary): If you want a scent, stir in 15 drops of essential oil until mixed.
The soap is done. Pour it into any desired container, bottle, or jar.
Top 5 (individual) Sustainable Dish Soap Accessories
Maybe you don't want a jumbo zero waste kit… Perhaps you're looking for a simple dish soap bar and brush combo instead?
If so, here are the top five sustainable dish soap accessories. Each plant-based, biodegradable tool pairs beautifully with the soaps above. And a few have naturally antibacterial properties – a huge plus.
Because, believe it or not, traditional sponges are dirtier than you imagine. Scientific Reports found that dish sponges breed more bacteria than your toilet!
Pair this eco-friendly sponge with a block of Castile, and you gain a versatile cleaning combo.
Juturna Studios creates these sponges from the loofah plant (basically a squash). As a result, they're 100% biodegradable! Plus, the unique texture is soft enough for gentle skin exfoliation yet rugged to scrub the dirtiest dishes clean.
Juturna handcrafts its dish accessories in the USA and ships using plastic-free, biodegradable packaging.
Hemp is super versatile, so I'm not surprised Joy in the Home uses it to stitch these eco-friendly dishcloths. And it's a wise decision…
Not only is hemp biodegradable and sustainable, but it's more absorbent than cotton. Plus, hemp is naturally antibacterial.
So these dishcloths will hold more suds, clean and dry dishes more effectively, and repel odor!
This brand produces its dish products right in the USA. Choose from unbleached hemp/ cotton blends or a hemp/ bamboo version (the bamboo blend is softer).
You can use these washable cloths for dishes, countertops, and even to replace paper towels – cutting waste and saving cash!
Use these eco-friendly dish brushes to cut stubborn messes with ease. I scrub my cast iron pan with them after messy meals.
They're 100% plastic-free with rounded sustainable bamboo handles up top. On the bottom sits firm coconut fiber bristles. So the brush is entirely biodegradable – unlike those wood-handled scrubbers with plastic bristles.
Not only plastic-free, but the coconut fiber bristles have antibacterial properties. Of course, you still need to clean your brush (if only we were so lucky), but they won't stink as often.
No dish soap block is complete without a good soap bag. Why? The soap bars above do not contain any sodium lauryl sulfate (thank goodness). As a result, they don't lather as well.
That's where soap bags help. They increase lather and enhance the scrub for easier cleaning. Plus, the bag keeps your bar secure in one place as it shrinks – extending its usable lifespan and saving you cash.
Best of all, Eco Roots uses 100% biodegradable sisal fiber to weave these bags. Sisal comes from the agave plant, which is used to distill tequila!
If you're not planning to turn your solid dish block into liquid, you'll need a good soap dish. Here's why:
There are no preservatives in the above soap blocks. So, they'll turn moldy if left soaking wet all the time. And not to mention the soap scud mess around your sink.
This handmade, 100% plastic-free bamboo soap holder is your savior. Made in Canada, its two-layer design features a top drying rack that rests inside a bottom water catch.
The top layer holds the soap while the bottom catches all the drained moisture. So, your soap dries out after use – prolonging its lifespan, preventing mold, and shielding your countertops.
Why bamboo? It has a tighter grain than wood and repels moisture better. It's also less likely to crack or split, so it'll last longer. And it's biodegradable, of course!
Dish Soap to Avoid (& Why)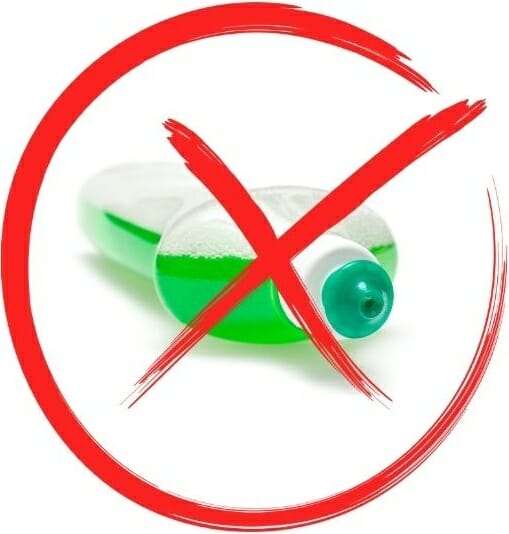 Each sustainable dish soap above has two critical things in common:
An absence of plastic and a lack of certain ingredients.
Of course, the absence of plastic is crucial for true zero-waste dish soap. But, considering a vital part of zero waste involves protecting the environment, we needed to look at ingredients.
See, I told you we'd come back to this!
For example, above, you kept seeing: "Free from synthetic fragrances, preservatives, petroleum/ palm oil-based surfactants like sodium lauryl sulfate (SLS), phosphates, triclosan, etc."
Let's explore these common ingredients in more detail below. We'll answer two questions for each:
1. What is it? 2. How does it harm the environment?
Synthetic fragrances:

Non-specific ingredients containing over 3000 unique (and undisclosed) chemicals. The

EWG

grades this category a D as the chemicals do not biodegrade. And they're "Highly Toxic to Aquatic Life" when washed down the drain. It also produces skin allergies.

Preservatives:

Methylisothiazolinone is a common preservative used in dish soaps to prevent mold. It scores a D in the

EWG

rating system for being "Very Toxic to Aquatic Life." Plus, it causes skin irritation and contact dermatitis.

Surfactants:

Used to create rich lathers and cut grease. These can be made from either petroleum or palm oil. After surfactants rush down the drain, they can reduce the oxygen in the water. Also, they break down the protective mucus layer that coats fish, severely harming aquatic animals.

Palm oil:

Due to the issues around using petroleum (a non-renewable resource) for surfactants, many companies use palm oil. This leads you to believe it's better, being "plant-based." But palm oil production accounts for massive deforestation. It destroys the habitat of already endangered species like the Orangutan and pygmy elephant, according to

wwf.org

.

Sodium Lauryl Sulfate (SLS):

A common surfactant made from palm oil used to create rich lathers and cut grease. It scores a C by the

EWG

for "Aquatic Toxicity to Fish."

Phosphates:

Used to strip food and grease from dishes. It causes

harmful algal bloom

after it's washed down the drain. This algae radically lowers oxygen levels in natural waters, killing organisms.

Triclosan:

This is an antibacterial agent used in soaps to reduce bacteria. It scores a big fat F in the

EWG

system, considered "Very Toxic to Aquatic Life with Long Lasting Effects."
The chemicals above are present in most dish soaps, even in some surprising brands.
For example, some "green" dish soap brands like Seventh Generation and Method use SLS.
Method Lemon Mint, for example, scores an F in the EWG for a slew of troubling chemicals.
Also, many Dawn products rate D in the EWG. They contain petroleum-based surfactants, synthetic dyes and fragrances, methylisothiazolinone, and other chemicals.
In fact, even Dawn Pure Essentials, a supposed natural version, scores a D.
Palmolive is another brand using palm oil surfactants (Side note: the brand name almost spells palm oil, too!).
Are you wondering why you need to know this?
Because understanding these chemicals will help you shop more consciously. From now on, you can scan soap labels and identify the bad stuff. Just look for any of these ingredients.
Plus, you have a better understanding of the products above.
If you're still using traditional dish soap, it's time to switch.
Both the long-term environmental impacts and chemical exposure are just too significant. It isn't worth the convenience of saving a few bucks.
Here, you found nine sustainable dish soap alternatives that clean dishes just as well – without the environmental (and health) impact.
So, which zero waste dish soap will you choose?
Will you try plastic-free dish soap blocks instead of the traditional liquid stuff? What are your thoughts on DIY liquid dish soaps?
Leave us a reply!
P.S. Now that you've eliminated wasteful dish soap from your home, have you thought about your dinnerware?
What's the point in choosing ethical soaps when your dinnerware contributes to massive environmental harm?
Check out our eco-friendly dinnerware guide! In it, you'll find nine brands and marketplaces to buy the most ethical, artisan-made dinnerware out there.
Enjoyed this post? Share it with your friends!
Non-Toxic Kitchenware Checklist
Get a step-by-step product guide with insider tips & tricks for the safest kitchen possible!