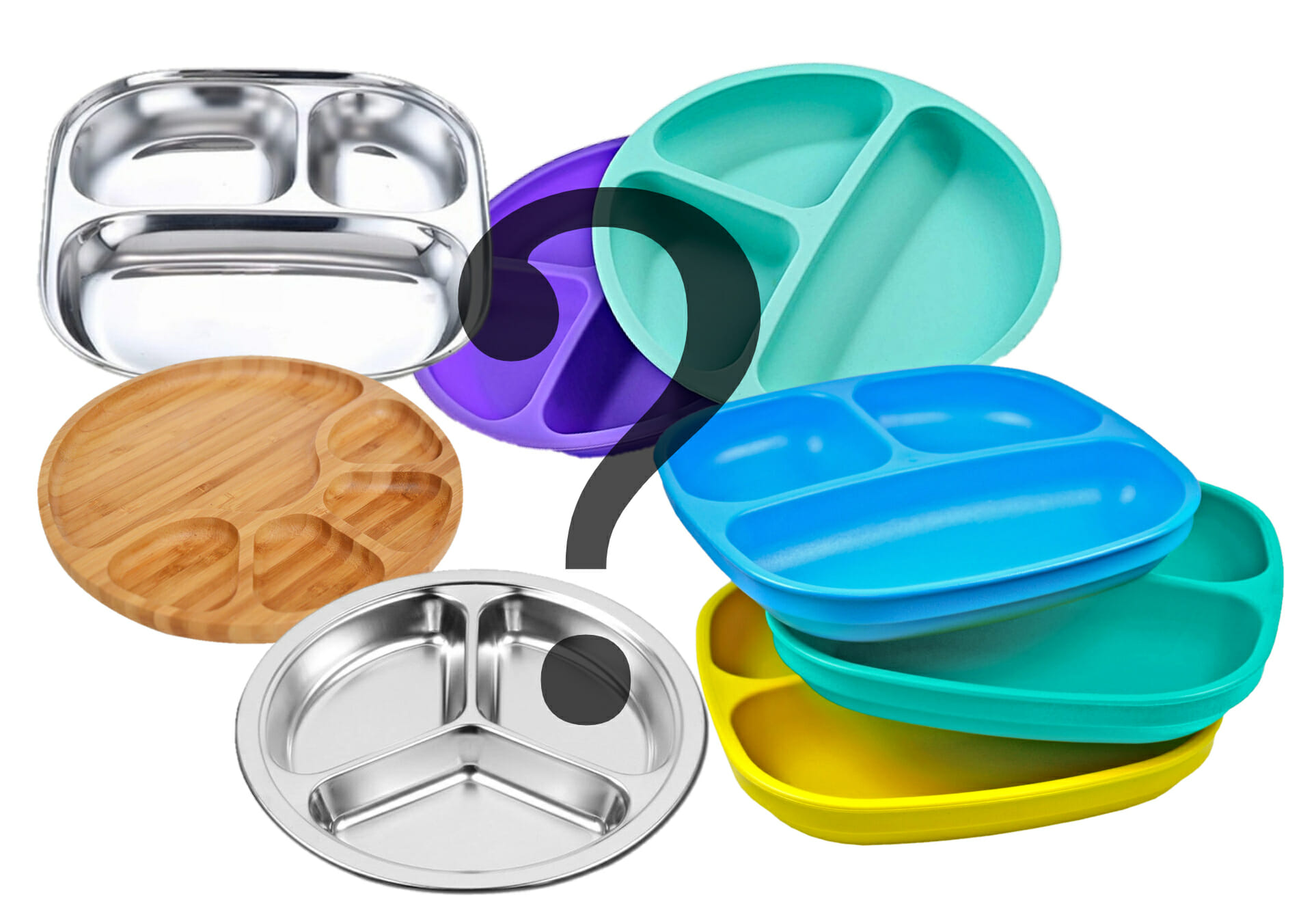 Disclosure: Our reviews stay ad-free as they're entirely reader-supported. As an Amazon Associate, I earn from qualifying purchases. When you buy through links on our site, we may earn an affiliate commission at no cost to you. This revenue helps us test products and develop quality content.
In this post, you'll find everything you need to know about choosing the right kids' divided plates.
Now, divided plates make for a smooth transition from the bottle. There's no denying that. But the problem lies in the material. Companies use plastic for toddler portion plates because of their low cost and versatility.
It's cheap and easy to churn out fun designs, taking boring kids plates, and turning them into something your kid loves. But convenience has a price…
You see, with all the research on plastic chemicals (we'll get to that later), you might decide to ditch plastic dinnerware altogether.
So what about better (and healthier) alternatives?
That's precisely what you'll discover below.
We dive into several toddlers' divided plates: Stainless steel, bamboo, and silicone plates.
You'll see the benefits (and drawbacks) of each type of children's plates with sections. This way, you can make a wise decision on how to move forward.
But first, let's tackle those pesky plastic plates.
In a hurry? Tap any section on the list below to jump ahead.
The problem with Kids Plastic Plates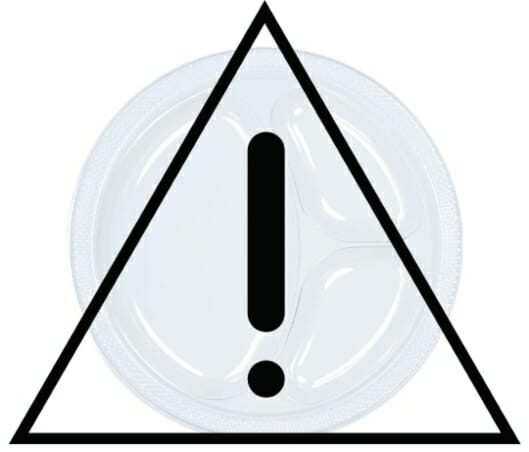 Any time you hunt for new divided kids plates, plastic overwhelms the web pages and store shelves.
For the parents who want truly safe dishes for their toddlers, keep your shopping cart empty until you weigh every option.
You see, plastic plates become an issue not immediately but after continued use over time.
As plastic stressors increase (hot food, microwaving, dishwasher cycles, scratching, etc.), its structure wears down.
Over time, your child's divided plate leaks more and more chemicals.
One of those chemicals, BPA, raises much concern.
Manufacturers use BPA to create polycarbonate plastics. For example – food storage containers, reusable water bottles, and other tableware items.
And research shows a grim discovery…
BPA contributes to infertility, early puberty, and hormone-dependent tumors – as PubMed states in this article.
Yet, other research suggests BPA has minimal negative effects at normal consumer levels.
So it's up to you. In my opinion, let's avoid even the slightest risk of health complications.
I mean, why not? There are so many better alternatives!
But, before you get to those alternatives, let's squash the "BPA-free" myth once and for all.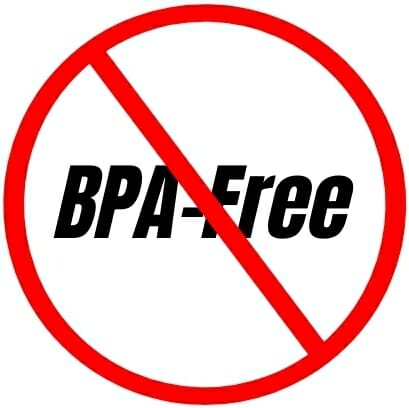 I'm sure you notice the surge of "BPA-free" labeled products out there.
The two primary BPA alternatives are BPS and BPF. Unfortunately, studies show BPA-free plastic may not be any safer.
Researchers tested hundreds of plastic products, many labeled BPA-free. They discovered almost all leached EA chemicals.
"EA chemicals" mimic estrogen in the body, which links to all kinds of health issues, as you read above.
And here's the kicker. In this study by the USNLM/ NIH, BPS and BPF were shown to produce those same hormonal impacts as BPA.
Considering all the above information, choosing plastic-free kids' dishes seems like a no-brainer.
But you can't always evade plastic, considering its broad grasp. If that's the case, keep the following tips in mind:
How to Identify "Safer" Plastics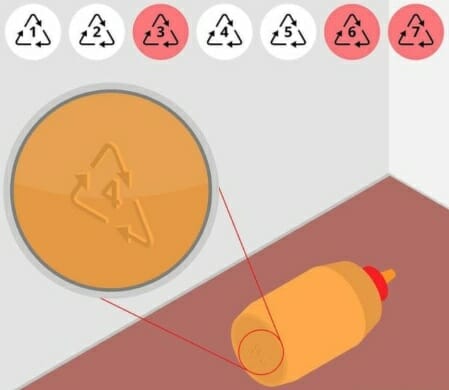 We discussed how to identify the most unsafe plastics in a previous post, but let's do a quick recap here. To check if your plastic contains BPA, do the following:
Flip the product over and look for numbers 1-7 on the bottom – the recycling symbol (see image above.)
Numbers 1, 2, 4, and 5 generally do not contain BPA. Numbers 3, 6, and especially 7 most often contain BPA.
Keep this in mind next time you reach for any plastic container or dish.
Now, let's move on to our top picks.
Best Non-plastic Toddler Dishware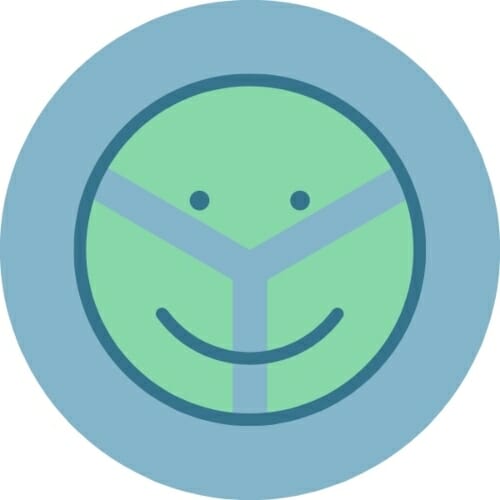 Sure, you can work on identifying "less bad" plastics as we discussed above.
Or, you can ditch plastic altogether and check out the options below.
So, here are the best non-plastic toddler plates.

Let's take a look at kids' bamboo plates. They have several benefits; the top two – they're sustainable and plastic-free.
Since bamboo plates contain no plastic, you'll never ingest those bizarre chemicals, regardless of stressors.
Plus, over time, as bamboo wears down, it never loses its safety. There are no chemicals hidden away in the wood or under a glaze.
The second benefit of bamboo plates – sustainability.
Calling all eco-conscious folks, hear this… Bamboo plates biodegrade at the end of their life, rather than sit around for 1000 years!
So, you end up lending the wildlife a helping hand.
A quick word on painted bamboo plates:
Most bamboo dishware comes with food-safe dyes. But sometimes, manufacturers use lead-based pigments.
So if you go the bamboo route – default to natural-looking, non-painted wooden baby plates.
Or, ask the company to confirm they use a lead and cadmium-free dye.
Stay vigilant.
For care, you should hand-wash bamboo plates.
The bamboo can swell and split under prolonged heat and moisture (*cough* the dishwasher *cough*).
But, several bamboo brands claim to be dishwasher-safe, so check with the company first.
All together, bamboo certainly makes for a healthier dinnerware choice.
Click here to take a peek at our favorite bamboo plate's reviews (Option A). This 100% natural kids bamboo plate has no dyes, plus a handy suction bottom to prevent the dreaded flying dish!
And for a colorful, food-safe bamboo paint, check out Get Fresh's plate right here (Option B).
Stainless Steel Divided Plate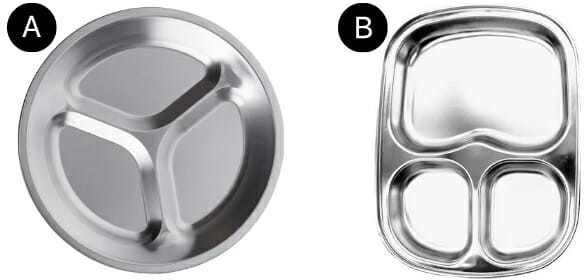 Stainless steel divided plates make another great, eco-friendly option for kids… For a few reasons: Cleanliness and sustainability for starters.
But the number one benefit? Stainless steel makes one of the best toddler plate materials thanks to its durability.
Steel's a wise choice for kids plates, especially in large families with lots of use (and abuse). Got extra-rough kids? You know, constantly testing the boundaries of their tableware? Well, stainless steel chuckles at any amount of abuse, saving you cash on replacing broken dishes.
Even plastic and bamboo plates can still crack and break (although less often than glass). Steel dinner plates, however, will not.
Second, stainless steel plates resist corrosion and rust, so they stay nice and sanitary.
Steel stays clean thanks to it's hard and smooth, non-porous surface. This is one reason why surgeons love stainless!
Plus, with steel's mirror-like finish, you'll notice if it's dirty. Grime can't hide.
So when steel does get soiled or has stuck food bits leftover, you'll know when to scrub.
And speaking of cleaning, stainless steel dinner plates need no special treatment.
Simply chuck your steel plate in the dishwasher or give it a quick rinse.
Lastly, stainless steel divided plates are 100% recyclable.
Stainless steel doesn't lose value after recycling (unlike plastic). It can go right back to its original use, making another quality dinner plate, for example.
Altogether, stainless steel kids plates make for a wise purchase. They'll last longer than any other dish and always remain safe.
Click here to grab a set of round stainless steel divided plates (Option A).
And for the rectangular, Korean style plates (Option B), click here.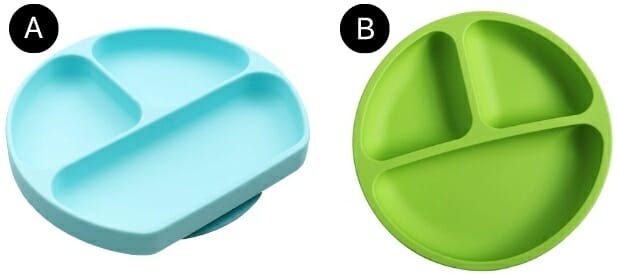 Calling all parents who want to cut plastic yet enjoy softer materials than steel or bamboo. Choose silicone plates!
Yes, this rising star in the "eco-friendly" kids divided plate category is a must-have nowadays.
Silicone has a softer texture than all of the other kids' dinnerware picks, including plastic.
Rather than stemming from petroleum-based ingredients (like plastic), silicone comes from silica (sand).
Silicone handles scorching heat and blistering cold without leaching chemicals – like plastics. That means you can heat food, use the dishwasher, and whatever else your heart desires without concern.
It's odor and stain-resistant, hypoallergenic, and because of silicone's smooth surface, effortless to wipe clean… Helpful if you don't own a dishwasher.
Another cool thing about silicone plates – endless design possibilities.
Like plastic, silicone comes in many fun designs that kids love (maybe now they'll actually eat their meal, who knows!).
For example, the kids' suction plate in the image above (Option A). Silicone suction plates prevent children from launching their food onto the floor.
It's essentially a typical child's plate with sections but with a handy suction cup fixed to the bottom. So, you not only ditch plastic but score the perfect baby weaning plate, too!
Want to learn more about these unique kids' divided plates?
Check out (Option A) Silikong's divided suction plate here!
Or WeeSprout's Silicone Divided Toddler Plates (Option B) here.
Recap: Criteria for Picking the Best Divided Plates for Your Family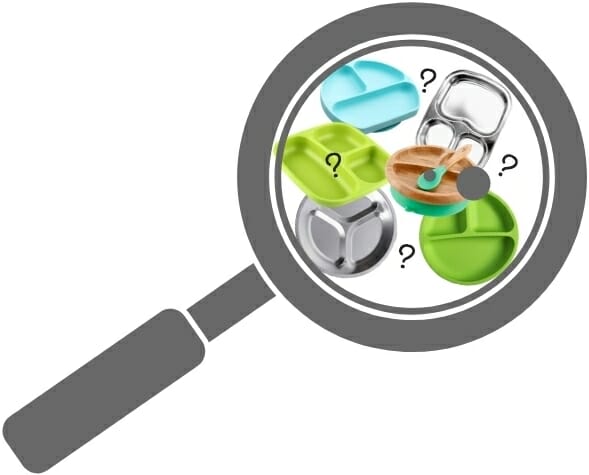 Still here? Nice! At this point, you should have a more complete understanding of dinnerware materials. As a recap, keep the following factors in mind when choosing your dish:
1) Make sure it's plastic-free.
Kick those cheap kids' plastic plates to the curb.
2) Make sure it's durable.
Glass and ceramic plates shatter too easily. And what's broken glass? Dangerous.
We want plates able to withstand launches across the room without a single worry (because, let's face it, that's inevitable).
Now, bamboo plates make some of the safest dinnerware, for sure. But, bamboo can still crack. So, it's better for older kids or those who are more gentle.
3) Consider care.
After work, the last thing you want to do is scrub another dinner plate. So consider how easy-cleaning of a dish you want.
Both stainless steel and silicone plates demand the least special treatment.
Both clean up quickly, they're microwave and dishwasher-safe, and best of all, they're free of plastic and won't break!
So, that's a wrap.
You discovered the truth about plastic dinnerware and then explored three of the best divided plates for toddlers.
Now it's up to you! Which kids' divided plate will you choose?
P.S. Now that you're set with a kids divided plate, consider the other plastic on your dining table.
Check out our post: 11 Unique Non-Toxic Dinnerware Ideas for Kids – Ultimate Guide.
In it, you'll discover some more plastic-free plates, plus cups, flatware, and even lunch boxes!
Enjoyed this post? Share it with your friends!
Safest Non-Toxic Kid's Tableware Checklist
Discover how to IMMEDIATELY detect subpar kids dinnerware products when browsing online.