Disclosure: Our reviews stay ad-free as they're entirely reader-supported. As an Amazon Associate, I earn from qualifying purchases. When you buy through links on our site, we may earn an affiliate commission at no cost to you. This revenue helps us test products and develop quality content.
With convenience being at the front of today's interest, it's no wonder why disposable plastic cups are used so abundantly. But today, the stainless steel cup is slowly chipping away at plastic drinkware!
You can buy plastic cups in large quantities at your grocery store for a few bucks. It's an easy, thoughtless decision.
This convenience is super tempting when life gets hectic, I know for me it is.
The issue is…
Even the "reusable" plastic tumblers you buy relatively cheap, can crack and leach chemicals into your drinks (more on that later).
It's obvious that single-use plastic is even worse.
When we compare different materials of drinking cups, it becomes obvious that the stainless steel cup reigns supreme.
Nothing can match the durability, safety, and sustainability of a stainless steel cup.
Many people enjoy the versatility of designs with glass and plastic drinkware.
The benefits, however, are shadowed by the cons compared to stainless steel drinking cups.
In this post, you're going to learn the effects of plastic drinkware on the environment and on health, and then we're going to deep dive into which option is right for you!
First, let's take a look at the impact and effects of plastic usage in detail.
Plastics Effects on Environment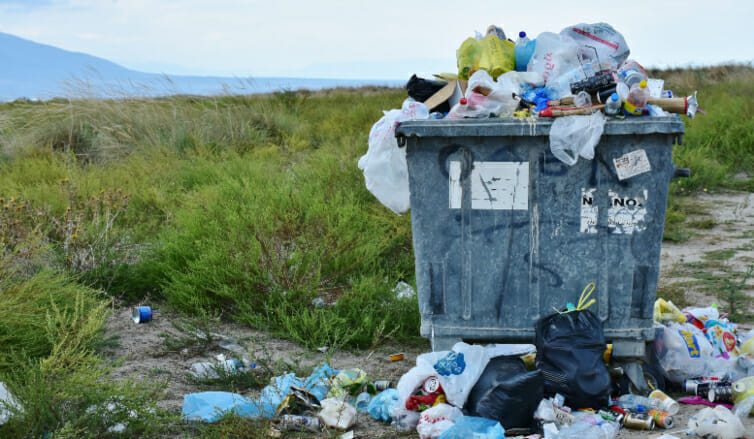 The most obvious issue with single-use plastic cups – they're not biodegradable.
Dumping them contributes to pollution of the environment. Plus, it causes great harm to both terrestrial and aquatic animals.
These foreign materials persist in their natural habitat, putting animals at risk through ingestion and suffocation.
Because plastics take thousands of years to decompose, they stay and build up in environments and landfills.
The quality of our air and soil is also negatively impacted.
Nutrients in the soil are reduced in areas of pollution because plastics prevent proper absorption of water and minerals.
The plastic matter, unlike biodegradable dinnerware, can not be decomposed by microorganisms.
Other methods of disposal like incineration release harmful fumes and toxic gases like carbon monoxide, hydrogen chloride, cadmium, and fine particulate matter.
This reduces air quality and impacts wildlife.
Recycling, although highly recommended, still requires two-thirds of the energy production needed for raw materials.
So it's slightly better, but not a perfect solution.
Plastic Chemical Impacts on Humans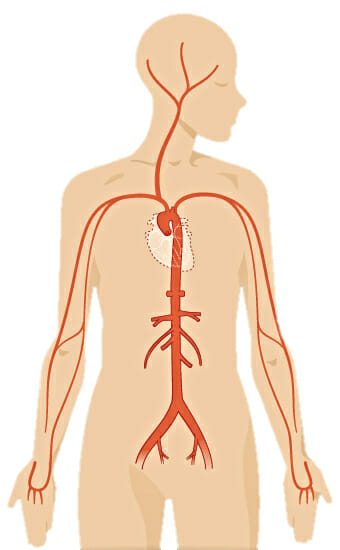 The environment is not the only thing impacted by plastic chemicals.
Exposure to harmful chemicals can happen during manufacturing and leaching in the stored food items while using plastic packages.
Many plastics contain BPA or Bisphenol A, a chemical that's been used to make certain plastics and resins since the 1960s.
Often, you'll find BPA in food containers and beverage bottles – such as water bottles, baby bottles, sippy cups, and regular drinking cups.
BPA links to severe adverse health outcomes such as cancers, birth defects, endocrine disruption, impaired immunity, developmental and reproductive effects.
Some research has shown that BPA can seep into food or beverages from containers that are made with BPA.
Exposure is a concern because of possible health effects on the brain, behavior, and prostate gland of fetuses, infants, and children.
Phthalates are another troubling substance added to plastic to increase its flexibility.
This is commonly used for toys and other children's products such as chewy teethers, soft figures, and inflatable toys.
They can also be used in reusable plastic bottles or other flexible plastics.
These mentioned chemicals can seep into you or your child's beverages without even knowing it, especially on a hot day.
Or even just putting hot beverages or hot food in plastics.
This is why using eco-friendly products like stainless steel drinkware can be crucial to not only the environment but our health.
Now that we understand the negative effects of plastic, let's look at the number one alternative, stainless steel drinking cups!
Stainless Steel Drinking Cups to the Rescue!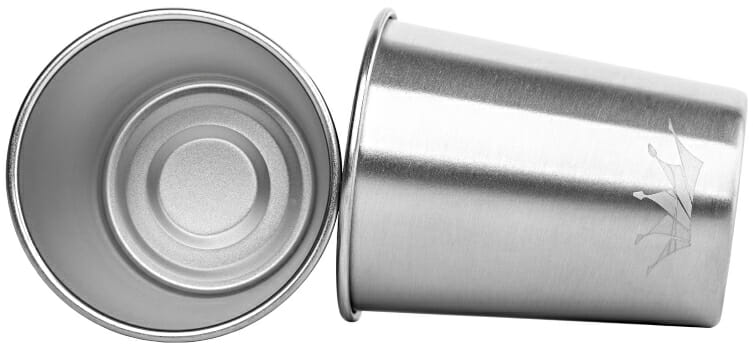 You have several options when it comes to sustainable and eco-friendly cups.
Many people prefer glass cups and bottles because they are made from all-natural materials.
Glass doesn't impart any unwanted flavors, is sanitary, and also dishwasher safe.
It makes sense that glass is such a long time favorite, but you might still ask, is glass or stainless steel better?
Glass is very breakable, thus making it not very durable in case of accidents.
This can be especially dangerous if you have small children or pets at home.
Along comes stainless steel to take its place!
Properties of Stainless Steel
First and foremost, stainless steel is highly rugged with lifelong properties that do not degrade over time.
It is also virtually indestructible, unlike its glass counterpart!
Stainless steel is an easy-cleaning, sterile metal well-known for its antibacterial and hygienic properties.
It is also rust-proof and can easily be cleaned in the dishwasher or hand-washed and air-dried.
This brings us to this next question…
Are Stainless Steel Cups Safe to Drink From?
Yes, stainless steel cups are very safe to drink from! Stainless steel drinking cups have a smooth, non-porous surface and will not accumulate bacteria.
Because of stainless steel's antibacterial properties, it's widely used in the food and beverage industry as well as surgical environments. 
There is no need for synthetic interior linings or other chemicals to remain usable, like aluminum cans for example which have BPA coatings.
The steel does this naturally!
Stainless steel is non-reactive with acidic beverages.
It provides a clean, neutral taste and won't affect flavor or smell like other materials.
Now let's check out the sustainability of stainless steel!
Sustainability of Stainless Steel
Stainless drinkware is extremely low waste due to its resilient properties.
Stainless steel cups and bottles might seem pricey up front, but in fact, they save you lots of cash in the long run.
The amount of time that these products can last easily replaces countless plastic cups and bottles as well as broken glasses.
Even reusable plastic cups can crack over time and need to be replaced, costing you more money. 
Sustainability is important because we personally produce more waste then we may realize.
The average American throws away about 185 pounds of plastic per year.
As a result, the ocean contains roughly 46,000 pieces of plastic per square mile!
Not cool!
Stainless steel drinking cups and bottles can greatly reduce your contribution to this mass and help change our world for the better.
Which Stainless Steel Drinking Glasses are Right For You?
It's important to understand which features you want when it comes to buying stainless steel drinking glasses.
You should always ask yourself some questions, such as…
Will I be using it for hot or cold liquids, or both?
Insulated vs. non-insulated?
For on-the-go? Or maybe home use..
Do I want one with handles for easier carry?
How about steel cups that stack easily in my kitchen cabinet?
Dishwasher-safe?
What about stainless steel cups for my kids?
If any of these are you, stay tuned because now we'll be showing you some of our top picks for all of these options!
Best Stainless Steel Drinking Cups for Travel – Top 3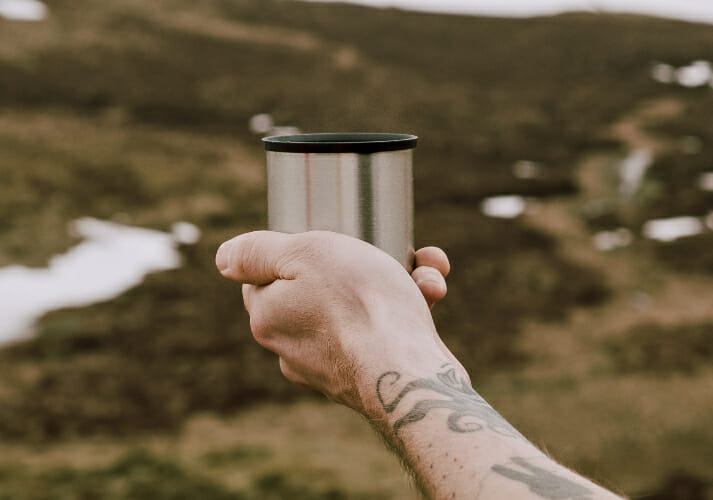 First, we'll be taking a look at some of the best stainless steel drinking cups for on-the-go!
While we're out and about in our hectic lives, it's easy to fall into the habit of convenience by using single-use plastic cups and bottles.
With these options, it'll be easy to cut down on plastic pollution, while enjoying some other unique benefits that stainless steel has to offer!
Let's dive right in!
This black RTIC 30 oz tumbler is a super affordable fan favorite with thousands of 5-star reviews on Amazon!
RTIC tumblers are precision-crafted using super high-quality 18/8 stainless steel which will not rust and can easily be cleaned in the dishwasher.
Double-wall vacuum insulation prevents sweating and keeps drinks hot or cold for up to 24 hours!
Each insulated RTIC stainless steel tumbler includes a splash-proof lid with flip-top closure for convenience.
These are cup holder friendly!
Greens Steel
®
Beast Tumblers (20 – 30 oz)
With unrivaled value for money, Greens Steel Beast tumblers take the cake with their exclusive bundles!
You have two size options, 20 oz, and 30 oz, and both include a splash-proof lid, two stainless steel straws, and even a free straw cleaning brush!
Like our previous option, you'll be impressed by how long your beverage stays hot or cold while in these, due to it's sweat-free vacuum insulated design!
Beast tumblers are dishwasher-safe, cup holder friendly and come in 17 different color options with over 18,000 5-star reviews on Amazon!
RTIC® Travel Coffee Mug (12 oz)
This 12 oz RTIC coffee mug is perfect for those like me who absolutely need their cup of coffee in the morning, but want to bring it along.
You get all the benefits of the RTIC stainless steel tumblers, with the ease of use from a coffee mug.
Made from double-walled stainless steel, your coffee will stay hot for 6 hours, cold 24 hours for cool beverages!
The built-in steel handle makes the RTIC travel mug super easy to carry.
Along with that, a transparent splash-proof lid is provided which allows you to see what's left inside (and avoid a catastrophe with hot coffee!)
Best Stainless Steel Drinking Cups for Home – Top 3
Now that we've discussed some of the best stainless steel drinking cups and travel mugs for on-the-go, let's cover some great options for home use!
These stainless steel cups below are great to replace traditional plastic and glass cups that you'd normally use at home!
Unlike those, however, these are 100% toxin-free and will last for a lifetime!
Greens Steel
®

16 oz Stainless Pint Cup (4-pack)
This 4-pack of 16 oz stainless pint cups provides you the ease and convenience of glass and plastic drinkware, without the negative side effects!
Made from 18/8 grade stainless steel, these will not rust or break, ever!
The insides are of course electropolished, like all of these options, which prevents any metallic taste whatsoever.
Easily stackable in any cabinet and also great for the outdoors.
If you're not satisfied, Greens Steel offers you a lifetime guarantee!
I think you will be though, these babies rank in with thousands of positive reviews on Amazon!
Better For Your™ 16 oz Double Wall Insulated Tumbler (2-pack)
These 16 oz stainless steel drinking cups are very similar to the previous cups from Green Steel, with the addition of a double-walled design!
This helps to prevent the steel from sweating when cold drinks are inside, and can also help keep the outside from getting too warm for your hand with hot beverages.
Better For Your stainless tumblers come with a 90-day, hassle-free money-back guarantee for good measure.
Give these a try!
Better For Your™ Stainless Steel Insulated Coffee Mugs (2-pack)
For those of you who like to sip your coffee slow, these dishwasher-safe stainless steel insulated coffee mugs are worth checking out!
The double-wall insulation allows you to savor your favorite beverage for longer with minimal heat loss.
No re-heating required!
Another great feature is the handles on these stainless steel coffee mugs.
The extra-wide contoured handles are designed for maximum comfort while you sip away!
Best Stainless Steel Cups for Kids – Top 2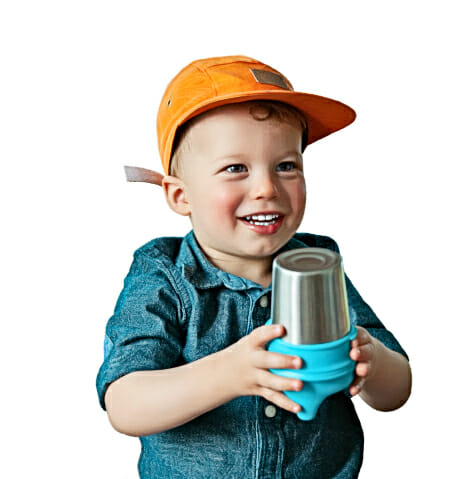 So far we've shown you some amazing options for adults, but how about stainless steel cups for kids?
Why should they be left out of this exciting eco-friendly journey?!
They don't need to be! Here are two incredible stainless steel children's cups that are truly game-changing!
Stainless Steel Sippy Cup with Silicone Spout (4-pack) TGL Designs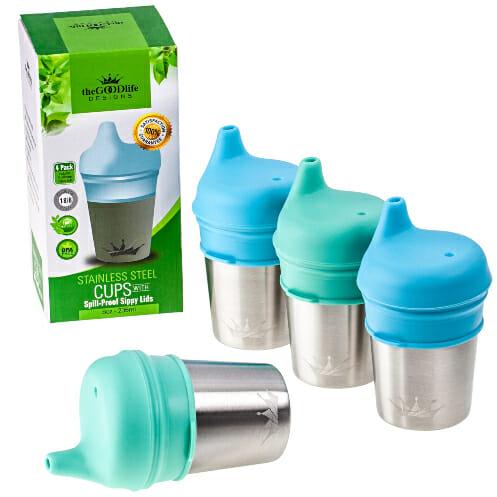 This 8 oz stainless steel sippy cup with silicone spout comes from… yours truly!
That's right, we personally designed these from the ground up, and we've been struggling to keep them in stock ever since!
When you want a children's stainless steel cup that is not only safe but extremely functional for parents – look no further than these!
Each 4-pack features 8 oz steel cups that are expertly-crafted with high-quality 18/8 stainless steel and an electropolished interior!
This means no rust and no unwanted tastes, but we didn't stop there.
We fully roll our rims to prevent any sharp edges, ensuring your child's mouth stays safe!
Along with your cups, you'll receive four 100% pure food-grade silicone sippy lids!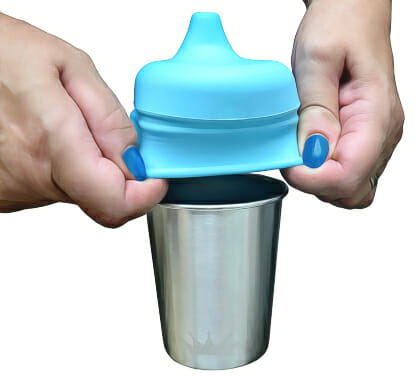 These super-flexible silicone lids allow you to stretch them over the cup's rim and create a 100% leak-proof seal!
This effectively turns this "regular" stainless steel toddler cup into a spill-proof sippy cup, allowing your child to grow with the cup.
Once they no longer need a spill-proof sippy lid, simply use the stainless steel toddler cups by themselves!
Because of this feature, you'll save money in the long run because you won't need to go out and buy new, plastic-free cups as the kids grow!
Both the cups and lids are dishwasher safe for easy clean-up!
We craft our products using only the highest quality materials possible and with extreme attention to detail.
Still, if you're not satisfied or have any troubles, we provide you a full one year warranty on your lids and a lifetime warranty on your cups!
Munchkin Miracle
®
Stainless Steel 360 Sippy Cup
For this last stainless steel drinking cup option, let's check out this incredible Munchkin Miracle stainless steel 360 sippy cup!
This is a 10 oz leak-proof sippy cup that features another innovative design in children's drinkware!
Unlike our stainless steel sippy cup, this option has a 360-degree lip-activated lid which allows your child to sip from any angle!
Along with that, this stainless sippy is vacuum insulated which provides better temperature retention for cold beverages.
For clean-up, simply throw this sippy cup on the top rack in the dishwasher!
Over time, as more and more people switch to sustainable products like stainless steel drinking cups, we can reduce this staggering amount of pollution.
Not only that, but we'll also be effectively keeping ourselves and our children healthier by reducing the amount of plastic that our food and drinks are around.
Just remember that you alone can reduce huge amounts of waste and it's always worth it to do your part daily!
By ditching plastic drinking cups, you are already doing a huge part – for your family and for the planet!
Now that you've made a healthy switch to stainless steel drinkware, I urge you to look further.
Check out our post on the safest dishware to use at home that's free of toxic chemicals and metals like lead and cadmium!
In this post, you'll learn how to tell if a dish is unsafe right off the bat, and see our top picks for truly safe dinner plates!
Non-Toxic Kitchenware Checklist
Get a step-by-step product guide with insider tips & tricks for the safest kitchen possible!