Disclosure: Our reviews stay ad-free as they're entirely reader-supported. As an Amazon Associate, I earn from qualifying purchases. When you buy through links on our site, we may earn an affiliate commission at no cost to you. This revenue helps us test products and develop quality content.
The Ultimate Guide to the Best Nonstick Pans: The Safest, Most-Effective, and Affordable Pans on the Market in 2023
Cooking should be a joyous experience filled with creativity and flavor, not a battle with stubborn bits of food glued to your pans. That's where nonstick pans come to the rescue, offering a smooth and effortless cooking surface that allows your meals to glide gracefully from stovetop to plate. 
In this comprehensive guide, we review the best nonstick pans on the market. From understanding the safety and efficacy of different nonstick pan materials to reviewing top contenders that reign supreme in the kitchen, we'll equip you with the knowledge to make an informed choice and find the best nonstick pan for you and your kitchen.
How We Picked the Best Nonstick Pans
When embarking on our quest to find the best nonstick pans, we employed a meticulous selection process and set specific criteria to ensure a comprehensive evaluation. Here's a breakdown of the factors we considered:
Ensuring the safety of nonstick pans is a crucial aspect of our evaluation process.
Most nonstick pans utilize polytetrafluoroethylene (PTFE), commonly known by the brand name Teflon, as a nonstick coating.
Historically, PTFE pans contained perfluorooctanoic acid (PFOA), a type of per- and polyfluoroalkyl substance (PFAS) that has been linked to cancer and other health concerns. While the use of PFOA in PTFE has been phased out due to these safety concerns and regulatory bans, it's important to note that PFOA-free pans may still contain other PFAS, like GenX, whose complete safety profile is still being studied.
While we recommend cookware that's entirely PFAS-free over PTFE cookware, some of the best nonstick pans happen to contain these chemicals. Not to worry: most PTFE pans can be used safely if they're undamaged.
Here's how to use nonstick cookware safely:
Avoid using metal utensils that might scratch the protective coating, exposing the PTFE.

Refrain from subjecting nonstick pans to excessively high heat (above 500℉), as overheating can compromise the nonstick properties and potentially emit fumes. This means it's best to avoid preheating an empty pan, as this causes it to heat up quickly.

Ideally, replace your nonstick cookware every five years or when signs of wear and tear begin to emerge. 

If you're using a nonstick pan made before 2014, it might be time to buy a new one, as those were made before PFOA was banned in several countries.
Alternatively, some individuals choose non-PTFE options, such as ceramic-coated or cast iron pans, which offer nonstick features without the use of PTFE coatings. Read more: Best Non-Stick Pans Without Teflon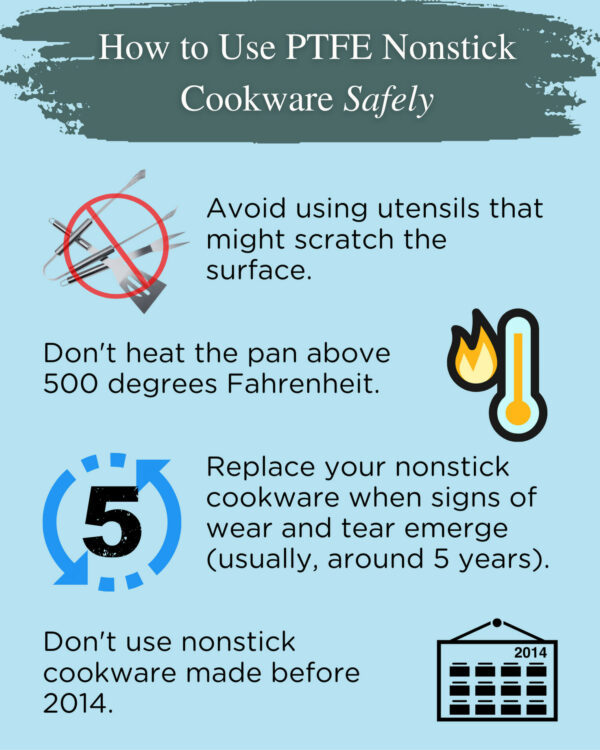 Ceramic coatings are known for their natural and environmentally friendly properties, as well as their ability to withstand high heat. Ceramic coatings are PFAS-free, and are naturally nonstick (although usually a little stickier than PTFE).
On the other hand, Teflon or other PTFE coatings offer excellent nonstick performance, durability, and ease of cleaning, but they should be used with caution to avoid overheating or damage. Read more: Ceramic vs. Teflon Cookware
The materials of nonstick pan "bodies" also differ and come with their own advantages and disadvantages:
Aluminum pans

provide excellent heat conductivity and even heat distribution while being lightweight. However, they may be slightly less durable and prone to warping. 

Hard-anodized aluminum pans

have a hardened surface for increased durability, resistance to scratches, and improved nonstick properties. They retain and distribute heat well, but can be heavier and require special care. 

Tri-ply pans

, with aluminum sandwiched between stainless steel layers, offer the benefits of both materials, including enhanced durability and heat retention. They tend to be expensive, so we didn't include tri-ply pans on our list.
We've reviewed each pan's composition to find the best balance between weight, durability, price, heat retention, and more.
The weight and size of a nonstick pan can significantly impact its usability and versatility in the kitchen.
We considered pans that strike a balance between sturdiness and ease of handling. A well-balanced and comfortable-to-use pan enhances the cooking experience, allowing for better control and maneuverability.
When considering the price of a nonstick pan, there are several key considerations to keep in mind:
The brand and reputation of the manufacturer can influence the cost, as more established brands often command higher prices. 

The materials used in the construction of the pan can impact its price point.

The size and features of the pan, such as the presence of additional layers or specialty coatings, can also contribute to the overall cost. 
Finding a balance between quality and affordability is crucial, as opting for extremely low-priced pans may compromise performance and longevity. We've done the research to find the best-performing pans that will last through wear and tear but won't break the bank.
By meticulously evaluating the safety, materials, weight, size, and price of nonstick pans, we ensured a comprehensive and informed selection process. Now, let's dive into our recommendations for the most reliable and versatile options to elevate your cooking experience and make your time in the kitchen truly enjoyable.
Our Top Recommendations for Best Nonstick Pans in 2023
Here are the best nonstick pans on the market in 2023.
Our top pick for the Best Overall nonstick pans goes to the All-Clad HA1 Hard-Anodized Nonstick 2 Piece Fry Pan Set. This set includes two pans, one measuring 10″ and the other 8″, providing versatility for various cooking needs. 
Crafted with a hard-anodized exterior, these aluminum pans offer exceptional durability and heat resistance. Their non-stick coating, while made using PTFE, is both reliable and long-lasting, and most importantly – it works. You won't find any little food bits stuck to your pan, making cleanup super easy, even for sticky foods like eggs or pancakes.
It's worth noting that the set doesn't include pan lids, and they're quite heavy. That said, the weight contributes to these pans' extreme durability. Customer reviews consistently note that the nonstick coating, as well as the pans' body, have lasted for years without damage. Finally, we found that the handles are less ergonomic than some other options.
Despite these minor drawbacks, the All-Clad HA1 Hard-Anodized Nonstick Fry Pan Set remains a solid choice for those seeking reliable and high-quality nonstick cookware.
You can find this set on Amazon, or the All-Clad website itself. Looking for a larger size? All-Clad also sells a set with a 10″ and 12″ skillet.
The Tramontina Professional Restaurant Fry Pan has certainly earned its place as our top budget pick for the best nonstick pan. Performance tests found that it cooks similarly to much more expensive pans, making it an excellent value for the quality it offers. The pan's thick base helps it heat up quickly and retain that heat, offering an exceptionally even fry.  
It's not named the "restaurant" pan for nothing! For example, a customer review from May 2023 notes, "Durable and solid everyday fry pan. Nonstick surface is easy to maintain. I'm a professional chef and this pan is exactly the type of pan we use in the kitchen. Recommend." Additionally, reviews note that the nonstick coating (which contains PTFE) lasts for years.
The pan's versatility impressed us, as it's compatible with gas, electric, and ceramic glass cooktops, making it suitable for a wide range of kitchens. However, we noticed that the bottom can be a bit abrasive, making it tricky to move or shake the pan during cooking, leading to some minor scratches.
The stainless steel handle is riveted to make it easy to hold, and we were pleased to find that it comes with a removable silicone grip, providing both a secure hold and protection from burns. The pan does not come with a lid.
While the manufacturer states this pan is dishwasher safe, we noticed that dishwasher cleaning can cause some discoloration. So, we recommend hand washing this pan to be safe.
We like the 10-inch for its versatility, but this pan is also available in 8-inch, 12-inch, and 14-inch versions. If you're looking for an even more affordable option, Walmart also sells a made-for-Walmart version of this pan that is nearly identical and performs the same.
Size: 11.8-inch

Material: Aluminum core, Ceramic nonstick coating (PFAS-free), Stainless steel handle

Dishwasher Safe: No, hand wash only

Oven Safe: Up to 550℉

Induction Compatible: Yes

Current Price: $145
One of the key highlights of the Caraway saute pan is its ceramic nonstick coating, which delivers excellent performance with none of the safety concerns. The pan is entirely free from harmful substances like PFOA, PTFE, and other PFAS, as well as lead, and cadmium, making it a healthier choice for your family's cooking. 
From sautéing vegetables to searing meats, the nonstick surface is remarkably effective, requiring little to no oil for cooking. Plus, it is a breeze to clean afterward (even though you have to hand wash it), making any post-meal cleanup a delight – or at least not too bad. However, it's important to note that you should not use this pan above low to medium heat.
The addition of a matching lid is a thoughtful touch, allowing for versatile cooking options, such as simmering or steaming dishes. The lid's high-quality construction ensured a snug fit, helping to retain moisture and flavors during cooking.
One minor area of improvement we noticed is the pan's weight, which is slightly heavier than some other saute pans we've used. However, given its durability and performance, this isn't a significant concern. Additionally, you'll need a potholder, as the handle gets pretty hot over time.
This pan is significantly more expensive than the others on our list. However, we (and other customers) feel that the pan is well worth its price tag due to exceptional performance, attention to detail, and commitment to safety.
You can find this pan in a variety of fun colors, including sage green, marigold yellow, cream, and more. This pan is also available from Caraway's website.
GreenPan's Valencia Pro Skillet has a smooth and flat base surface, making it ideal for induction stovetops and glass cooktops. The pan is also quite lightweight compared to its counterparts, making it easy to move across your stove top without dragging it. You don't need to worry about scratching your surfaces, and you also won't compromise on performance. We love how evenly this pan heats up even on an electric or induction stove.
GreenPan's skillets are made with a hard-anodized aluminum body, providing durability and strength. We love that the aluminum is made from 65% recycled aluminum, making it the most eco-friendly choice. The nonstick ceramic coating is PFAS-free and even safe to use with metal utensils (although we still recommend using caution, as we noticed that the nonstick coating can start to wear off over time or with intense scrubbing).
This pan is also great in the oven, and can withstand the highest temperatures out of any on our list; the pan is oven safe up to a whopping 600℉.
If you're looking to do more long cooks, sautéing, or steaming, you can also purchase a version with a glass and stainless-steel-rimmed lid. We noticed that the lid handle on this pan does get hot, so make sure to use a potholder.
You can also find an 8-inch, 11-inch, and 12-inch version of this pan. This pan is also available on the GreenPan website.
Looking for more recommendations for electric stoves? Read our 2023 Buying Guide for the Best Pots and Pans for Electric Stoves.
Care and Maintenance of Nonstick Pans
Caring for your nonstick pans is vital to extend their lifespan and keep them performing at their best. Here's a comprehensive guide on how to properly maintain your nonstick pans to ensure many years of enjoyable cooking:
Cleaning: Gentle cleaning is essential to preserve the integrity of the nonstick coating. After each use, allow the pan to cool before washing it with warm, soapy water and a soft sponge or brush. Avoid using harsh abrasives or metal utensils that can scratch the nonstick surface. If you encounter stubborn residues, soak the pan in warm, soapy water to loosen them before cleaning.
Storing: Proper storage prevents unnecessary wear and damage to your nonstick pans. Place a soft cloth or paper towel between stacked pans to avoid scratches. If your pan doesn't have a matching lid, use a universal silicone or glass lid for storage. Avoid using metal or sharp-edged lids that could harm the nonstick surface.
By diligently following these care and maintenance practices, you can ensure that your nonstick pans remain in excellent condition, making your cooking experiences enjoyable and effortless for many meals to come.
Alternatives to Nonstick Cookware
If you're looking for alternatives to nonstick cookware, consider options like stainless steel and cast iron.
Stainless steel pans offer excellent durability and even heat distribution and are compatible with high-heat cooking methods. Cast iron pans are known for their superior heat retention and versatility, making them ideal for searing, baking, and frying.
Exploring other materials like carbon steel, ceramic, or enameled cookware can also provide unique cooking experiences to suit your preferences and culinary needs.
Read more: 3 Easy Alternatives to Nonstick Pans (Guide and Live Test)
Final Thoughts on This Year's Best Nonstick Pans
After careful evaluation, the All-Clad HA1 Hard Anodized Nonstick Pan emerged as the best overall choice, boasting exceptional durability, nonstick performance, and safety features. Its versatile design and easy-to-clean surface make it a standout addition to any kitchen.
For those seeking a PFAS-free coating option, the Caraway Ceramic Saute Pan with Lid proved to be an excellent runner-up, offering reliable nonstick performance and a commitment to safety. For more PFAS-free options, check out our guide to the Best Nonstick Pans without Teflon.
When choosing a nonstick pan, remember to consider your personal preferences, cooking style, and budget. By making an informed decision, you can find the perfect nonstick pan to elevate your culinary experience and make cooking a joyous and effortless endeavor.
Happy cooking!
Enjoyed this post? Share it with your friends!