Disclosure: This blog is reader-supported. As an Amazon Associate, I earn from qualifying purchases. When you buy through links on our site, we may earn an affiliate commission at no cost to you. I only recommend products I would use myself and all opinions expressed here are my own.
Have you noticed "eco-friendly utensils" while scanning the latest trendy items online?
Or maybe at work, you see that one coworker boasting their bamboo cutlery in the break room. And you wonder, "what's the big deal?"
Now, I'm sure you know the environment suffers thanks to single-use plastic. But how much?
Well, look at these numbers.
People use over 100 million plastic utensils daily.
This adds up to 35-40 billion extra single-use utensils invading waterways and landfills at the year's end…
In the US alone. Let that sink in.
This plastic cutlery wreaks havoc on the environment, wildlife, and even your health.
More on plastic's impact later.
So in this post, we're going to shed light on the plastic utensil predicament. Then, show you the best eco-friendly utensils for travel and big parties. (Reusable and disposable).
Sustainable cutlery means less exposure to unhealthy plastic chemicals and less pollution. Thus, helping to preserve the wildlife and environment – and even save a few bucks!
In a hurry? Click any section on the list below to jump straight there.
First big question…
| Image | Product | Details | Star Rating | Check Price |
| --- | --- | --- | --- | --- |
| | Hicorfe Stainless Steel Travel Utensil Kit | 4-Pack (Fork, Knife, Spoon, & Case) | 430 Stainless Steel | Natural Wood Handles | Rugged Case | 4.5 / 5 | Check Price |
| | Topbooc Deluxe Stainless Steel Travel Utensil Kit | 8-Pack (Fork, Knife, Spoon, Chopsticks, Two Straws, Straw Cleaner, & Fabric Case) | 304 Stainless Steel | Lifetime Warranty | 4.8 / 5 | Check Price |
| | Anpro Collapsible Travel Straw Keychain | 2-Pack | 304 Stainless Steel | Includes Cleaning Brush | Clip on your purse, keychain, etc. | 4.5 / 5 | Check Price |
| | GreeOn Beechwood Travel Utensil Kit | 5-Pack (Fork, Knife, Spoon, Cleaning Loofah, & Canvas Case) | Natural Beechwood | Softer on your teeth | 4.7 / 5 | Check Price |
| | Luxano Bamboo Travel Kit | 8-Pack (Fork, Knife, Spoon, Straw, Cleaning Brush, Chopsticks, & Toothbrush) | Natural Bamboo | TSA Guarantee (Replaces your set if TSA confiscates it) | 4.5 / 5 | Check Price |
| | IBamboo Disposable Bamboo Cutlery Set | 100-Pack (50 Forks, 25 Knives, 25 Spoons) | Natural Bamboo | Degrades in landfills & Compostable | 4.6 / 5 | Check Price |
| | Go Go Green Disposable Birch Wood Cutlery Set | 300-Pack (120 Forks, 90 Knives, 90 Spoons) | Birch Wood | Degrades in landfills & Compostable | 4.5 / 5 | Check Price |
| | Compostables' CPLA Compostable Cutlery Set | 300-Pack (100 Forks, 100 Knives, 100 Spoons) | Corn-based CPLA Bioplastic | Composts into Valuable Soil at Industrial Facilities | 4.7 / 5 | Click Here |
| | Stack Man CPLA Compostable Cutlery Set | 360-Pack (180 Forks, 120 Spoons, 60 Knives) | Corn-based CPLA Bioplastic | Earth Color | Composts into Valuable Soil at Industrial Facilities | 4.8 / 5 | Click Here |
What is the environmental impact of plastic cutlery?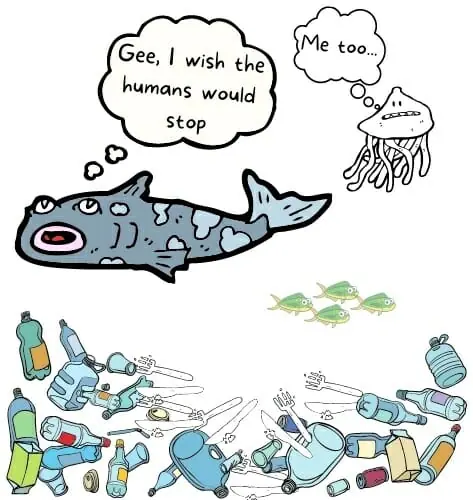 Remember those 40 billion utensils per year?
When these utensils end up in the sea, wildlife cannot tell the difference between food and plastic.
As a result, countless dead fish wash up with plastic-filled bellies. When fish eat the plastic, it leads to suffocation or digestive blockages.
And that's not the only problem…
Plastic sitting in landfills will take a thousand years to break down.
Then, the immortal plastic seeps chemicals into the ground, then the water supply.
Also, off-gasses invade the air you breathe. This aggravates asthma and impacts global warming.
That leads to the next section…
How plastic utensil pollution affects your health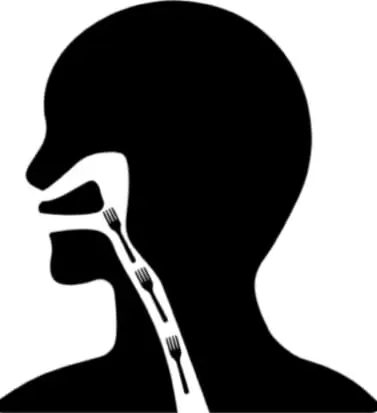 Single-use plastic cutlery pollution seeps into the environment, then into you. Thanks to plastic chemicals, you can experience a slew of health effects.
When you consume seafood or groundwater, for example, there's a good chance you ingest microplastics.
In fact, the average person eats 50,000 plastic particles a year (at least) and breathes in a similar amount.
According to the World Wildlife Find and Reuters Graphics:
Every week, you eat enough shredded plastic to fill a soup spoon. Every month, enough to half-fill a rice bowl. Every six months, enough to fill a cereal bowl. In your lifetime? The equivalent of two recycling bins.
Shocking, right?
In fact, a 2003-2004 study by the CDC found detectable BPA levels in 93% of 2517 urine samples from people six years and older.
And those hormone-disrupting chemicals (BPA/BPS/etc.) can induce heart and developmental issues, to name a couple.
Another way toxins enter your body? Heat.
Hot food on a plastic plate may cause BPA to seep into your meal. Also, this article from Today.com explains the danger of bottled water in hot cars.
Here's a simple explanation from their article:
"It's kind of like when you put mint leaves in your tea. The heat extracts the mint-tasting molecules and it happens faster in hot tea than it does in cold tea."
The same goes for all plastic. Heat infuses the food or drinks with plastic chemicals.
But luckily, you can make an easy swap to eco-friendly utensils – without losing plastic's convenience.
So now, let's explore those better options you can use instead. Some of these you already own!
Better alternatives to plastic cutlery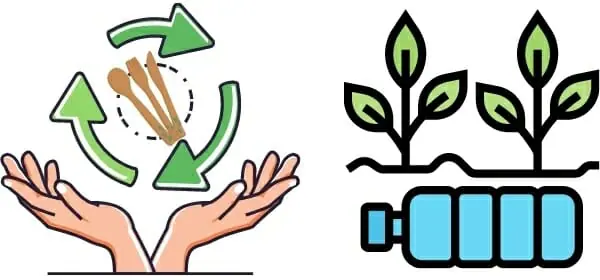 Instead of using harmful plastics, consider these two eco-friendly utensil options.
First, reusable utensils. And second, eco-friendly disposable silverware (compostable and biodegradable utensils).
Let's take a glance at each…
Reusable silverware sets appear in three primary materials… Natural wood, bamboo, and stainless steel.
These non-toxic materials can serve you for years, saving you cash and keeping you healthy.
Here's some other benefits of reusable utensils…
You personally stop thousands of plastic single-use utensils from entering the environment! The wildlife thanks you.

The absence of plastic in stainless steel or bamboo makes them a much healthier alternative. No chemical leaching!

You can recycle stainless steel utensils without losing quality. This means companies don't need to manufacture as much new material – reducing pollution.

Wood and bamboo biodegrade in landfills, leaving no trace at the end of their useful life.

Provides you a sense of accountability while helping the environment.

Sanitary. Avoid touching unnecessary surfaces like the community plastic fork drawer at work.
Good stuff, huh?
Next up, we'll discuss the best eco-friendly disposable cutlery. This includes compostable utensils and biodegradable cutlery.
And the difference between the two…
Eco-friendly disposable silverware
Need disposables for your home, office, or party but still want to use eco-friendly utensils? Bioplastics may be your saving grace.
Manufacturers use natural materials like cornstarch, potato starch, or other organic material to make bioplastic.
Here's the difference between the two types of bioplastics: Compostable and biodegradable.
Compostable utensils aren't meant to break down in landfills. Instead, you must send them to your local compost center.
These facilities ensure proper conditions. For example, the correct water content, oxygen, carbon, nitrogen, and microorganism levels.
Once an eco-friendly utensil set becomes compost, it's a valuable resource for plant life.
So, this means compostable cutlery helps the environment rather than hurt it!
Another benefit – compostables need less energy and water to produce than standard plastic.
Next up, biodegradable utensils:
Eco-friendly cutlery known as "biodegradable" mirrors compostable. But, with one key difference.
Instead of the warm, controlled environment, compostable utensils need to degrade…
Biodegradable cutlery decays in the regular trash. So, if you don't have a compost bin, choose biodegradable.
Like compostable, manufacturers use natural materials like corn oil/ corn starch, orange peels, and plants for these plastic-free utensils.
So now, we're going to explore each category of eco-friendly utensils in detail and show you our top picks!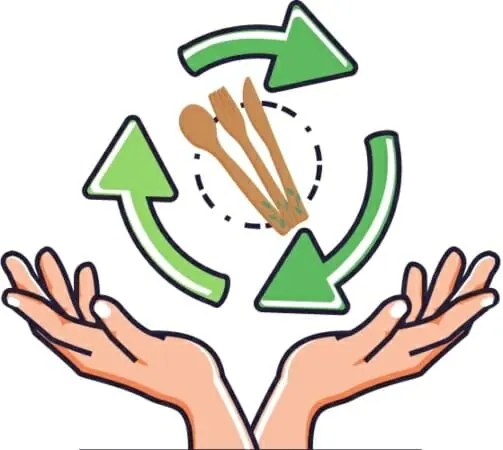 Reusable eco-friendly kitchen utensils are by far my favorite option.
As you saw, reusables come in natural materials like wood/ bamboo and stainless steel.
All three make perfect cutlery options due to their safety and durability. You'll discover each below.
But, stainless steel makes the best eco-friendly travel cutlery – thanks to durability.
Keep this in mind…
If you see painted utensils, confirm the paint is food-safe. Be cautious of lead or other toxic metals used in coloring.
So for the sake of this post, you'll find non-painted eco-friendly kitchen utensil options.
These are not only the best reusable travel utensils – but safest too!
So, let's browse stainless steel first!
Best Stainless Steel Utensils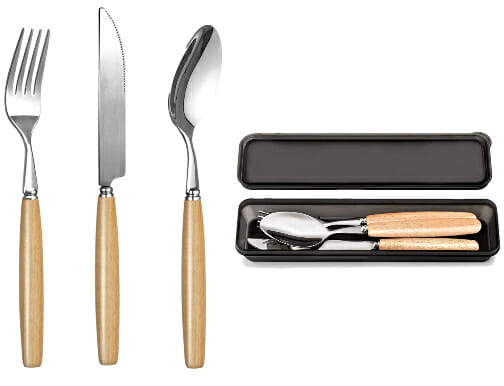 Hicorfe Portable Eco-friendly Utensil Set With Case (4-Pack)
This practical, 3-piece stainless steel utensil set fits perfectly for work and travel.
Each set includes a heavy-duty 403-grade stainless steel fork, knife, and spoon. All finished with stunning natural wood handles!
The serrated knife glides through meat easy yet butters bread without destruction.
This food-safe stainless steel offers corrosion resistance (rust-proof), making them ideal for foods.
Plus, there's no plastic in this utensil set, so you can feel good about keeping toxins out of your lunch!
Each 3-piece set also includes a rugged carrying case for easy transport. This way you don't lose your cutlery!
Keep in mind; the wooden handles aren't dishwasher-safe. Hand-wash these to prevent the wood from degrading.
Click here to check out this surprisingly affordable set of stainless steel kitchen utensils today!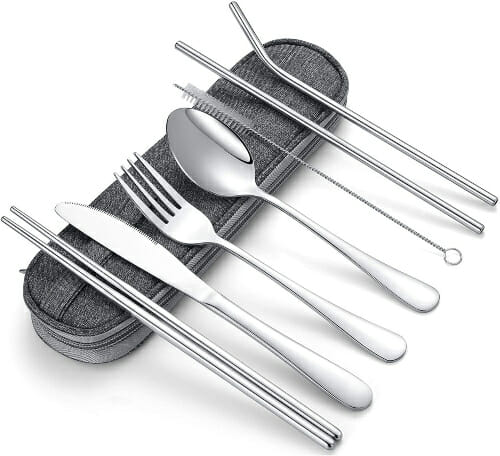 Topbook Stainless Steel Eco-friendly Cutlery Set Deluxe (8-Pack)
The next stainless steel (deluxe) set comes from Topbooc. Notice the word "deluxe."
This set of eco-friendly utensils has your standard fork, knife, and spoon, of course. But also two stainless steel straws, straw cleaning brush, and even chopsticks!
It's one thing to use standard reusable utensils. But with this set, you can avoid plastic straws and even gain some cool chopsticks! Use them for Chinese food or stirring coffee.
These are 304-grade stainless steel like the previous option.
304-grade steel utensils eliminate rust and corrosion. Plus, they're dishwasher-safe, so you'll save scrub time after work!
These utensils are paint-free, but if you want color, Topbooc has six styles to choose from!
Lastly, each set includes an oxford fabric carrying case with a waterproof interior. This way, your utensils don't vanish into the depths of your bag.
And Topbooc guarantees their quality with a LIFETIME warranty!
Click here to grab a deluxe set of eco-friendly stainless steel utensils for only a few bucks!
Before you get to the bamboo utensil options below, keep this in mind. If you have silverware in your kitchen drawer, start there!
Don't feel obligated to buy a set of stainless steel travel utensils when you already have some at home.
You can easily toss silverware in with your lunch before work!
If you do not own this cutlery already or you're interested in these options regardless, grab a travel set.
But if you're going to use silverware from home, check out this hygienic utensil travel case!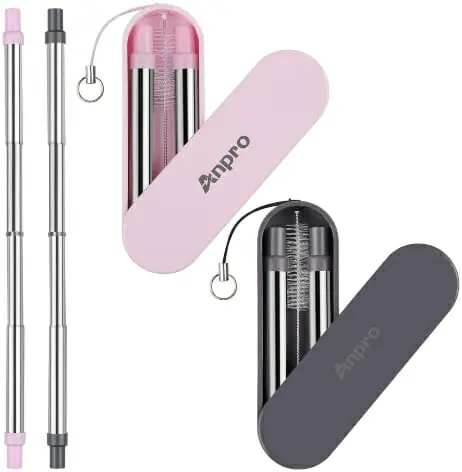 Collapsible/ Reusable Straw with Keychain, Case, and Cleaner (2-Pack)
With this portable drinking straw set, there's no excuse not to refuse those pesky plastics at the restaurant.
Now, the reusable straws in the set above work great, but you need a bag to carry the case. With this straw, you can travel light yet still cut down on plastic.
Clip one of these straws to your keychain, backpack, or purse and bring it with you. Take to restaurants, the beach, on airplanes, etc.!
Here's how this straw works. You flip open the case (spring-loaded hinge) and pick out the two straw halves. Then, twist the halves together, and you're ready to sip!
This design is better than those foldable travel straws. Those are sort of odd to handle. And the loose and wobbly retractable sections feel awkward to use.
Plus, these rigid straws don't have silicone hinges that tear like the retractable kinds. Plus, you get a compact straw cleaning brush too.
With this 2-pack, you can gift a straw to your significant other!
Score this travel straw for only a few bucks and ditch pesky plastic!
Best Wood and Bamboo Eating Utensils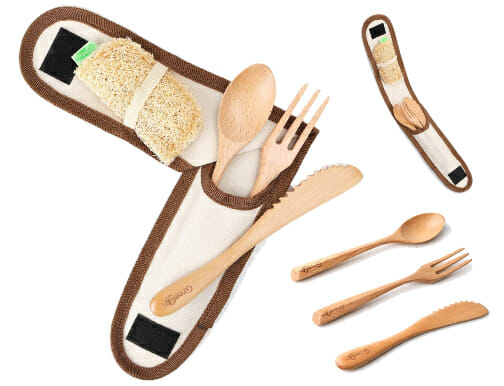 GreeOn Beechwood Reusable Utensil Set (5-Pack)
GreeOn crafts their set of eco-friendly kitchen utensils from beechwood, a strong type of wood with high shock resistance.
Like our first steel cutlery option, you get a standard fork, knife, and spoon for most of your eating needs! But you'll notice the wood feels softer on your teeth than steel, which improves comfort.
There's no plastic whatsoever in this beechwood cutlery. Kick those nasty plastics to the curb!
Plus, this sustainable set biodegrades at the end of its life.
Take those same benefits, shape them into functional, eco-friendly utensils, and you arrive here!
You also get a smooth canvas case to store your cutlery without hassle.
And check this out. You score an all-natural loofah sponge for easy cleaning after use!
Now, these handle the dishwasher just fine. But still, you should hand wash any wood or bamboo utensils to prevent swelling/ cracking. Use that loofah!
Click here to grab your set of reusable beechwood utensils with a travel case!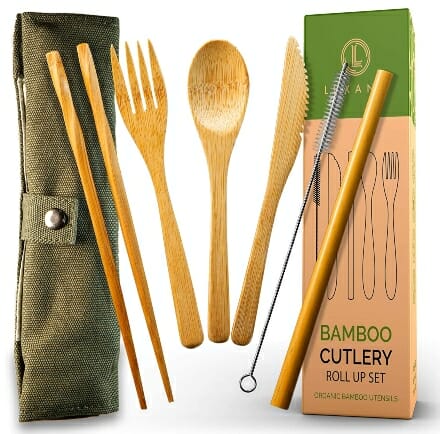 Luxano Bamboo Reusable Utensil Set (8-Pack)
Luxano uses organic bamboo to shape this eco-friendly utensil set.
It's just like the second steel option above – a deluxe travel set!
Bamboo makes excellent reusable eco-friendly kitchen utensils for a few reasons…
Here are a few benefits of bamboo utensils:
Bamboo is all-natural and antimicrobial (safe to use).

Bamboo weighs little and feels comfortable to hold, especially if you have arthritis.

Bamboo has the strength and durability to last.

Bamboo cutlery biodegrades and doesn't hurt the environment.

Bamboo flatware resists stains and odors.

Bamboo feels smooth to the touch and looks pleasant to the eye.
Thanks to how fast bamboo regrows, it's more sustainable than wood (trees). Plus, Luxano used minimalistic packaging!
Each set includes a fork, knife, and spoon (7"). Plus, a bamboo straw, cleaning brush, chopsticks, and even a bonus toothbrush (8.5")!
This set gives you extra versatility and helps to ditch extra single-use plastic. Think straws and coffee stirrers.
Finally, you can roll up your bamboo utensils in the included compact pouch – stitched from organic cotton. Great to keep your cutlery secure during transit.
And speaking of travel, if TSA ever confiscates this set, Luxano replaces your eco-friendly utensils for free!
Like the previous example, you should hand-wash this cutlery to preserve its condition.
Best Eco-friendly Disposable Silverware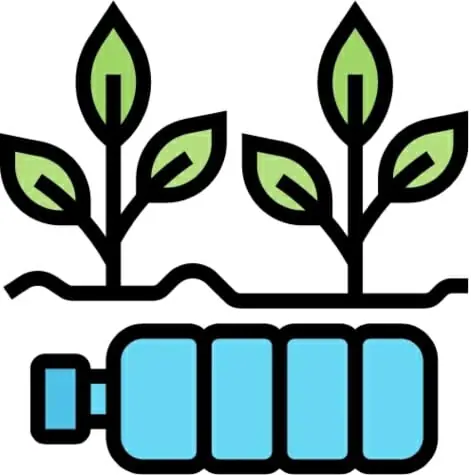 For the office breakroom and huge parties, reusable cutlery becomes a hassle. Plus it's unsanitary.
At this point, we usually resort to jumbo packs of plastic disposable utensils. But, with the best eco-friendly utensils that are single-use yet degradable, you avoid pollution!
We mentioned biodegradable, single-use utensils earlier. All come from natural, renewable plant sources that break down in the environment.
This section focuses on quick-degrading plastic-free utensils for single-use. Like parties, BBQs, work break rooms, etc.
Think about it. You wouldn't buy hundreds of the previous examples and throw them away after one use!
That's expensive and silly.
The options below degrade right in your regular trash bin. No need for compost heaps or special facilities.
Biodegradable Utensils for Easy Eco-Conscious Parties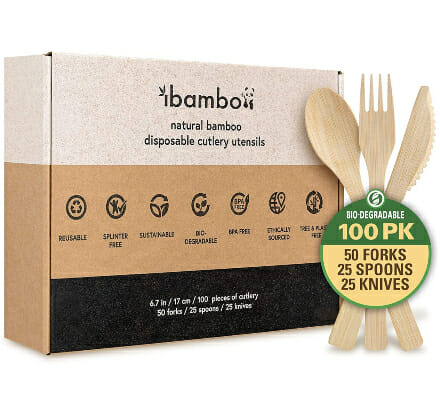 I-Bamboo Disposable Cutlery Set (100-Pack)
This all-natural bamboo disposable cutlery set from Ibamboo degrades right in your trash!
Each 100-piece set includes 50 forks, 25 knives, and 25 eco-friendly wooden spoons. All are sturdy enough for meat. Perfect for your next backyard barbecue or holiday dinner!
Each precision-crafted piece of cutlery will not splinter or leave a "wood" taste in your mouth.
Ibamboo sources its product ethically, so you can feel good about using sustainable goods.
Instead of throwing away tens or even hundreds of plastic utensils per event, grab these!
These are not only some of the best eco-friendly utensils available. But also the easiest to dispose of after a party.
Click here to grab your 100-piece set of disposable bamboo utensils from Ibamboo today!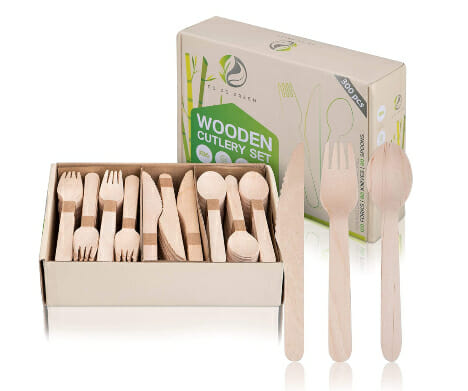 Go Go Green Disposable Eco-friendly Silverware Set, Birchwood, 300-Pack.
Go Go Green crafts this 300-piece set of single-use utensils from birchwood!
Manufacturers often use birchwood for hardwood flooring, thanks to its durability. Plus, it's fully biodegradable.
This ensures higher performance than plastic utensils, without the negative environmental impact. A double win!
Each set of eco-friendly utensils has 120 forks, 90 knives, and 90 spoons – plenty for large gatherings. Plus, there's even plastic-free packaging!
When you need convenience, these fit the bill. And you can chuck them in a standard trash bin without concern.
Use for large parties, BBQs, camping, packed lunches, the break room, etc.
Go Go Green promises your satisfaction, or they'll send you a refund anytime!
Grab a bundle of biodegradable birchwood utensils today and help put an end to plastic waste!
Great Compostable Eco-friendly Utensil Sets to help the Planet
Compostable, eco-friendly utensil sets help you benefit the planet while reducing pollution. And without sacrificing convenience!
We know biodegradable utensils degrade in landfills. You can toss them in your regular trash.
But compostable utensils need to go to your local composting center.
Extra work, yes…
But compostable utensils help you make a positive impact without extra effort. Unlike plastic, you can feel good about tossing these in the trash.
And even without a compost center, compostables break down faster than petro-plastics. Although slower than a "biodegradable" utensil.
Also, take note, you can compost the biodegradable utensils above too.
Pick one of the compostable, eco-friendly utensil sets below for your next big event!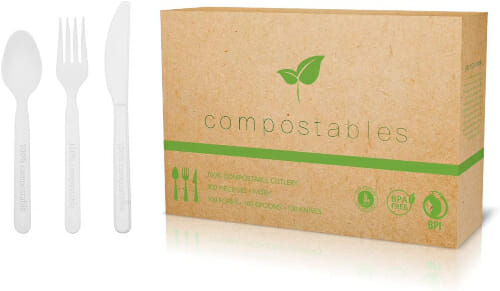 Compostables Eco-friendly Disposable Flatware Set (300-Pack)
This 300-piece compostable utensil set comes from the brand "Compostables." I wonder how they came up with that name…
You get 100 forks, 100 spoons, and 100 knives. Plus, a recyclable storage tray with compartments to keep organized.
Each utensil has "100% Compostable" engraved on the sides. So, everyone at the office knows to chuck these into the compost bin.
Compostables uses corn starch CPLA, a renewable plant-based material. It has a good heat resistance and high durability, so no melting or cracking.
This material feels like plastic cutlery (nice and sturdy), so it's easy to swap. Plus, CPLA feels smoother than wooden textures.
Once you finish your lunch, toss your cutlery in the compost bin and send it off to your local facility.
Click here to check out this 300-piece set of compostable utensils from Compostables!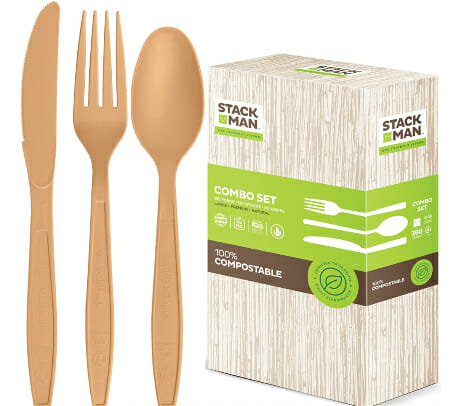 Stack Man Eco-friendly Disposable Cutlery Set (360-Pack)
Next up, an extra-deluxe 360pc set of eco-friendly utensils from Stack Man. This breaks down to 180 forks, 120 spoons, and 60 knives.
A great breakdown, considering forks get used up first, yet knives sit leftover!
Stack Man also uses CLPA, a renewable plant-based material heat-resistant up to 212℉. Plus, firm enough to cut meat.
You can send these to industrial facilities for compost like the previous option. And even the packaging is plastic-free! A truly guilt-free set.
And Stack Man's utensils come in a rustic (food-safe) earth color. Add a fitting, eco-friendly vibe to your table!
Click here to snag this jumbo set of compostable utensils from Stack Man on Amazon!
Enjoyed this post? Share it with your friends!
Non-Toxic Kitchenware Checklist
Get a step-by-step product guide with insider tips & tricks for the safest kitchen possible!