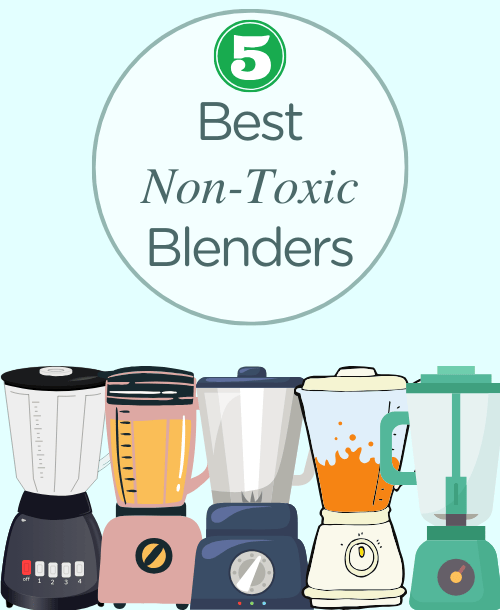 Disclosure: Our reviews stay ad-free as they're entirely reader-supported. As an Amazon Associate, I earn from qualifying purchases. When you buy through links on our site, we may earn an affiliate commission at no cost to you. This revenue helps us test products and develop quality content.
When it comes to blending up your favorite smoothies, soups, and sauces, you want a kitchen companion that not only whips up delicious creations but also keeps your health a top priority. 
But here's the thing: not all blenders are created equal, and the truth is, not all of them are as safe as they seem. 
In this guide, we're diving into the world of non-toxic blenders, highlighting the best options that prioritize your well-being and performance. We'll explore the potential health impacts of using toxic blenders, and uncover the champions in the world of blending – the best glass blenders that not only blend with power but also with your health in mind.
Learn more about picking a safe blender, or jump straight to our top recommendations.
What Makes a Blender Toxic?
Blenders have become an indispensable part of our kitchens, but not all of them have our well-being in mind.
To understand what makes a blender toxic, it's essential to delve into the materials that can pose potential health risks. The chief concern? Chemicals found in plastic.
One of the key culprits in toxic blenders is Bisphenol A, commonly known as BPA.
BPA is a synthetic compound found in certain plastics, including those used in blender components. Research has raised concerns about BPA's health impacts, linking it to hormone disruption and various health issues. Fortunately, many blenders today proudly declare themselves "BPA-free," offering a safer alternative.
Phthalates and Health Impacts
Another concerning group of chemicals found in some blender materials is phthalates. Phthalates are often used to enhance the flexibility of plastics, and they have been associated with adverse health effects, including reproductive and developmental issues. 
What's alarming is that phthalates have been detected even in some BPA-free plastics like Tritan plastic. That's why we recommend against all plastic blenders, including ones that are made from BPA-free plastic.
While some blenders proudly tout their BPA-free status, the story doesn't end there. Many blender manufacturers use various types of plastics in their products, and unfortunately, not all of them disclose the specifics. This lack of transparency can be worrisome because low-quality plastics may contain other harmful chemicals that could potentially leach into your food.
When in doubt, it's wise to err on the side of caution and opt for blenders made from materials with a proven track record of safety. 
How to Choose Your Blender
When it comes to selecting a blender that prioritizes your health, there are some essential factors to consider. Your choice can make a significant difference in the safety and quality of your culinary creations.
Avoid Plastic, or Use with Caution
The simplest way to ensure a non-toxic blending experience is to steer clear of plastic altogether. 
If you do opt for a plastic blender, exercise caution in its usage. Plastics can be susceptible to chemical migration, especially when exposed to heat, fats, and acidic ingredients. These factors can lead to the release of potentially harmful chemicals from the plastic components into your food or drinks. To minimize risks, avoid blending the following ingredients in plastic containers:
Hot liquids or food items
Fatty items (like whole milk or cream)
Acidic ingredients (like lemon or tomatoes)
Opt for Stainless Steel and Glass Blenders
When it comes to choosing toxin-free blenders, glass and stainless steel are two materials that stand out for their safety and durability. Glass, in particular, is a fantastic choice as it is entirely non-toxic and doesn't release any harmful chemicals when in contact with your food or beverages. It provides peace of mind and ensures that your blends remain uncontaminated.
Stainless steel is another excellent option known for its resilience and corrosion resistance. It doesn't compromise your health and is a sturdy choice that can handle various blending tasks.
However, it's important to note that high-performance blenders, often found in restaurants and commercial kitchens, typically don't come with glass containers. This is due to concerns about safety; if any metal utensil or object accidentally makes its way into a glass blender, it can shatter, posing a risk. So, when blending with glass, use caution and ensure there are no metal objects other than the blade inside when you push the button!
Selecting a blender from brands that are transparent about the materials they use is a crucial step in ensuring your safety. While such blenders may come with a higher price tag, the investment is often well worth it. Transparent brands not only prioritize your health but also tend to produce blenders with robust capabilities, capable of handling tough blending tasks like crushing ice or blending frozen fruits.
Our 5 Picks for the Best Non-Toxic Blenders
What sets our picks apart is their commitment to using glass as the primary material, ensuring that every component in contact with your food remains completely plastic-free. We do have one plastic choice for people looking for a high-powered blender (more on that below).
We understand that while safety is paramount, performance also matters. That's why our choices go beyond being non-toxic; they deliver the power and versatility you need to create a wide range of culinary delights. From raw food enthusiasts to smoothie lovers, these blenders cater to various needs, offering features like impressive power and variable speeds.
When it comes to selecting the best overall blender, the Oster Blender Pro 1200 undoubtedly takes the lead. This exceptional glass blender offers a winning combination of safety, versatility, durability, and ease of use.
We've carefully evaluated its features and performance, and it stands out as a top choice due to its high-powered motor and ability to crush through tough food quickly, and at an affordable price point.
7 Speed Settings: The Oster Blender Pro 1200 provides you with an impressive range of 7 speed settings. Whether you're blending smoothies, crushing ice, or preparing soups, you can easily customize the blending speed to achieve the desired consistency.
Boroclass Glass Jar: One of the standout features of this blender is its Boroclass glass jar. This jar is not only solid and sturdy but also resistant to shattering, ensuring long-lasting performance and peace of mind.
Larger Blade System: We noticed that the Oster Pro 1200 boasts a larger blade system compared to previous Oster models. This design enhancement translates to more efficient blending and smoother results, even when dealing with tough ingredients.
10-Year Warranty: The inclusion of a 10-year warranty speaks volumes about the blender's durability and the manufacturer's confidence in its performance. It's a testament to the long-lasting quality of this appliance.
Comes with 24 oz Smoothie Cup: For on-the-go convenience, the blender includes a 24 oz smoothie cup. Blend your favorite smoothie directly in the cup, attach the lid, and you're ready to take your nutritious drink with you.
Removable Blade: We noticed that the Oster's removable blade system simplifies the cleaning process, ensuring that your blender stays in pristine condition.
Short Cord: We found that this blender's power cord is relatively short, measuring only 16 inches. This may be a minor inconvenience if your kitchen setup requires a longer reach to the power outlet.
Smaller Container: The blender's container has a capacity of 48 oz, which is smaller than most "high-powered" blenders on the market. That said, most glass blenders tend to be smaller, perhaps to avoid the risk of shattering.
Slippery Lid on To-Go Cup: While the to-go cup is a convenient addition, we noted that the lid is not super secure and can slide forward when sipping. This is a minor annoyance but worth mentioning.
When it comes to speed and power in the world of blenders, the Vitamix 5200 reigns supreme. This blender stands out for its remarkable blending prowess, making it a top choice for those who demand fast and efficient blending – it's no wonder that professionals use this blender every day. For those reasons, this blender clocks in as the most expensive option on our list.
While this blender is primarily made from Tritan plastic (stay with me!), we've included it on our list because of an exceptional option – the ability to purchase a stainless steel replacement container. This upgrade eliminates concerns about plastic (albeit at a quite hefty additional cost).
Super Powerful Blades and Motor: This blender boasts some of the most robust blades and motors in the industry. We found that it can effortlessly handle challenging tasks like blending sticky peanut butter or crushing ice, reducing blending time significantly compared to other options.
Self-Cleaning: Cleaning your blender has never been easier. The Vitamix 5200 features a self-cleaning function. Simply add water and a bit of soap, let it spin, and watch as it cleans itself, saving you time and effort. Unlike some models with this option, you can still put it in the dishwasher (although we recommend avoiding that for plastics to maintain their condition).
7-Year Warranty and Durability: The Vitamix 5200 is built to last. With a 7-year warranty and a reputation for durability, it's an investment in quality that will serve you well for years to come.
Widest Variety of Speed Settings: You have precise control over your blending experience with the Vitamix 5200, thanks to its wide range of speed settings. Whether you're making smoothies, soups, or dips, you can find the perfect speed for your needs.
Comes with a Tamper: Included in the package is a tamper that allows you to push food down into the blender, ensuring that every ingredient is thoroughly blended without the need to stop and scrape the sides.
Made from Plastic: The primary container of the Vitamix 5200 is made from plastic, which means it's best to avoid putting hot, acidic, or fatty ingredients in this blender to prevent potential chemical migration.
Pricey: The Vitamix 5200 is undeniably a premium blender, and its quality and performance come at a price. It's a significant investment, especially if you opt for the stainless steel replacement container.
The BLACK + DECKER PowerCrush Blender offers exceptional value for your money. Its affordability, combined with features like the glass jar with an easy-pour spout and the "Easy Clean" function, makes it a standout choice for budget-conscious consumers.
Despite its lower motor power and noise level, it proves that you don't have to break the bank to enjoy the benefits of a reliable blender.
Easy-Pour Spout: The PowerCrush Blender is equipped with a glass jar featuring an easy-pour spout. We liked that this convenient design allows for mess-free pouring and serving, enhancing your overall blending experience.
"Easy Clean" Function: Cleaning your blender is a breeze with the "Easy Clean" function. Simply add water and soap, activate the function, and let the blender clean itself. Additionally, all removable parts are dishwasher-safe, making maintenance effortless.
Ice and Frozen Fruit Crushing: Despite its affordable price point, we were impressed that this blender doesn't shy away from tackling challenging tasks. It can crush ice and handle large chunks of frozen fruit with ease, delivering versatility beyond its cost.
Lower Motor Power: The PowerCrush Blender features a 700-watt motor, which is lower compared to some higher-end blender options. While this contributes to its affordability, it may require slightly more blending time for certain recipes.
Louder Motor: We noted that the motor of this blender tends to be louder than that of higher-end options. While noise levels can be subjective, it's worth considering if you prefer a quieter blending experience.
You can find this blender on BLACK + DECKER's website, although it is sometimes sold out. They also recently came out with a digital version of this blender that is meant to be quieter. However, it can be difficult to find this version in stock anywhere, and it isn't that much quieter than the version above.
The Bear Blender earns its place as the best choice for those seeking ample blending capacity. What sets it apart is its 51-fluid-ounce glass jar, making it the largest glass blender we could find.
Is it bigger than most plastic blenders? No. Is it bigger than other glass blenders? Yes, by a little bit. This larger capacity allows for slightly larger batches of your favorite recipes, making it an ideal pick for families and gatherings.
Powerful 1200W Motor: The Bar Bear Blender boasts a robust 1200-watt motor, providing the power needed to handle various blending tasks with ease. From crushing ice to blending tough ingredients, it can tackle them all.
3-Year Limited Warranty: This blender comes with a 3-year limited warranty, offering peace of mind and confidence in its durability and performance.
Quiet Operation: Despite its price point, the Bar Bear Blender surprised us with its quiet operation. You can enjoy a powerful blending experience without the usual noise associated with high-powered blenders.
Responsive Customer Service: Reviews from users highlight the fast and responsive customer service provided by the manufacturer. If you encounter any issues or have questions, you can expect prompt assistance.
Non-Disassemblable Design: The blender jar is permanently attached to the motor base, which means it cannot be immersed in water or disassembled for cleaning. To clean it, you'll need to pour water and detergent into the jar, which we found a little annoying.
Stirring Required for Large Frozen Objects: While the Bar Bear Blender is powerful, very large frozen objects might require occasional stirring or tapping on the sides of the container to ensure thorough blending.
You can find a similar blender on the Bear website, although it is more expensive and has a less powerful motor.
Okay, so this one's a little different, but hear me out. The Cuisinart Smart Stick Immersion Blender takes a unique approach to blending by allowing you to blend directly in a half-gallon mason jar, offering unparalleled convenience and portability.
We were pleasantly surprised by its effectiveness, especially when it comes to crafting smoothies. This immersion blender can effortlessly power through various ingredients, including tough items like frozen strawberries, making it a versatile addition to your kitchen arsenal.
A note on safety: While we haven't had any issues (or heard about any issues) blending directly in the glass jar, we recommend avoiding touching the blender wand to the edges for too long to avoid potential cracks and breakage in the glass. The blade is well-protected within the metal basket around it, but better safe than sorry!
Drink on the Go: What sets the Cuisinart Smart Stick apart is its compatibility with half-gallon mason jars. You can blend your favorite concoctions directly in the jar and then take it with you on the go. This feature is a game-changer for those who prefer to sip their smoothies or shakes while out and about in something other than plastic.
Easy Cleanup: We think that cleaning up after blending has never been simpler. The immersion blender is easy to clean, and you won't have a bulky blender container to contend with. A quick rinse and you're ready for the next blend.
Multi-Purpose: While it excels at creating smoothies, the immersion blender is versatile enough to use in soups and other culinary creations. It's a handy tool to have in the kitchen for various tasks.
Powerful for Most Blending Needs: The Cuisinart Smart Stick is equipped with a powerful motor that can handle frozen fruit and most smoothie ingredients with ease. It ensures smooth and efficient blending.
Space-Saving: For kitchens with limited counter or storage space, this immersion blender is a space-saving alternative to traditional countertop blenders.
Avoid Full Ice Chunks: While it can handle frozen fruit, it's best to avoid full ice chunks. Using crushed ice or allowing it to thaw slightly before blending will ensure a smoother blending process.
Not Ideal for Large Quantities: If you need to make large quantities of smoothies or other blended foods regularly, the limited capacity of mason jars may be a drawback. This blender is more suited for single or small-batch blending.
In conclusion, when it comes to choosing the right blender for your needs, it's essential to consider factors beyond just performance. Health matters too.
Whether you value power, versatility, portability, or affordability, there's a non-toxic blender that aligns with your requirements. From the impressive capacity of the Bear Blender to the portability of the Cuisinart Smart Stick Immersion Blender, each option brings unique advantages to the table.
With these blenders in your kitchen, you can blend with confidence, knowing that your recipes are not only delicious but also safe for you and your loved ones.