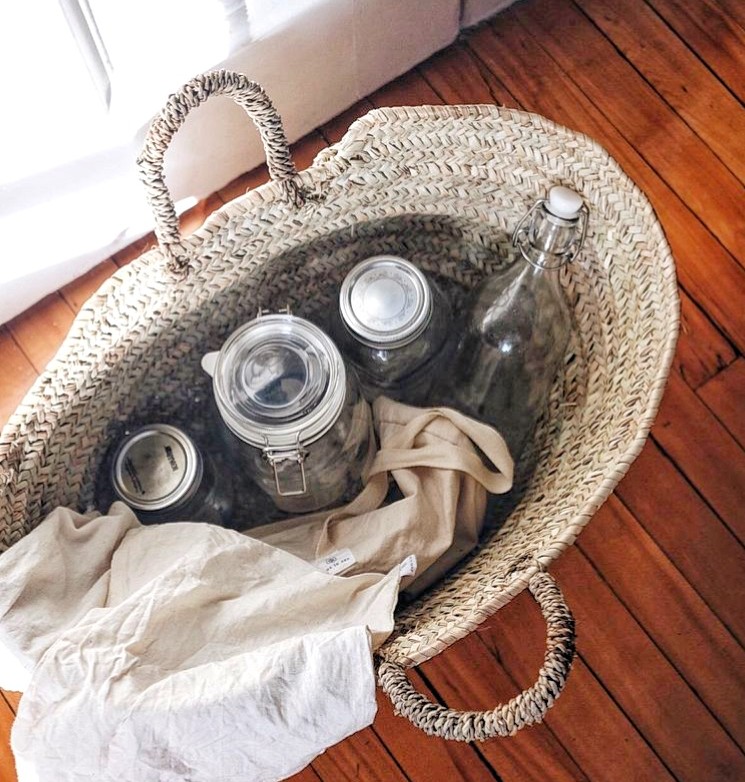 Disclosure: This blog is reader-supported. As an Amazon Associate, I earn from qualifying purchases. When you buy through links on our site, we may earn an affiliate commission at no cost to you. I only recommend products I would use myself and all opinions expressed here are my own.
Why Plastic Free Shopping?
To have a truly zero waste home,  we use sustainable products and habits to make plastic-free shopping a breeze!
Food packaging makes up incredible amounts of waste we generate. About one-third of an average dump is made up of packaging material from our stores.
This includes plastic cups, bottles, coffee cups, bags, and so on.
In fact, the amount of plastic packaging that is thrown away every single year is enough to circle the globe four times over.
50% of all this waste, is single-use plastic.
In a newer post, we dive fully into the specific problem of plastic bags and tips on reducing them! You can find that post here!
Not only does this waste negatively impact our planet, but our health is impacted as well.
In tests for BPA, a plastic chemical, 93% of Americans over the age of six tested positive for traces of the chemical found in the body.
This is why adopting a zero-waste lifestyle is so important. We're all affected.
Us humans, wildlife, aquatic animals, the soil, and even the air.
So you may ask, how can I start shopping more waste-free and reducing my impact?
What Zero Waste Alternatives Can I Use?
Food is needed for sustenance, but the waste that accompanies it is not – which is why we require zero waste alternatives for our planet's sake,and our own.
Yes, plastic packaging is helpful in keeping foods fresh or for transportation but is not necessary and with some planning, we can greatly reduce our wasteful footprint.
When we're prepared with the right sustainable equipment, we can get our groceries without all the trash that comes along with it.
Here in this post, I want to discuss some of that "right equipment" in detail to give you the tools you need for a zero-waste lifestyle.
Most of the waste taken home from grocery stores are plastic bags (checkout bags, produce bags, etc.) and plastic bottles/containers that goods come in.
That being said, it makes sense that these are the first items we should find zero waste alternatives for.
First let's discuss some reusable grocery and produce bags:
Reusable Grocery Bags
When it comes to plastic-free shopping, you'll need some new bags!
These reusable bags should be made from durable, sustainable materials such as canvas.
You want to also make sure they are large enough to fit a good amount of items.
These are the bags you'll be using to carry all your goods together when you leave the store, so it's important they're comfortable.
The durable, natural canvas tote bags on Amazon are a great fit to this bill.
Their larger size measuring 13.5″ tall, 12.5″ wide and 8.5″ deep with 10″ handles should be large enough for most goods.
With a few of these kept in the trunk of your car, hundreds possibly thousands of plastic bags can be saved each year, helping you towards your goals.
To find these featured bags, simply click right here!
Reusable Produce Bags
Rather than reaching for that large roll of plastic in your produce department, you'll find it much more rewarding using these natural cotton mesh reusable produce bags.
These bags are polyester-free, nylon-free, unbleached, and biodegradable. Made from durable material with double-stitched seams, these can hold all your fruits and veggies worry-free.
I love how even the little cord lock is made of Stainless Steel instead of plastic!
Best of all, the weight of each bag is right on the tag so employees can easily see the bag's weight at checkout and adjust accordingly.
With the current 100 billion plastic bags which pass through the hands of U.S. consumers every year, this is another great way for us to massively reduce our footprint.
You can click here to grab yourself a set!
Wet and Loose Foods
We've covered how to carry all of your produce and dry items without plastic, but now let's dive deeper into things like deli products, meats, fish, coffee, grains, legumes, fruits, nut butter, olive oil, etc.
Things like stainless steel containers are a great option but I believe glass jars are the best to use.
Like steel, glass is free of chemicals and doesn't hold the smells or colors of food, but because it's clear you can see exactly what's inside.
Glass jars tend to be able to hold a very large variety of food items and they come in a huge variety of sizes.
When choosing sizes of jars, it's good to have a variety anywhere from small 2 cup mason jars up to larger half gallon to gallon jars.
Smaller jars can be used for things like spices. The larger or more bulky the food item, the larger the jar.
For things like oils or other liquids, there are special jars which we'll show you also.
You can also save glass jars from pasta sauces and use them for some smaller grocery items as well.
All of which will help you achieve your goal of a zero-waste home!
Prepping your Jars
First, there are a few things you'll do with your jars before setting off on your first zero-waste trip.
You'll need to get the tare weights of your jars – a tare weight is a jar's weight in pounds or ounces.
The cashier will subtract the tare weight from the total weight of the filled jar so you only pay for what's inside.
You can usually do this by going to customer service and getting your jars weighed upon arrival at the store.
You can then write the weights on the jars.
You'll also want to write the food item's PLU (Price Look-Up) number on the jar.
This is the code next to the name of each food, it tells the cashier what the food is.
Now I'll show you some examples of great jars that you can use, although keep in mind really any glass jar can be sufficient:
Glass Jar with Clamp Lids
Like I said you'll want jars of various sizes to accommodate various food items. These glass jars from Bormioli Rocco are a fantastic option.
They craft their jars in Italy from very high-quality glass.
With an airtight seal and durable stainless steel latch, you can be sure no air will get into your food, thus keeping your goods super fresh!
Bormioli Rocco carries a nice selection of different sizes. You can get smaller 17.5 oz jars great for nut butter or coffee grounds up to larger 67.75 oz jars great for grains or legumes for the whole family.
They also carry a 25 oz and 33 oz size for things in between. A size for every need!
You can find these beautiful glass jars by simply clicking right here!
Glass Swing Top Bottles
These glass swing top bottles are great bottles for liquid goods normally found in plastic such as cooking oils, vinegar, syrups, or anything else.
These bottles can also be used for any carbonated beverages or for fermenting beer or Kombucha due to their excellent pressure rating, quality airtight gaskets, and stainless steel latches.
People who use these types of glass bottles for zero waste shopping claim that using a funnel to fill makes things way easier and less messy.
This makes sense due to the narrow bottlenecks. I recommend this 6-piece set of glass swing-top bottles with a silicone oil funnel included.
They provide great value for the price by including 6 – 16 oz bottles as well as free replacement bottle gaskets and even a free collapsible silicone funnel to make filling a breeze!
You can grab a set of these wonderful swing top bottles right here!
If you are someone with a larger family and the 16 oz size seems a bit too small for your needs, these 33oz swing top bottles will be a great fit for you!
You can check these larger swing top bottles out by clicking right here!
Conclusion
To wrap up this post, I just want to run back through what has been covered and how it all ties together.
We know that 1/3 of all plastic waste comes from packaging materials used in stores, the main culprit being grocery stores.
With all the plastic bags and containers you see walking down the aisles, it's not a surprising figure.
We do not personally need to contribute to this waste, however.
We've seen here throughout this post how we can substitute those plastics by using zero waste alternatives to dramatically reduce our footprint.
Of course, this won't always be an easy task. Some stores are more catered to this form of shopping.
Stores like Whole Foods and others have bulk sections that make creating a zero waste home way easier.
Other supermarkets may be a little trickier and have less variety of loose food items for plastic-free shopping.
Either way, you can still do plenty to reduce your waste throughout the store by opting out of plastic packaging and using your own.
Even something as simple as using canvas over plastic bags at checkout is a huge step in the right direction!
So go on, don't be scared, and dive into the world of zero waste living and enjoy the immense satisfaction that accompanies it!