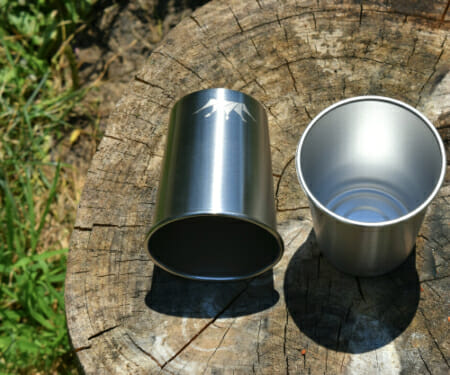 Stainless steel cups are quite the champion when it comes to reusable products.
There are other reusable cups out there such as acrylic, bamboo, glass, and harder plastics but nothing compares to the versatility and durability of stainless steel cups.
This is especially helpful with small children as they can be rough with whatever is in their hands, however, these cups can take it.
The Breakdown of Stainless Steel Cups
The amazing benefits of Steel:
Due to their incredible life expectancy, our Stainless steel cups tremendously reduce the environmental impact that other materials produce.
Made from all-natural materials and easily recycled (even though I doubt you'd want to recycle these because they're so nice!).
Eliminates adverse health concerns from plastic chemical exposure. This is particularly important for kids and toddlers as plastic can have negative effects on the brain and development.
Extreme durability – These can be thrown across the room or hit with a baseball bat and they'll remain unbroken. Lets the kids, be kids!
Keeps cold drinks cold and warm drinks warm – the stainless steel naturally helps to insulate your beverage. This helps the liquid remain at its original temperature for longer.
Unlike some of those "unbreakable plastics," these are completely dishwasher safe cups.
Due to the high-quality 304-grade stainless steel construction and the electro-polishing process we use inside our cups, you will never experience rust or metallic tastes.
The steel naturally repels stains and odors. Our electro-polishing process further aids in this.
SAVE MONEY! – It's obvious at this point that investing in a set of stainless steel cups that last many years will reduce your need to replace other broken drinkware.
When plastic cups are scratched, they can actually leach chemicals out into your drink. Stainless steel does not have any chemicals to leach into your drink.
High corrosion resistance – Not all Stainless Steel is created equal. Some grades have higher or lower corrosion resistance based on their application. Our 304-grade is designed to be used with liquids and prevent corrosion.