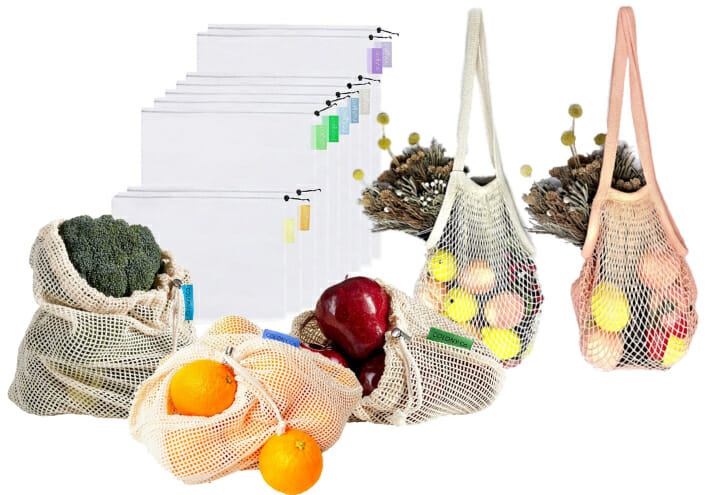 Disclosure: Our reviews stay ad-free as they're entirely reader-supported. As an Amazon Associate, I earn from qualifying purchases. When you buy through links on our site, we may earn an affiliate commission at no cost to you. This revenue helps us test products and develop quality content.
Now is definitely the time to consider reusable produce bags for your grocery shopping.
Plastic bags and single-use utensils and cups are in the top 5 of the main contributors to pollution in the ocean.
These plastics don't just disappear when they are thrown away in the trash.
If they are not incinerated, these bags will remain in the ecosystem for up to 500+ years.
Because plastic takes so long to decompose, the amount in landfills continues to grow daily.
This means an overwhelming amount is also ending up in the ocean every year, where the current takes the plastics to one of the five offshore plastic accumulation zones in the world's oceans.
Most of the bags responsible for pollution are found in grocery stores.
Both the regular plastic bags and the rolls of plastic produce bags.
Countless of these are used every single day for an average of about 15 minutes.
They are difficult to recycle, very difficult to reuse because they're so thin, and a huge contributor to pollution.
We have a post on this topic exclusively.
I highly recommend checking it out by clicking here for some great tips on reducing them!
In this post today, we're going to discuss some great reusable produce bags so you no longer need to reach for that big plastic roll in the store!
For more information on alternatives to the regular plastic bags used at checkout, click here to read our article on canvas shopping bags!
If you look around online, particularly on Amazon, you'll see all sorts of plastic-free produce bags in a variety of styles and materials.
Most frequently the materials used are cotton or polyester mesh material.
Let's dive in:
Cotton mesh produce bags are a very popular choice for reusable produce bags.
Many people looking to get away from plastic find comfort in knowing their bags are made from natural organic cotton material, like these shown in the image above.
Plenty of other reusable bags are made of synthetic materials which, although not plastic, can still take hundreds of years to biodegrade.
These bags are fully biodegradable so we know that in the case of being thrown away, they will not reside in the ecosystem for years on end and instead can be recycled!
The mesh is also highly breathable.
This is great if you have young children at home because it helps prevent any accidents involving plastic bags and suffocation.
The breathable design also prevents your produce from sweating inside the bag, making it a sticky mess at times.
Most of these bags will have a drawstring-type closure mechanism.
This saves time from wrestling to tie those plastic produce bags.
What I really love in this featured set of cotton mesh produce bags is the superior attention to detail on being plastic-free.
The drawstring clip is actually stainless steel instead of plastic!
The tare weights of the bags (weight of the empty bag that is deducted from the weight of goods inside) are conveniently written on the tags of the bag.
This makes checkout a very simple process, as opposed to needing to weigh/ mark these yourself.
If you get this wrong, you'll end up over-paying on the produce you buy.
These tags make sure you have the accurate tare weights to give the cashier every time!
Pros & Cons – Cotton Mesh Produce Bags
Pros
 Strong, double-stitched natural cotton

 Washable and reusable

 Recyclable and biodegradable

 Tare weights printed on tags

 Breathable

 Mostly see-through (helps to identify contents)

 Set includes 3 sizes – Small, Medium and Large
Cons
 Can shrink in the dryer (similar to cotton clothing)

 Mesh is tightly woven and sometimes the cashier has trouble viewing contents inside
All in all, these really are great reusable produce bags due to their attention to detail and quality materials.
Reusable Mesh Produce Bags (Polyester)
Another highly popular choice in reusable mesh produce bags besides cotton, are these polyester mesh bags!
Unlike the previously discussed cotton produce bags, these are not recyclable and can take a substantial amount of time to decay.
However, the strength and sheer durability of the tightly woven polyester fibers make these bags much more likely to stand the test of time and less likely to rip and be thrown out.
Very much like the cotton bags, these are also highly breathable.
This means you'll be worry-free around the kids and you'll avoid a sticky mess of condensation inside the bags once you return home.
Once your bags get dirty, you can freely throw these right in the washer with your clothes!
A huge benefit of polyester over cotton is that this won't shrink like cotton will.
Because the polyester is much stronger, the fibers woven to create these bags are a lot thinner than cotton.
This means that the polyester produce bags are more see-through than the previous tightly-woven cotton bags.
That also makes these amazing for other use besides grocery shopping!
For one, they're perfect for traveling and holding small items like makeup, medications, or children's toys.
Being highly see-through will allow you to identify what's inside without the need to open the bag!
Lastly, our featured polyester bags also come with tare weights conveniently written right on the tags!
Again, this makes for a very smooth checkout process.
Let's evaluate with another Pros and Cons list below:
Pros & Cons: Polyester Mesh Produce Bags
Pros
 Highly durable mesh polyester

 Very see-through (easily identify what's inside)

 Tare weights printed on tags

 Breathable

 Washable and reusable

 Won't shrink like cotton

 Set includes 3 sizes – Small, Medium and Large
Cons
Not recyclable

Synthetic material
So in the end, we can see that these polyester bags are an extremely versatile option when looking for reusable produce bags. They are very durable, conveniently designed, and serve many different purposes!
The last reusable bag we'll discuss here in this post is this beautiful net produce bag!
These bags are quite different than the previous two mainly because of the large handles.
These handles make this bag much more versatile in that, they can be used for all groceries and not just produce.
As a matter of fact, these net shopping bags are frequently used for retail shopping and even as a gym or beach bag.
When using these for grocery/ produce shopping, they provide a great plastic-free option.
Usually, these bags are made from a cotton net, making them washable.
The larger openings in the fish-net design allow you to easily see what's inside the bag, and also lets these bags stretch so they hold a large number of goods!
It also provides great breathability to keep that produce sweat-proof.
With the addition of handles, you can easily carry all of your other groceries!
These net bags are frequently used for the gym because the mesh design provides lots of ventilation,  keeping your clothes fresh and preventing smells.
The great thing too with these larger openings through the bag, is when using these bags for the beach, no sand will stay inside.
Instead, the sand and other small particles will fall right through the mesh!
This bag is very convenient to bring allow with you too because it can be scrunched/ folded up into a very small size, then stuffed right inside your purse.
Many of them can be folded up and put inside one another as well.
Let's break this reusable shopping bag down with another Pros and Cons list below.
Pros & Cons: Net Produce Bags
Pros
Strong, natural cotton material

Washable and reusable

Recyclable

Breathable

Highly see-through

Handles for easy carry

Stretches to hold larger quantities

Very compact
Cons
Can shrink in the dryer (similar to cotton clothing)

No tare weights present on bags

Usually comes in one size, however, some sellers will have multiple sizes
We see this trendy option as best for someone who is looking for a reusable produce bag with more versatility to be used for a variety of purposes and in different types of stores.
As we see here, this net produce bag is also amazing for retail shopping, gyms, beaches, farmer's markets, and so on! This is due to the convenient handles and large loads these carry.
Reusable Produce Bags – Conclusion
When searching for the best reusable produce bags that are free of plastic, we see there are several options which depend on what exactly you're looking for.
Do you already use some other types of reusable shopping bags and are now just searching specifically for a "plastic produce bag" alternative? 
Then our first two options may be best for you.
If you're someone looking more for a bag that has those same benefits, but has a wider variety of uses, then the net produce bags are probably best for you!
Either way that you decide to go, you will love how great you feel – knowing that you're doing something good for our planet!
Non-Toxic Kitchenware Checklist
Get a step-by-step product guide with insider tips & tricks for the safest kitchen possible!