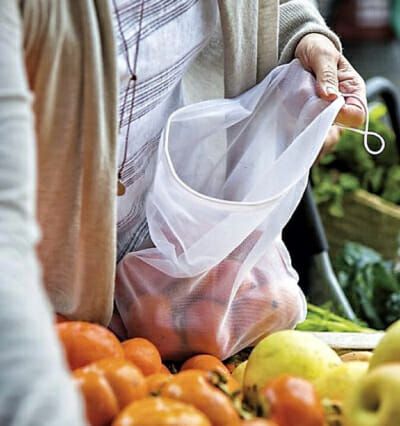 Disclosure: This blog is reader-supported. As an Amazon Associate, I earn from qualifying purchases. When you buy through links on our site, we may earn an affiliate commission at no cost to you. I only recommend products I would use myself and all opinions expressed here are my own.
It's no surprise by now that plastic grocery bags are a major cause of environmental concern. Plastic bag pollution as well as all other single-use plastic utensils and cups are in the top 5 of the main contributors to pollution in the ocean. These plastics don't just disappear. In fact, most plastics will take 500+ years to decompose. This is why considering mesh produce bags is so important and may just be perfect for you!
The conversation always seems to be around shopping bags, and the produce bags are left out.
This is a huge mistake as plastic produce bags (the extremely thin, colorless, clear bags we see in the produce section at supermarkets) are just as problematic.
These bags are very difficult to recycle, difficult to reuse because they're so thin, and a huge contributor to pollution.
Luckily, there are just as many solutions for replacing single-use produce bags with reusables as there are for shopping bags.
Let's take a deeper look at reusable mesh bags for produce.
Reusable Mesh Produce Bags
Choosing Materials
When choosing which reusable mesh produce bags to get, the first thing considered is material/ style.
There are several different types of these bags. Different fabrics have different properties.
Mesh or net bags are lightweight and see-through but are rarely made of natural fibers. They are made usually from polyester material, which is still washable.
They're not suitable for flour and fine powders however because the mesh would allow the fine particulars to seep through.
Cotton cloth bags on the other hand are natural but not see-through, and slightly heavier.
These bags are also washable but they tend to shrink, just as cotton clothing can.
For loose goods like flour and fine powders, I'd recommend using glass jars as its easy to label and will keep the goods airtight, allowing them to stay fresh a lot longer.
Benefits of Mesh Produce Bags
Washable
There is more than meets the eye to these featured reusable mesh produce bags.
The benefits of owning a set of these go further than just reducing your plastic waste production.
For starters, these bags are generally always washable, being made from a polyester type of material.
I'd recommend just checking the washing instructions on any set you chose because they may require special instructions such as only using cold water or gentle drying settings.
See -Through
These mesh grocery bags are see-through as well.
This is a huge time saver at the checkout line compared to solid cotton or canvas grocery bags. You are able to easily see what's inside.
Many of these bags will also have the tare weight written right on the label, just like this set I found on Amazon.
The tare weight of any reusable bag or container is simply the empty weight of the said container, which the cashier deducts from the weight of your goods.
This saves a lot of time for the cashier because they won't need to weigh an empty bag to make that judgment.
You don't want to be paying for more weight than needed!
Breathable
The mesh is also highly breathable.
This for one is great if you have very young children at home because it helps prevent any accidents involving plastic bags and suffocation.
The breathable design also prevents your produce from sweating inside the bag, making it a sticky mess at times.
Ease of Use
Most of these bags will have a drawstring type closure mechanism.
This saves time from wrestling to tie those plastic produce bags. All you need to do is fill your bag, weigh it, and zip it closed!
Easy as cake!
Multi-Purpose
Another great way to use these bags is to store and organize small loose items at home.
Things such as children's toys, legos, makeup, snacks, laundry delicates, office supplies, camping trip supplies, and more!
These work great because they are durable enough to not rip on you and are see-through so you know exactly what's inside without having to dig!
The drawstring closure makes it quick and easy to open and close when retrieving items.
Conclusion on Mesh Grocery Bags
As we've discussed here in this post, the benefits and reasons to use mesh grocery bags instead of plastic produce bags are great.
They will easily help you reduce your plastic contribution to the environment as well as make your shopping experience easier.
There are many places to buy these bags at great prices. I'd recommend going on Amazon and looking through their selection of mesh produce bags.
Read some reviews and get a feel for what experiences you can expect as well as helpful tips other customers tend to share in their reviews for easier waste-free shopping.
Thanks for stopping by!
Non-Toxic Kitchenware Checklist
Get a step-by-step product guide with insider tips & tricks for the safest kitchen possible!