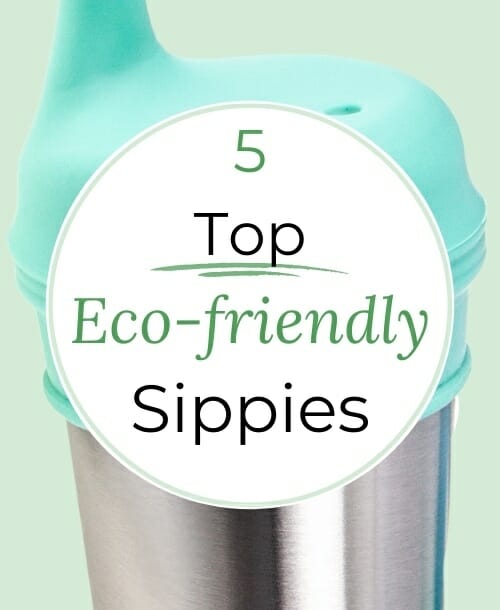 Disclosure: This blog is reader-supported. As an Amazon Associate, I earn from qualifying purchases. When you buy through links on our site, we may earn an affiliate commission at no cost to you. I only recommend products I would use myself and all opinions expressed here are my own.
So, searching for an eco-friendly sippy cup? You're in the right place!
Does this sound familiar?
You're skimming the internet, hunting for non-toxic, non-plastic sippy cups like an FBI agent…
And EVERY SINGLE ONE contains plastic!
Or, you think it's plastic-free at first. But on closer inspection, you discover a plastic spout. Or some other plastic part that touches liquid.
Well, don't pull your hair out yet.
On this page, you'll uncover the five best plastic-free sippy cups to keep your baby healthy.
Each sippy below contains either NO PLASTIC or the plastic does not touch your child's mouth or drink.
Not just that, but you'll understand the true plastic sippy cup dangers. Plus all the benefits of going eco-friendly. Some you might've not even thought about.
And before you discover the five best sippy cups, we'll walk you through a few considerations to help you make the right choice.
You can click any section on the list below to jump straight there.
Let's get started.
What is an Eco-friendly Product?
An Eco-friendly product does not harm the environment, simply put.
But it's more complicated than that.
Many different things can negatively impact the environment. For example, not using proper procedures when disposing of products.
But as a parent, "eco-friendly" isn't only about the environment.
It also involves the health of your family, your kids.
This is personal.
As a parent, you demand the safest food possible for your children to consume. Makes sense. And that leads to the next point…
Why Choose a Non-plastic Sippy Cup – Plastic Sippy Dangers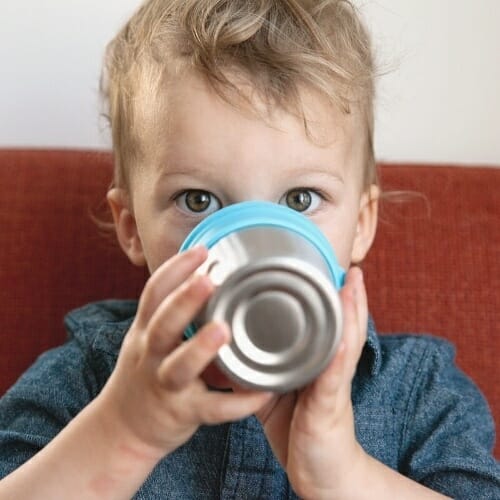 The American Academy of Pediatrics (AAP) released a new policy statement. It advised against canned food, processed meat, and most vital – to use fewer plastic-made products.
The reason? Plastics often contain Bisphenol-a (BPA) and many other harmful chemicals.
And here's the issue…
These chemicals sometimes release when hot liquids contact the plastic cups. Or when plastic becomes worn-out, scratched, or exposed to sunlight.
Once children ingest plastic chemicals, they can produce developmental issues. Stuff like premature puberty, diabetes, stunted growth, and autoimmune disorders.
In fact, here's what Dr. Leonardo Trasande says, the lead author of the AAP's policy statement: 
"Children are particularly vulnerable to the effects of chemicals added to foods because they eat more per pound than adults, and their developing organ systems may be susceptible."
The greatest concerns are the effects of these chemicals on the endocrine system – the hormones which act on all parts of the body.
Small disruptions at key moments in development can have permanent and lifelong consequences, as the National Center for Biotechnology Information explains.
Hence, parents should adopt eco-friendly sippy cups such as non-plastic sippy cups for babies and toddlers.
As a side note, plastic food storage containers are another area of concern. Try to use only plastic-free, non-toxic food storage instead.
Stainless steel and glass will help protect your child (and you) from the harmful effects of BPA.
How Non-toxic Sippy Cups Can Benefit Your Child (And the World)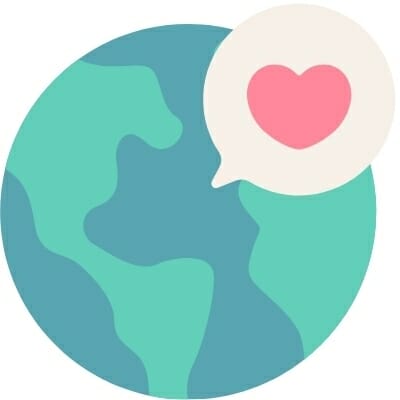 Calling yourself "eco-friendly" isn't just some romantic vision.
It's for your health and, as a parent, the health of your children.
And most crucial – to protect your kids in their vital developmental phase.
So, using eco-friendly, non-spill sippy cups is for more than just convenience.
Here is why eco-friendly sippy cups are essential:
Prevent Bisphenol-a (BPA) Consumption:
As pointed out earlier, plastics contain Bisphenol-a (BPA).
And even the so-called "best BPA-free sippy cups" don't provide any more safety. BPS and BPF (BPA's alternatives) act the same way in your body.
BPA and its relatives interfere with the natural hormones within our bodies. This causes unpleasant health issues (mentioned earlier), which impacts babies starting out in the world.
By using eco-friendly sippy cups for babies or toddlers, you better your kid's chances of living a healthier life.
Naturally Antibacterial and Antifungal:
In general, it's challenging to keep our homes bacteria-free. But with babies around, it's nearly impossible to keep everything as clean as it should be.
That's why it's a wise move to use an eco-friendly sippy cup made from bamboo, glass, or stainless steel.
Bamboo naturally prevents germs, yet glass and steel's non-porous surfaces hinder bacterial growth.
All three make fine substitutions for plastic sippy cups.
Help build and protect a better planet:
We live in a throw-away culture nowadays. This leads to harmful effects on the planet and future generations' mindset.
Of course, kids grow up and outgrow those sippy cups, and then we have no use for them.
Or so it seems.
With eco-friendly sippy cup alternatives, you can help create a greener planet with the three big Rs…
A world that Reduces, Reuses, and Recycles more sustainable and long-lasting materials.
Now, let's move on to a few buying considerations to help you pick the right sippy.
Eco-friendly Sippy Cup Considerations – How to Choose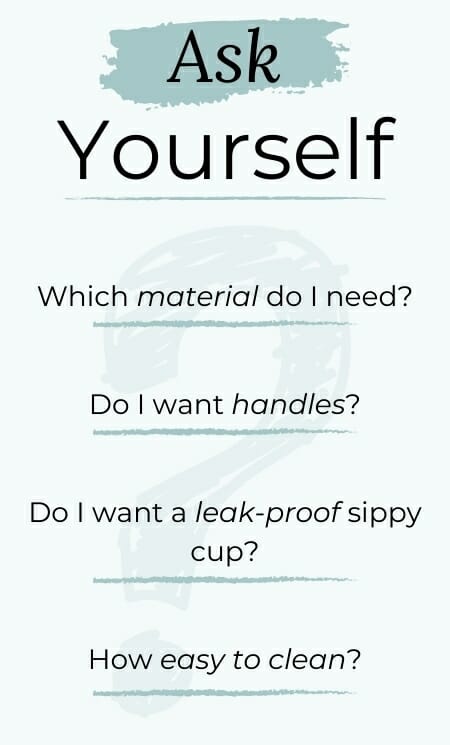 Before you arrive at the best non-toxic sippy cups for toddlers below, consider this…
Don't make a hasty decision.
Ask yourself the following questions, this way, you get the right eco baby sippy cups for your own situation.
Which material do I need?
All the healthy stainless steel and glass sippy cups below prevent plastic worries. But stainless steel doesn't break – glass sippy cups can.
Yet, glass bottles have advantages too. For example, you can see through glass and heat milk in the microwave. You can't do that with steel.
So does the benefit of an unbreakable cup overpower the convenience of heating milk right in the sippy?
Handles will help your baby grip their cup, and some even feature removable handles to use with or without. Depending on your confidence 😉
Yet, handle-free sippies will improve your child's coordination faster.
So, do you want more security or sooner graduation to open cups?
Do I want a leak-proof sippy cup?
Finding 100% leak-proof sippy cups is like discovering the tooth fairy.
The fact is, when there's a separate lid, it can leak if the lid comes loose.
And maybe not right away, but down the road as the lid's threading wears down.
But, if you must protect your nice new carpeting, consider our stainless steel cups with silicone lids below (#1).
The lids stretch tight around the cup's rim and create a water-tight seal. No lid threading involved! Most of our customers can agree, the cups don't leak!
Remember this fact – the more parts in a sippy cup, the more difficult it is to clean. So, simpler designs triumph!
Plus, (fully) dishwasher-safe cups will save you time! Each natural sippy cup and bottle below is dishwasher-safe.
5 Best Plastic-free Sippy Cups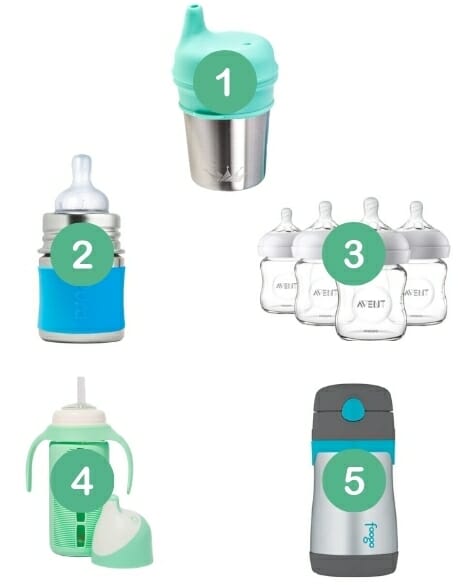 When it comes to your children's health, it's better to stay more safe than sorry.
So, all the more reason as a parent to adopt eco-friendly sippy cup alternatives.
So, below you'll encounter the best eco sippy cups with either no plastic (at all)… Or at least none that touches your kid's drink or mouth.
Let's jump in!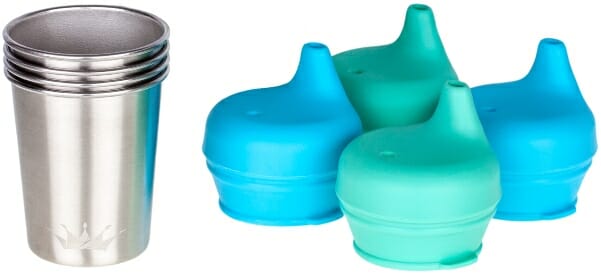 Is your kid a thrower?
You know the feeling, having to watch your toddler as they sip while you wear a look of anxiety.
Just waiting for them to hurl a cup on your carpet (or at you).
With our stainless steel sippy cups for babies and toddlers, you can take a deep breath.
Simply stretch a silicone lid over the cup's rim, and you gain a spill-proof, non-plastic baby sippy cup!
Great for abusive toddlers, road trips, restaurants, and anywhere else you want to prevent mess – and frustration.
The best part? These grow with your kids!
As your child ages, use without the lid. You can switch from spill-proof sippies to regular non-plastic kids' cups in seconds.
This will help save you money down the road on buying endless separate (breakable) open cups!
NO PLASTIC anywhere! Only pure, 304-grade steel and food-grade silicone lids.
All parts contain no BPA, BPF, BPS, phthalates, or lead.
CPSIA-certified through strict, third-party lab testing. So, you can feel relieved about keeping your children safe and healthy.
Toss the cups and lids in the dishwasher to save time cleaning (because parent-life is hectic)!
1-year full coverage warranty!

Any issues, send us a quick text or email, and we'll drop FREE REPLACEMENTS in the mail right away!
Here's another 100% plastic-free sippy. A bottle made of dishwasher safe, food-grade stainless steel, and a wide-neck silicone nipple to avoid confusion.
The best part is, these bottles grow with your child (like ours above, but in a different way)!
You can interchange the silicone top sippy cup piece with all of Pura's lids.
So, as your toddler grows, swap to a silicone straw or sports cap. This can save you cash on buying entire new cups!
In fact, Pura has you covered from infant years, through childhood, and into adult years!
Check out their storefront!
All parts contain no BPA, BPS, phthalates, or lead. So no worries of weird-chemical leaching.
Little leakage, perfect for preventing mess.
Comfortable outside silicone sleeve. The silicone provides grip and keeps the cup secure in your baby's hand.
Heat milk separately, then pour it into this bottle, and it holds the temperature longer.
Store milk in the fridge without the worry of nasty plastic or gross odors.
You can chuck all parts in the dishwasher and even sterilize them in boiling water. Same as our cups and lids above.
This glass baby bottle uses shock-resistant borosilicate! This type of glass has far more strength than traditional soda-lime glass. So, less worry about breakage!
The best part of these bottles? The controlled flow vents!
You know how sometimes the sippy flows way too fast and sprays out like a firehose?
When that happens, your baby can choke or get air in their belly, leading to discomfort.
Well, Philips Avent has a whole range of bottles with variable flow.
From newborn flow (0-1 months – this option), then to slow flow (1-6 months), up to fast flow (6 months +).
The soft, breast-shaped silicone nipples make for a smooth transition for breastfed babies.
And no plastic touches your toddler's drink.
You can wipe each glass bottle clean in seconds or toss it right in the dishwasher. Plus, the glass will not hold stains or odors.
Here's another safe sippy cup made from shatter-resistant borosilicate glass.
Plus a silicone straw and volume markings to measure the formula.
This cup features removable handles on each side, so your kids can hold tight as they sip away. You'll gain peace of mind knowing you can leave the mop in your closet.
As your toddler gains coordination, remove the handles!
See-through, so you'll never miss any crud build-up.

This way, you can keep the glass hygienic.

A leak-proof top keeps your home clean and makes road trips mess-free.
An high-grip silicone sleeve covers the glass and prevents drops.
And in case the bottle falls anyway, the silicone absorbs shock from impact. So you gain extra confidence the glass won't break into hazardous shards.
Toss all the parts in the dishwasher after a long, busy day. Save time scrubbing!
Keep in mind; there are plastic handles and a cover. But, no plastic touches liquid or the straw.
The Thermos Foogo makes for safe and functional on-the-go lunches. And also perfect for school!
The rugged stainless steel body ensures no plastic touches your baby's drink. And it won't explode when dropped or thrown.
Plus, the double-walled steel design keeps the outside of the bottle at a cozy temperature.
Milk stays warm longer. And during the summer, drinks stay cool for up to 10 hours when you're out and about – without an ice pack!
The lid has an effortless push-button cap that springs open. Easy for you and easy for your kid to figure out!
And the (mostly) spill-proof top prevents stained, juice-covered seats during bump car rides.
Also, the silicone straw does not have a valve inside. This means easy-cleaning and smooth-sipping.
Keep in mind, there's a plastic outer piece on top, but it doesn't touch liquids or your toddler's mouth.
Thermos also offers a 10oz insulated steel food jar, great to pair with this bottle for meals.
As a parent, you want to feed your kids the safest food possible.
But desiring the best health for your children requires taking action.
Investing in a non-toxic sippy cup helps you save money and keep your child healthy… While building a sustainable planet for your kid's future.
Take the first step with an eco-friendly sippy cup today!
P.S. Sippy cups are one thing, but how about dishes, utensils, and open cups?
Check out our ultimate non-toxic kid's dinnerware guide to detoxify the rest of your child's meal!
Enjoyed this post? Share it with your friends!
Safest Non-Toxic Kid's Tableware Checklist
Discover how to IMMEDIATELY detect subpar kids dinnerware products when browsing online.