Disclosure: Our reviews stay ad-free as they're entirely reader-supported. As an Amazon Associate, I earn from qualifying purchases. When you buy through links on our site, we may earn an affiliate commission at no cost to you. This revenue helps us test products and develop quality content.
Plastic Pollution Every Year
With all the facts and figures around about the harms of single-use plastics and plastic pollution, you might think what little difference can I personally make? Should I even try switching to sustainable products?
YES, you should because you can actually make a lot more of a difference than you realize. Let's start with some statistics:
Plastic Bags: According to The Wall Street Journal, the U.S. goes through 100 billion plastic shopping bags annually. These single-use bags will take up to 1,000 years to degrade.
Plastic Toothbrushes: One billion plastic toothbrushes are thrown away every year in the United States, creating 50 million pounds of waste annually.
Plastic Water Bottles: More than 60 million plastic bottles end up in landfills and incinerators every day – a total of about 22 billion last year.
Plastic Straws: Americans use 500 million drinking straws every day. To understand just how many straws 500 million really is, this would fill over 125 school buses with straws every day. That's 46,400 school buses every year!
Takeaway Cups: The US alone throws away 25 billion styrofoam coffee cups each year. If you buy just one cup of coffee or tea in a disposable cup every day, you'll end up creating about 23 pounds of waste in a year.
Now, this is a big problem. These plastics linger around our ecosystem for 1000's of years and wreak havoc on our environment and wildlife.
Because plastic takes so long to decompose, the amount in landfills continues to grow daily.
But fortunately, we have solutions!
Today, we have many different ways to cut down our plastic usage by switching to sustainable products, which are more Eco-friendly alternatives to what we normally use.
Let's go through and offer some alternatives for each of these items above:
Plastic Free Products
1. Reusable Grocery Bags
Reusable shopping bags are normally made from any number of sustainable fabrics. These shown are made from an organic cotton fabric.
Ideally, any reusable grocery bag should be durable enough to be used on a normal basis for years.
You should also make sure they are large enough to fit your needs.
From a simple habit of keeping several of these in the trunk of your vehicle, you can avoid adding hundreds, possibly thousands of plastic bags to landfills each year.
Here we show our favorite grocery bags, due to their style, choice of color, and durable organic cotton material.
You can check out these reusable grocery bags right here!
2. Bamboo Toothbrush
As we know, around a billion plastic toothbrushes are thrown away each year in the US, creating 50 million lbs of waste annually.
These then pile up year after year because the rate of decomposition is so slow, roughly 500+ years.
By using a bamboo toothbrush, you are not contributing to this timeless pile of plastic.
When you throw your brush away, it'll naturally breakdown quickly and cleanly.
These bamboo brushes are an amazing value for a very low price, you can't go wrong!
They are made from excellent quality bamboo, have BPA-free bristles, and great reviews.
You can grab a set of bamboo toothbrushes by clicking here!
3. Reusable Bottles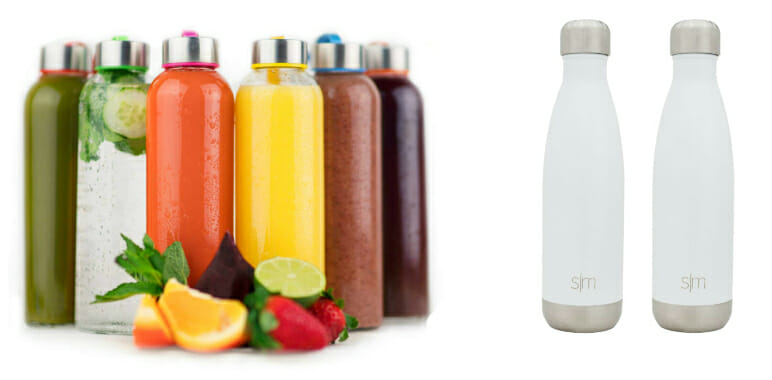 There are is a vast selection of reusable bottles out there to choose from. Why should you consider one?
Well for one, our point above about the 20+ billion that end up in landfills each year.
Another VERY important reasoning is your health.
Plastics containing BPA's and other chemicals are known to have negative effects on your brain, behavior, and prostate glands of infants and children.
Sustainable products can easily eliminate this threat.
These chemicals can leach into you or your child's drinks without even knowing it, lets say… on a hot, sunny afternoon.
The UV rays of the sunlight will cause these chemicals to enter the contents of the cup or bottle. The heat itself will as well.
That'll make you think twice about that water bottle that's been sitting in your car all day.
Thankfully we have some amazing alternatives. Above I show both my favorite reusable glass bottles and stainless steel bottles.
Both are great and it entirely depends on what kind of reusable bottle you're looking for.
Let's compare:
Glass Bottle
Made from soda-lime glass
BPA free, non-toxic, and lead-free
Healthy and safe alternative to plastic that won't absorb odor, tastes and won't contaminate your drink
Thick glass makes them durable but not as durable as Stainless Steel
Very stylish
Stainless Steel Bottle
Crafted from food-grade 18/8 Stainless Steel which is rustproof and corrosion resistant
Double-walled and vacuum insulated. This technology keeps your beverage hot or cold for hours. 
BPA free, non-toxic, phthalates and lead-free
Also will not absorb odor, tastes or contaminate drinks
Virtually unbreakable
Futuristic and sharp looking
So, what's the conclusion? Well, both are equally stylish and serve the same purpose.
They both are free of plastics and can be reused for years. The glass bottles are stylish, modern, and make a statement that you're serious about sustainability.
You can find the glass bottles shown above right here!
Our featured Stainless Steel bottles shown above are the more rugged option of sustainable products for those of you who don't trust yourself with a glass bottle.
You can find these amazing reusable bottles right here!
4. Reusable Straws
Bamboo straws are a fantastic Eco-Friendly alternative to single-use plastic straws which, by now, I think by now we all know the horrors of.
Not only are close to 500 million straws ending up in the trash daily, but our aquatic life is greatly being harmed as well.
You may recall those shocking pictures of affected sea turtles.
Many people love bamboo straws because they won't get too cold or hot like stainless steel straws can and they don't hurt your teeth as the metal can.
The natural look and feel of them are amazing and best of all, they are biodegradable and won't leave a mark on the planet.
Pictured above is our absolute favorite. The company is on a mission to end single-use plastic and its quality is spot on.
They include a great little cloth bag and a cleaning brush as well!
You can grab a set of bamboo straws right here!
5. Stainless Steel Cups
Choosing the right reusable drinking cup for your daily needs depends on what kind of beverages you like to enjoy throughout the day.
I recommend getting one that is about mid-sized, or even slightly larger. Pictured here is a 20 oz cup size which I believe to be optimal for a variety of beverages and needs.
The cup should also insulate your beverage if you're going to be drinking hot coffee or tea.
This insulation, like in this stainless steel cup, will keep the cup at a comfortable temperature in your hand while also keeping the beverage hotter or colder longer.
The most important thing here is to get one that holds up to your daily use. "Beast" by Greens Steel, pictured, is a fantastic daily reusable cup.
It is 20 oz of double-walled, insulated stainless steel and perfect for any drink requirements while being rugged enough for continued use.
It's dishwasher safe and also includes a leak-proof lid and stainless steel straws as well as a straw cleaner.
You can check out the Beast 20 oz stainless steel tumbler right here!
Conclusion on Sustainable Products
As we wrap up this article, I hope you have taken away some valuable information on choosing sustainable products for your daily use.
Clearly, there are many options out there and it comes down to understanding what requirements you have and getting a product to meet those demands.
The products I've shown above are simply my favorite after researching and testing different products.
They seem to be the best fit for daily needs, however, feel free to go with any option you desire!
IMPORTANT: Make sure that whatever option you decide to go with, is the path of least resistance. Meaning, if the product is annoying for you to use or clean compared to its plastic counterpart, chances are you'll end up reverting back to plastic as the days get hectic. Consistency is key here with sustainable products!