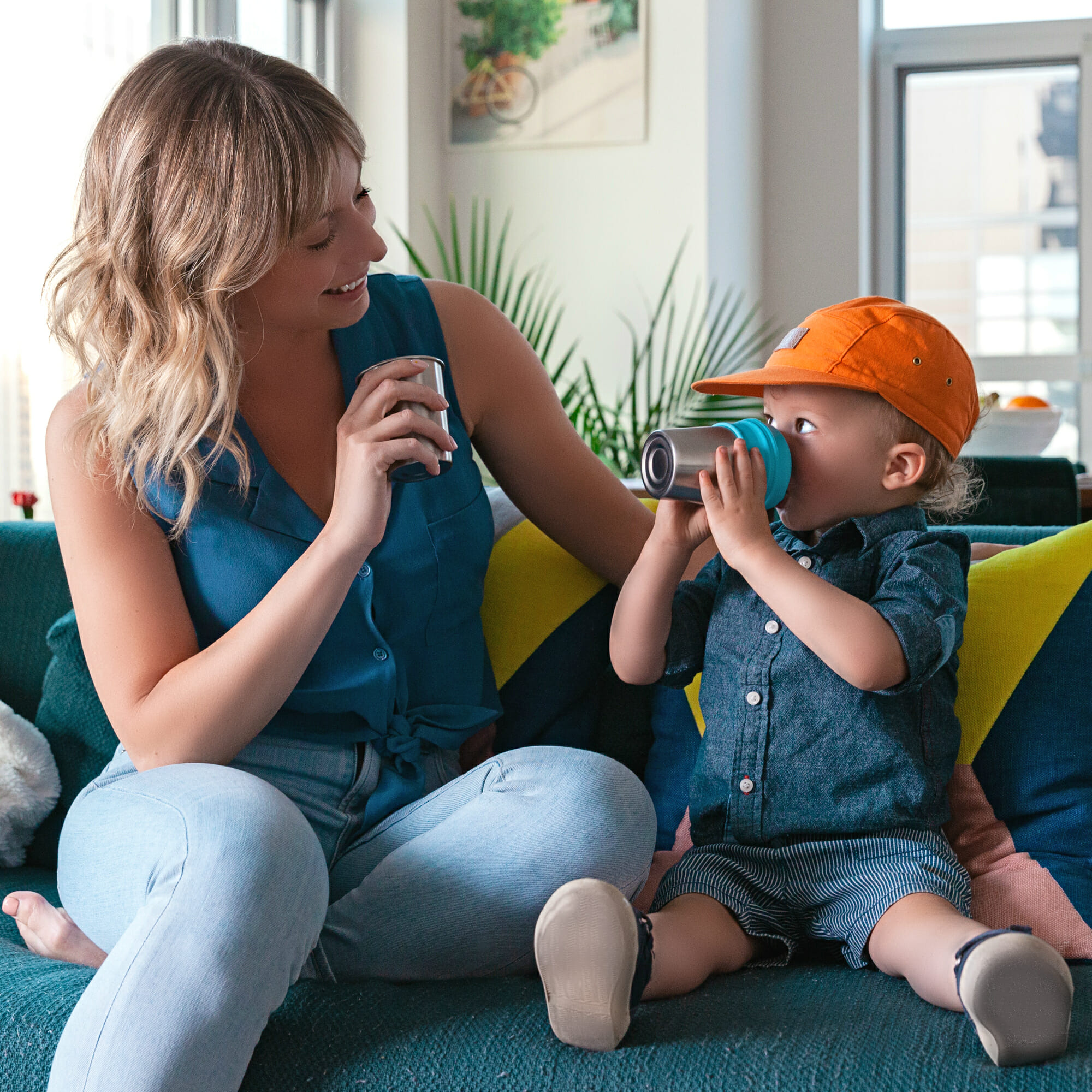 There comes a point when your child is around 18 months old or so that the AAP (American Academy of Pediatrics) recommends you should wean them off bottles. It is not an exact figure because every child is different. A good indicator is once your child starts sitting up unassisted (typically around 6 months) you can start introducing sippy cups with water to get them familiar with using these cups. With so many options on the market, it's difficult to understand what makes the best toddler cup.
In my previous article titled "Best Sippy Cups for your Kids" I go into detail about what makes the best sippy cup.
Ideally, you want something that is unbreakable, easy to clean, free of plastic and chemicals, and lastly – spill-proof!
Being spill-proof is one of the most important topics because when your children are very young, it's inevitable they will drop, throw, and play with these cups.
Here in this post, we'll discuss what I believe to be the best toddler cup as they transition from toddler-hood to their later years!
Spill-Proof Cups for Toddlers
Generally, 8 oz spill-proof cups for toddlers are perfectly sufficient for your toddler as they are small and easy to hold in your child's hands.
This automatically makes it less likely for them to drop as larger cups will be harder to hold in their little hands.
Pictured above is a child holding our 8 oz Stainless Steel cups with leak-free silicone lids.
You'll notice how he's holding the cup upside down.
These cups with lids are designed to remain completely spill-proof even when held upside down like this.
They also can be dropped or thrown and STILL will remain unbroken and spill-proof. This is because of the watertight design.
Many other plastic kid's cups and sippy cups may also be spill-proof but when dropped or thrown, the plastic does not have the best strength and durability. Sometimes these plastic versions will crack and begin leaking. These aren't the greatest spill-proof cups.
We make our drinkware from high-grade stainless steel so they WILL NOT crack or break from rough play.
The BPA-free lids are made from 100% pure food-grade silicone, making them highly flexible and durable. They will not crack or break but simply flex with the impact of drops.
The soft silicone spout on the lid also makes these the best sippy cups for teeth.
It is very soft and will be comfortable in your child's mouth, again making them enjoy drinking from these instead of resenting it.
The soft drinking spout helps these sippy cups mimic bottles that they previously came off of.
This is another feature that makes the transition from bottles and beyond so much easier.
Using as Transition Sippy Cups
Where our cups really shine is once your child cruises past the sippy phase and you start them on regular cups.
Normally if you're using any traditional sippy cup, you need totally separate drinking cups because the sippy is well, just a sippy.
With our cups and lids, all you need to do is pull that silicone lid off and VOILA… there you have it!
Now you have the perfect, indestructible 8oz cup that is completely free of plastic and chemicals and is dishwasher safe!
Talk about the best toddler cup out there!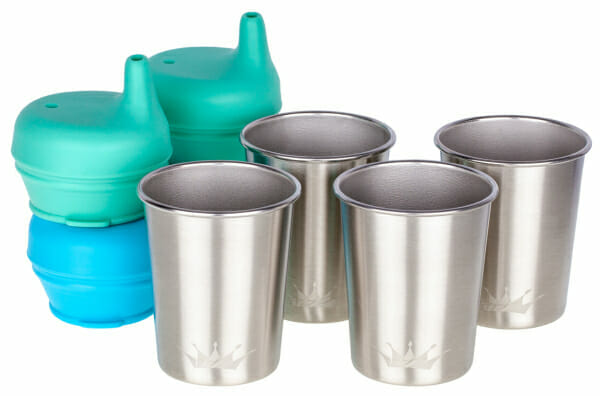 Safest Non-Toxic Kid's Tableware Checklist
Discover how to IMMEDIATELY detect subpar kids dinnerware products when browsing online.