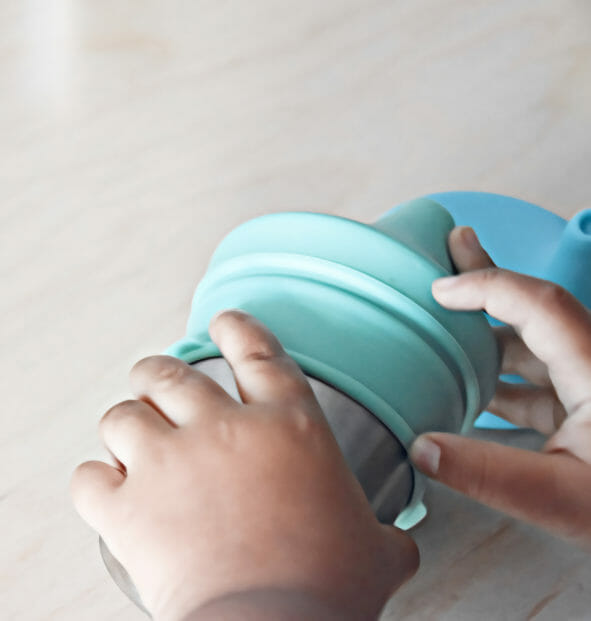 In this post, we are going to discuss the best sippy cup for eco-conscious parents who are like everyone else… busy.
As your infant grows into toddler-hood, you'll require many different sorts of drinking apparatuses.
When they're really young, a spill-proof sippy cup will work best to prevent accidents.
Once they move past the sippy phase, the need for small toddler drinking cups arrives.
Ideally, all of these cups are durable and can withstand abuse.
With that said, let's point out two issues:
These first few years will require a whole barrage of different sorts of drinking cups – which means more money and time spent on shopping.

All of these sippy cups and other toddler cups are generally made from plastic, which we know can leach all kinds of harmful chemicals into beverages and foods.
So how did we take this issue and come up with a better alternative? We designed our own!
Our Best Transition Sippy Cup Design that Prevailed…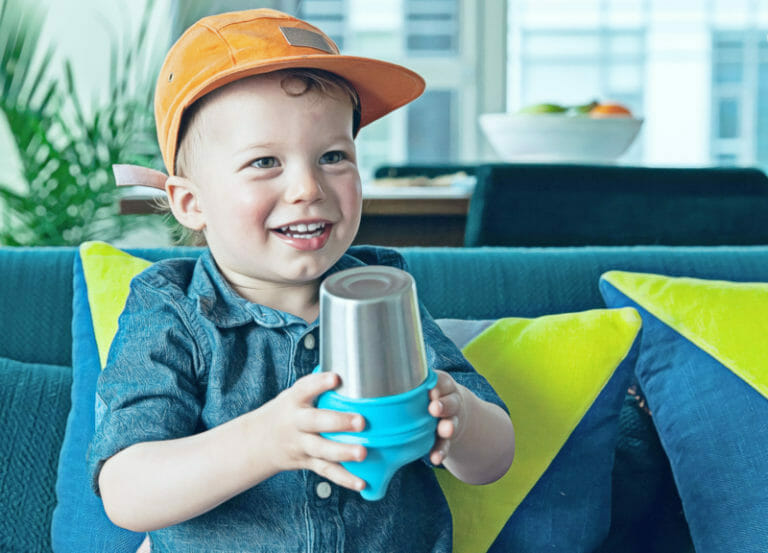 We had two main goals when building the best transition sippy cup for your child – solving the two issues listed above.
Let's dive into our best transition sippy cup design that prevailed!
The first goal was to make it 100% free of plastic, while extremely durable (let's face it – kids play rough).
The second goal was to remove the need for purchasing plastic sippy cups and regular cups separately.
For our cup, we decided to use 304-grade stainless steel.
Sounds fancy but it's the same type of steel used in most kitchen applications.
This is due to its rust and corrosion resistance, making 304-grade extremely sanitary for use with foods and beverages.
The cup is also highly durable. You can push these things WAY past the limits of any plastic, glass, bamboo, or anything else.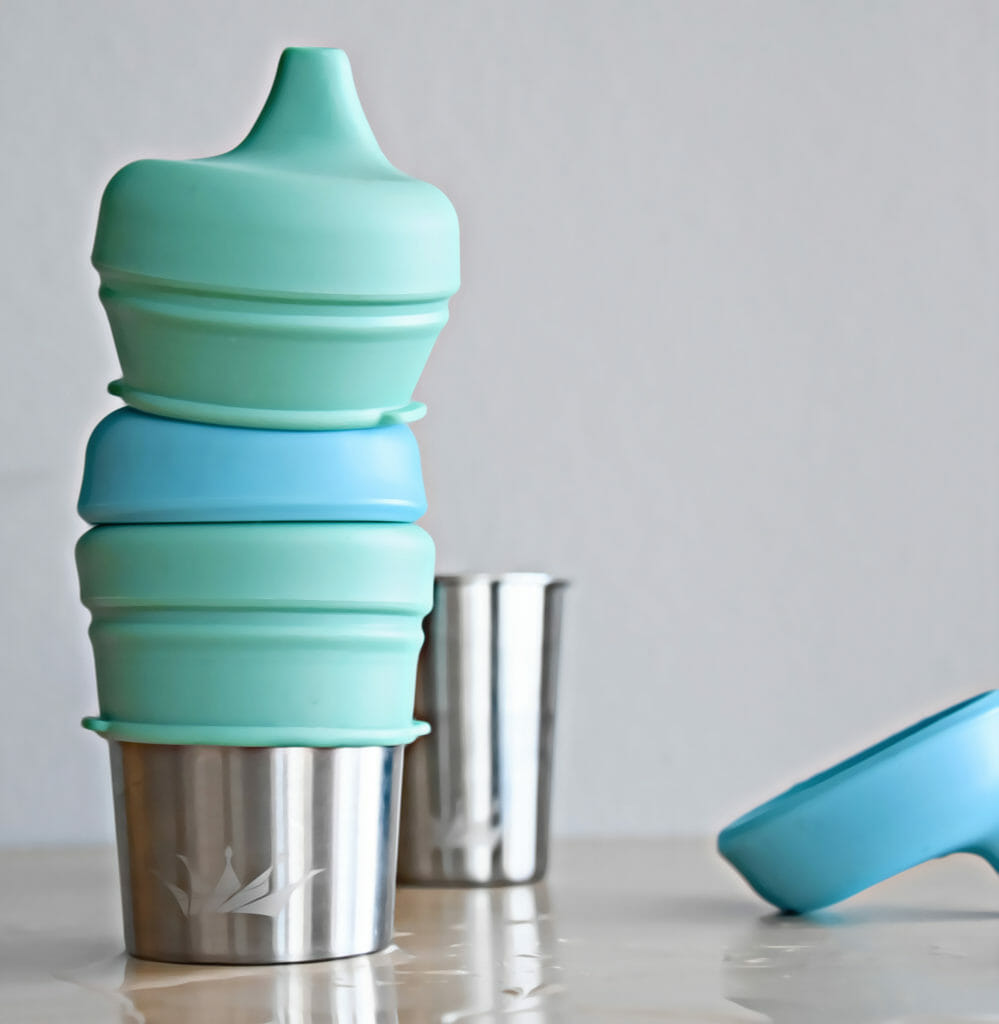 Next, we needed something (free of plastic) to slip on top of the cup as a spill-proof lid.
While browsing design ideas, we found the perfect silicone sippy lid which stretches tightly onto the cup – creating a water-tight and spill-proof seal.
No mess = SUCCESS!
It works just like a normal sippy cup. The silicone is very soft and the spout will never hurt your child's lips.
When you're done, just take that lid off and rinse it out or toss it in the dishwasher!
Both the cups and lids are dishwasher safe.
Truly the Best Sippy Cup for Milk, Juice, Smoothies, and More!
Have you ever left milk, juice, or smoothie sitting in a plastic cup or sippy cup for a little too long? When you go to clean it out, what happens? You may find it hard to clean and the residue is caked on the inside of the cup. That's not the case when you own the best sippy cup for milk and any other beverage.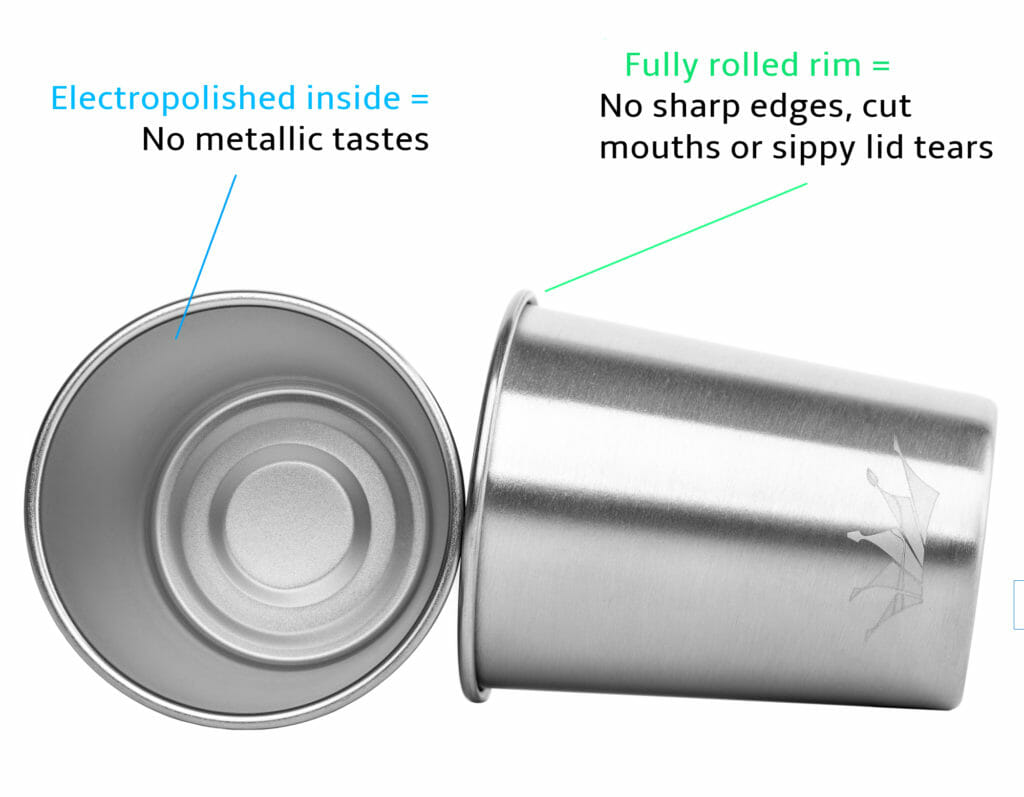 The beautiful part of our stainless steel sippy cups with an electro-polished interior is that cleaning has never been easier.
The cup is so smooth and non-porous that absolutely nothing will set into the steel making it hard to clean.
Also, because of this finished interior, you'll never experience metallic tastes in your drink!
Even with acidic beverages like juices, you'll never taste any unwanted flavors like you will in some other stainless steel cups!
Another unique benefit with our cups is how they will actually enhance your cold beverage drinking experience!
Cold liquids including smoothies and even ice cream will stay cooler longer in stainless steel, perfect especially in the summertime!
You'll be amazed at how quickly these wipe clean. That goes for the silicone sippy lids as well!
You can very easily hand wash our cups and lids or simply throw them in the dishwasher.
No melted plastic here!!
How are these the best sippy cup to transition from bottle feeding?
I probably already answered this above based on the design of the cup, but let's explain again how these are some of the best sippy cups to transition from bottle feeding.
Let's say your child is just starting bottle feeding. They will become familiar with a spill-proof bottle with a soft nipple to drink from.
As they age and require some sort of sippy cup to get them away from the bottle, we want something that feels similar to them.
This makes for a smoother transition.
The silicone spout of our sippy cup is an extremely soft and delicate silicone material, making it one of the best sippy cups for teeth.
The silicone is very comfortable for the toddler to drink from and free of any harmful chemicals.
Not only that, but again the cup will remain spill-proof.
Now you might be saying – that's great but there are tons of sippy cups with soft spouts out there already. What makes these special?
That's true, but most look something like this…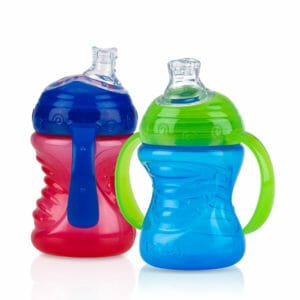 Which is VERY different from the end goal of this…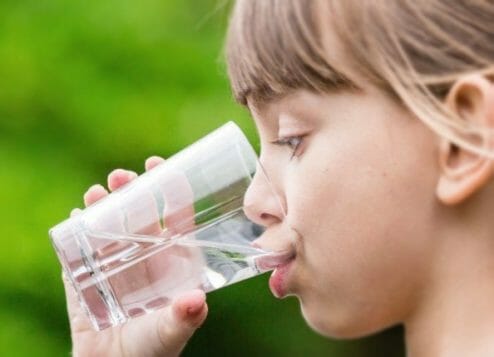 We want our children to ultimately end up drinking from normal cups as we do, so drinking from those alien-looking things aren't doing much training.
They just mean more trips to the store for you as your child ages each year, until you finally end up with a normal cup.
Yep, wasted money, wasted time, and ultimately just more plastic exposure around your child!
Our sippy cups are essentially regular kids cups that can be made spill-proof with our stretchable sippy lid!
From a feeding perspective, your toddler won't know the difference between our lids – and the bottle's nipple when the spout touches his or her lips.
This is where the real benefit comes in..
Your child will start learning what it feels like to grip an actual cup early on, giving them a head-start.
This is as opposed to crazy looking handles on sippy cups which are doing nothing to develop them into coordinated, functional humans.
And hey, if they drop the cup due to its "no handles" – no harm done.
The sippy cups are completely unbreakable and spill-proof.
They will never crack or shatter like plastic and glass can and they'll leave no mess on your furniture or floors.
This also makes them some of the best sippy cups for a stubborn baby who might be extra mischievous. 
That's a wrap on this article! I really wanted to address why we, along with many of our customers, believe we have the best sippy cups.
We started at ground zero, researching the issues commonly associated with traditional plastic sippy cups, and built from there.
You'd be surprised at how much information consumers put out there on the web.
It's not difficult to find these customer complaints and build out better alternatives to better serve our market.
That is our goal here in the end – to best serve young, Eco-conscious families with innovative products to help them live safer, healthier, and more functional!
Click here to get your own set of our stainless steel sippy cups today and ditch the plastic forever!
We're so confident you'll love our stainless steel sippy cups, we include a free 1-Year Full Coverage Warranty!
If anything happens, just contact us and we'll ship you out free replacements the same day!
Safest Non-Toxic Kid's Tableware Checklist
Discover how to IMMEDIATELY detect subpar kids dinnerware products when browsing online.