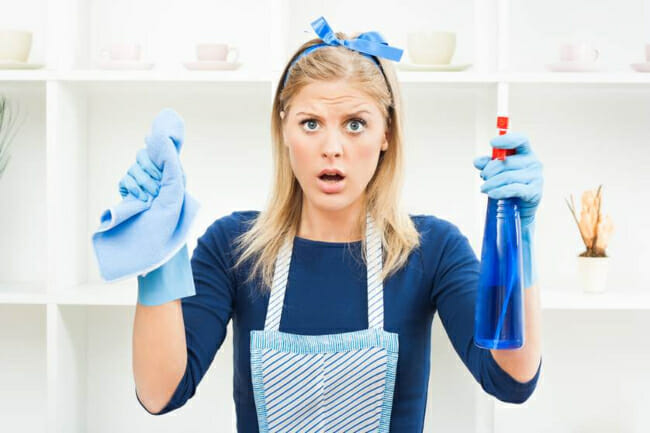 Disclosure: This blog is reader-supported. As an Amazon Associate, I earn from qualifying purchases. When you buy through links on our site, we may earn an affiliate commission at no cost to you. I only recommend products I would use myself and all opinions expressed here are my own.
During these unprecedented times, keeping your house clean is one of the top tasks on our to-do list. When you have a new baby or small child running around, this desire for cleanliness increases. Unfortunately, the cleaning products we use today, while they do kill germs, have their own drawbacks. This is why you should always consider baby safe cleaning products for your growing family.
Traditional cleaners have many unhealthy ingredients that can introduce irritation and health complications in our vulnerable youth.
Fortunately, there are many child-safe cleaning products made with healthy, all-natural ingredients.
You might ask, what are the best baby safe cleaning products? Good news.
You're in the right place as we're going to show you our top picks of the healthiest baby-friendly cleaners available today.
We did many hours of research for you in determining these brands and products, so you can skip the heavy lifting and read/ choose from the options below!
Choosing Baby Safe Household Cleaning Products
Many chemical ingredients used in traditional cleaning products can be toxic and harmful to children. For new parents, it's especially important to choose baby-safe household cleaning products.
In other articles, we've discussed the effects of toxic chemicals in kids' dinnerware, adult dinner plates, and even cookware that can harm not only yourself but especially your children.
For the sake of this article, we are focusing solely on the often overlooked cleaners.
Cleaners such as dishwasher detergents, bleach, toilet bowl cleaners, drain cleaners, laundry detergents, floor and furniture polish, paints, and more are all dangerous.
The chemicals to avoid include:
Ammonia

Parabens

Phthalates

Petroleum Solvents

VOCs

Phenol

Cresol

Formaldehyde

Hydrochloric Acid

Triclosan

Glycol Ethers

Sodium Lauryl Sulfate

Sodium Hypochlorite
These chemicals include serious health risks that can come from accidental ingestion and even touching or breathing in the fumes of the cleaners.
This can cause, depending on the form of exposure,  respiratory problems, diarrhea, headaches, blindness, burns, kidney and liver issues, and even death.
It's extremely important to read the labels of your cleaning products to check for markings such as:
Caution

Danger

Toxic

Warning
If you see these words you should make sure to read what the label has to say.
If you see danger, toxic, warning, or another strong word like that, be careful about using these cleaners around your children.
Caution doesn't always mean the product is unsafe, sometimes it just means to use caution to avoid spraying the product into the eyes for example.
If you decide to continue using traditional cleaning products, make sure to take proper precaution.
Cleaners should always be stored out of the reach of children.
You may also want to install child-proof latches on low cabinets. When using one of these cleaning products, use only what you need, and immediately put it back out of grasp from the kids.
If all of that precaution seems tedious to you, you can steer clear of the risks and grab all-natural baby safe products.
These are just as effective at getting the job done – with less risk.
So what cleaning products are safe for babies?
Below we will list our top picks of baby-safe cleaning products in all categories of cleaners from floor cleaners to laundry detergents and stain removers to all-purpose cleaning.
This list has been compiled through many hours of research so you can feel confident moving ahead with smart purchasing decisions.
Let's get into it!
The Best Baby Safe Cleaning Products
We've addressed the concerns of traditional home cleaning products and why you should avoid them around children. Now it's time for our list of the best baby safe cleaning products to keep your home clean and your baby safe.
Below we have listed the best options for baby-safe hand and body soaps, baby safe stain removers,  laundry detergents, floor cleaners, and all-purpose cleaners.
First, here are our favorite baby-safe hand and body soaps.
Baby Safe Soap for Hand and Body